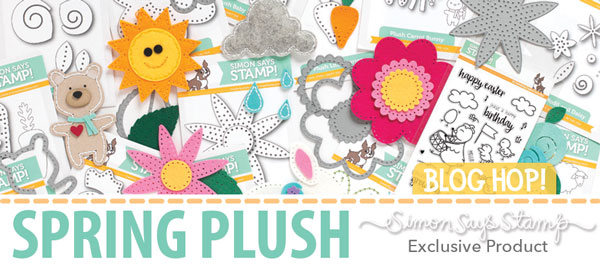 Last Friday we had a really fabulous and fun Blog Hop to celebrate the new release from Simon Says Stamp called "Spring Plush!" We shared lots of ideas for using our new felt and our new Plush Dies. If the comments are any indication, it seems you are all hooked on felt too! It's so fun to create something a bit different. If you haven't had a chance to visit the hop, click here to view the first post. I know you will find lots of tips, tricks and inspiration! The "Spring Plush" Gallery is chock full of awesome inspiration and has been updated – and we hope you will take a look! (Be sure to add your links if you've made something with the new stamps and dies!) To see the entire new release click here! 
BIG Congratulations to all of the blog hop winners! Thank you for hopping along with us and taking the time to leave feedback for the designers in the form of comments along the way :) I know they really really enjoy hearing from you!
Winners list by blog!:
SSS Blog:                 Victoria Dent
Wanda's Blog:           Gail Scott
Nichol's Blog:            Becca Yahrling
Yana's Blog:             Annette Hindes
Laura's Blog:             Dori Johns
Kelly's Blog:              Tanya Commins
Debby's Blog:            Rebecca Billard
Kristina's Blog:          Victoria Spragin
Sarah's Blog:            Stephanie Savidge
Amy's Blog:              Carol Casavant
Kathy's Blog:             Helene Foisy
Taheerah's Blog:       Rubina Pantoja
Heather's Blog:         Natalie Winterstein
Nina-Marie's Blog:     Paulette Still
Suzy's Blog:              Lillian Child
Lisa's Blog:               Cindi Flass
Shari's Blog:             Michele Slater
CONGRATULATIONS WINNERS!
  Please check your inboxes for an email from us asking for your shipping address so we can send you the Simon Prize Pack! If for some reason we couldn't access your email, please email
[email protected]
letting us know you are one of our Blog Hop winners for the Simon Super Surprise pack and providing your mailing address. Thank you again for hopping along with us!