Spotted! August 2016 Edition!

It's time for another edition of Spotted here on the Simon Says Stamp Blog! Seeing all of the amazing cards and projects featuring the Simon Say Stamp brand that are created by you, our awesome customers, is super fun for us! We love seeing what you are creating. 'Spotted!' is a monthly feature on this blog that highlights the talents of all of you! Thank your for bringing our products to life with your creativity and energy! It's really a treat to share your projects!
Today we are happy to introduce you to 5 designers who shared their work and caught our eye for the August 2016 edition of our 'Spotted' post!  We send each of them a little something special for being "spotted." Be sure to use the hashtag #simonsayssstamp on your social media accounts so we can spot YOU! We find cards on Instagram, Facebook, Pinterest, Flickr, in our Simon Galleries, and craft blogs.
Our first card for today is this fun and happy bear hugz card by Rosali. This card was spotted on Rosali's Instagram page. We just adore her cute water colored bears and the creativity shown by adding the pretty florals in the background. Rosali used our Simon Says Stamp Exclusive stamp sets called Abby's Spring Showers and Artful Flowers! Please visit Rosali on her Instagram page to see more of her beautiful creations.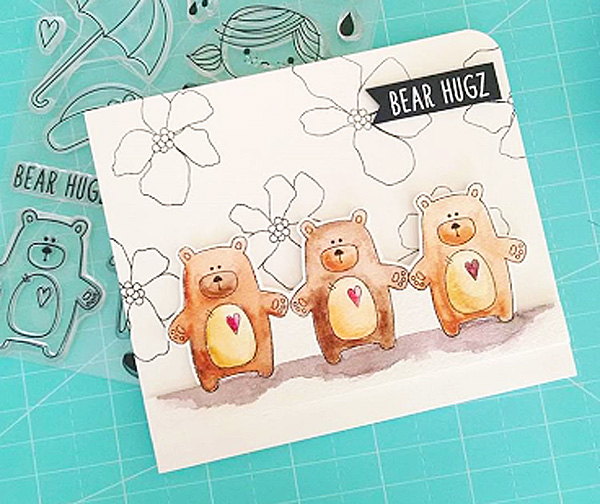 Next up is this awesome garden card made by Raluca! Her no line coloring technique pretty much blew us away! And we love her color scheme and card layout too. It looks like she had fun making this card. Raluca used our Simon Says Stamp Exclusive Cups and Succulents stamp set to perfection. To see more of Raluca's cards, visit her on her blog, or on her Instagram page.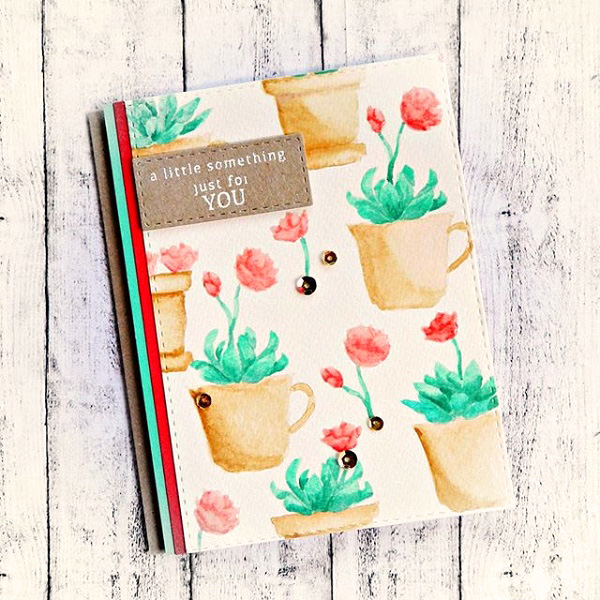 The pure beauty and simplicity of this next card by Leanne was spotted right away on Instagram. The lovely blue card base perfectly sets off the colored roses. Sometimes less is more, and this is definitely one of those times. The message says it all. Leanne used our Simon Says Stamp Exclusive Stamp set Roses for You. You can check out more creations from Leanne on her Instagram page, or her YouTube channel.
Next up is a gorgeous floral extravaganza made by Kim. Her color choices and card design wowed us right away. And that lovely  black and white banner is a great finishing touch. This birthday card is a present all by itself! Kim used our Simon Says Stamp Exclusive Spring Flowers Stamp set and the matching Floral Shapes Dies. You can find more of Kim's work on her blog, or her Instagram page.
Finally today is this adorable and happy card by Maaike! This one made us smile! How clever to put the animals around the circle die – genius! We also love how she colored the birthday circle die with different colors. This makes a very happy birthday card indeed! Maaike used our Simon Says Stamp Exclusive Baby Party Animals Stamp Set and our Exclusive Birthday Circle die. Check out Maaike's work on her blog!
Wasn't that spectacular!? Would you like to be SPOTTED using Simon Says Stamp product? Post your creations to Facebook, Pinterest, Instagram (with hashtag #simonsaysstamp), your blog and/or the Simon Says Stamp online galleries (in the sidebar) and we'll choose cards or projects to feature each month! We also have a Simon Says Stamp Flickr group here and we would love for you to join us! So many ways for you to play along with us. We can't wait to see what you are creating!!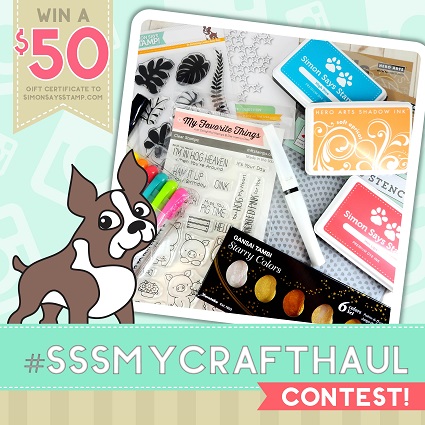 Before we go today, we have one other fun announcement to make! We ran a contest on Instagram recently to have you show us your #sssmycrafthaul! Well, we loved seeing your excitement and loved your photos of your crafty goodies from the SSS Store. There were over 200 photos entered! The lucky winner, randomly selected, is BreAnn Loveland! YAHOO! Congratulations BreAnn! You will receive a $50 shopping spree from Simon Says Stamp! Please email [email protected] to provide your address! Thank you to everyone who participated.
SUPPLIES: