More October 2017 Card Kit Inspiration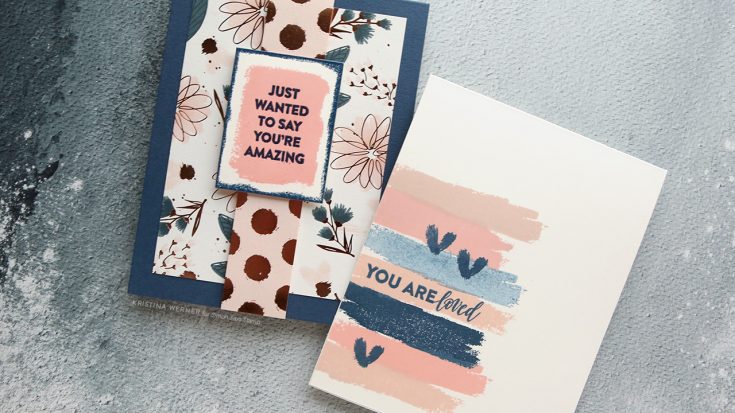 Hello, all! Kristina here with some more inspiration featuring the October 2017 Card Kit. (BTW, did you see the new Halloween kit? So cute!)
I created two cards for you all. The first uses patterned paper from the kit and a bit of stamping and embossing. The second card is all about the stamping.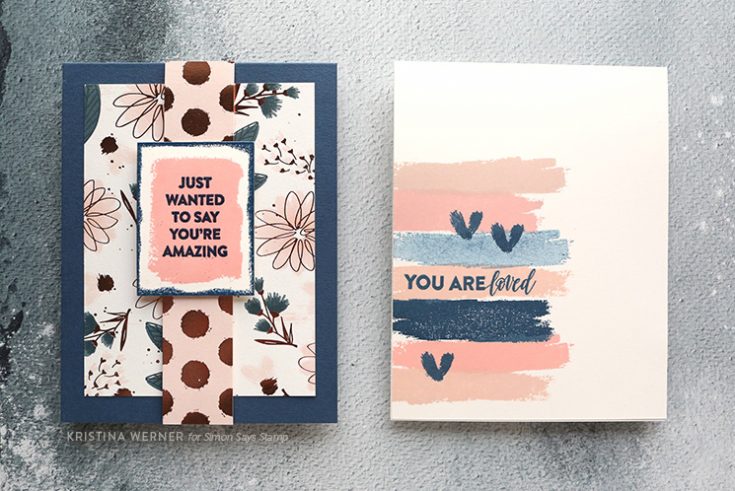 For the first card, I used the Brush Stroke Message stamp set (also available individually outside of the kit) to stamp a rectangular brush stroke image in Rosie Cheeks ink (I thought this color worked well with the patterned paper). Then I stamped a greeting from the stamp set in VersaMark ink. I applied some Steel Navy embossing powder (also from the kit) on top and heat set it. Then I applied VersaMark to the edges of the cardstock piece and added more embossing powder. This created a nice border.
It was then super easy to assemble the card. :)
For the second card, I only did simple stamping using the Brush Stroke Messages stamp set. I used three colors of ink: Soft Navy, Rosie Cheeks, and Pale Blush Pink. For the lighter blue color, I "stamped off" once and then stamped directly onto the card. The second generation stamping makes the ink lighter.
I hope you enjoy today's cards! Thanks for stopping by! You can get the October 2017 Card Kit on it's own, or you can subscribe and receive future kits automatically.
Supplies