Season of Wonder Blog Hop WINNERS!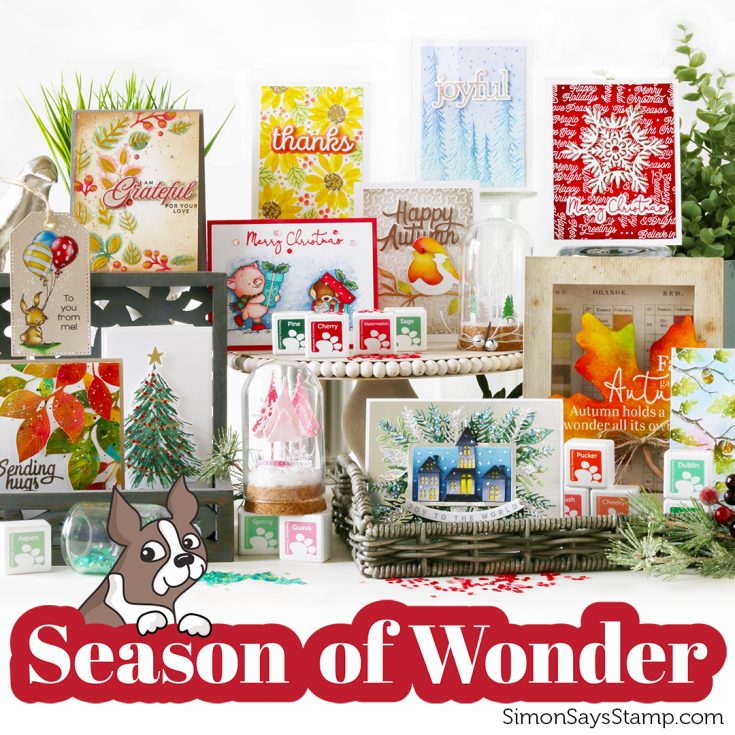 Hello, friends! We hope you are loving our newest release!
We love this time of year, and we're celebrating it with our Season of Wonder release! Savor the beauty of fall with our Autumn Leaf cling, Fresh Air Fall Flowers set, and Happy Autumn dies; get festive with our Deck the Halls set, Winter Village dies, and Christmas Words cling; and look forward to snowy days with our Willow Snowflake and Winter Mitten dies and Textured Pine Trees embossing folder.
What's more, our final Pawsitively Saturated ink cubes packs in Green Trees and Red Berries debut just in time for all your holiday makes!
To celebrate this phenomenal release, we hosted two amazing blog hops! The hops featured many talented designers and each one created wonderful projects to inspire you. If you missed either of the hops, you can find the direct links here: DAY ONE and DAY TWO.
A BIG thank you to all of YOU who joined us for the hops! We enjoy hearing from each of you, and your words of encouragement and appreciation to each of the designers mean so much to us here at Simon and to them. It's our tradition to give away gift certificates to random commenters on each blog stop, and today we are revealing all of the winners! So without further ado, I present to you our winners!
from Simon Says Stamp's blog: Denise Bryant!
from Nina-Marie Trapani's blog: Seiko Flanigan!
from Caly Person's blog: Kit A!
from Debby Hughes's blog: Wendy Nicola Jackson!
from Jennifer McGuire's blog: Lissette Long!
from Amy Rysavy's blog: Veronica Hunt!
from Suzy Plantamura's blog: Lori Meyers!
from Emily Midgett's blog: Steffi H.!
from Lisa Addesa's blog: Susan Prisbrey!
from Miriam Prantner's blog: Donna Cheatle!
from Yana Smakula's blog: Holly Mahoney!
from Tina Smith's blog: Tammy Hanson!
from Kath Stewart's blog: Kathy Eddy!
from Jean Doeringsfeld's blog: Savannagh Kacey!
from Kim Hamilton's blog: Deborah Hellman!
from Seeka's blog: Vivian Chiu!
from Simon Says Stamp's blog: Erika Clark!
from Nichol Spohr's blog: Tammie J!
from Cathy Zielske's blog: Jenna Chapman!
from Laura Bassen's blog: Angy Hughes!
from Barbara Tarayao's blog: cdoggett01!
from Keisha Charles's blog: Tabitha MacKenzie!
from Mindy Eggen's blog: Patti Bailey!
from Cheiron Brandon's blog: Robin Ridpath!
from Anna-Karin Evaldsson's blog: RobiW!
from Heather Ruwe's blog: Laurie Faye Helgason!
from Barb Engler's blog: Maureen Reiss!
from Natasha Vacca's blog: Kay Furnish!
from Jessica Vasher's blog: Bonnie Klass!
from Nicki Baxley's blog: Carole Carlson!
If you see your name listed above, CONGRATULATIONS! Please email [email protected] and let him know that you are one of our Season of Wonder Blog Hop winners! You'll receive a $25 Gift Card.
Thanks again for hopping along with us! We hope you enjoy our fantastic Season of Wonder release and that it gives you creative enjoyment for months to come!
You'll love browsing our Season of Wonder gallery on our blog for loads of additional inspiration, and you can add your projects to these galleries as well!
Winning ROCKS, and so do you!