Rainbows Blog Hop WINNERS!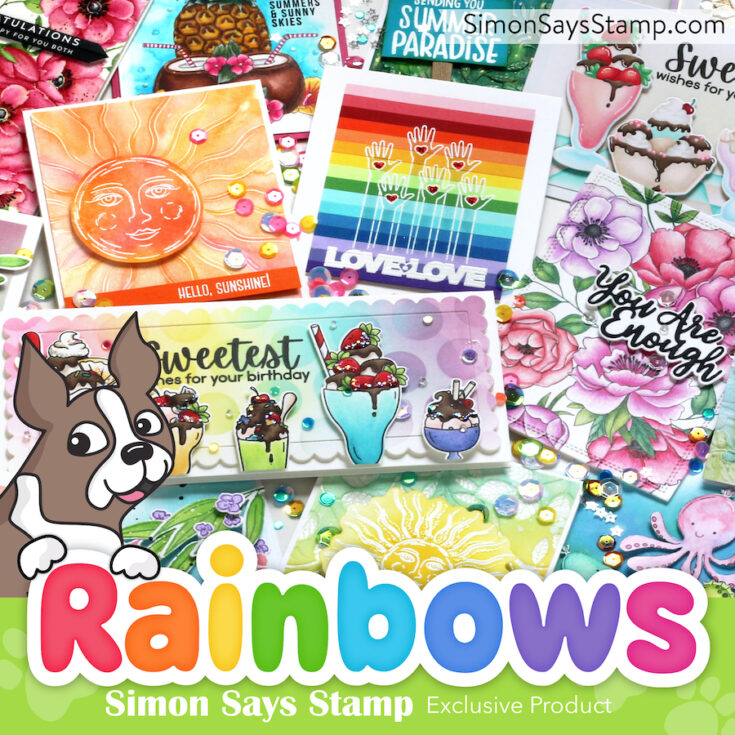 Hello, friends! Have you seen our Rainbows Simon exclusive release? This exclusive product lineup will give you so many creative ideas! You'll find a whole slew of fantastic products for summer in the form of stamps, dies, cling backgrounds, wood block stamps, stencils, and embossing folders (back by popular demand)! We are celebrating Pride Month, too, and you'll find really pretty ways to create for wedding season. There are some wonderful new products from CZ Design and a fun summer-themed set of Suzy's Cards, too! No matter your style, you're sure to find an item or twelve (or more!) that need to head to your home. We are so excited for you to play with all of these awesome new products!
To celebrate this phenomenal release, we hosted two amazing blog hops! The hops featured many talented designers and each one created wonderful projects to inspire you. If you missed either of the hops, you can find the direct links here: DAY ONE and DAY TWO.
A BIG thank you to all of YOU who joined us for the hops! We enjoy hearing from each of you, and your words of encouragement and appreciation to each of the designers mean so much to us here at Simon and to them. It's our tradition to give away gift certificates to random commenters on each blog stop, and today we are revealing all of the winners! So without further ado, I present to you our winners!
from Simon Says Stamp's blog: Marie Hansen!
from Nina-Marie Trapani's blog: Kathy McCluskey!
from Caly Person's blog: Jenna C!
from Nichol Spohr's blog: Beverly Perdue!
from Cathy Zielske's blog: Patricia Wilson!
from Kristina Werner's blog: Andrea Megan Hastilow!
from Amy Rysavy's blog: Janice Carl!
from Heather Ruwe's blog: scraporcraft!
from Lisa Addesa's blog: Daria Z!
from Amanda Korotkova's blog: Lynn Conlon!
from Sidnie Des Jardins's blog: Kathy Raker!
from Suzy Plantamura's blog: Meisje!
from Yana Smakula's blog: deeberman!
from Kathy Racoosin's blog: Sue Kujawa!
from Barb Engler's blog: I Card Everyone!
from Lea Lawson's blog: Patricia Coleman!
from Simon Says Stamp's blog: Erica Ioscalzo!
from Debby Hughes's blog: Monica Linerode!
from Laura Bassen's blog: Barbara Lassiter!
from Jennifer McGuire's blog: Arlene Plastine!
from Heather Hoffman's blog: Anna Rodgers!
from Anna-Karin Evaldsson's blog: Vicki Dutcher!
from Bibi Cameron's blog: Steffi H!
from Keisha Charles's blog: Denise Johnson!
from Yoonsun Hur's blog: Jeannie Boudet!
from Vicky Papaioannou's blog: Katie Baird!
from Mindy Eggen's blog: Mary Holshouser!
from Koren Wiskman's blog: Daniela Polidoro!
from Norine Borys's blog: Sharon Gullickson!
from Tina Smith's blog: Dorothy Ayotte!
from Natasha Vacca's blog: Linda BL!
from Adelle Emery blog: Cyndi Morris!
If you see your name listed above, CONGRATULATIONS! Please email R[email protected] and let him know that you are one of our Rainbows Blog Hop winners! You'll receive a $25 Gift Card. ???
Thanks again for hopping along with us! We hope you enjoy our fantastic Rainbows release and that it gives you creative enjoyment for months to come!
Winning ROCKS, and so do you!