Our very FIRST Brand of the Month: Art Impressions!
Hi friends! I'm so excited to share something new we've been dreaming about for a bit now. We really wanted a way to showcase some amazing brands in a fun way!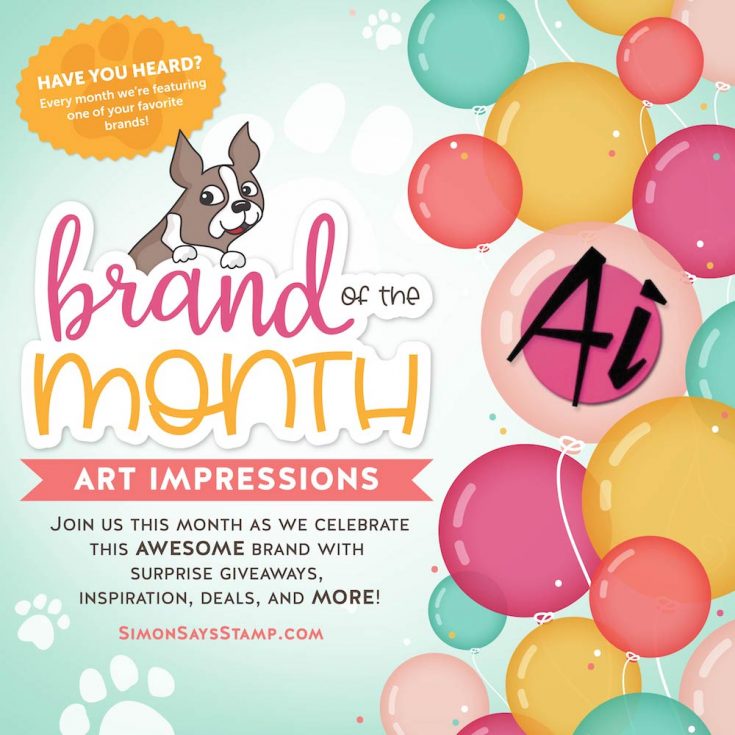 We are thrilled to begin this series with a very special brand: Art Impressions! They've been in business for over 30 years with the amazing illustrator and designer Bonnie Krebs making everything from gorgeous watercoloring designs to funny quirky girlfriends, animals that are so cute you just want to squeeze them, and super fun interactive elements!
So… what should you expect with Art Impressions this month? A couple of blog features (which begins today, keep reading ;)), some surprise giveaways (hint: stop by Facebook on Fridays), and going on NOW while supplies last this cutie patootie free gift with ANY purchase of an Art Impressions product(s)!! Just use code FRAP at checkout.
Please note this gift with purchase is only while supplies last!
Art Impressions designer Carol Hintermeier made this DARLING card using new Hamster Critter Cubby stamps and dies! Read on to learn more about this fun project and enjoy!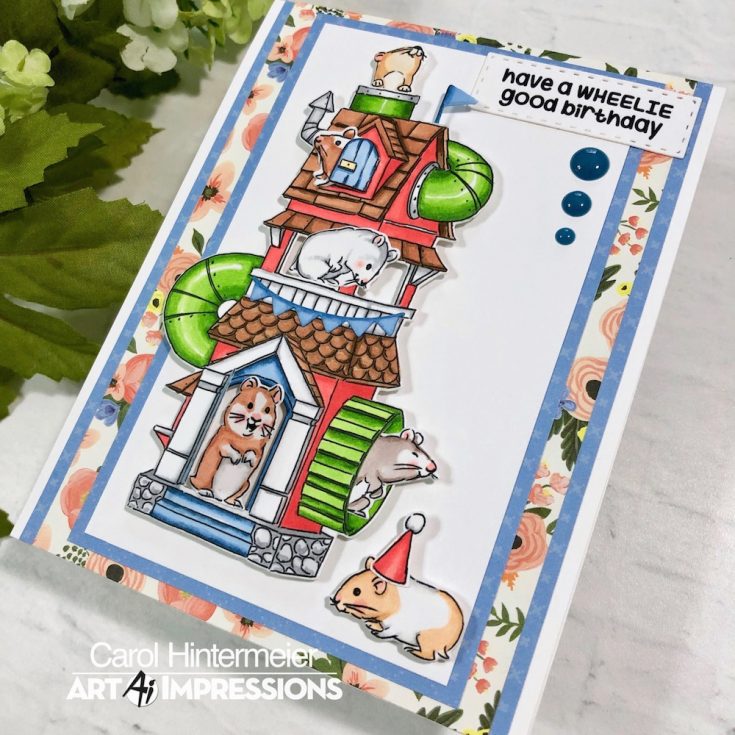 The Hamster Critter Cubby is so fun to create a cardwith. It's also easy too since all thedies you need are included in the set. The die for the Cubby cuts all the little door and window openings totuck the hamster in.
I stamped all of the images onto Neenah Solar White 80#paper with Gina K. Designs Amalgam ink, which is safe to use with alcoholmarkers. I colored everything with mymarkers (I've listed the colors below.) I then die cut the Cubby, hamsters and birthday hat with the dies.
Then you get to have fun tucking the hamsters wherever youwant! I did find it was easiest to tuckin the hamsters and adhere them in place before I put the foam tape all overthe back of the Cubby.
I started putting the card together beginning with an A2top-folding card from Neenah Solar White 100# paper. I cut the blue patterned paper at 4" x 5-1/2" and another at 3-1/2" x 5-1/4". The floral paper is cut at 3-3/4" x 5-1/2". The final layer is the white piece for the Cubby to go on which is 3-1/4" x 5".
After adhering the layers I positioned the Cubby on the top layer and added the final hamster with the birthday hat. I stamped the included sentiment with Versafine Onyx Black ink and die cut it out with one of the Rectangle Double Stitched dies. I added a few enamel dots just below the sentiment.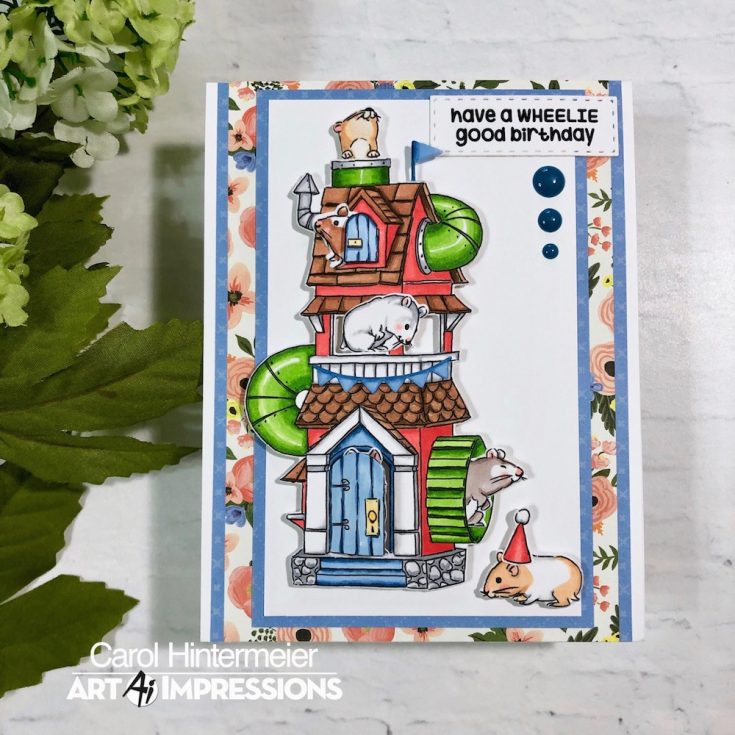 SUPPLIES:
| | | |
| --- | --- | --- |
| Art Impressions HAMSTER WHEEL CUBBIES… | Art Impressions RECTANGLE A2 Double… | Tsukineko VersaFine ONYX BLACK Ink… |
| Simon Says Stamp Premium Ink Pad… | Carta Bella FLOWER MARKET 6 x 6 Paper… | Echo Park FANCY FLORA ENAMEL DOTS… |
| Copic Sketch MARKER E11 BARLEY BEIGE | Copic Sketch Marker E13 LIGHT SUNTAN… | Copic Sketch Marker E15 DARK SUNTAN… |
| Copic Sketch MARKER E21 SOFT SUN Flesh | Copic Sketch Marker E41 PEARL WHITE… | Copic Sketch Marker E51 MILKY WHITE… |
| Copic Sketch Marker E53 RAW SILK Cream | Copic Sketch Marker E70 ASH ROSE… | Copic Sketch Marker E74 COCOA BROWN… |
| Copic Sketch Marker W1 WARM GRAY No. 1 | Copic Sketch Marker N1 NEUTRAL GRAY NO.1 | Copic Sketch Marker N2 NEUTRAL GRAY… |
| Copic Sketch COLORLESS BLENDER Marker… | Copic Sketch Marker R14 LIGHT ROUGE… | Copic Sketch Marker R20 BLUSH Pink… |
| Copic Sketch Marker R22 LIGHT PRAWN… | Copic Sketch Marker YG67 MOSS Dark Green | Copic Sketch Marker YG17 GRASS GREEN… |
| Copic Sketch MARKER YG13 CHARTREUSE… | Copic Sketch Marker E57 LIGHT WALNUT… | Copic Sketch Marker E23 HAZELNUT Brown |
| Copic Sketch Marker B97 NIGHT BLUE | Copic Sketch MARKER B34 MANGANESE BLUE | Copic Sketch MARKER B32 PALE BLUE |
Specific Copic Recipes:
Hamsters: E11, E13, E15, E21, E41, E51, E53, E70, E74, W1 N2, N2, Blender
Party hat: N2, R14, R20, R22
House: R14, R22, R20, YG67, YG17, YG13
Roof: E57, E23, E13
Doors: B97, B34, B32
Thanks so much for stopping by and thanks to Carol for sharing this gorgeous inspiration! Stay tuned for more FUN with Art Impressions all month long!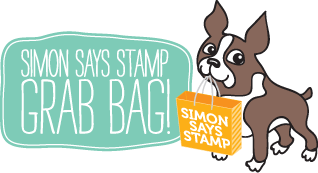 Blog Candy Alert!! Follow our blog via email and comment on this post for a chance to win special blog candy!