New Exclusive Product Release: Among the Stars REVEALED!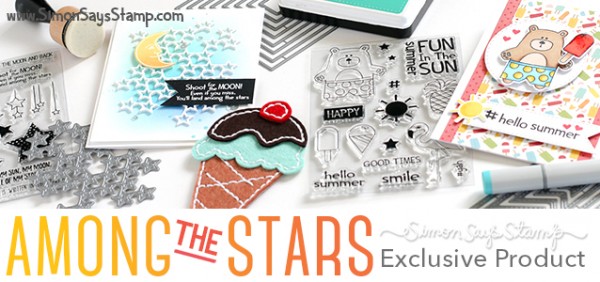 Welcome to the reveal of our latest exclusive collection, Among the Stars!  We are featuring a special stamp set "Uplifting Thoughts" inspired by Jennifer McGuire's Handmade Kindness campaign.  There is also a fun fresh new watercolor card set by Suzy Plantamura.  Looking for a whimsical ice cream cone or flamingo to add to your card, or maybe an interesting stacked star background or die cut?  Need a perfectly cut basic background square, rectangle or even flag shape for your "go to" product stash?  Do you like to sew our fun plush line of products?  Then this release is for you! Coming right off the heels of our incredibly popular July Card Kit (Handwritten Floral Greetings) we hope our new release "Among the Stars" keeps you excited to stamp and create!
Please join us tomorrow for a blog hop celebrating the release with even more inspiration from some super talented designers!  Comment below what you like about the collection and we would love to send you a surprise new product that we have coming out later this summer!  Three (3) random winners will be drawn Monday.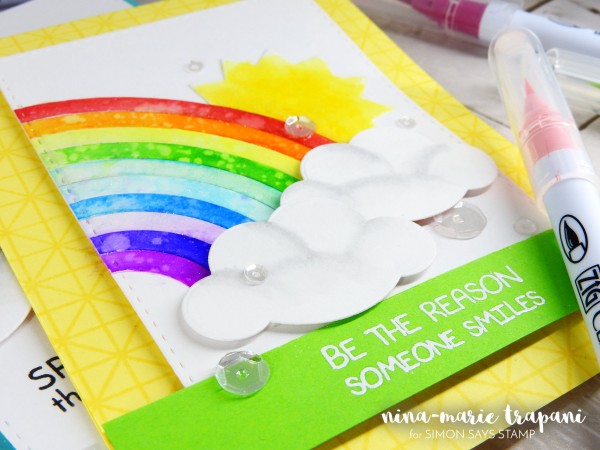 Hey friends! Are you as excited about the new Among the Stars release as I am??? I LOVE the new Build a Rainbow die, and I thought this would pair up great with the new Uplifting Thoughts stamp set to create some happy cards!

The Build a Rainbow die set is really versatile and there are so many ways you can use it. I ended up cutting the rainbow in half to create two cards… and I loved it so much I had to make two more! I used Zig Clean Color Real Brush markers to color in my rainbow, but you could definitely use other coloring mediums for this, or even cardstock if you are short on time or not a big fan of coloring!

You'll see I created these rainbow scenes with a few other Simon products;, including the Happy Days die set. These dies are actually a coordinating set to the Happy Days stamp set that came out with the May 2016 card kit. However, all the shapes are really great for using on their own, which makes them a great addition to you stash, even if you do not have the stamp set! I used both the cloud and sun dies for my scene, but I could see all sorts of fun being had with all the other dies too. When you take a look at products in a creative way, and not just the obvious, you can come up with so many unique card designs!

To see how I created these happy rainbow cards from start to finish, be sure to check out the video below!