NEW Easter Pals Watercolor Cards
Happy Sunday, beautiful friends! I hope you are all having a wonderful weekend so far! It's so fun to see our watercolor sets brought to life in color by the amazing Suzy Plantamura and this new set is of no exception! Keep on reading to learn some great tips and tricks and enjoy!
Since my newest set of Easter Pals Watercolor cards was just released in the Hello Beautiful release, I wanted to share them with you today all colored and made into cards. I've been leaving greetings off them lately so you can add your own as I personally prefer doing it that way. I used the new Easter Wishes Sentiment Strips for all the greetings on mine to keep it easy! Here is an image of these watercolor cards as they are sold:
All of these watercolor cards are printed on Ranger Watercolor Paper on the smooth side. The paper is pure white which I love and is 140lb., so it will hold up to any coloring medium. You receive 2 of each of the 6 illustrations. They are 4.25" x 5.5" so they fit perfectly on a card front. All you have to do is color, add a sentiment, and attach to a card base and you are ready to send it out! Next, I'll show you the six cards colored individually and then I will give you some tips/techniques I use when coloring them.
Tips/Techniques:
Although these are referred to as "watercolor cards" because they are printed on watercolor paper, the paper works great with ANY coloring medium. I use a mix of multiple coloring mediums on mine – usually watercolor and colored pencils, and sometimes some Copics as well!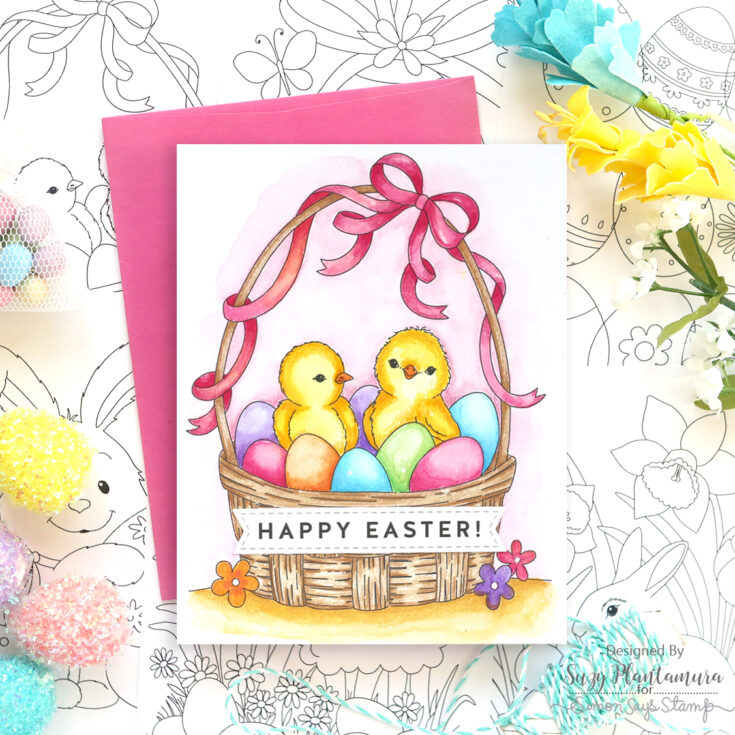 I like to paint a wet wash on the backgrounds of each card first. I add a light coat of water around the image and drop color in close to the image. I work it out into the area I have wet. As you can see from my cards above, I don't usually bring the color all the way out to the edges.
I often leave enough room around the designs on the cards that you can trim them down a bit. I like framing my images with a color to make them pop more. You can use a die such as the largest A2 Thin Frame Die to size them .25" smaller than a card base on each size so you have a ⅛" border on each edge. Or you can just trim them to the size you want. I leave either a ⅛" edge on each side or a ¼" edge on each side.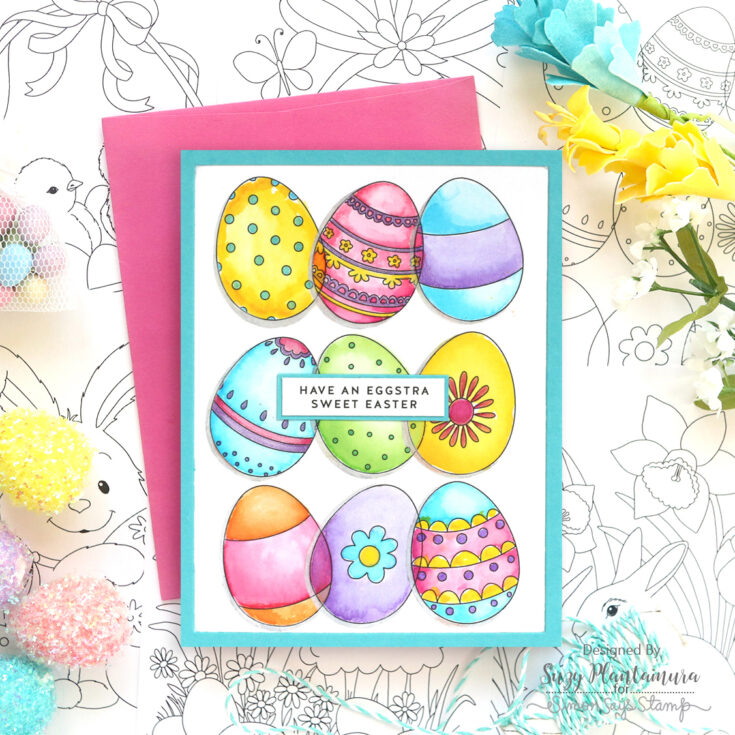 I usually paint the images on the cards with my Karin Brushmarkers. Any watercolor will work, but I've grown very fond of these markers lately. I apply water to the area I want to paint first. Then I either color directly into the water, or I touch my paintbrush to the tip of the marker and apply it that way. You can also color the marker on a plastic surface and pick the color up that way. Once I have the color applied to the image, I add more color to shade by applying the marker directly to the paper. You can still move the color around with a damp brush if it is too dark.
After my watercolors are done drying, I usually add some more shading with my colored pencils. You could use watercolor pencils or regular pencils as I do. I also use pencils to add details to things on the cards. I use a white Uniball gel pen a lot too. I added all the shading on the sheep with colored pencils as I find it hard to get my shading dark enough with gray watercolor.
I love adding additional details with my Nuvo Drops. I used Jewel drops over the eggs that I wanted to retain their color, but make them shiny. I used glitter drops on many of the other items on the cards. I decorated the large egg with Nuvo drops quite a bit! They add such fun dimensional details.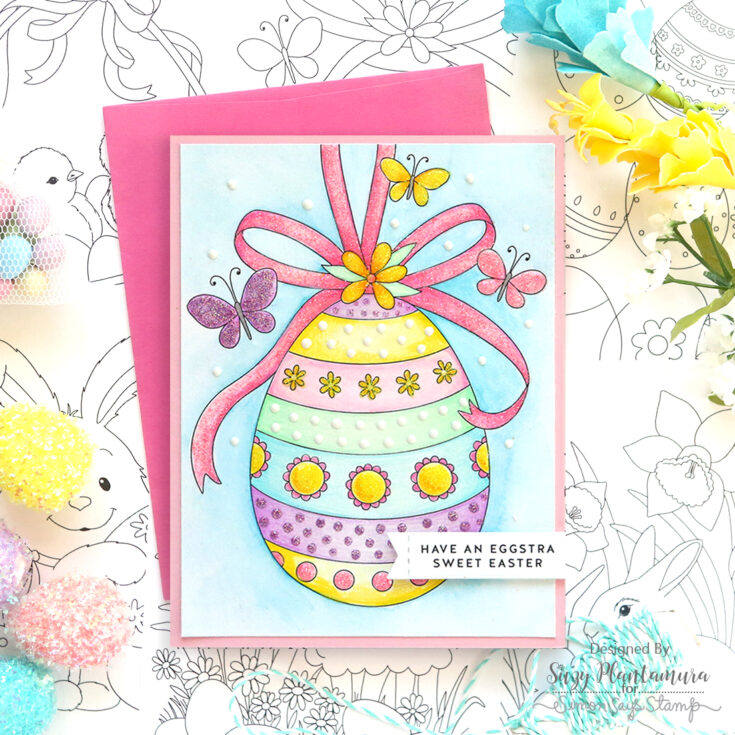 When painting items that overlap like the 9 eggs, I applied one color and let dry and then added the other color from the second egg I painted that overlapped it over the first. That way I was able to get the right color as if they truly were transparent and overlapping.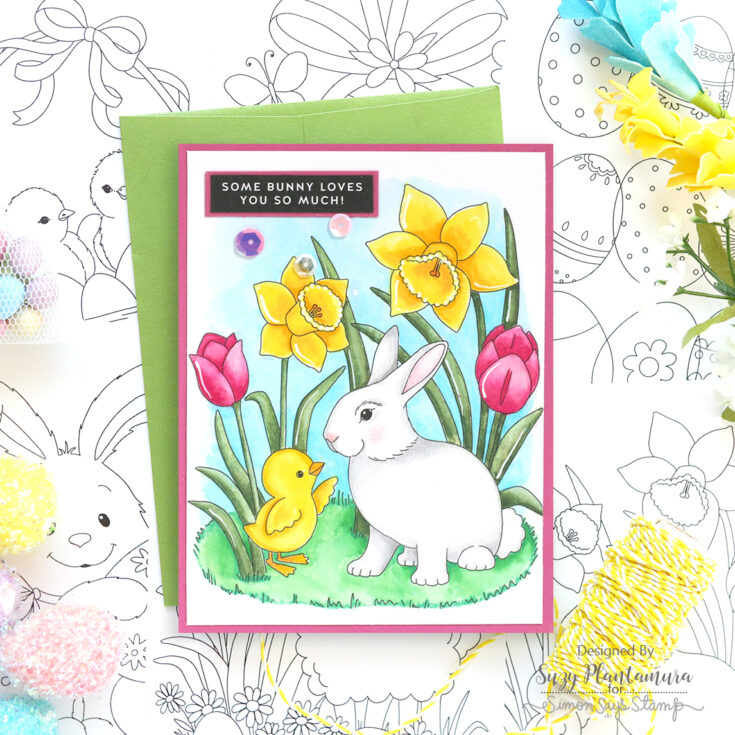 For little details, I like using my Kaisercraft glitter pens or you can use any gel pens to make it more sparkly. I also use them to add little dots to things.
As I mentioned, I love using the preprinted sentiment strips on my watercolor cards because they are so easy to use. I either cut them to size with my paper cutter, or I use any of my sentiment strip dies to cut them out. I like the way they look die-cut with a banner die as I did on the sheep card with Happy Easter. I also added a second sentiment to that one with white as they layer well. Sometimes I mat them with the same color cardstock as the card base so they pop more as I did on the egg card.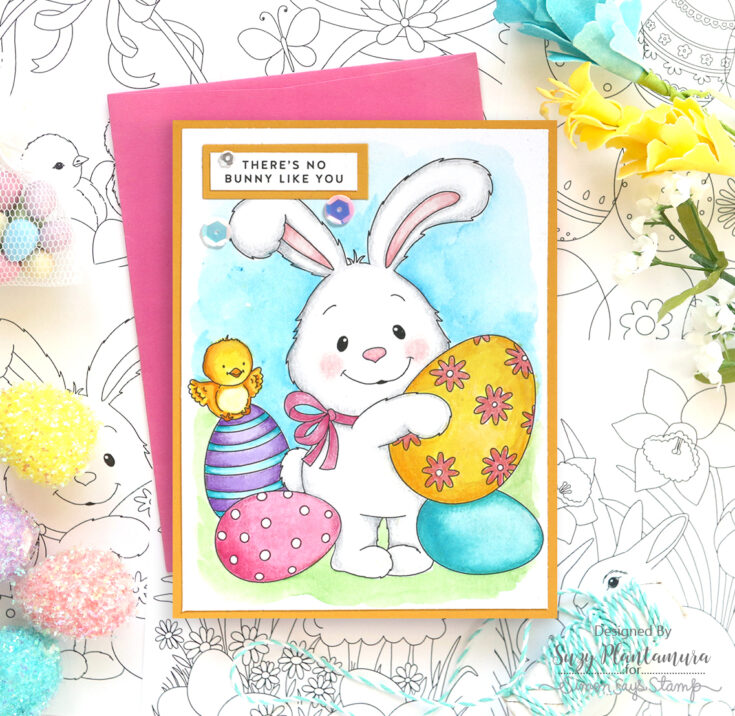 After painting the sheep card, I had green on most of the daisy petals. I wanted them white, so I just went over all the petals with a white Uniball gel pen and now they look perfect. I must confess that I use that gel pen to cover all my coloring mistakes too! Even if I have a light blue background, if I get something on it, the white gel pen covers it up without looking obvious. White mistakes are better than colored mistakes haha.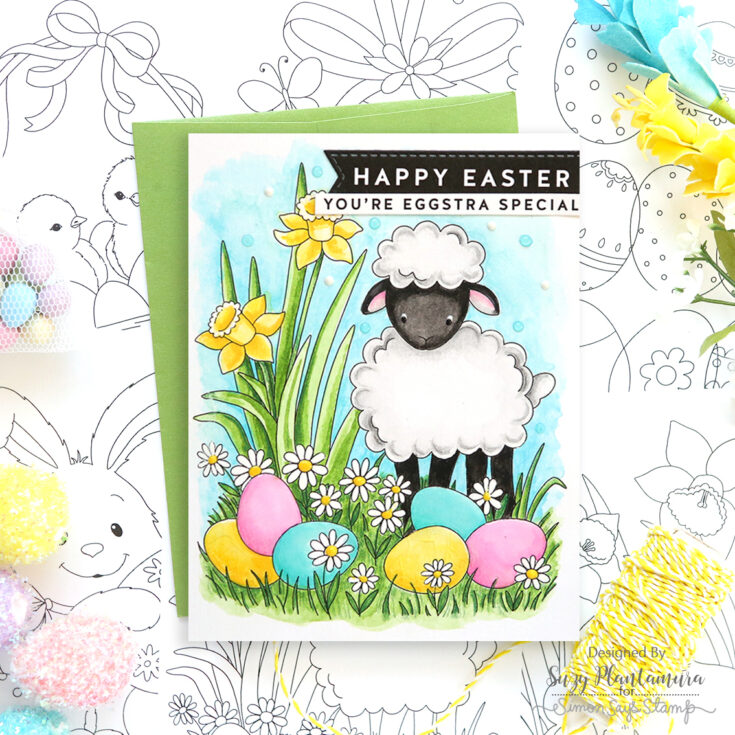 Thanks so much for visiting today. I think Easter is my favorite holiday because I love Easter colors and I love chocolate. Bunnies and chicks are pretty cute too. I hope you are enjoying the Easter Season as much as I am. I'm off to See's Candy as I like to buy my Easter candy early. So I can eat it. And then buy more! Happy Easter friends! Suzy
SUPPLIES:
Simon Says Stamp Suzy's EASTER PALS…

Simon Says Stamp Sentiment Strips…

Simon Says Stamp Sentiment Strips…

Simon Says Stamp A2 THIN FRAMES Wafer…

Simon Says Stamp SENTIMENT LABELS…

Tonic ICEBERG BLUE Nuvo Jewel Drops 636n

Tonic HONEYSUCKLE Nuvo Jewel Drops 638n

Tonic LIMONCELLO Nuvo Jewel Drops 644N

Tonic YELLOW BIRD Nuvo Glitter Drops…

Tonic ENCHANTING PINK Nuvo Glitter…

Tonic SUGAR PLUM Nuvo Glitter Drops 775n

Tonic CHALK STICK Nuvo Vintage Drops…

Kaisercraft GLITTER Colour Gel Pen…

Ranger WATERCOLOR PAPER Surfaces…

daniel smith at Simon Says STAMP!

Karin BRUSHMARKER MEGA BOX 60 Colors…

Uni-Ball Pen Signo Gel WHITE UM-153

Prismacolor PREMIER COLORED PENCILS…

Faber-Castell POLYCHROMOS COLORED…
Thanks so much for stopping by, and thanks to Suzy for being our special guest!