Masterpiece Box – Blog Hop – Winners!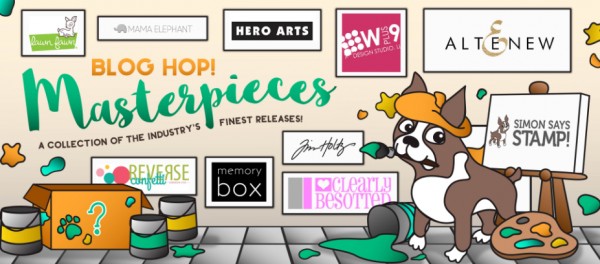 On Saturday, we had a really fabulous and awesome Blog Hop to celebrate the newest product release from Simon Says Stamp called The Masterpiece Box! This Limited Edition release is jam packed with new stamps and dies from several of our favorite paper crafting companies. In the blog hop, 20 designers showed you lots of ideas for using the new collection. This truly was an amazing launch! There is a Simon Gallery that has all the Masterpiece Box projects in one place – CLICK HERE! If you haven't had a chance to visit the hop, click here to view the first post. I know you will find lots of tips, tricks and inspiration! CLICK HERE for all the details about the Masterpiece Box!
BIG Congratulations to all of the blog hop winners! Thank you for hopping along with us and taking the time to leave feedback for the designers in the form of comments along the way. We really really enjoy hearing from you! Each winner will receive a $25 gift certificate to the Simon Says Stamp Store! YAHOOO!
Winners list by blog!:
Simon Says Stamp Blog:     Teresa Godines
Jennifer's Blog:                    Christy Borfitz
Kristina's Blog:                    Colleen Howell
Laura's Blog:                        Amy Tsuruta
Yana's Blog:                        Tee Hall
Debby's Blog:                      Sandie Scott
Nichol's Blog:                      Becca Yahrling
Yoonsun's Blog:                   Royleea Love
Shari's Blog:                        Susie Sonnier
Amy's Blog:                        Priscilla Joseph
Virginia's Blog:                     Betty Keefe
Chari's Blog:                       Jean Chaney
Kelly's Blog:                       Chandra Shasteen
May's Blog:                        Charlene Runge
Nina-Marie's Blog:              Debbie Barba
Heather Ruwe's Blog:         Pam Spicer
Kathy's Blog:                     Pai Meng
Wanda's Blog:                    Anne Sturgeon
Jana's Blog:                      Perla Pervan
Caryn's Blog:                     Sherry Lowmaster
Barb's Blog:                       Irena Stefanova
Heather Hoffman's Blog:     Woendi Levitt

CONGRATULATIONS WINNERS!
  Please check your inboxes for an email from us asking for your shipping address so we can send you the Simon Prize Pack! If for some reason we couldn't access your email, please email
[email protected]
and let us know you are one of our Blog Hop winners for the Simon Super Surprise pack and provide your mailing address. Thank you again for hopping along with us!