Masterpiece Box BLOG HOP! 10 Brands, 15 NEW Products and 21 Designers!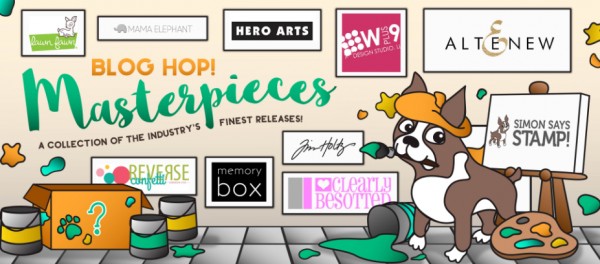 Hi friends! Welcome to our MEGA Masterpiece Box blog hop!  I'm really excited that you are taking the time to join us today.  You will not regret the burst of inspiration coming into your awesome weekend!  Yesterday we revealed the big surprise we've been dreaming up for you.  15 products from 10 different brands.  The products are brand new releases and most are not shipping just yet.  However, the Masterpiece Box is Shipping NOW! That means you don't have to wait until the end of August to get Lawn Fawn's new release or wait until October to get those adorable Mama Elephant Tiny Ninjas!  We are even shipping a special STAMPtember® exclusive "OH Happy Day" stamp set in this box NOW!
The beauty of this Masterpiece box is that so many different brands have worked with us to be in a "one stop shop" box.  The exciting part of the Masterpiece Box is that the products in it are not yet shipping to customers.  It's a little big of a cost savings, but it's also a great opportunity for you (and me!) to play with some of the most exciting releases of the year before they are on store shelves.  The Masterpiece Box is a limited edition set and once it sells out, it will not be restocked.  So if you want those Tiny Ninjas, you can get them now in the box or wait until their release date in October.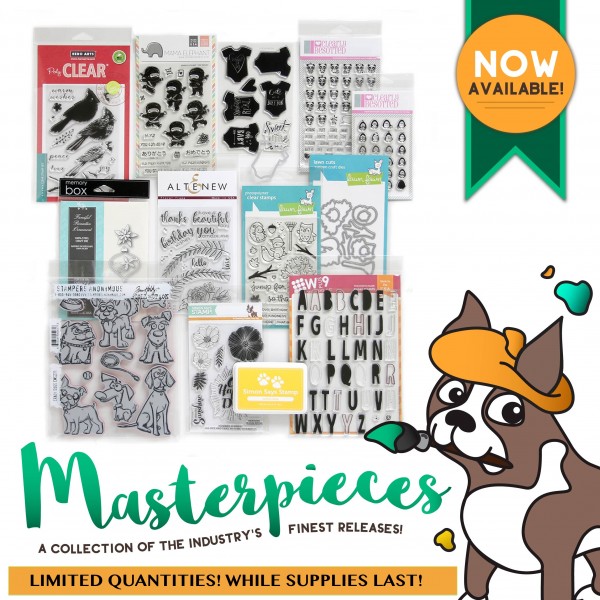 Simon Says Stamp Blog <<< You are here
Jennifer McGuire
Kristina Werner
Laura Bassen
Yana Smakula
Debby Hughes
Nichol Spohr
Yoonsun Hur
Shari Carroll
Amy Rysavy
Virginia Lu
Chari Moss
Kelly Latevola
May Sukyoung Park
Nina Marie Trapani
Heather Ruwe
Kathy Racoosin
Wanda Guess
Jana Millen
Caryn Davies
Barb Engler
Heather Hoffman
Happy Hopping! Be sure to comment at each stop. There is a chance to win a $25 gift card to our store at each stop!!
Thanks again for joining us …. you seriously DO NOT want to miss this inspiration blog hop!  You can continue to find inspiration on social media using #MasterpieceBox
Information about the product release dates:
Simon Says Stamp 4 x 6 inch Clear Stamp Set (Oh Happy Day SSS101631) – shipping Sept, 2016
Simon Says Stamp Dye Ink Pad (Lemon Zest INK068) – shipping Sept, 2016
Mama Elephant 4 x 6 inch Clear Stamp Set (Tiny Ninjas) – shipping October, 2016
Memory Box Wafer Thin Die Set (Fanciful Ornament 99549) – shipping October, 2016
Clearly Besotted 4 x 6 inch Clear Stamp Set (Panda Planner) – shipping Mid August, 2016
Clearly Besotted 3 x 4 inch Clear Stamp Set (Penguin Planner) – shipping Mid August, 2016
Tim Holtz 7 x 8.5 inch Cling Stamp Set (Crazy Dogs CMS271) – shipping late July, 2016
Lawn Fawn 4 x 6 inch Clear Stamp Set (Jump For Joy LF212) – shipping late August, 2016
Lawn Fawn Wafer Thin Die Set (Jump for Joy LF213) – shipping late August, 2016
Altenew 4 x 6 inch Clear Stamp Set (Floral Frame) – shipping October, 2016
Hero Arts 4 x 6 inch Clear Stamp Set (Color Layering Cardinal CL984) – shipping August, 2016
Hero Arts Wafer Thin Die Set (Color Layering Cardinal Frame Cuts DI308) – shipping August, 2016
Wplus9 5.5 x 8 inch Clear Stamp Set (Whimsy Alpha) – shipping November, 2016
Reverse Confetti 4 x 6 inch Clear Stamp Set (Cute as a Button) – shipping August, 2016
Reverse Confetti Wafer Thin Die (Cute as a Button) – shipping August, 2016