Love this Life: Funky Foliage Tag
Hi friends! Please join me in welcoming the super awesome Emma Williams back to our blog as a special guest! She's made this gorgeous Funky Foliage Tag using a plethora of fun products! Be sure to read on for tips, tricks, and product detail shots and enjoy!
Hi everyone, it's Emma here and I'm so excited to be back on the Simon Says Stamp blog to share my latest project with you all.
I think we can say that Autumn has finally arrived, or at least it has here in the UK and a celebration of my favorite time of year I decided to create this tag, which was such a fun piece to make. I fell in love with these Funky Foliage dies when I first saw them on Tim Holtz's Facebook Live video they are just the cutest and I just had so much fun bringing this little woodland scene to life and creating a home decor piece that can be displayed in the home and enjoyed…
So, it's time for me to share how I created this tag…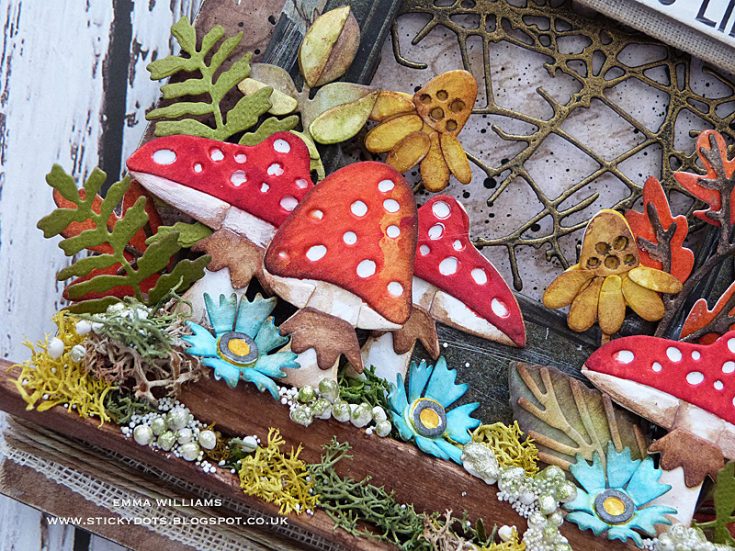 1. For this piece, I used a Mini Etcetera Tag which is perfect for this project as it's such a wonderful, substantial surface to work on.
2. Using paper from the Etcetera 8 x8 Paper Stash, I cut a panel roughly the same width as the tag and then adhered the paper directly onto my surface using Matte Collage Medium and the Tim Holtz Distress Collage Brush. At this stage, I also applied a layer over the top to seal the paper.
3. Once the medium is dry, I then applied Gathered Twigs Distress Crayon around the outside edge, blending out the color with my fingers or a semi dry baby wipe.
4. Paint the hole reinforcer piece, which is supplied with the tag using Walnut Stain Distress Paint and pop it over the hole of the tag using Matte Collage Medium to adhere it into place.
5. Setting the tag to one side, I moved onto the frame section and to begin, I used the Tangled Twigs die to die cut a panel of the black card.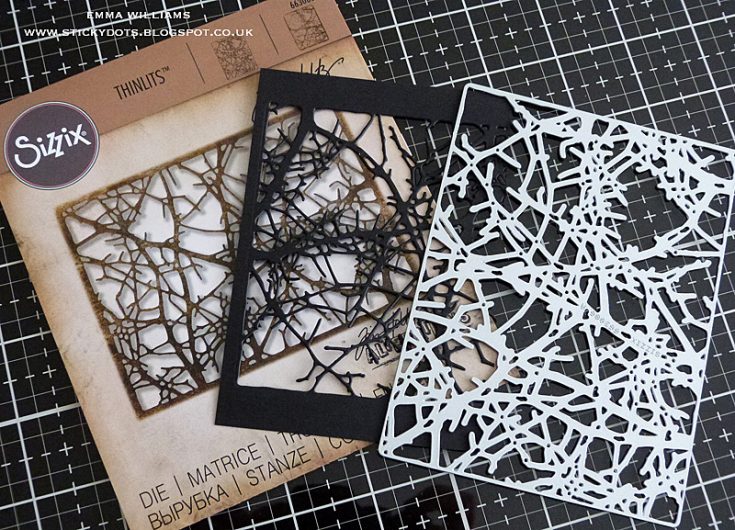 6. Taking the Tangled Twigs die cut, apply a small amount of Vintage Gold Alchemy Wax. Using one of the Baseboard Frames, cut the twigs die cut down to fit behind the aperture of the frame.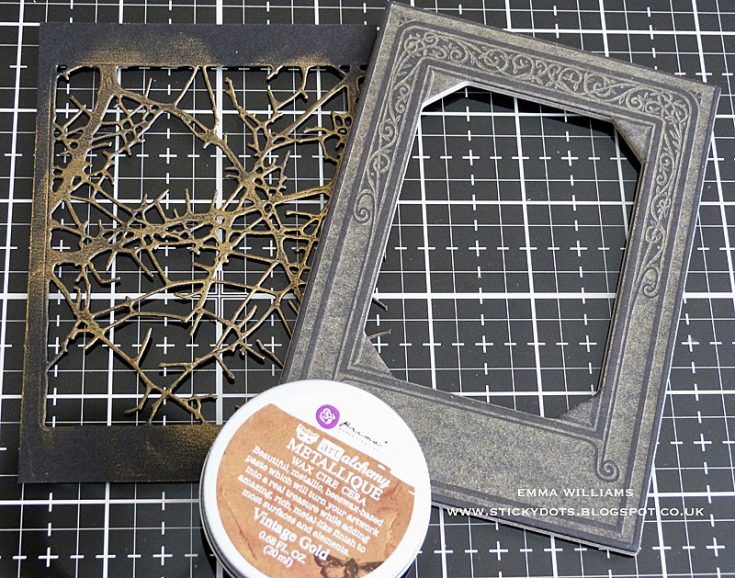 7. I attached the tangled twigs panel to the back of the frame with strong adhesive tape and then used foam pads to mount the frame onto the covered tag.
8. To create the little ledge that is sitting directly below the frame, I used two pieces of driftwood that I had in my stash, (you can also use thick pieces of chipboard or MDF if you haven't got any wood to hand). I placed the two pieces of wood onto the tag to create a step and used Matte Collage Medium to secure them into place. Allow for the medium to dry and the wood to be secure.
9. I then placed small torn pieces of Design Tape around the edge of the frame to create a more worn, vintage feel before moving onto all those die cuts that will create my scene.
10. Using a selection of dies from the Funky Foliage set, die cut the pieces from Tim Holtz Distress Watercolor Card.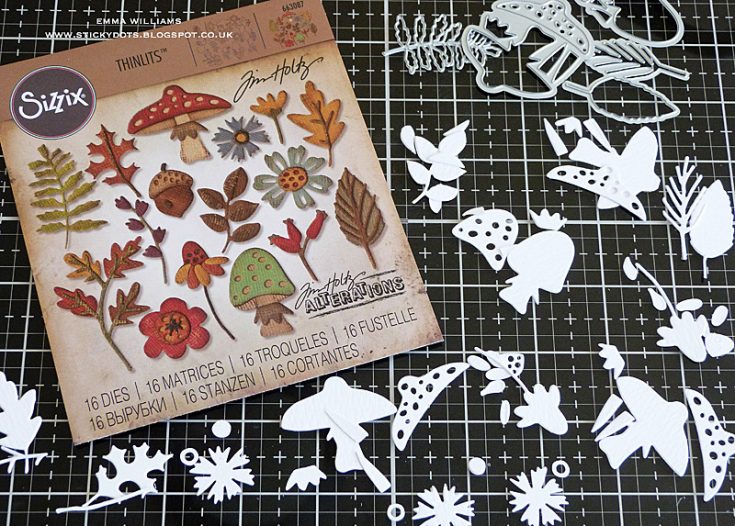 11. Starting with the toadstools, apply Candied Apple Distress Ink to the mat and spritz with water. Swipe the die cut pieces through the ink to pick up the color and heat dry.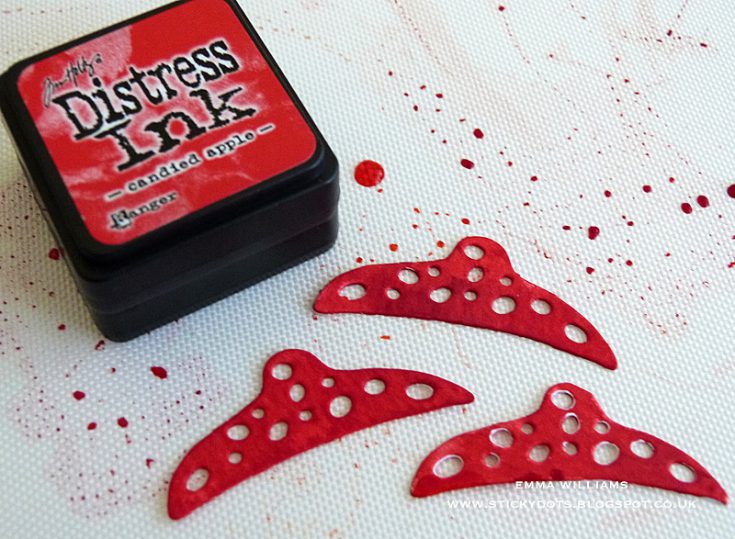 12. Continue to do this will all your pieces to color the die cuts in a variety of Distress Inks, shown below. If you need more color on any of the pieces, keep dipping into the inks to create more intensity but remember to dry thoroughly between each layer.
13. Ink the edges of each piece using Gathered Twigs Distress Ink and assemble all the individual pieces of Funky Foliage ~ this part does take time and a little bit of patience but it is definitely worth it.
14. Once I had all my pieces, I then started to adhere them to the tag, building up the layers to create dimension using various depths of foam that I attached to the back.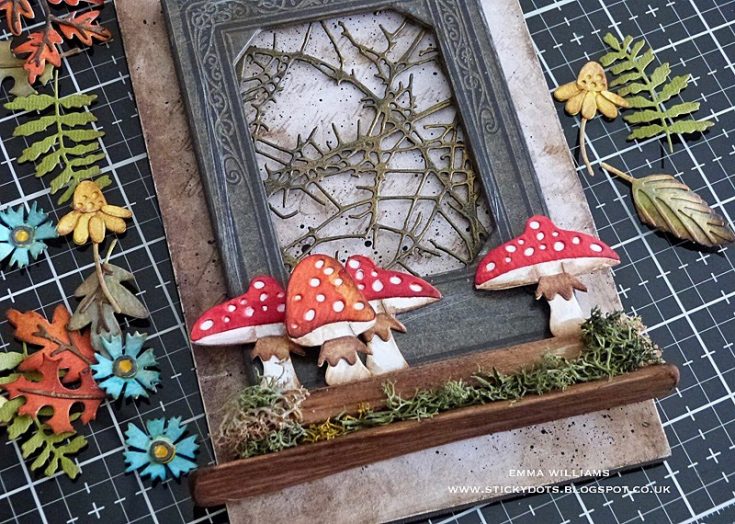 15. At this stage, I also placed small pieces of moss amongst the funky foliage die cuts, attaching it directly onto the ledge using Matte Collage Medium.
16. When I was happy with the placement of all the pieces, I added some Art Stones amongst the moss, again adhering them into place with Matte Collage Medium.
17. Allow for the stones to dry thoroughly before painting them with Prima Marketing, Unicorn's Hair Acrylic Paint.
18. Cutting a strip of Mummy Cloth, (if you haven't got Mummy Cloth a strip of cheesecloth, will do equally as well), I wrapped this beneath the wooden ledge, together with some twine and secured the wrap with a knot at the back.
19. Adhere three Melange Pebbles to the top right-hand corner to create the look of tiny bubbles.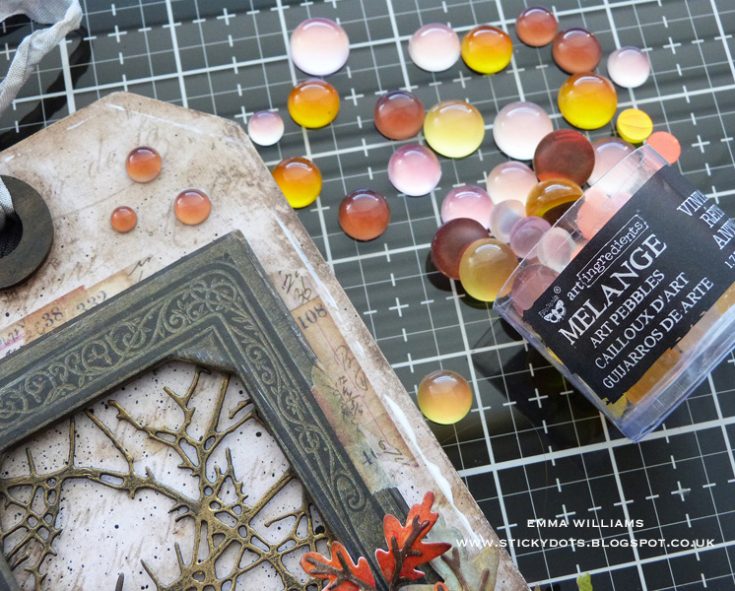 20. To complete the frame, I added a Snippets Ephemera piece, '2/6' and attached this to the top left-hand corner of the frame and hammered a Vignette Hardware Nail directly into the frame.
21. Finally, I placed a Quote Chip, sanded around the edges and attached this onto a piece of linen covered chipboard before adhering it across the aperture of the frame.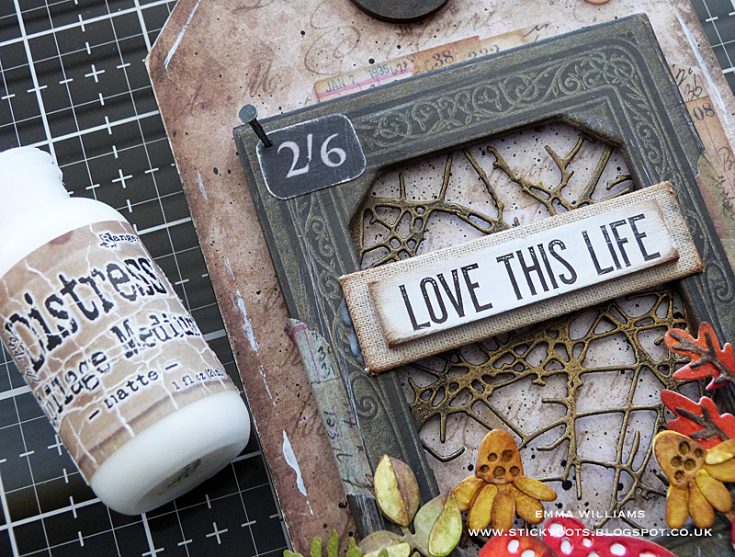 22. As the finishing touch to the tag, I dyed some white crinkle ribbon from my stash using Weathered Wood and Antique Linen Distress Spray Stain. Once the ribbon was dry, I cut it into strips and threaded it through the hole at the top…
…and that completes this autumnal, funky foliage tag that I've packed full of dimension and layers.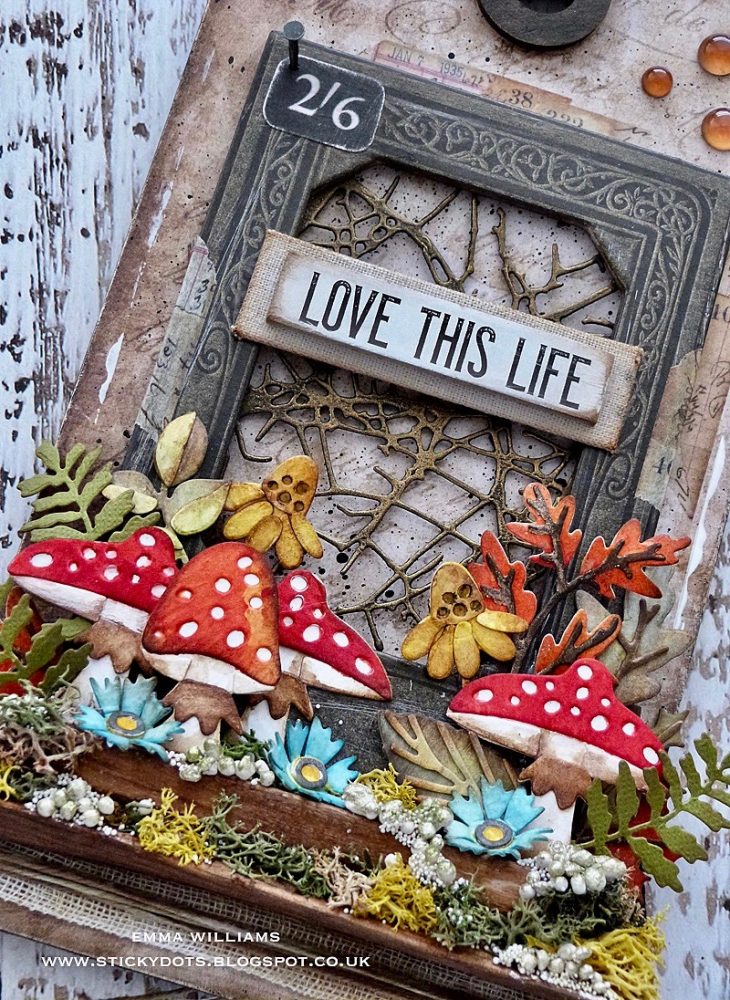 Thank you so much for stopping by today, I've really enjoyed taking you through the creative process of this tag and I hope I've inspired you with some of the tricks and techniques.
See you again soon everyone…
Emma
SUPPLIES:
Tim Holtz Sizzix FUNKY FOLIAGE…

Tim Holtz Sizzix TANGLED TWIGS…

Tim Holtz Flip Top Distress Paint…

Tim Holtz Distress Spray Stain…

Tim Holtz Distress Spray Stain…

Tim Holtz Etcetera MINI TAG CHIPBOARD…

Tim Holtz Idea-ology 8 x 8 Paper…

Tim Holtz 8.5 X 11 DISTRESS…

Simon Says Stamp Card Stock 100#…

Tim Holtz Distress Mini Ink Pad…

Tim Holtz Distress Mini Ink Pad…

Tim Holtz Distress Mini Ink Pad…

Tim Holtz Distress Mini Ink Pad…

Tim Holtz Distress Mini Ink Pad…

Tim Holtz Distress Mini Ink Pad…

Ranger Tim Holtz Distress Crayons SET…

Tim Holtz Idea-ology BASEBOARD FRAMES…

Tim Holtz Idea-ology FRENCH Design…

Tim Holtz Idea-ology QUOTE CHIPS…

Tim Holtz Idea-ology SNIPPETS…

Tim Holtz Idea-ology MUMMY CLOTH th93738

Tim Holtz Idea-ology VIGNETTE…

3M Scotch DOUBLE-SIDED FOAM TAPE…

Tim Holtz Distress Collage Medium…

Prima Marketing VINTAGE GOLD Art…

Prima Marketing SPARKS UNICORN'S HAIR…

Prima Marketing MELANGE VINTAGE…

Prima Marketing MEGA ART STONES Art…

Prima Marketing ART STONES Art…

Prima Marketing MINI ART STONES Art…

Hemptique NATURAL Hemp Cord Twine 029256

Hemptique WHITE Hemp Cord Twine 029287

The Moss Collection VARIETY PACK…

Tim Holtz Distress COLLAGE BRUSH SET…

Precision Heat Embossing Tool Gun…

Ranger MINI ROUND INK BLENDING TOOLS…

Tim Holtz Tonic GLASS MEDIA MAT 1914e

Tim Holtz Tonic GUILLOTINE COMFORT…
Thanks so much for stopping by, and thanks to Emma for being our guest!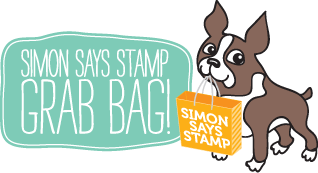 Blog Candy Alert!! Follow our blog via email and comment on this post for a chance to win special blog candy!