Love this Life Framed Panel by Richele Christensen
Hi friends! Happy Wednesday! Please join me in a big welcome back to very special gust Richele Christensen! Please read on to find out more details of how she made this gorgeous art and enjoy!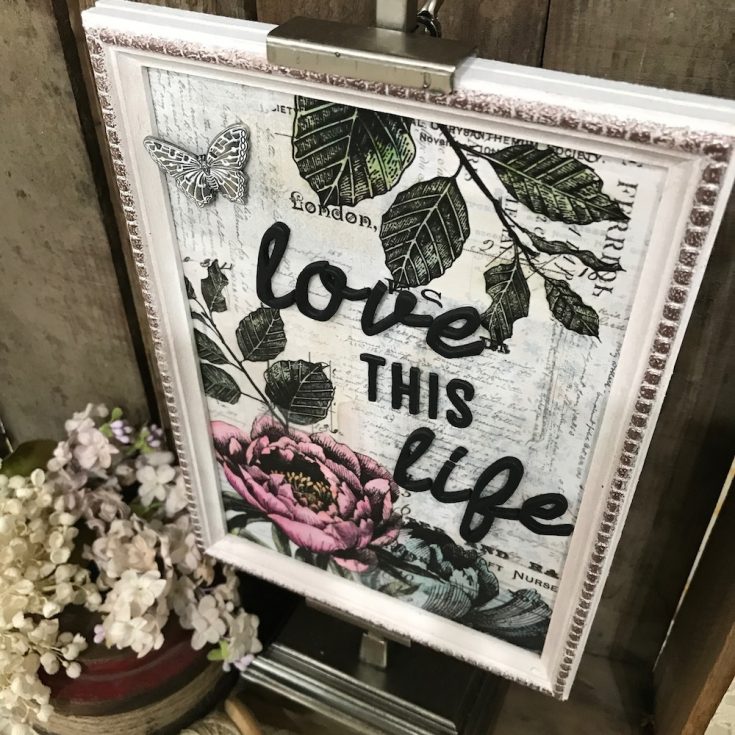 Hello, friends, it's Richele, thank you so much for joining me today! Spring is one of my favorite times of the year and I love all the pretty flowers that it brings. I have a beautiful decor piece to share with you using the new Tim Holtz Botanical Collage Paper just look at all the gorgeous flowers! The Collage Papers are semi-translucent and comes in a few different prints. Botanical, the one in my project today, which is black and white and can be colored, Aviary has beautiful printed birds, Floral has dreamy roses printed on it and then Plain that can be stamped on or altered to your heart's content. Perfect for Mixed Media and collage.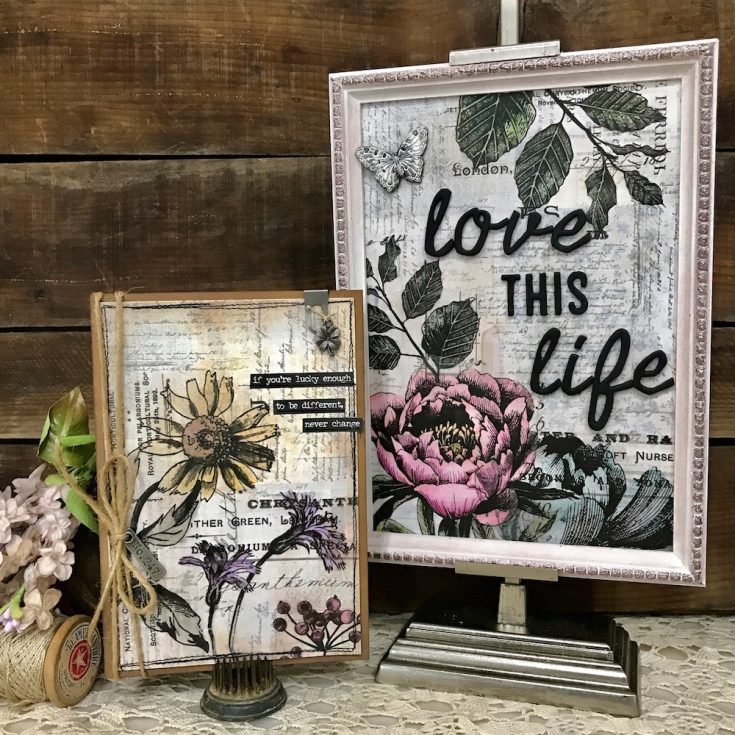 Instructions: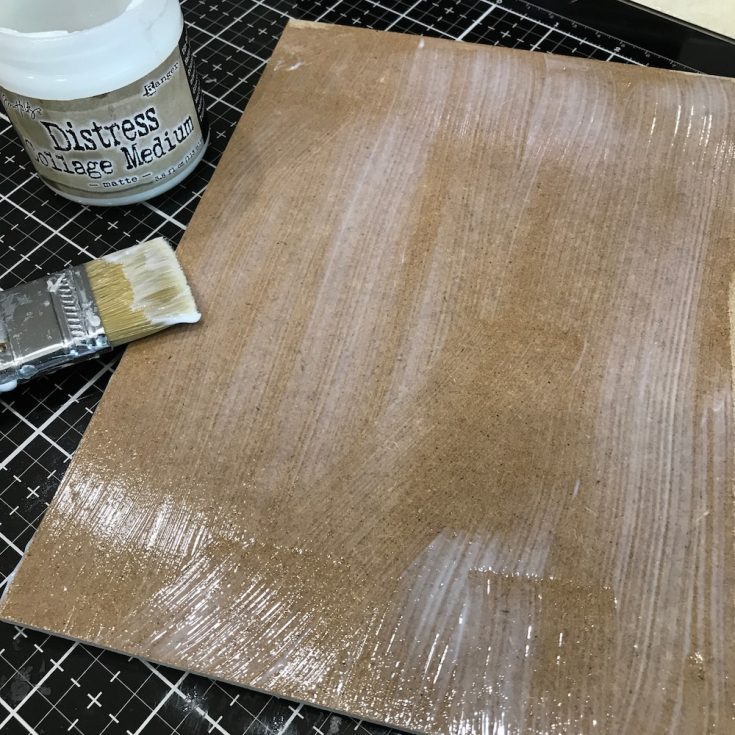 1. Apply a generous amount of Distress Collage Medium to the base of the Framed Panel.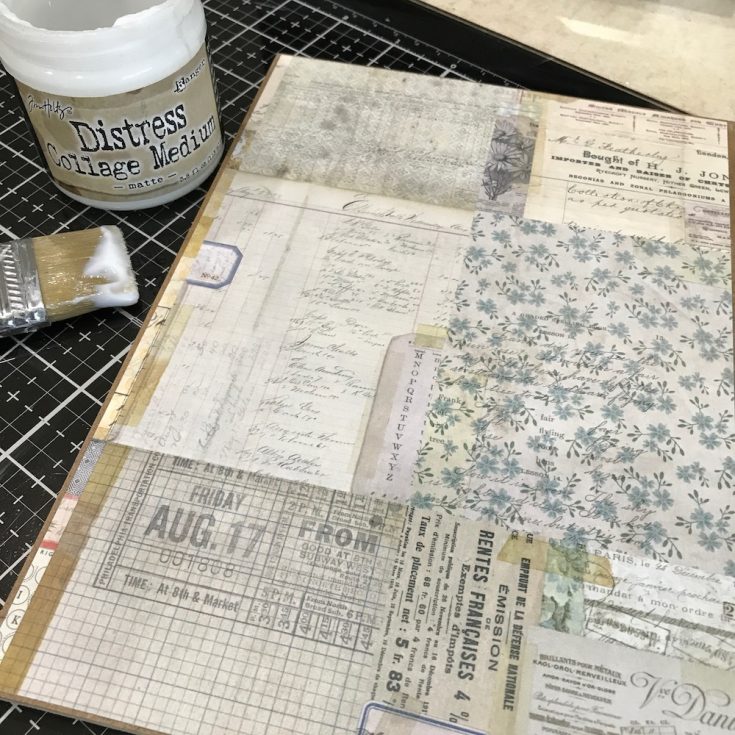 2. Cut a 6" x 8 1/2" piece of Memoranda Paper Stash and adhere to back Panel then apply a thin layer of Collage Medium over the top.

3. Whitewash the background with Dina Wakley Media White Gesso. Be sure to use a very thin random layer to let the paper show through.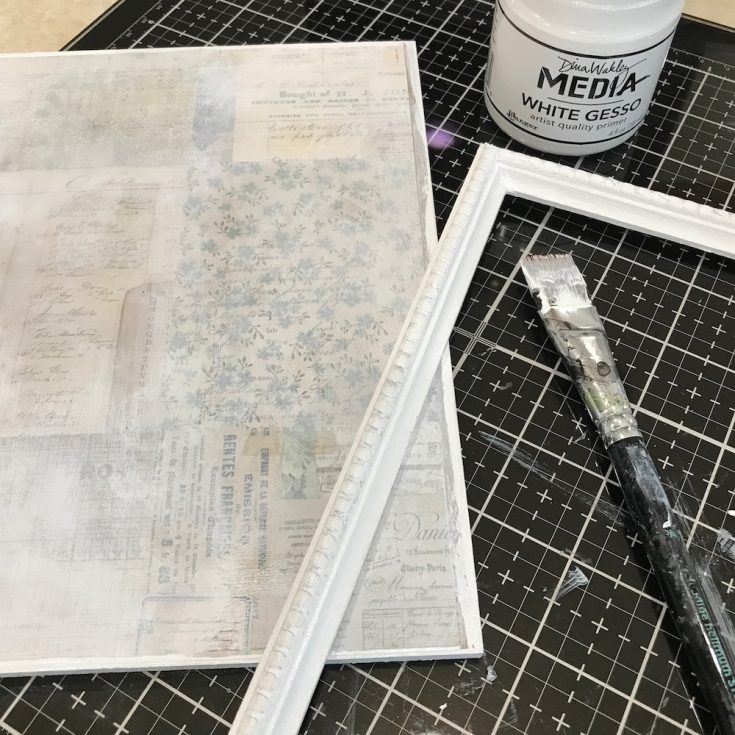 4. Paint the Frame and the side of the Panel with the White Gesso.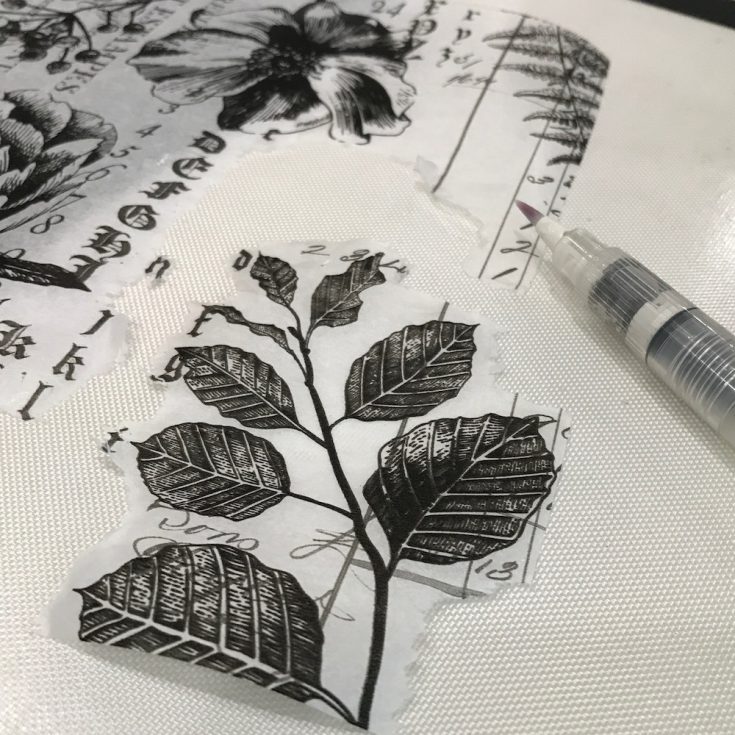 5. Use a Waterbrush to create a tear line on the Collage Paper. Work in small sections leaving some of the background areas to create interest.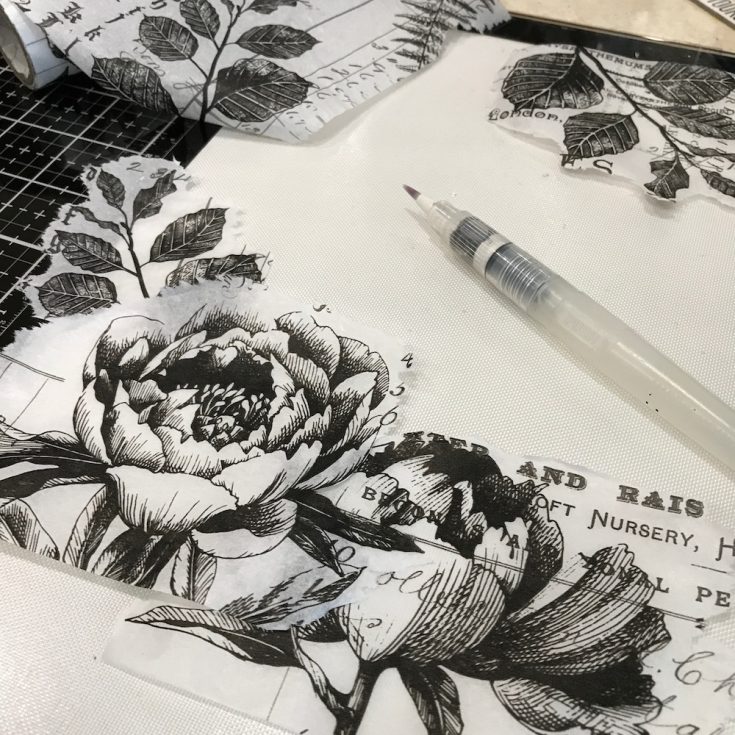 6. Choose a few flowers and a few leaf sections and tear out with above technique.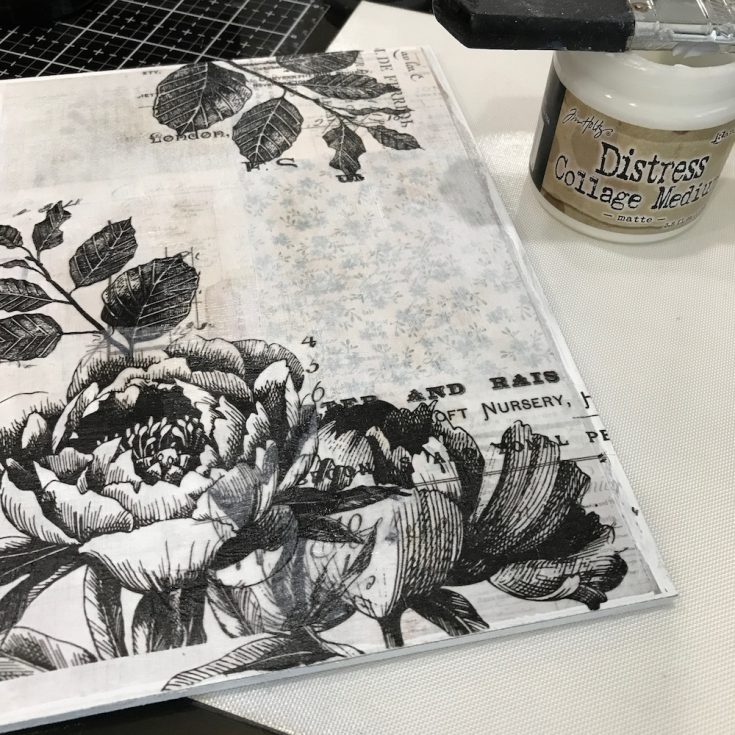 7. Apply a layer of Distress Collage Medium to the background, carefully add flowers and leaves, apply a thin layer of Collage Medium over the top and let dry or dry with heat tool. Tip: when the tissue is wet it will tear very easily so be careful.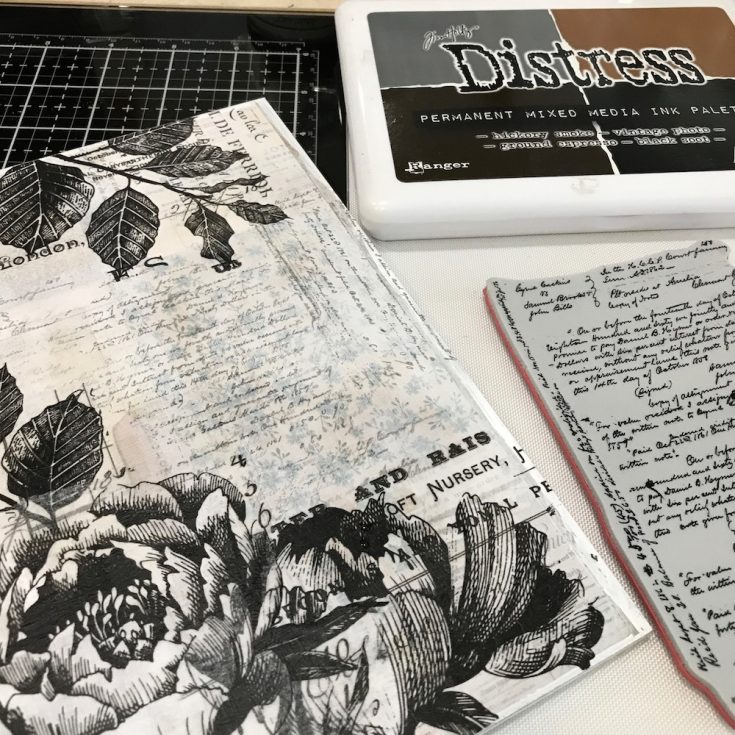 8. Stamp text over the background with Hickory Smoke Ink from the Distress Permanent Mixed Media Ink Palette.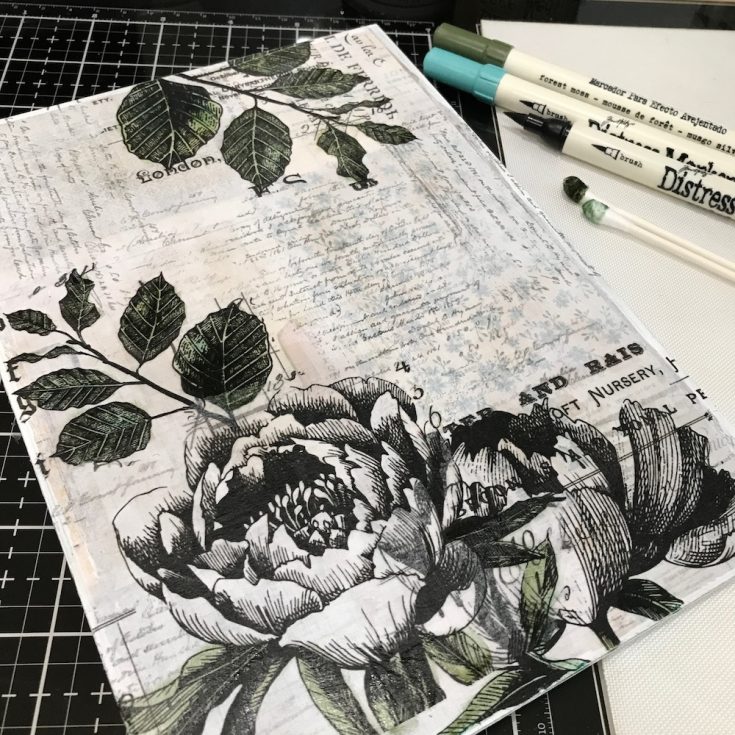 9. Color Leaves with Distress Markers using a few colors like (Forest Moss, Peeled Paint, Evergreen Bough). Use a cotton swab to blend the ink. I like using a few colors to create a more natural look for the flowers and the leaves.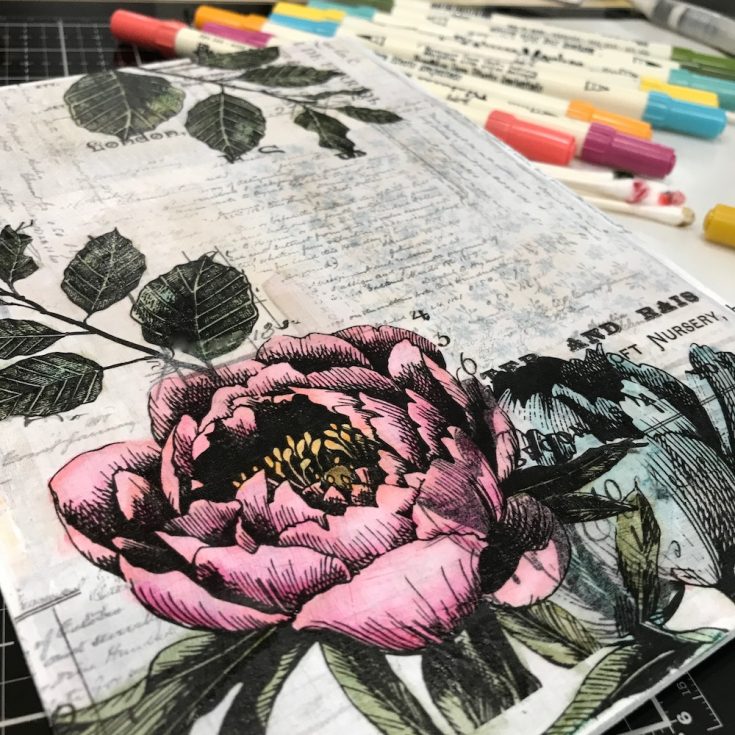 10. Color the flowers with Distress Markers (Abandoned Coral, Broken China, Fossilized Amber, Ground Espresso, Mustard Seed, Picked Raspberry) and blend with a cotton swab. If you color over the lines not to worry use a cotton swab to clean up the edges.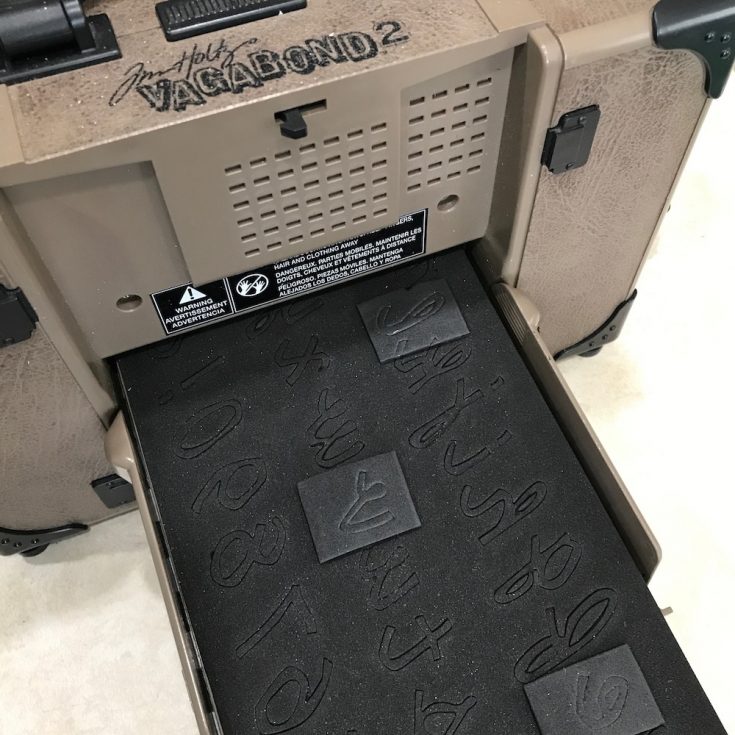 11. Apply black cardstock to one side of the Sizzix Foam Adhesive Sheets, cut into small pieces to fit die area and die cut letters "love + life" using the CutOut Script Bigz XL die and the Vagabond.

12. Cut the word "THIS" from the Alphanumeric Thinlits die set from black cardstock adhered to the Sizzix Foam Adhesive Sheets using the Vagabond.

13. Arrange letters and adhere to the panel using Distress Collage Medium if needed.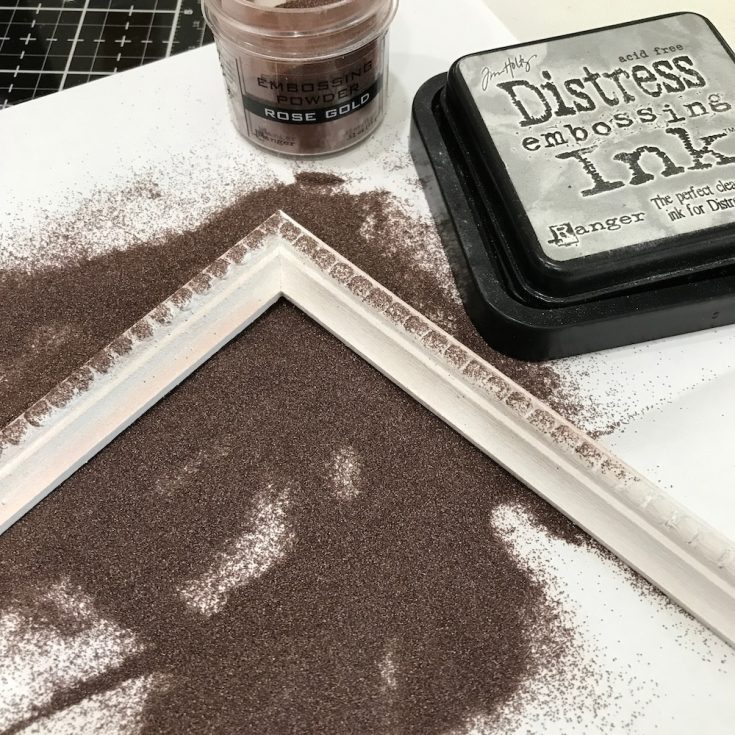 14. Working in small sections lightly pounce Distress Embossing Ink on the raised area of the frame, pour Rose Gold Embossing Powder over the frame and shake off excess powder.

15. Heat with a heat tool until powder melts.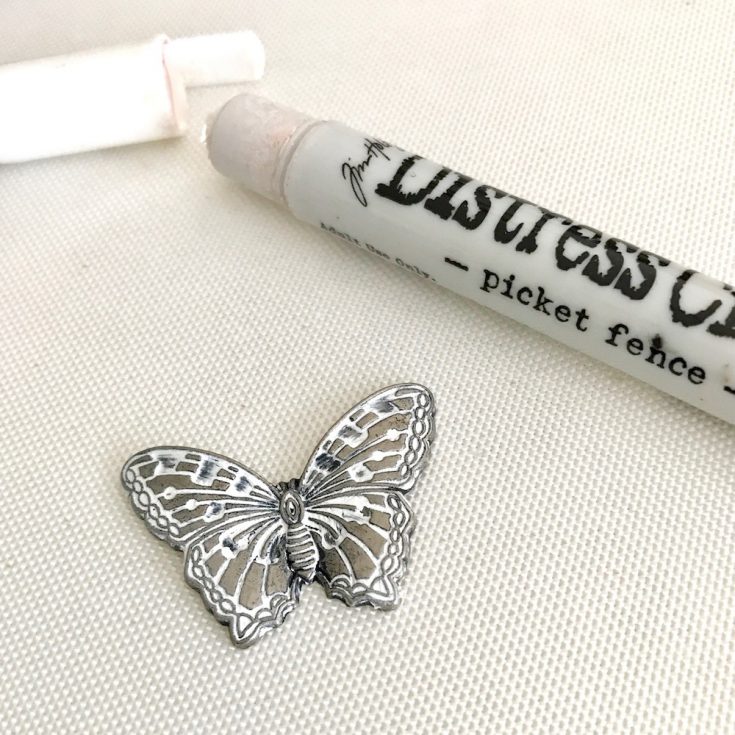 16. Apply Picket Fence Distress Crayon to Adornment Butterfly and work into the crevasses, wipe off excess crayon. The crayon will stay in the crevasses.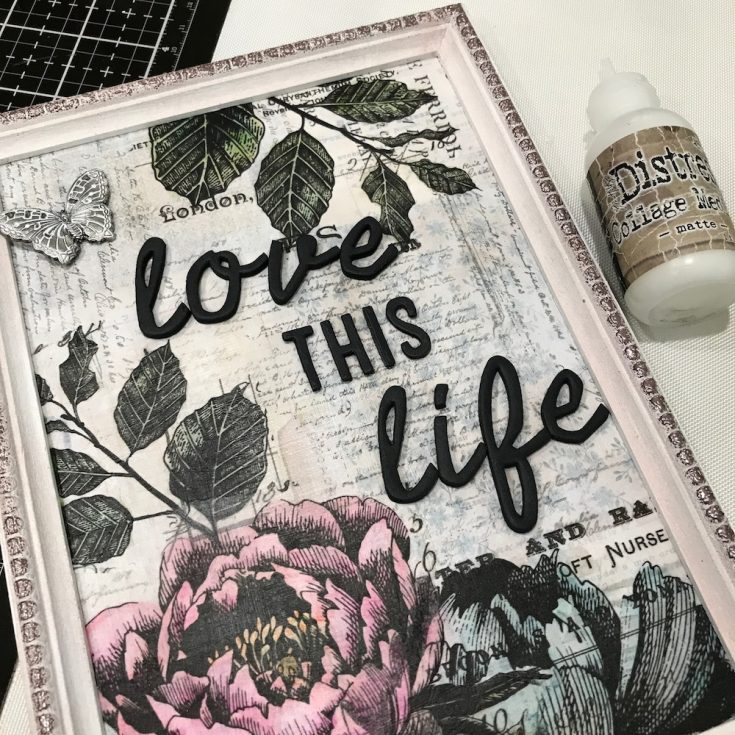 17. Adhere frame with a bead of Distress Collage Medium on the back of the frame. Place pieces together and set aside to dry. Tip: Add a few books to help weight the frame down. Adhere butterfly with a piece of foam tape.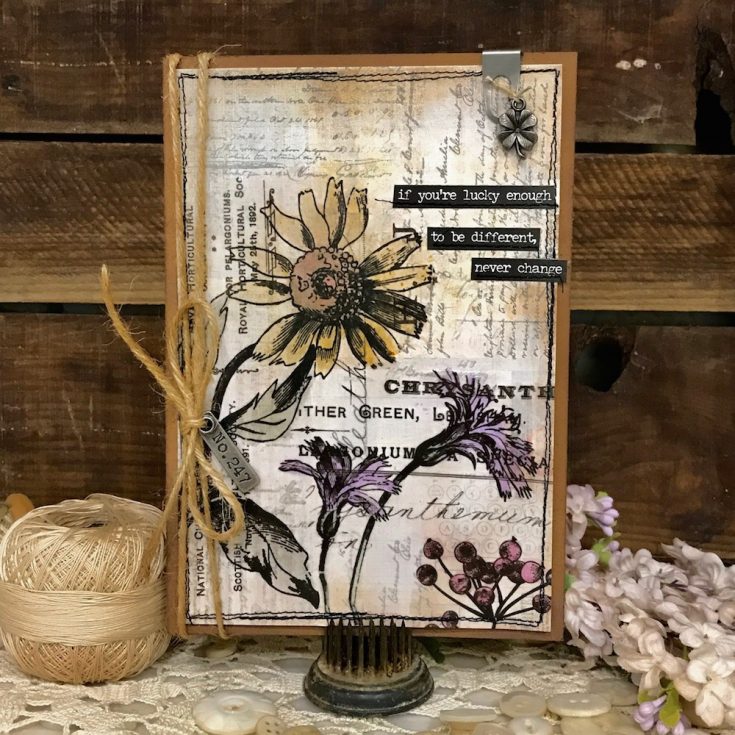 For those of you that are card makers, you can do the same techniques to create beautiful cards with any of the new Tim Holtz Collage Papers. Which design is your favorite?
Thanks so much for joining me on this creative journey and don't forget to" love this life"!
Richele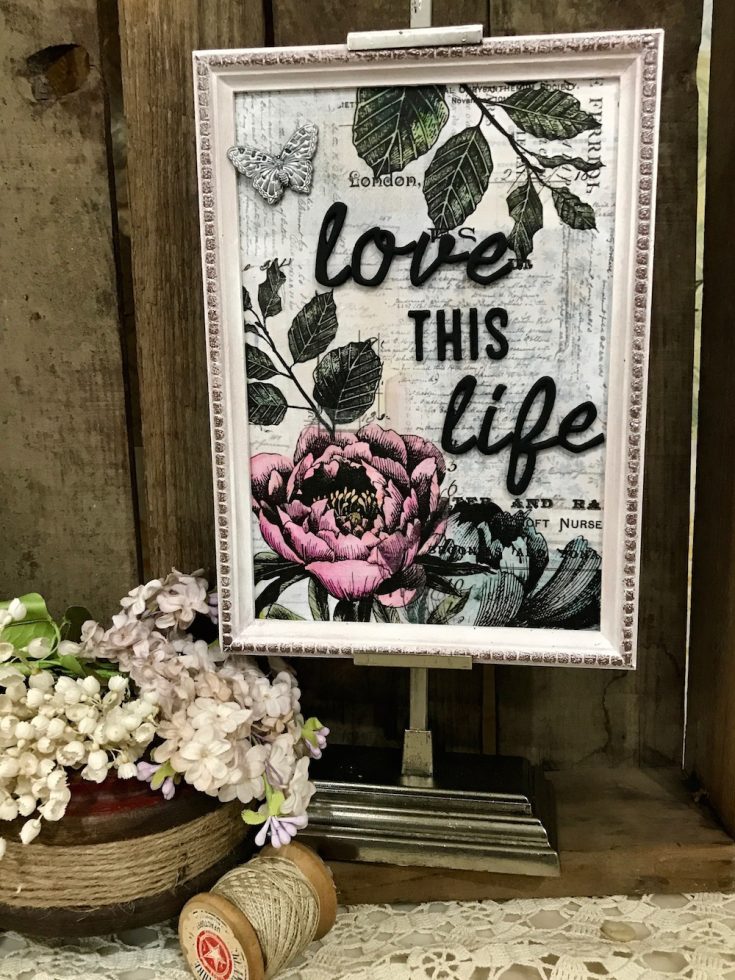 SUPPLIES:
Tim Holtz Idea-ology BUTTERFLIES…

Tim Holtz Idea-ology FRAMED PANEL…

Tim Holtz Idea-ology BOTANICAL…

Tim Holtz Idea-ology 12 x 12 Paper…

Tim Holtz Sizzix ALPHANUMERIC…

Tim Holtz Sizzix CUTOUT SCRIPT Bigz…

Tim Holtz Sizzix VAGABOND 2 MACHINE…

Sizzix FOAM ADHESIVE SHEETS 4×6 663042

Tim Holtz Cling Rubber Stamps 2018…

Tim Holtz DETAILER WATER BRUSH Ranger…

Dina Wakley Ranger WHITE GESSO 1OZ…

Tim Holtz Distress COLLAGE BRUSH SET…

Tim Holtz Distress Collage Medium…

Ranger Tim Holtz Distress Crayon…

Tim Holtz Distress Mini Ink Pad…

Ranger Embossing Powder ROSE GOLD…

Ranger US HEAT IT CRAFT TOOL United…

Tim Holtz Distress Markers ABANDONED…

Tim Holtz Distress Markers BROKEN…

Tim Holtz Distress Markers EVERGREEN…

Tim Holtz Distress Markers FOREST…

Tim Holtz Distress Markers FOSSILIZED…

Tim Holtz Distress Markers GROUND…

Tim Holtz Distress Markers MUSTARD…

Tim Holtz Distress Markers PEELED…

Tim Holtz Distress Markers PICKED…

Ranger TIM HOLTZ DISTRESS Archival…

RESERVE Tim Holtz Tonic GLASS MEDIA…

Simon Says Stamp Card Stock 100#…
Thanks so much for stopping by, and to Richele for being our guest!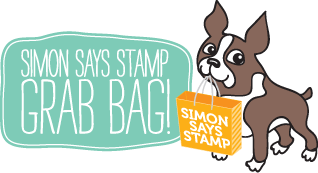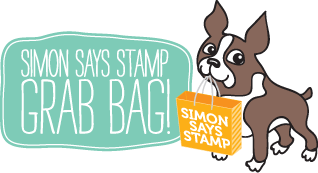 Blog Candy Alert!! Follow our blog via email and comment on this post for a chance to win special blog candy!
Congrats! Blog Candy Winners!
From: Studio Monda with Nina-Marie: Embellishing & Altering Die Cutting: Aimee LaCroix-Slocum!
From: Yippee for Yana: Stamped Floral Pattern Cards: Jeanne Beam!
From: Simon Says Stamp Exclusive Fluttering by Collection is Ready for You!:  Janet Mack,  Annette Reed, Lisa Byers,  Marisela Delgado, Marcia Scantlin,  Jennifer Petersen,  Christine Nixon, Becca Yahrling, Ashlee Diane, and  Arianna Barbara
From: Especially for You by Jill Foster:  Rebecca RamirezBarnes!
From: Creativity Takes Courage Tag by Emma Williams: Tammy Arndt!
From: Tone on Tone Die-Cutting by Dawn Woleslagle: NatQuebec!
From: Brand NEW Neat & Tangled Inspiration!: Jodi Warren!
From: No Line Watercoloring with Smiling Set: Betty Neville!
From: Flora & Fauna Unicorn Trio: Gerrina!
Please email [email protected] with the name of the blog you won from, the prize you won, and your address (if applicable) to redeem your prize(s)!