January Card Kit Reveal! Flurries of Love!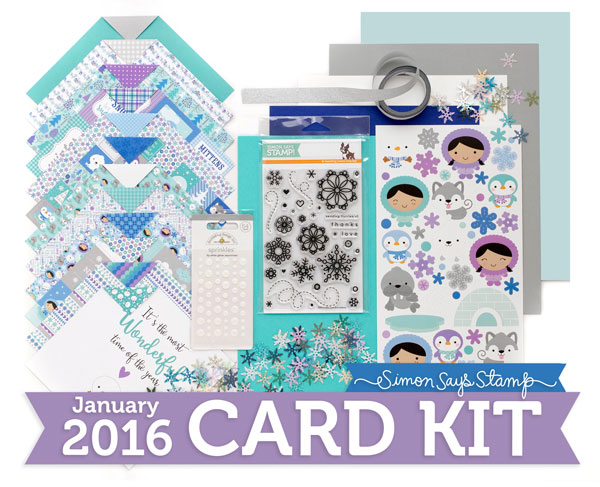 It's December 14th and that means it's time to reveal our Monthly Card Kit! Let me introduce you to Flurries of Love, our January 2016 card kit. Flurries of Love is full of winter theme images, perfect for those in-between non holiday card making.
This kit includes the Cute Snowflakes stamp set, Doodlebug's Polar Pals 6×6 papers and Sticker sheet and Sparkle Sprinkles. Also in this kit is a roll of Silver Glitter tape, a pack of 130 piece Iridescent Snow flakes and 6 sheets of Simon Says card stock in Smoke, Sea Glass, Blue Violet, Lavender, Audrey Blue and 120# White.
I've created a card where I used everything in the kit! I stamped an Audrey Blue panel with snowflakes using White Pigment, Audrey Blue and VersaMark inks. From there I cut strips of pattern papers to frame the panel.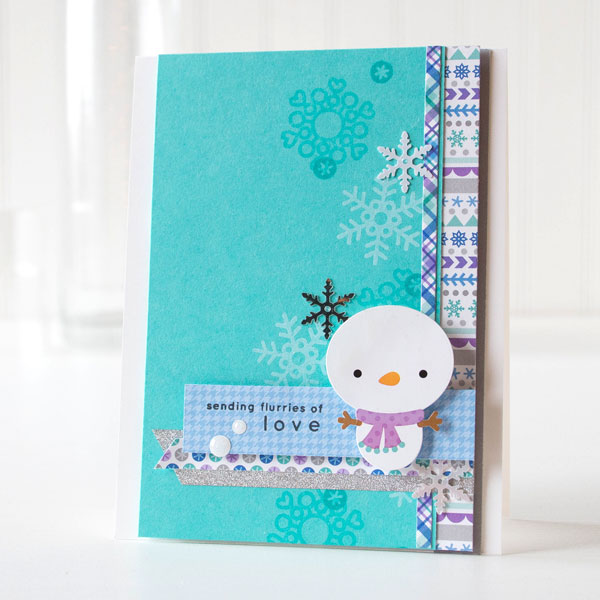 I added strips or paper and glitter tape putting them horizontal to create a place to anchor the snowman sticker. The top piece was stamped using greetings from the Cute Snowflakes stamp set in black ink.
I added a couple snowflake sequins and Sparkle sprinkles to finish things up. I've shot a video walk through of the kit, explaining all the contents and a little instruction on how to make the card. You can watch it below or on our YouTube channel.
The Cute Snowflakes Stamp set is also available for individual purchase in our store.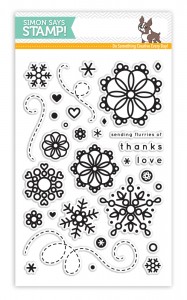 Remember, you can SUBSCRIBE to our no obligation kits and receive them monthly for $ 24.95 or purchase them each month for $ 29.95, while supplies last.
If you are a subscriber who used Paypal to purchase your subscription, please be sure to pay the invoice that we send you within 3 business days. We have a limited number of this card kit in stock and don't want you to miss out. For easier and quicker monthly processing, please contact us via email or telephone and we will put your credit card on file as a courtesy for you. Card kits bill and ship between the 17th and 27th days of every month.
Thanks for stopping by today, enjoy!