Holly Jolly Blog Hop WINNERS!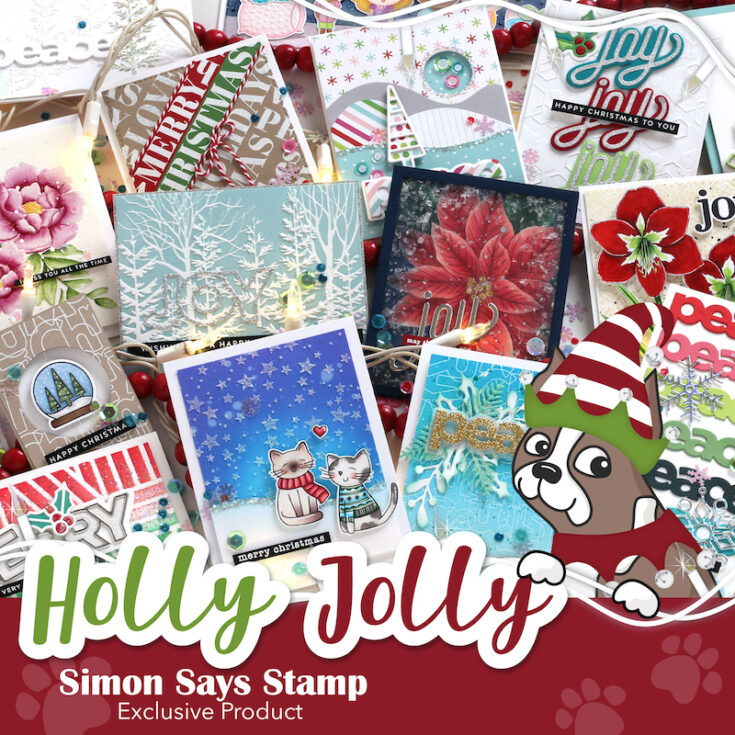 Hello, friends! Have you seen our Simon exclusive Holly Jolly release? Our Holly Jolly product lineup is full of products that are sure to bring you lots of creative options for the upcoming holidays! We are particularly excited to release some awesome designs from our new friend Lydia Diaz of Clever Girl Craftings and several awesome Simon exclusive embossing folders! Also included you'll find of stamps, dies, and stencils for holiday crafting, and some gorgeous sequins, chunky glitter, heavyweight cardstock, and some pretty blending brushes, too! No matter your style, you're sure to find an item or two (or fifteen!) that are must-haves. There are some wonderful new products from CZ Design and a brand new set of Suzy's watercolor cards! We are so excited for you to play with all of these awesome new products!
To celebrate this phenomenal release, we hosted an amazing blog hop. The hop featured many talented designers and each one created wonderful projects to inspire you. If you missed the hop, you can find the direct link HERE.
A BIG thank you to all of YOU who joined us for the hop! We enjoy hearing from each of you, and your words of encouragement and appreciation to each of the designers mean so much to us here at Simon and to them. It's our tradition to give away gift certificates to random commenters on each blog stop, and today we are revealing all of the winners! So without further ado, I present to you our winners!
from Simon Says Stamp's blog: Kandice J!
from Jennifer McGuire's blog: Dawn Cooksley!
from Cathy Zielske's blog: Kathy Roller!
from Nina-Marie Trapani's blog: Anneleise Hampson!
from Laura Bassen's blog: Hussena Calcuttawala!
from Debby Hughes's blog: Giselaine Ellison!
from Caly Person's blog: Talitha Wright!
from Nichol Spohr's blog: Lisa Reber!
from Amy Rysavy's blog: Cat Craig!
from Amanda Korotkova's blog: berryblue!
from Yana Smakula's blog: Denise Ward!
from Lisa Addesa's blog: Rochelle!
from Yoonsun Hur's blog: Jenni King!
from Heather Ruwe's blog: Ashley Cortez!
from Suzy Plantamura's blog: Viveca V.!
from Sidnie Des Jardins's blog: Karla Bostic!
If you see your name listed above, CONGRATULATIONS! Please email [email protected] and let him know that you are one of our Holly Jolly Blog Hop winners! You'll receive a $25 Gift Card. ???
Thanks again for hopping along with us! We hope you enjoy our fantastic Holly Jolly release and that it gives you creative enjoyment for months to come!
Winning ROCKS, and so do you!