All the Feels Blog Hop WINNERS!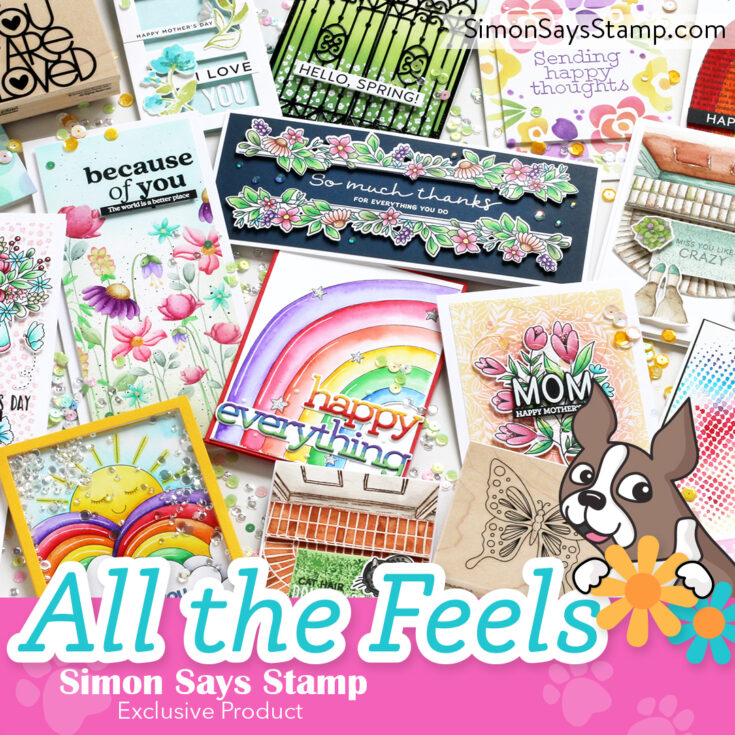 Hello, friends! Have you seen our All the Feels Simon exclusive release? This Simon exclusive product lineup will put a spring in your step and give you lots of ways to celebrate mom! You'll find tons of gorgeous floral stamps, products dedicated to moms and motherhood, as well as some super fun bold and graphic stencils, stamps, and sentiments! In addition, there are several new woodblock stamps, a super fun kitty stamp set, and pretty sequin mixes that you will adore. No matter your style, you're sure to find an item or two (or way more!) that need to be a part of your craft room. There are some wonderful new products from CZ Design, and a brand new set of sunshine and rainbow-themed Suzy's watercolor cards, too! We are so excited for you to play with all of these awesome new products!
To celebrate this phenomenal release, we hosted two amazing blog hops! The hops featured many talented designers and each one created wonderful projects to inspire you. If you missed either of the hops, you can find the direct links here: DAY ONE and DAY TWO.
A BIG thank you to all of YOU who joined us for the hops! We enjoy hearing from each of you, and your words of encouragement and appreciation to each of the designers mean so much to us here at Simon and to them. It's our tradition to give away gift certificates to random commenters on each blog stop, and today we are revealing all of the winners! So without further ado, I present to you our winners!
from Simon Says Stamp's blog: Sheila Bacon!
from Nina-Marie Trapani's blog: Elizabeth J Kuntz!
from Caly Person's blog: Surekha Galagoda!
from Nichol Spohr's blog: Cindy Storer!
from Jennifer McGuire's blog: Phyllis Wendt!
from Cathy Zielske's blog: Melissa Leftrick!
from Heather Ruwe's blog: Kathryn Gagne!
from Lisa Addesa's blog: Christy Malone!
from Sidnie Des Jardins's blog: Linda BL!
from Cheiron Brandon's blog: Suzann Northrup!
from Barb Engler's blog: Conniecrafter!
from Lea Lawson's blog: Misty Obarr!
from Suzy Plantamura's blog: Rema DeLeeuw!
from Amy Rysavy's blog: Kelley Clarke!
from Simon Says Stamp's blog: Judi Knecht!
from Debby Hughes's blog: Vickie Davis!
from Laura Bassen's blog: Eva N!
from Amanda Korotkova's blog: Patty!
from Heather Hoffman's blog: Jessie!
from Bobbi Lemanski's blog: Jill Rauenhorst!
from Vicky Papaioannou's blog: Beverly Jordan!
from Bibi Cameron's blog: Sam O!
from Kathy Racoosin's blog: Gabriella Bell!
from Dilay Nicar's blog: Alma Dirpaul!
from Mindy Eggen's blog: Kathy McConnell!
from Emma Williams's blog: Amanda Steele!
from Seeka's blog: Cheryl Stauffer!
from Tina Smith's blog: Geri Lynn!
If you see your name listed above, CONGRATULATIONS! Please email R[email protected] and let him know that you are one of our All the Feels Blog Hop winners! You'll receive a $25 Gift Card. ???
Thanks again for hopping along with us! We hope you enjoy our fantastic All the Feels release and that it gives you creative enjoyment for months to come!
Winning ROCKS, and so do you!