Holiday Sparkle Blog Hop WINNERS!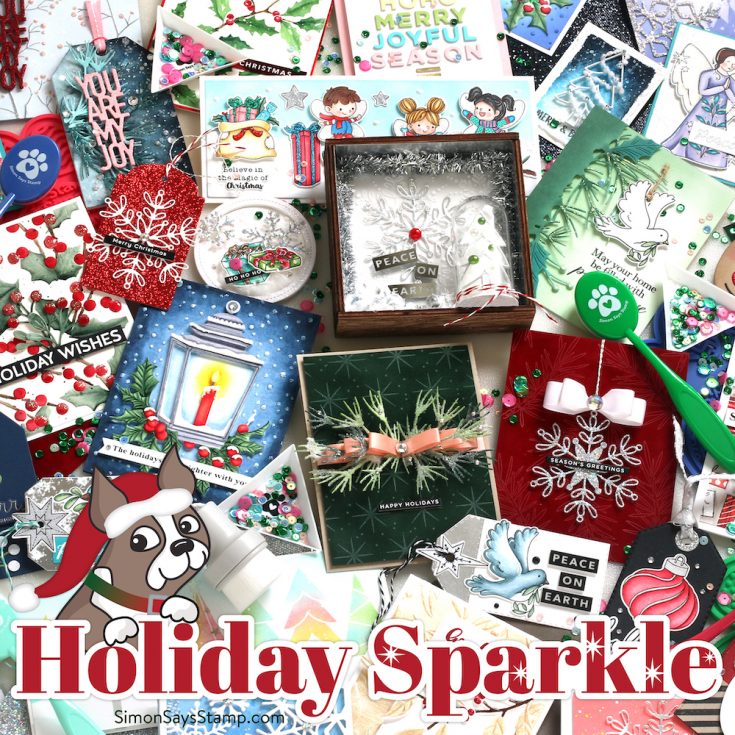 Hello, friends!
Twinkly season is upon us with our BRAND NEW collection, Holiday Sparkle, and there's something for everyone! We've got sacred Christmas-themed products like Peace on Earth and All Ye Faithful sets and the lovely Country Church embossing folder; whimsical dies like Icy Igloo, Layered Cheery Penguin and Layered Playful Penguin, and Reindeer Parts (which has a coordinating stencil); and classic holiday images like Fir Branches and Fruitful Berries dies and Antique Lamp and Pine Landscape embossing folders.
You'll also love our two new hot foil plates (Believe and Joyful), some fabulous lush Pawsitively Velvet and Luxe Glitter papers, and a handy Chipboard Bundle for mixed media projects!
To celebrate this phenomenal release, we hosted two amazing blog hops! The hops featured many talented designers and each one created wonderful projects to inspire you. If you missed either of the hops, you can find the direct links here: DAY ONE and DAY TWO.
A BIG thank you to all of YOU who joined us for the hops! We enjoy hearing from each of you, and your words of encouragement and appreciation to each of the designers mean so much to us here at Simon and to them. It's our tradition to give away gift certificates to random commenters on each blog stop, and today we are revealing all of the winners! So without further ado, I present to you our winners!
from Simon Says Stamp's blog: Debbie Selby!
from Nina-Marie Trapani's blog: Karyn Patrick!
from Caly Person's blog: Berina!
from Nichol Spohr's blog: Andrea Fisher!
from Cathy Zielske's blog: Deana Hayes!
from Jennifer McGuire's blog: Leslie Scholes!
from Amy Rysavy's blog: Heidi O!
from Suzy Plantamura's blog: Charlene Cundy!
from Keisha Charles's blog: beachjan99!
from Yana Smakula's blog: Linda Mazzola!
from Barbara Tarayao's blog: Erica Most!
from Emma Williams's blog: NancyB!
from Heather Ruwe's blog: Jenna Chapman!
from Bibi Cameron's blog: jennifer l bockenstedt!
from Lisa Addesa's blog: Kris in Alaska!
from Barb Engler's blog: Susan!
from Simon Says Stamp's blog: janine a mendez!
from Laura Bassen's blog: Barb Woods-Miazza!
from Debby Hughes's blog: Sara Emily Barker!
from Alberto Gava's blog: dorothyayotte!
from Miriam Prantner's blog: Terry Deason!
from Anna-Karin Evaldsson's blog: And (RrlScrapGal)!
from Amanda Korotkova's blog: corky.kay!
from Mindy Eggen's blog: Faith Thomas!
from Lorraine Aquilina's blog: Diane Dupont!
from Heather Hoffman's blog: Pauline!
from Emily Midgett's blog: Deb Lowdermilk!
from Jennifer Kotas's blog: Kathy Eddy!
from Tina Smith's blog: beccab33324!
from Jean Doeringsfeld's blog: Linda BL!
from Misty Elam's blog: Linda Price!
from Diane Morales's blog: 2TallJoyce!
from Maura Hibbitts's blog: Jennifer Jane Mills!
If you see your name listed above, CONGRATULATIONS! Please email [email protected] and let him know that you are one of our Holiday Sparkle Blog Hop winners! You'll receive a $25 Gift Card.
Thanks again for hopping along with us! We hope you enjoy our fantastic Holiday Sparkle release and that it gives you creative enjoyment for months to come!
You'll love browsing our Holiday Sparkle gallery on our blog for loads of additional inspiration, and you can add your projects to these galleries as well!
Winning ROCKS, and so do you!