Advent Calendar Extravaganza with Taheerah Atchia
Advent Calendar Extravaganza is -the- festive event of the season! This 'hop with a twist' was dreamed up by Taheerah Atchia and features surprise destinations each day! Joining in the fun with Taheerah are over 60 special guests – each serving up some fantastic Christmas inspiration! Just like an Advent Calendar, you'll never know where you're going to be visiting next until you 'open the door'!
And that's not all! With 25 *amazing* sponsors taking part as well, your crafty wish list is bound to get a boost with a chance to win a prize EVERY SINGLE DAY!!
Join in the fun every day at taheerah-atchia.com to see what special surprises wait behind the door!
It's not a party without a prize – and with prizes every day there are several chances to win! Today's prize is supplied by us, so you'll definitely want to get your hands on it! Simply leave a comment on this post to enter – then head back to taheerah-atchia.com and leave a comment there too to double your chances! Don't forget to grab the other surprise destinations from Taheerah's blog and head over to them to leave comments there as well to improve your odds even more! You have until 7am EST on Thursday 31st December to leave all your comments!
I have a project for you today using the Tim Holtz Texture Surfaces, St Nick Bigz Die, Flip Frame and Distress Paints!
I love all the texture of the corrugated and burlap plus a bit of crackle paste! I've kept it simple to let all the different surfaces stand out.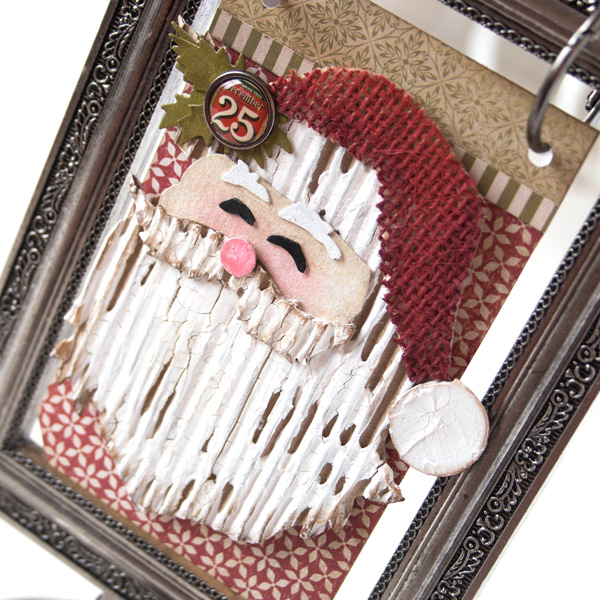 I've shot a full process video, you can watch it below or on our YouTube channel. Enjoy!
Don't forget the Advent Calendar Extravaganza runs from 1st-25th December inclusive so make sure you visit taheerah-atchia.com every day for fabulous inspiration and amazing prizes every single time! Merry Christmas!