Hey Bestie & Love You More Blog Hop WINNERS!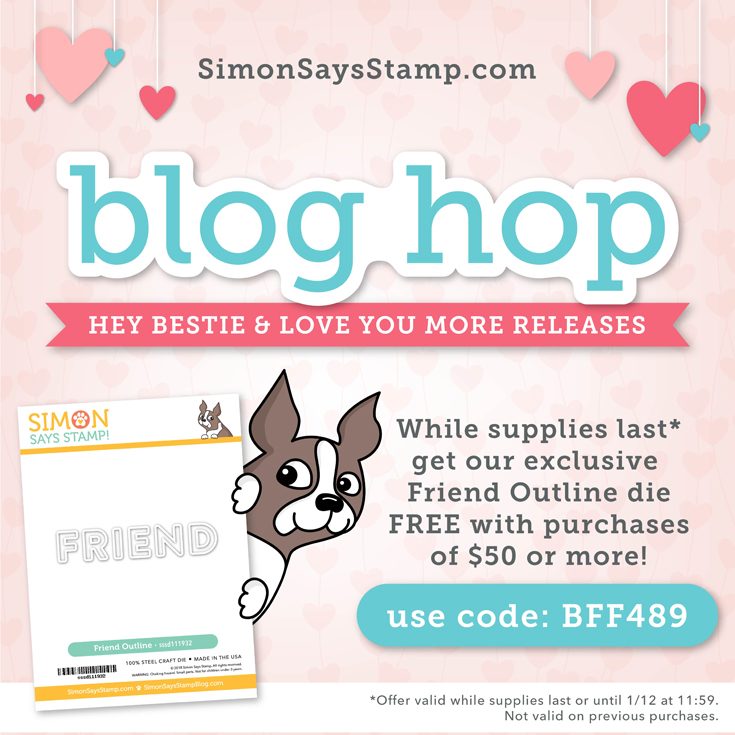 Hello, friends! Have you seen our Simon exclusive Hey Bestie and Love You More releases? Our Simon Says Stamp exclusive Hey Bestie and Love You More product lineups are jam packed with fun and gorgeous ways to celebrate lots of love related occasions like Valentine's Day, engagement, anniversary, or weddings! Included you'll find new additions to our shimmer family, wonderful background stamps and gorgeous stencils, lots of cool word dies, and some fun to color stamps! There are many new products from CZ Design, too! We are so excited for you to play with all of these awesome new products!
To celebrate both of these phenomenal releases, we hosted two amazing blog hops! The hops featured many talented designers and each one created wonderful projects to inspire you. If you missed either of the hops, you can find the direct links here: DAY ONE and DAY TWO.
A BIG thank you to all of YOU who joined us for the hops! We enjoy hearing from each of you, and your words of encouragement and appreciation to each of the designers mean so much to us here at Simon and to them. It's our tradition to give away gift certificates to random commenters on each blog stop, and today we are revealing all of the winners! So without further ado, I present to you our winners!
from Simon Says Stamp's blog: Rosann Barnes!
from Jennifer McGuire's blog: Jennifer Seth!
from Cathy Zielske's blog: Cheriese H!
from Nina-Marie Trapani's blog: Migdalia Rodriguez!
from Nichol Spohr's blog: Lynn Stevens!
from Lisa Addesa's blog: Brenda Rohlfing Simpson!
from Heather Ruwe's blog: Chandhini!
from Suzy Plantamura's blog: Diane Zalusky!
from Kathy Racoosin's blog: Olga Dendrinou Fink!
from Heather Hoffman's blog: Heidi Rees!
from Barb Engler's blog: I Card Everyone!
from Cheiron Brandon's blog: Brinda!
from Lea Lawson's blog: Lunnacreates!
from Betty Wright's blog: Michele K. Henderson!
from Bobbi Lemanski's blog: Steffi H.!
from Simon Says Stamp's blog: Connie Wine!
from Debby Hughes's blog: Debbie Cornish!
from Laura Bassen's blog: Pennie!
from Yana Smakula's blog: dorothyayotte!
from Yoonsun Hur's blog: Cindyra!
from Amanda Korotkova's blog: JanM!
from Amy Rysavy's blog: Kassi Ruth!
from Bibi Cameron's blog: Carol McCready!
from Gayatri Murali's blog: Rhonda Clore!
from Marge Yoon's blog: Natalie!
from Vicky Papaioannou's blog: Elizabeth Novak!
from Emma Williams's blog: Daria Z!
from Crystal Thompson's blog: Jan Mancini!
from Preeti Chandran's blog: Ro Love!
If you see your name listed above, CONGRATULATIONS! Please email [email protected] and let him know that you are one of our Hey Bestie and Love You More Blog Hop winners! You'll receive a $25 Gift Card. ???
Thanks again for hopping along with us! We hope you enjoy our fantastic Hey Bestie and Love You More releases and that they give you creative enjoyment for months to come!
Winning ROCKS, and so do you!