Handmade Holiday Blog Hop WINNERS!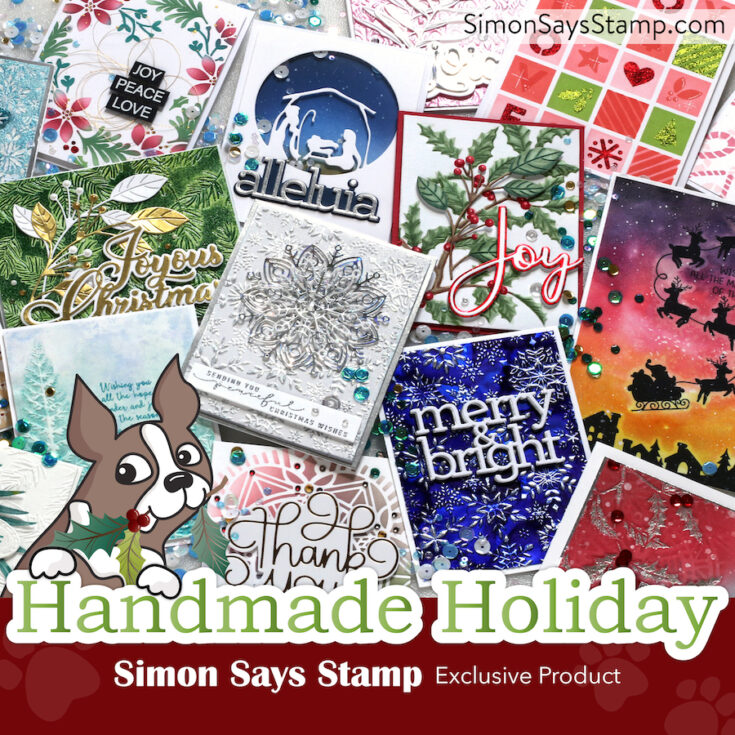 Hello, friends! Have you seen our newest Simon Says Stamp exclusive release Handmade Holiday? This fantastic lineup features so many products we just know that you will love! We're introducing 15 new Pawsitively Saturated Inks, a Simon exclusive six-pack of glitter glitz gel (in conjunction with Therm O Web), and an amazing Blending Brush Holder! If you love our super deeply etched embossing folders, you are going to lose your mind. This release includes so many embossing folders for Christmas and winter cards alike. In addition, we have some awesome stencils, another amazing hot foil plate and some wonderful stamps and dies. No matter your style, you're sure to find several must-haves that need to be in your creative space. We can't wait to see what you create with all of these awesome new products!
To celebrate this phenomenal release, we hosted two amazing blog hops! The hops featured many talented designers and each one created wonderful projects to inspire you. If you missed either of the hops, you can find the direct links here: DAY ONE and DAY TWO.
A BIG thank you to all of YOU who joined us for the hops! We enjoy hearing from each of you, and your words of encouragement and appreciation to each of the designers mean so much to us here at Simon and to them. It's our tradition to give away gift certificates to random commenters on each blog stop, and today we are revealing all of the winners! So without further ado, I present to you our winners!
from Simon Says Stamp's blog: Cindy Ickes!
from Nina-Marie Trapani's blog: Mary Espeland!
from Caly Person's blog: Denise Ward!
from Nichol Spohr's blog: Birgit Norton!
from Jennifer McGuire's blog: Jill A. Figley
from Cathy Zielske's blog: Kay Furnish!
from Lisa Addesa's blog: Christy Malone!
from Amy Rysavy's blog: Selena!
from Sidnie Des Jardins's blog: Bonnie King!
from Heather Ruwe's blog: Carol E. Wortman
from Suzy Plantamura's blog: Shannon Lashley!
from Yana Smakula's blog: Teri Smith!
from Heather Hoffman's blog: Conniecrafter!
from Lea Lawson's blog: Karen B Walker!
from Simon Says Stamp's blog: Louanne Collins!
from Laura Bassen's blog: Cathryn Burke!
from Debby Hughes's blog: Debbie Thomas!
from Bibi Cameron's blog: Daria Zender!
from Keisha Charles's blog: Cynthia Johnson!
from Anna-Karin Evaldsson's blog: Miesje Flach!
from Vicky Papaioannou's blog: Debby Frank!
from Mindy Eggen's blog: Kathy Raker!
from Barb Engler's blog: Beatrice Lawson!
from Miriam Prantner's blog: Gardenrose!
from Tina Smith's blog: Amy Cooley!
from Norine Borys's blog: Lori Spitzer!
from Sandi MacIver's blog: Janet Ingraham!
from Adelle Emery's blog: Beth Merrill!
from Emma Williams's blog: Janielle Schafer!
from Yoonsun Hur's blog: Jennifer Bockenstedt!
If you see your name listed above, CONGRATULATIONS! Please email R[email protected] and let him know that you are one of our Handmade Holiday Blog Hop winners! You'll receive a $25 Gift Card. ???
Thanks again for hopping along with us! We hope you enjoy our fantastic Handmade Holiday release and that it gives you creative enjoyment for months to come!
Winning ROCKS, and so do you!