Distress Ink Color Pop: Lucky Clover!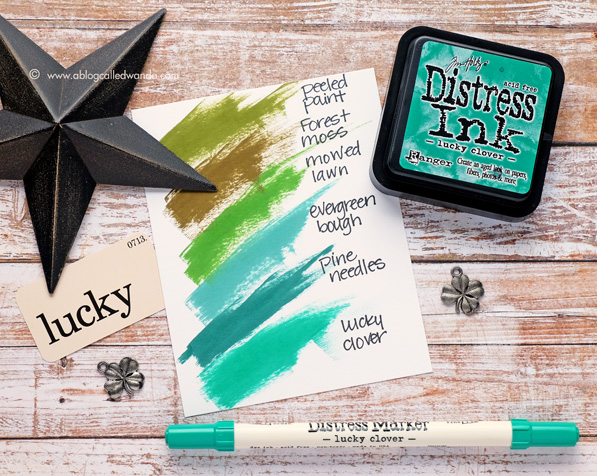 Hello! It's Color Pop Day! I really look forward to this every month! I'm kind of sad that this is the next to last one! The last color has been announced and it's Candied Apple. That makes 12 new beautiful colors in 2015. It's been great fun to anticipate the new colors. Today I am featuring the gorgeous Lucky Clover! The color for November. Oh my. It's awesome! It's a beautiful emerald, bright, clean green. I like this one a LOT! The swatch above shows you where this new green fits into the Distress Ink color family. I put another swatch at the end of the post to show the rest of the greens for you. I find this really helpful when I'm trying to decide on colors. This color said "Starbucks" green to me! Ha…I can find a coffee reference in just about anything! I paired Lucky Clover with some rich brown hues to make a coffee themed card.
How totally adorable are these Mini Coffee Dies?? They are called Fresh Brewed. There is a hot cup and a cold cup in the set. I used the cold cup to make a pair of drinks for the focal point of my card.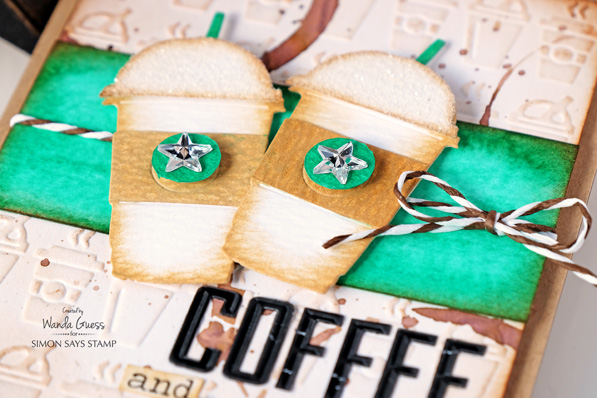 I used the Lucky Clover Ink to make a watercolor panel as an accent piece on the front of the card. This really pops the color! I added tiny green banners for just a little bit of Clover throughout. The sentiment strip is from the Occasions Small Talk stickers. I cut the sentiment in half and put half of it in the top corner, and the other half in the bottom corner. This is one of my favorite sayings and I love that it was part of the stickers pack!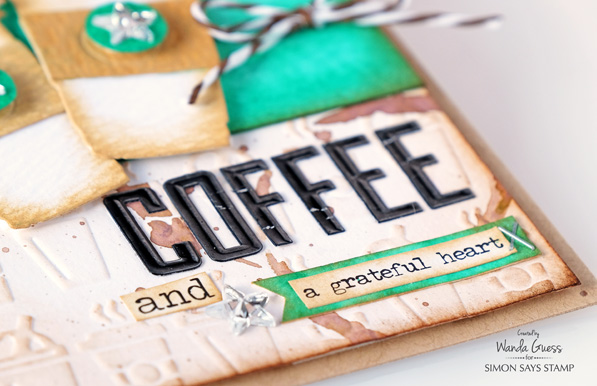 My background layer is super fun! I made it using the Sizzix Texture Fades "On the Go" embossing folder! Coffee cups! I embossed it onto a piece of watercolor paper and then edged it with Vintage Photo and Ground Espresso Ink. Ground Espresso was the natural choice right?!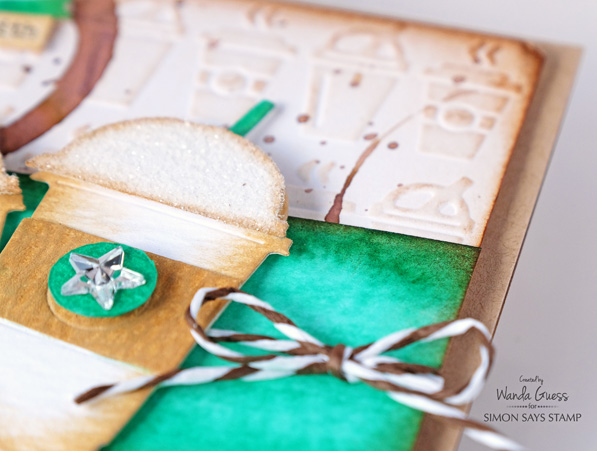 One tip for getting your embossed images to stand out is to gently ink over them. After embossing, I took a sponge dauber and barely went over the coffee cups. This creates a depth and shadow for the embossed parts. I wanted it to look like coffee cup rings on my paper. To create this I put some Ground Espresso Ink onto my craft sheet and added water. Then I took a small juice glass, rolled it around in the ink, and put it on my paper. So fun! I used the new Tim Holtz Splatter Brush to add drops of ink also.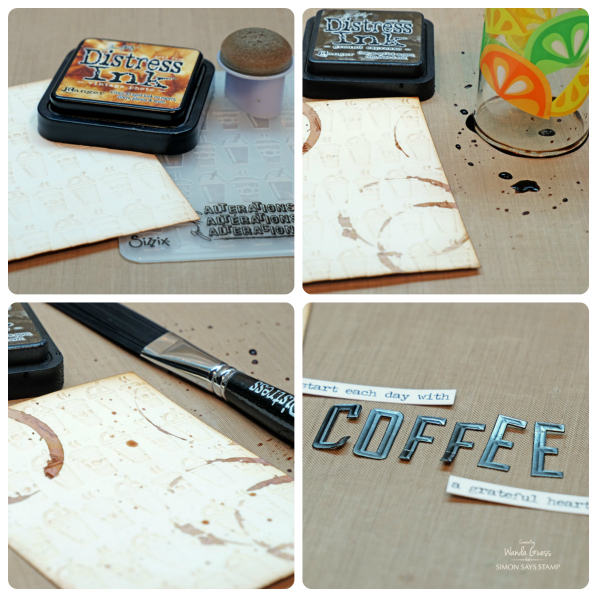 To make my cups, I die cut the shapes three times out of watercolor paper. Then I cut the different pieces apart with scissors. Then I added color to the pieces. The fun part was adding lots of Rock Candy Distress Glitter to the lid piece! When I assembled them, I used foam tape to pop up the center piece, and added a mirrored star.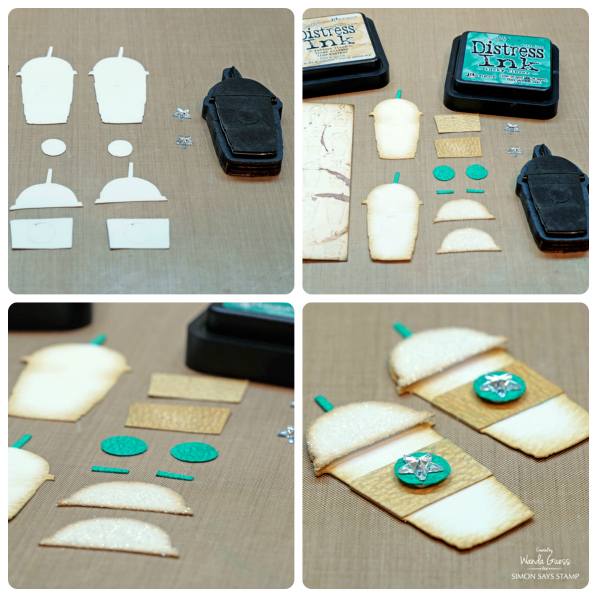 I used some brown and white paper string to add a bow. I used the Deco Type Letters to spell out the word COFFEE on my card….and started putting the whole thing together.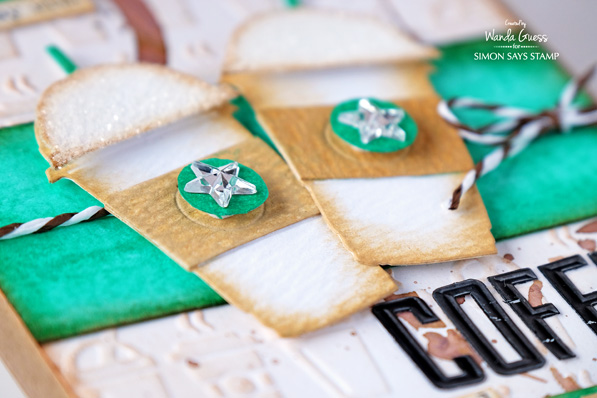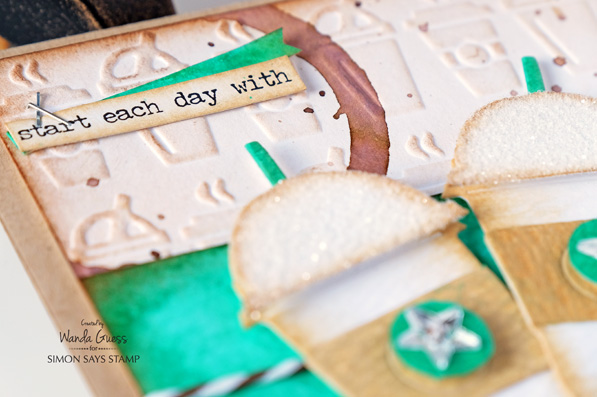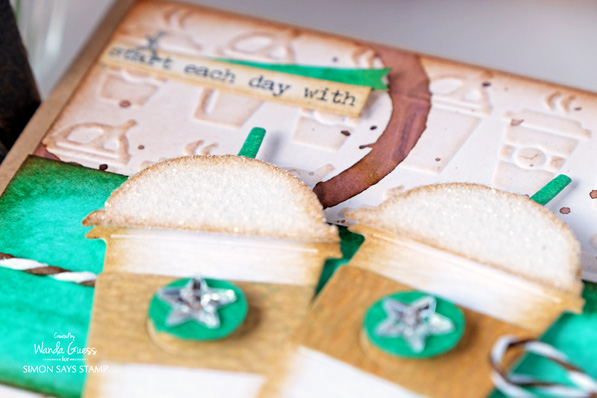 Here is the other color swatch. This shows most of the greens in the Distress Ink product line. They are all beautiful! Tip of the day: CLICK HERE to get your downloadable color chart for all of your Distress Inks! All the new colors have been updated. Print it out on nice thick cardstock and stamp all your colors! I keep my chart on my desk at all times.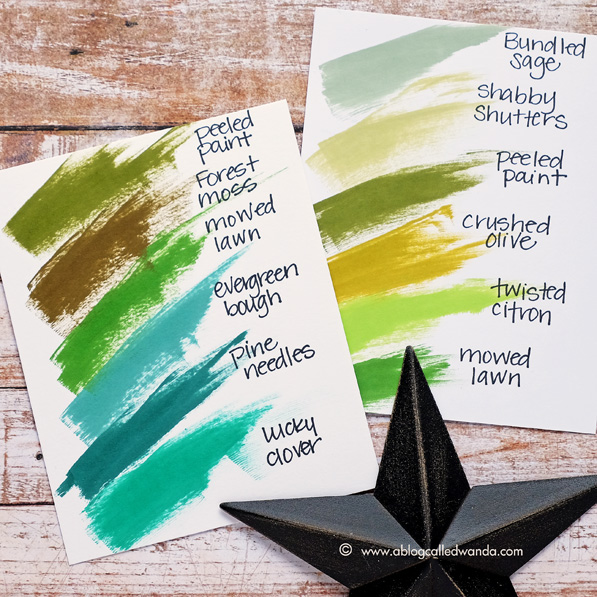 Okay, that's it for today! Thank you for joining me for another episode of Tim Holtz Distress Ink Color Pop! Have a great day!
SUPPLIES: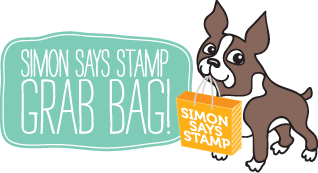 Leave a comment on this blog post and let us know what was your favorite color of the month so far – for a chance to win a blog candy grab bag! Winner will be announced next week! Good luck! I'll be back next month with the final color for 2015:
Candied Apple!