Distress Foiling with ThermoWeb 3 Ways + Embracing Your Imperfections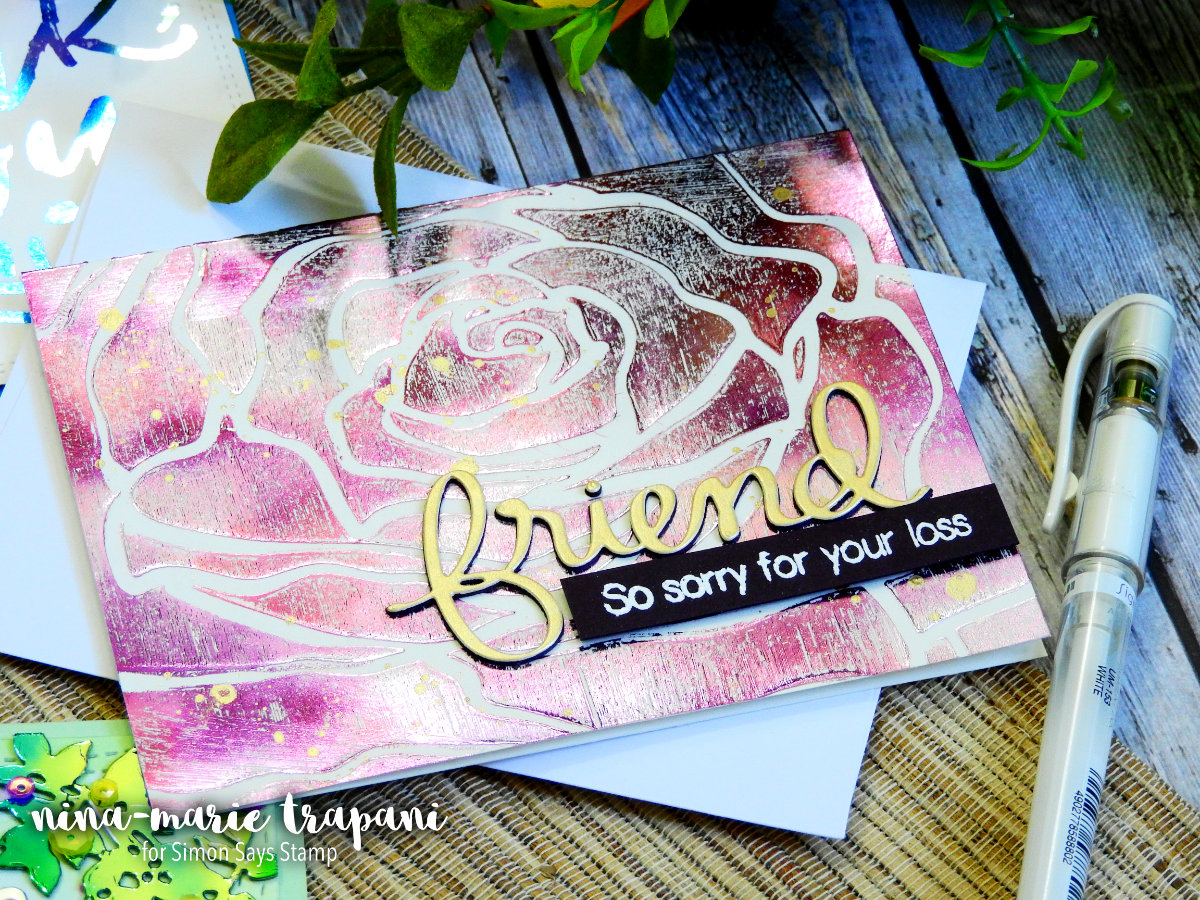 Hi crafters, it's Nina-Marie here with you and I am really excited to be sharing a few foiling techniques today! I've shared some other foiling ideas before but today I wanted to focus on something a little bit different. In my previous foiling tutorials, I've shared how to get great foiled results. I know you all really enjoyed the techniques in that video, but I also know that sometimes we can get less-than-perfect results with a technique, especially if we are new to it. Foiling is one of those techniques that can take a bit of getting used to, so its easy to get an "imperfect" result.
So in today's video I am going to share both "distressed" foiling and also a tip for fixing a foiling mistake! These "distressed" foiling techniques are SO easy to recreate because you don't have the pressure of making sure your design is foiled perfectly. I hope you enjoy!
Note: For all of these cards, I used a laminator to adhere the foil to my cards and I used ThermOWeb foiling products.
This purple rose is the first technique I share in the video (you can find the video down at the bottom of this post). The rose is from an Altenew stencil and I applied ThermOWeb Transfer Gel onto it using an ink blending tool. Normally I would apply transfer gel with a palette knife and it would have made for a smooth, dimensional finish. But because I applied the paste in a thin coating using the blending tool, it produced a very textured effect. It also took very little time to dry because the gel was such a thin coat. For foiling, I used the gorgeous Amethyst Watercolor foil.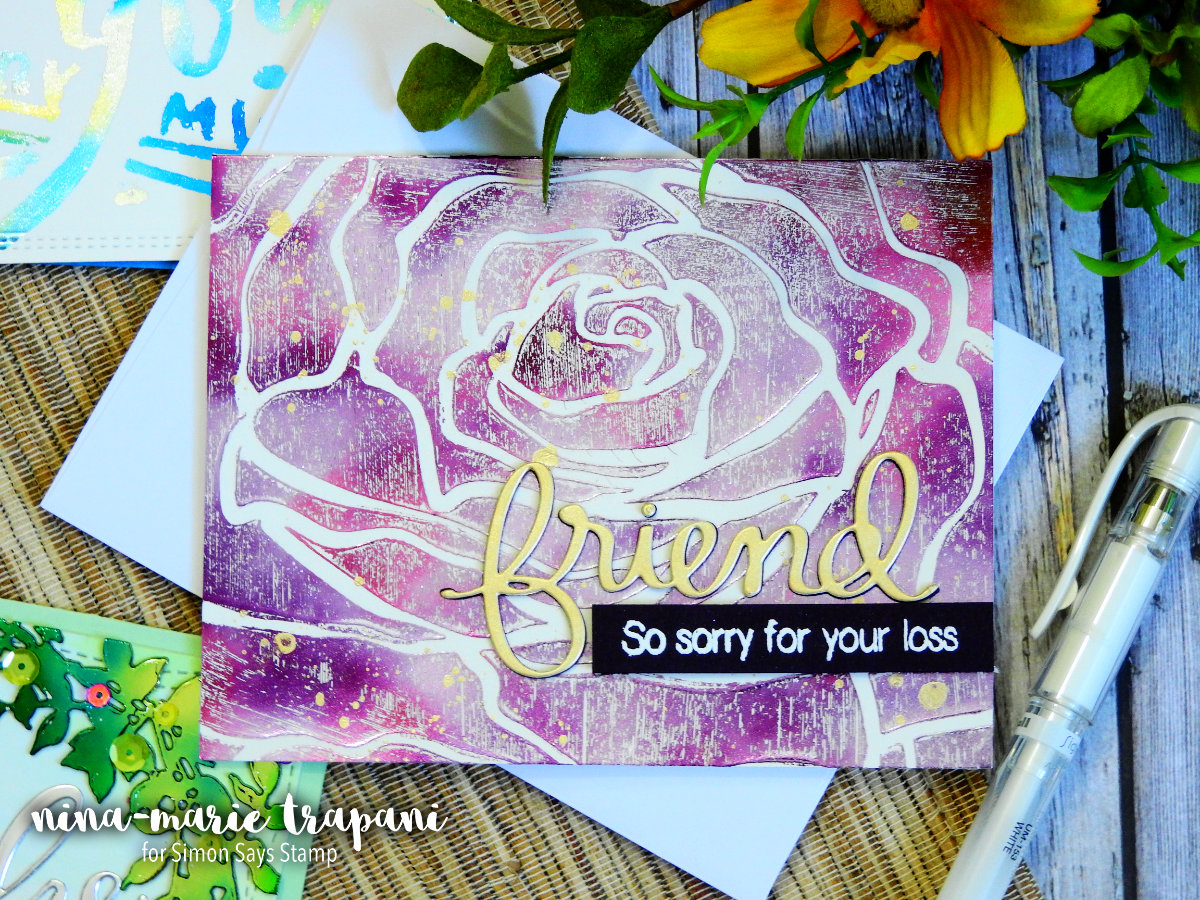 I finished the card by cutting a "friend" sentiment using a Mama Elephant die and a supporting sentiment from Altenew was heat embossed onto dark purple cardstock. I love the effect of applying transfer gel in the traditional method, but I am now also addicted to adding gel in this manner as well!
My second card features ThermOWeb's adhesive-backed Toner Sheets, which are EXTREMELY handy for foiling and then adhering intricate die cuts. I paired the Toner Sheets with another watercolor foil from ThermOWeb: Emerald.
These die cuts were actually foiled perfectly and I wasn't planning on "distressing" them… but as I created my card, I accidentally scratched off some of the foil on the die cuts. At first I was really bummed… as much as I love distressed foiling, I also enjoy seeing a perfectly foiled piece. Honestly, either way its a win-win! But because I was planning on having these die cuts be "perfect", there was some disappointment. But, I don't like giving up on a project. Usually there is a way to fix it! So, I continued on and I decided to hide my mistake by attaching sequins over the scratched-off foil areas. And in the end, it turned out totally perfect; even more so than I was expecting!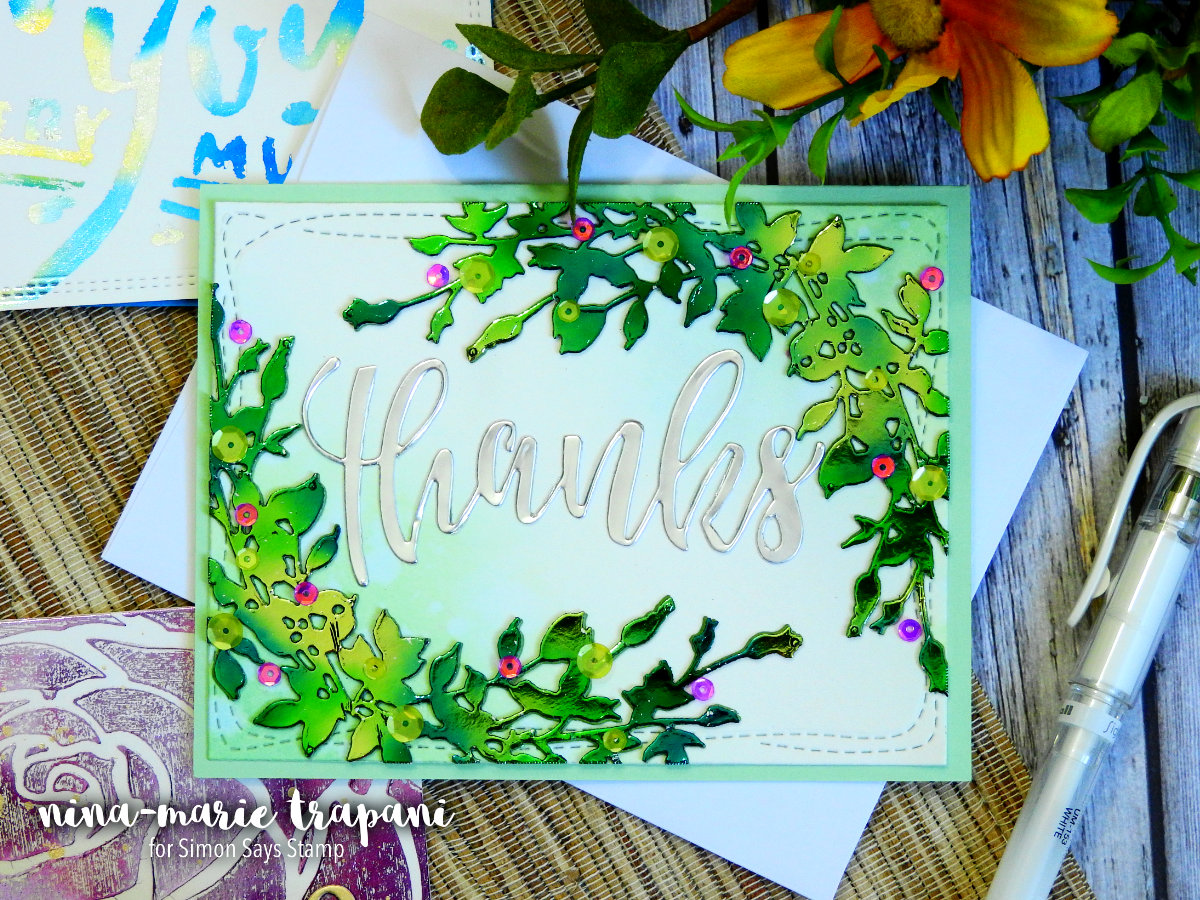 The foiled leaves were cut with Altenew's Leafy Garland die and the sequin "berries" were from Pretty Pink Posh's Lemon Drop and Fairytale Fuchsia collections. I added ink blending behind the leaves using Cracked Pistachio Distress Oxide inks; there are water spots added to the ink blending to add a bit of variation to the background.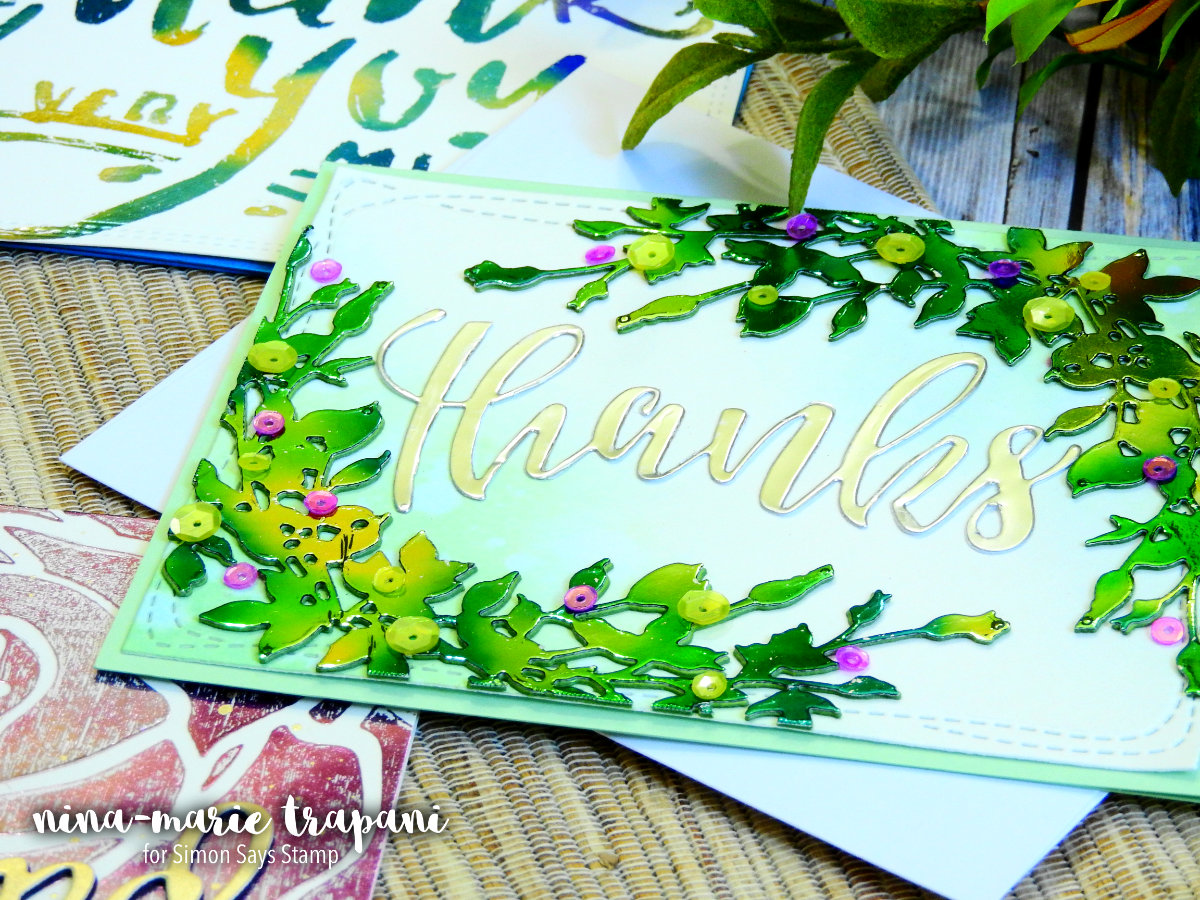 And that beautiful script thanks? That was foiled with ThermOWeb's silver foil and some adhesive-backed toner sheets. Because of the adhesive-backing on the toner sheets, that made attaching the intricate die cut SO simple!
One more card (can you tell I was having a lot of fun with the foiling? I tell you, it's addicting)! This time I wanted to stencil a sentiment onto my paper using a glue pen. ThermOWeb has a great glue pen that works really well for adding small foiled details.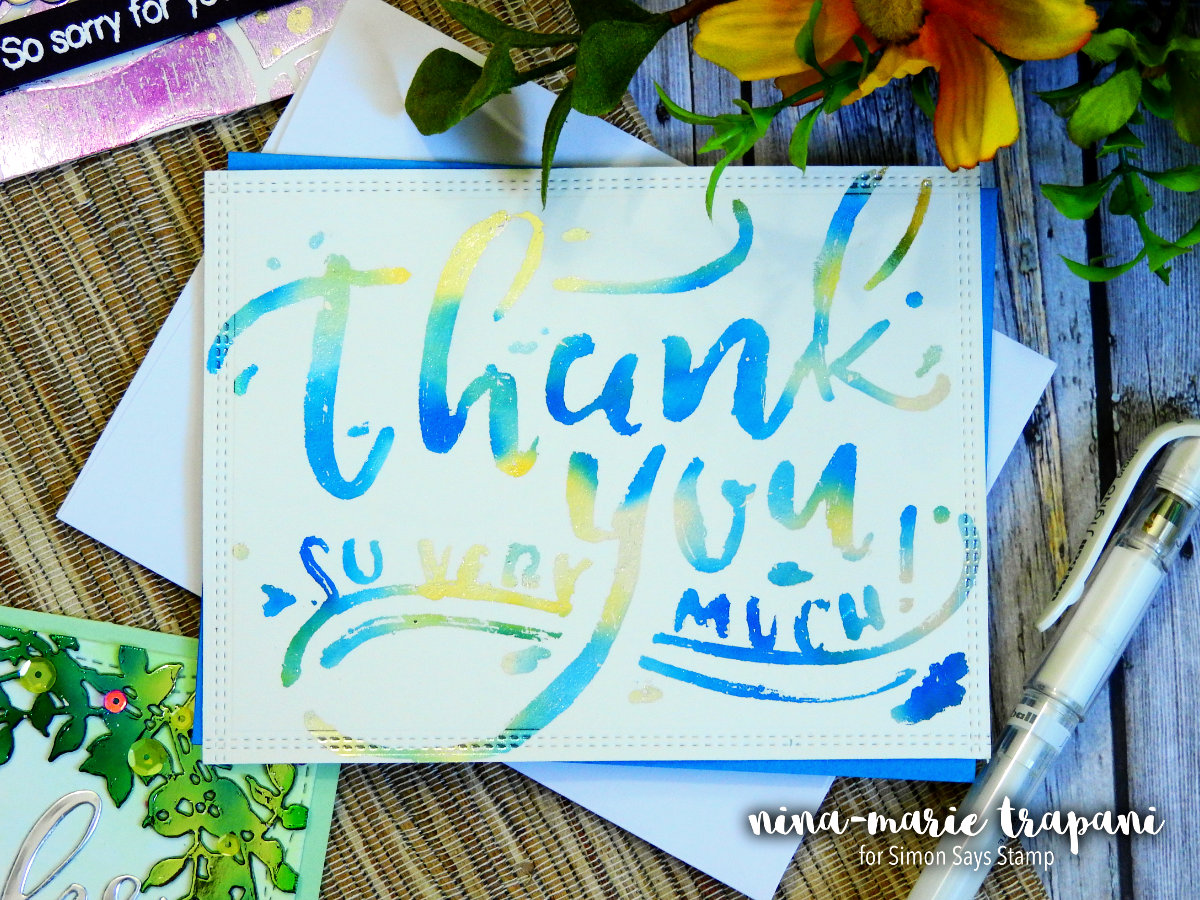 The stencil I chose for this card is from a pack of fun stencils from Faber Castell. I applied the glue pen into the negative areas of the stencil, being careful to "skip" a little. This way when I went to foil the design, it wouldn't be a perfect transfer. As you can see from the picture, there are small areas where the foil didn't adhere to the paper because there was little-to-no glue there.
Again I used a watercolor foil (they are my favorite) from ThermOWeb; this time in Lapis. To mimic the watercolor feel of the foil and the sentiment itself, I used the glue pen and added "splatters" around the sentiment. This allowed me to place scraps of foil over those glue spots and create the look of watercolor splatters on the background.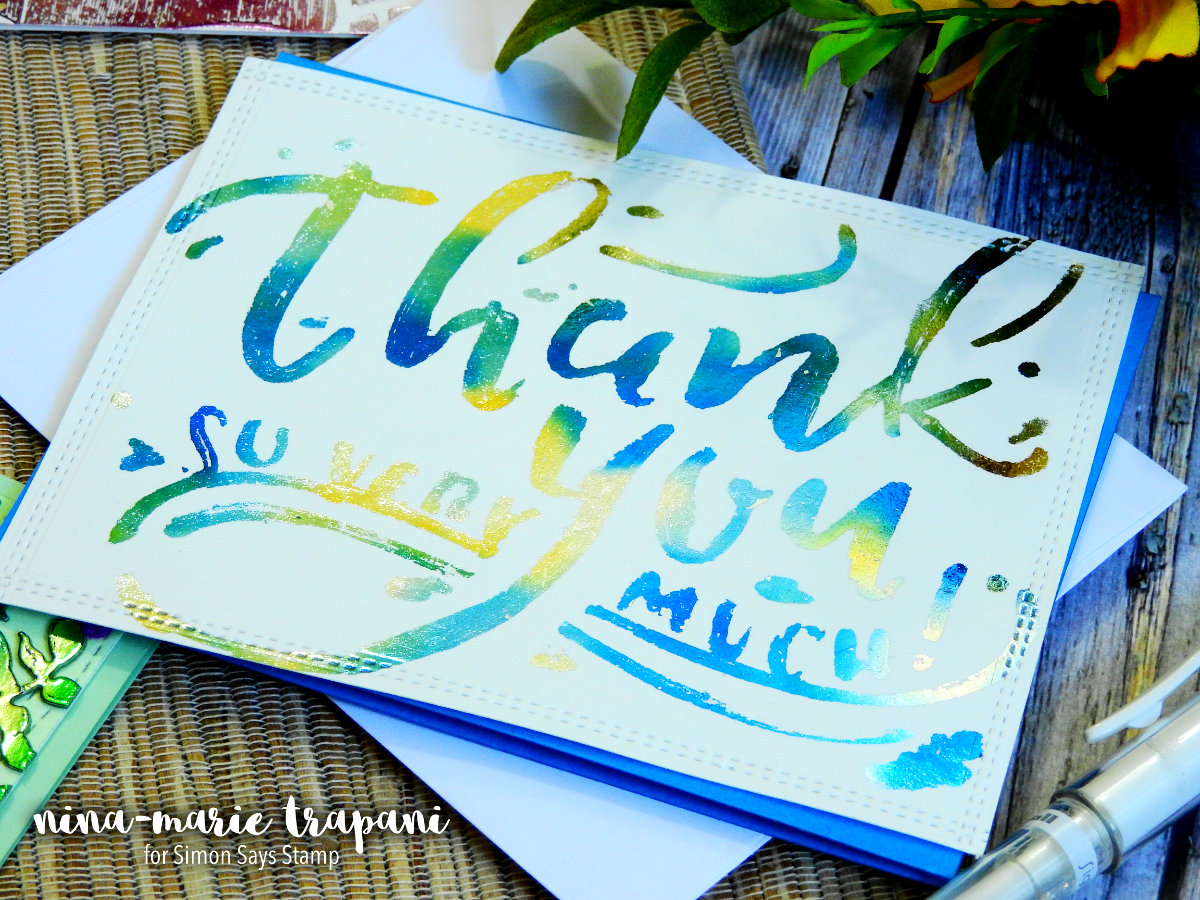 I kept this card super simple because that sentiment is the star of the show! Using a My Favorite Things Basic Stitch Line die, I added stitching details around the edges of the panel and then matted that piece with a Island Blue card base. By mounting my foiled panel on a slight angle, that allowed the blue card base to peek through and compliment the blue in the foiling.
These were so much fun to make! I really hope it encourages you to embrace your mistakes and things we might perceive as "imperfections" as actually works of art. Because we are all artists with our own unique styles – our cards shine when we allow our creativity to flow freely! Thanks for visiting with me today… I'll see you again on Monday!
WATCH THE VIDEO
SUPPLIES
Congrats! Blog Candy Winners!
From: Studio Monday with Nina-Marie: Encouragement Cards for Kids: Jean Marmo!
From: In the Garden Burlap Panel by Emma Williams: BunnyD!
From: Brand NEW Sunny Studio Inspiration!: Mary Shaw!
From: Exclusive NEW Stamps & Dies from Cathy Zielske: Available NOW! Marjorie Dumontier!
Please email [email protected] with your mailing address (if applicable), the name of the blog you won from, and the prize you won to claim your prize!
Blog Candy Alert!! Follow our blog via email and comment on this post for a chance to win grab bags and blog candy! Remember to tag your awesome projects with #simonsaysstamp on social media so we can see what you are creating!