Hi readers!  Happy Thursday to you! I'm pleased to welcome back guest designer Jocelyn Olson to our blog for a fun technique and a spotlight on Paper Smooches stamps and dies! Doesn't this dip dye technique have a pretty effect? Read on for more details!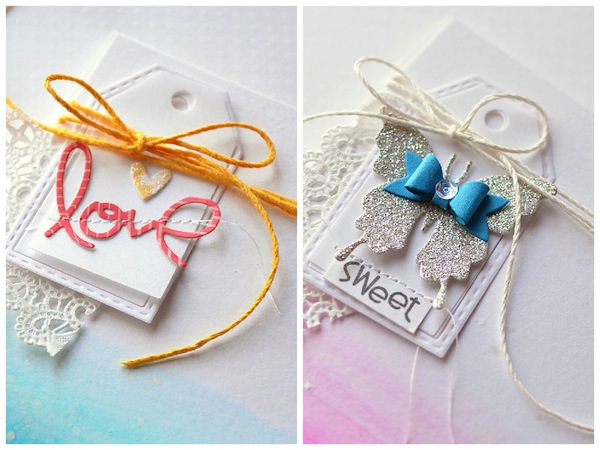 Recently, I've seen some cards and tags with dip-dyed bottoms, like these examples on my Pinterest Design Inspiration page. I love this trend, and using some Paper Smooches stamps and dies, I went about trying to recreate the dip-dyed look: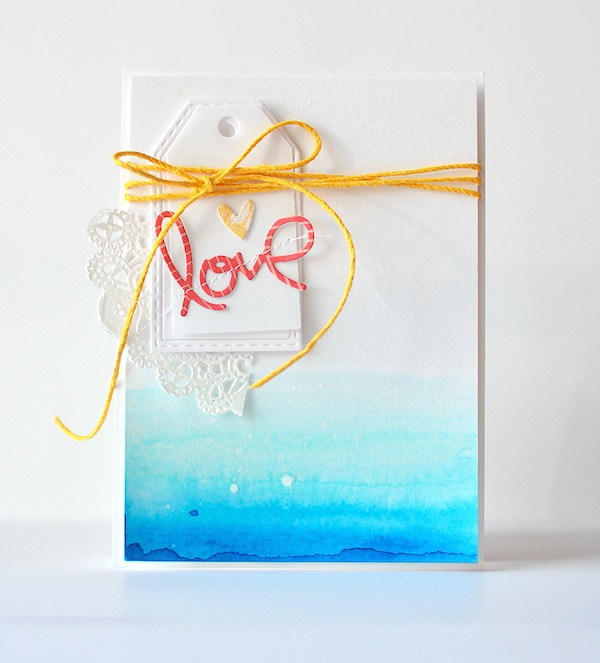 I've got a step-by-step tutorial to achieve this look.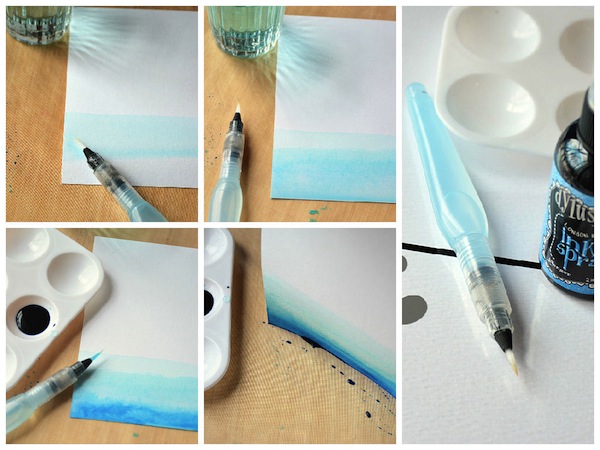 First, gather your supplies….a waterbrush, watercolor paper, a craft mat, and watercolor medium. I wanted an intense look, so I used spray mists. Dye reinkers (watered down) would work, too. When I tried watercolors, they worked, but the results were more muted.

The next step is to brush water onto the bottom half of the watercolor paper. While the paper is wet, dip the brush into the spray mist and then dip the brush in water. When most of the ink is removed, brush it onto the paper.

Next, water down the ink (a lot). When the lightest layer is still wet, brush on the next layer. I found the trick was to work quickly while the layers are wet and keep blending the layers.

For the third layer, add a little water to the ink and brush onto the paper. Once these layers are on, allow the panel to dry (or heat emboss if you're impatient like me). When the paper is dry, lightly brush over the layers to blend them.

The last step is to put the spray mist on your craft mat and drag the bottom of the card into the ink. Once the card was dry, I added some white splatter and layers.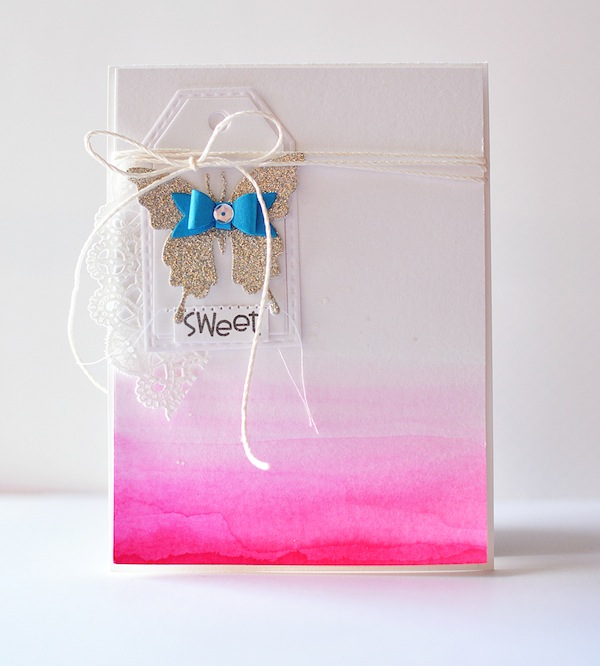 I die-cut the Paper Smooches Gift Tags 2 die out of both vellum and cardstock. The border of the die is separate from the inside, so I added tape on the back to hold the layers together. Using the Paper Smooches Love and Cherish dies, I die-cut the "love" and stitched it. The Love and Cherish dies have a heart, and I added glitter a little glitter.

Using the same technique, I made a second card:

For this card, I used the same Tag 2 die, and then layered the new Paper Smooches Butterfly Duet die and the Baby Bow die. Isn't that bow so cute? I finished the card with a sentiment from the Fruitastic set.
Thanks to Stephanie and Heidi for having me on the blog!
SUPPLIES:
Thanks for reading today, and thanks to
Jocelyn
for being our guest!