Did You Know? Fun Facts and Crafty Tips! October 2020 Edition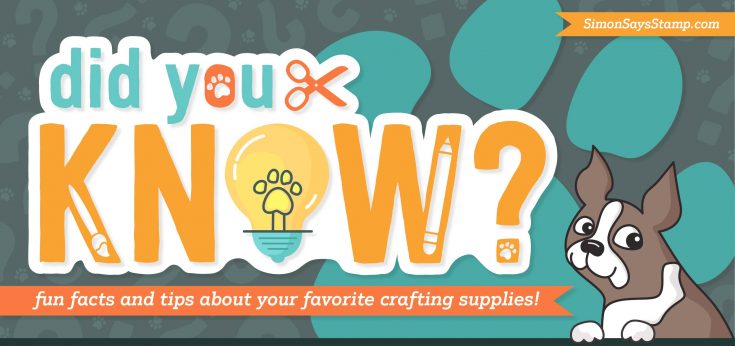 Hello crafters, it's Shari Carroll here with you! Today I have a new edition of our popular Did You Know series!
If it's your first time seeing this feature, each month we bring you fun facts, creative tips, and even crafty hacks about your favorite supplies and brands; you can then use these awesome tips that you learn in your next crafting projects! Are you ready to learn some fun tricks? Keep on reading!
Today, my focus is items that can make your crafting so much easier plus a couple of new discoveries!.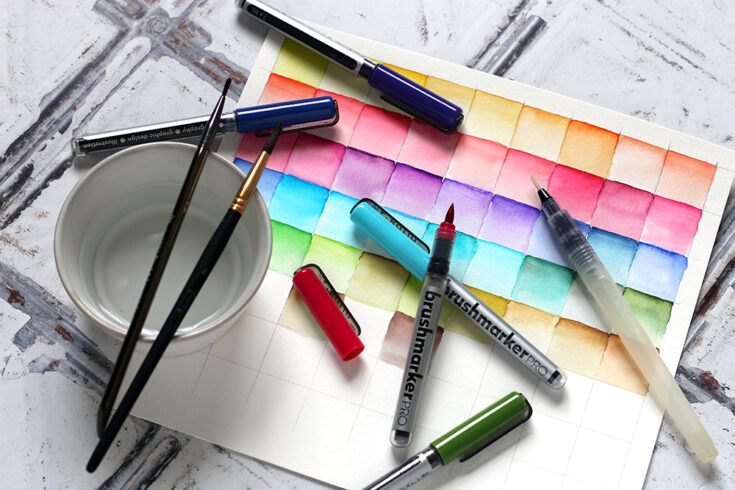 I've recently found Karin BrushMarkers. All I can say is WOW!!!!! These markers are water-based and very intensely pigmented. A little goes a really long way.
They are designed for lettering but I love them for water coloring. There are many sets to choose from depending on your color needs and also a metallic set. I use them with a Tombow Water Brush to get the ink flowing on my projects.
I suggest creating a swatch guide to help you identify your colors.
PRIMA MARKETING METALLIC SEMI WATERCOLORS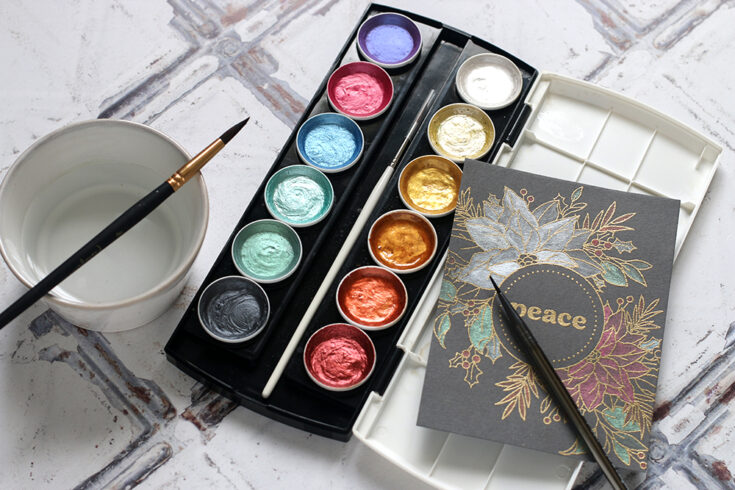 Speaking of water coloring, have you tried metallic watercolors? This Prima set of colors is slightly opaque for amazing coverage and shine.
The 12 cake colors can be mixed together in the palette of the lid. Did you know you can paint on color cardstock with these paints? Pure elegance!! One thing to keep in mind when painting on a color paper, the more water you use the darker it will look as the paper color comes through.
Quick Tip: Splatters are all the rage for watercolor pieces, these are perfect to add splatters that shine!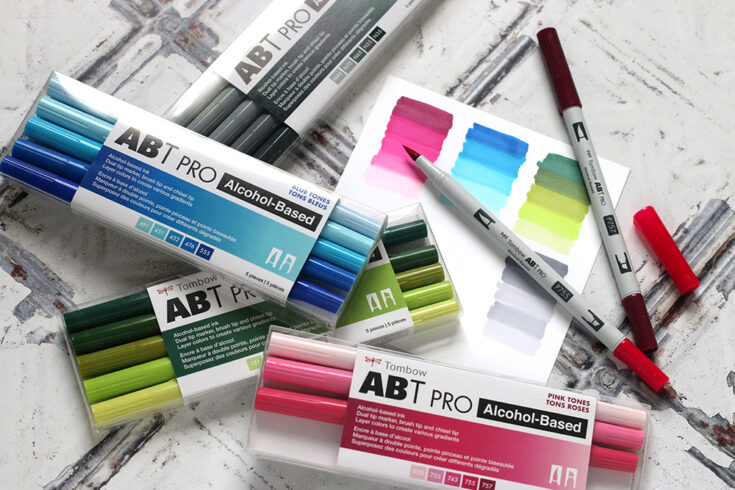 I'm always on the hunt for new items to try out and one thing I found was that Tombow just released sets of alcohol ink markers. I'd like to take this time to do a quick review on a new product for you to consider.
What struck me first is that they are bundled with five markers in color families. I LOVE that! This makes selecting lights and darks really easy.
I've sampled them out using 80lb. Neenah cardstock and found that they smooth out beautifully, not leaving marker lines. I also like the plastic cases that they come in, I'll keep them stored this way!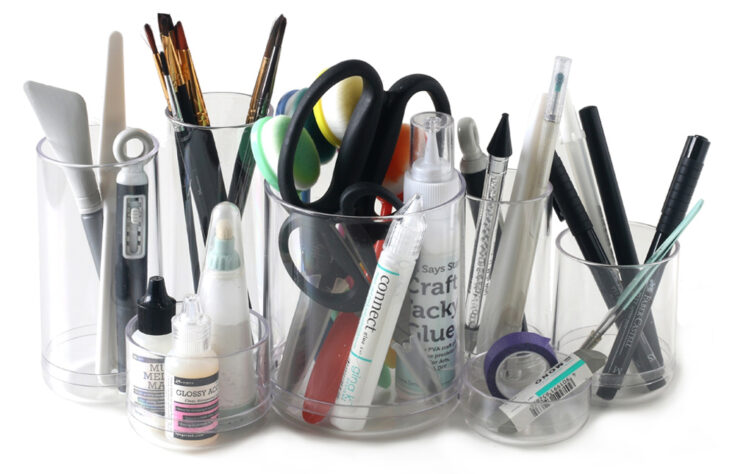 This next item is so handy!! I like to keep my everyday tools close by, this helps me to do just that!!!
One of my tips is to keep your items together by how you use them. For instance, I keep my watercolor brushes separate from my mixed media brushes. This assures me that the fine bristles of my watercolor brushes won't get mucked up and ruined from gels and mediums. I keep my most used brushes in this organizer.
The clear acrylic allows you to see your items easily and the design of the entire piece is well thought out to hold a lot but taking up minimal space.
I hope these tips have helped you learn more about the products that we carry for your upcoming crafting projects and how to find them. Thanks for joining me today!!
SUPPLIES:
Storage For Crafts Tools ROUND…

Karin BRUSHMARKER NEON Markers Set 27c12

Karin BRUSHMARKER MEGA BOX 60 Colors…

Karin BRUSHMARKER MINI BOX 26 Colors…

Karin DECOBRUSH METALLIC Markers 28z1

Karin BRUSHMARKER PRO GRAY Markers…

Karin BRUSHMARKER PRO SKIN Markers…

Karin BRUSHMARKER PRO FLOWER COLORS…

Karin BRUSHMARKER PRO SUN AND TREE…

Karin BRUSHMARKER PRO SKY Markers Set…

Karin BRUSHMARKER PRO 11 COLORS PLUS…

Prima Marketing METALLIC ACCENTS Semi…

Tombow WATER BRUSH Set of Three 56253

Tombow ORANGE TONES ABT PRO…

Tombow BLUE TONES ABT PRO…

Tombow PINK TONES ABT PRO…

Tombow RED TONES ABT PRO…

Tombow PURPLE TONES ABT PRO…

Tombow GREEN TONES ABT PRO…

Tombow GRAY TONES ABT PRO…