Did You Know? February 2021 Edition!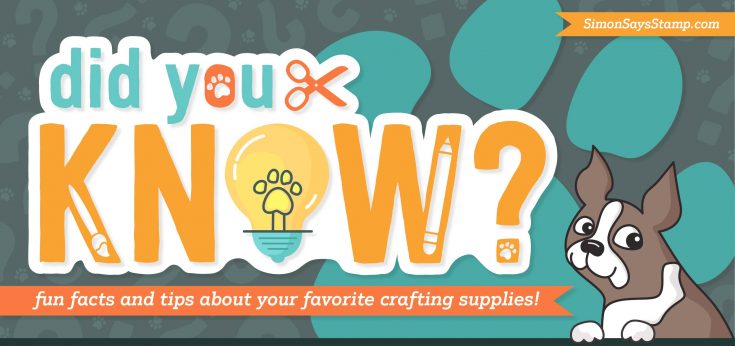 Hello crafters, it's Shari Carroll here with you! Today I have a new edition of our popular Did You Know series!
If it's your first time seeing this feature, each month we bring you fun facts, creative tips, and even crafty hacks about your favorite supplies and brands; you can then use these awesome tips that you learn in your next crafting projects! Are you ready to learn some fun tricks? Keep on reading!
We have a few new Simon Says Stamp products that I want to highlight for you that are becoming fast favorites! I'm all about keeping great staples in my toolbox and these next items are winners in my book!
There's a new kid on the block!
Check out our new Mini Slimline notecards. This new card measures 3.125 x 6.25 inches and is made from our popular 120# cardstock which is great for blending Copic markers and does not bleed through to the other side! The cards come in a pack of 10 and are prescored.
They give you the feel of a full size Slimline card where you can use larger stamps and stencils, but they are also ideal for your smaller images and techniques.
I'm super excited about these! Our new Mini Slimline Envelopes not only fit our new Mini Slimline cards, but they also fit #8 tags! I've always wanted to send tags in the mail and now I can.
We've introduced 3 colors for Valentines and Spring. They are White, Cotton Candy, and Lemon Chiffon and come in packs of 6 with a peel-away adhesive so you don't have to lick them to stick them.
SIMON SAYS STAMP MINI ENVELOPE DIE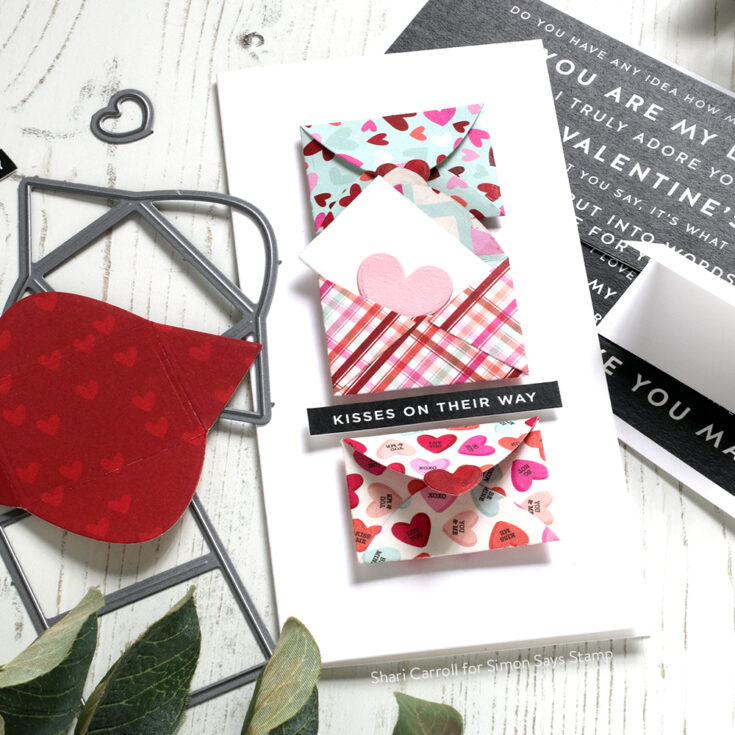 Cuteness overload right here!! This is our new Interactive Mini Envelope die set. These dies cut out the envelope with score lines for easy folding and a tiny heart to attach to the flap. It also comes with a mini notecard that you can decorate and slide into the finished envelope.
Cut them out from your favorite pattern papers, pair them with Simon Says Stamp Sentiment Strips to make quick cards in seconds!
SIMON SAYS STAMP EMBOSSING FOLDERS
We've come out with a nice selection of Embossing folders. They are really easy to quickly add texture to your card background. These are absolutely stunning when used with foiled type papers that are reflective.
I like to ink up the folder to create a letterpress look. You can either ink up the debossed (flat) area for a colored background, or you can ink the raised detailed side for a colored impression.
Tip: Tap your ink directly onto the folder, then use a brayer to smooth out the ink before running it through a die-cut machine.
Here are a few recipies to use with your favorite die cutting machines:
Spellbinders Platinum Machine – platform and 2 metal shims, embossing folder.
Sizzix Big Shot Machine – base plate number 1, and 1 cutting plate, embossing folder
Gemini or Gemini Junior machines – 1 cutting plate, magnetic shim, embossing folder.
Alternatively, some users have found they got deeper impressions from using the following recipe with the Gemini machines – 1 cutting plate, 4 sheets of 80lb cardstock (cut to at least 4.5 x 6.5 inches and stacked together), embossing folder.
I hope these tips have helped you learn a few tricks that you can use in your card making and crafting… Thanks for tuning in today and spending some time with me!
SUPPLIES:
Simon Says Stamp Embossing Folder…

Simon Says Stamp MINI SLIMLINE WHITE…

Simon Says Stamp Envelopes MINI…

Simon Says Stamp Envelopes MINI…

Simon Says Stamp Envelopes MINI…

Dina Wakley Ranger 8 and 10 WHITE…

Ranger Tim Holtz Distress MIXED MEDIA…

Simon Says Stamp MINI INTERACTIVE…