BRAND NEW! Tim Holtz Holiday 2022 Idea-ology Collection!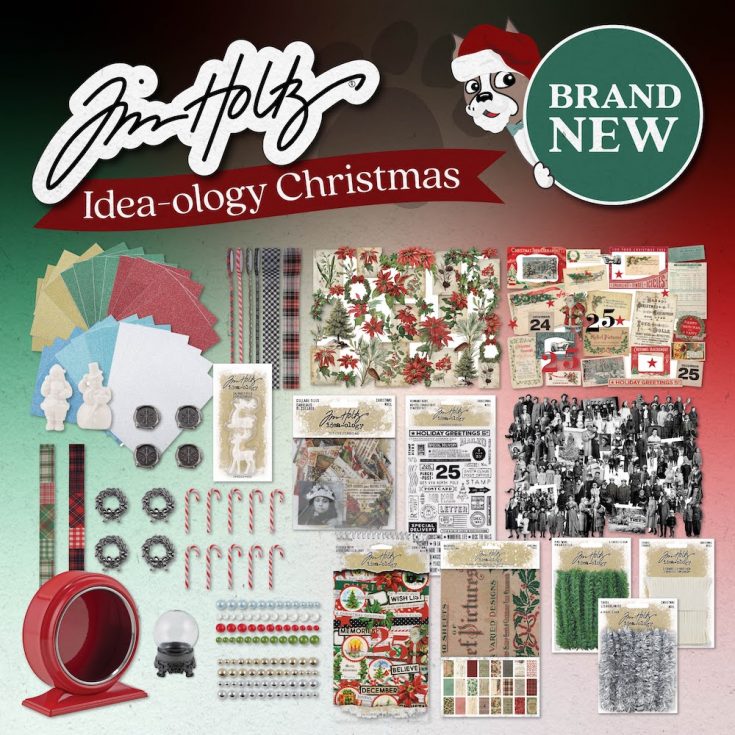 Hi friends! Happy Saturday! Did you catch the AMAZING Livestream full of inspiration and up-close views of this fabulous new product line with the one-and-only Tim Holtz?! Be sure to click or tap HERE to check it out for great inspiration and MORE!
Keep on scrolling for some fabulous bits, baubles, and more that are sure to make your holiday projects even more festive and fun!
Tim Holtz Idea-ology CHRISTMAS…

Tim Holtz Idea-ology CHRISTMAS Curio…

Tim Holtz Idea-ology CHRISTMAS Layers…

Tim Holtz Idea-ology FESTIVE TIN th94214

Tim Holtz Idea-ology CHRISTMAS…

Tim Holtz Idea-ology CHRISTMAS Deco…

Tim Holtz Idea-ology CHRISTMAS…

Tim Holtz Idea-ology METALLIC…

Tim Holtz Idea-ology CHRISTMAS…

Tim Holtz Idea-ology SNOWFLAKE…

Tim Holtz Idea-ology CONFECTIONS…

Tim Holtz Idea-ology CHRISTMAS Layers…

Tim Holtz Idea-ology TINY BELLS th94201

Tim Holtz Idea-ology WOODLAND TREE…

Tim Holtz Idea-ology LANTERN th94199

Tim Holtz Idea-ology CHRISTMAS…

Tim Holtz Idea-ology WINTER Deco…

Tim Holtz Idea-ology PINE TWINE th94291

Tim Holtz Idea-ology CHRISTMAS Linen…

Tim Holtz Idea-ology CHRISTMAS WREATH…

Tim Holtz Idea-ology SALVAGED SANTA…

Tim Holtz Idea-ology SNOWGLOBE th94302

Tim Holtz Idea-ology CHRISTMAS…

Tim Holtz Idea-ology SILVER TINSEL…

Tim Holtz Idea-ology CHRISTMAS Shape…

Tim Holtz Idea-ology SALVAGED DEER…

Tim Holtz Idea-ology CHRISTMAS Paper…

Tim Holtz Idea-ology WHITE FRINGE…

Tim Holtz Idea-ology CHRISTMAS Design…

Tim Holtz Idea-ology CHRISTMAS…

Tim Holtz Idea-ology WOODLAND TREE…

Tim Holtz Idea-ology TREE STANDS th94198

Tim Holtz Idea-ology Red and White…

Tim Holtz Idea-ology WOOD SLICES th94209

Tim Holtz Idea-ology MIRRORED STARS…

Tim Holtz Idea-ology MINI ICICLES…

Tim Holtz Idea-ology CHRISTMAS Label…

Tim Holtz Idea-ology CHRISTMAS Word…

Tim Holtz Idea-ology CHRISTMAS Quote…

Tim Holtz Idea-ology CHRISTMAS…

Tim Holtz Idea-ology CHRISTMAS Pocket…

Tim Holtz Idea-ology Snippets Labels…

Tim Holtz Idea-ology CHRISTMAS Worn…

Tim Holtz Idea-ology BUBBLES th94180

Tim Holtz Idea-ology DRIPPY CANDLES…

Tim Holtz Idea-ology HALLOWEEN…

Tim Holtz Idea-ology GLASS TEST TUBES…

Tim Holtz Idea-ology TINY LIGHTS…

Tim Holtz Idea-ology BAUBLES Findings…

Tim Holtz Idea-ology DECORATIVE DEER…