Art Journaling with Shari Carroll: Pocket Collage
Happy March everyone!!! Time is flying, isn't it? Each month I get to create an Art Journal page to inspire you to try new techniques and layouts. As promised from the beginning I'm starting off slowly and building up difficulty as we go.
Todays page uses stamping and embossing using black, grey and white cardstocks. The papers come from the Salvage District from Prima. All the beautiful stamps used are from Darkroom Door.
I've done some sewing on this page, just felt I needed that look and it helps to create a vellum pocket for my journaling card. If you don't have a sewing machine, you can still make a pocket by hiding your glues under a strip of paper on the edges. I created the layout with all my papers and once I did my sewing, I added it to my art journal.
Adding touches of white on corrugated really brings out the texture and adds additional pattern to the layout. These colors are easy for me to work with. I encourage you to find a color palette that you really love, it makes creating much easier.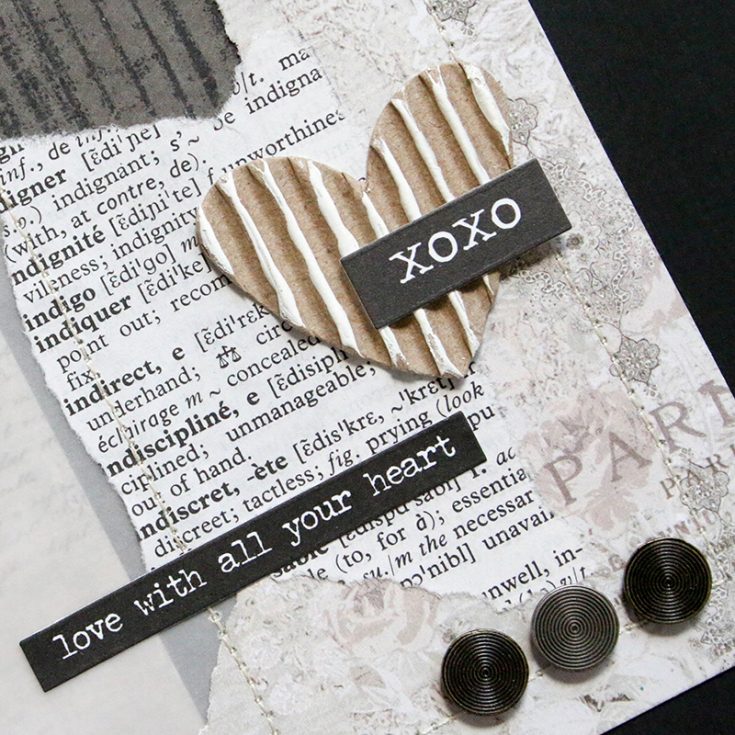 I've filmed a full process video which you can view below or on our YouTube channel HERE. I hope you enjoy!
Here are my Art Journal pages so far this year. You can click on the photo to go to the blog posts.
January
February