An Easy Gift Idea: Envelope Gift Pockets
Hi readers! Happy Tuesday! I'm always pleased to share cards made by the very talented and bubbly, Teri Anderson! Today she made a couple envelope gift pocket card ideas… great to make when you need to make a quick but still personal and fun gift! Enjoy!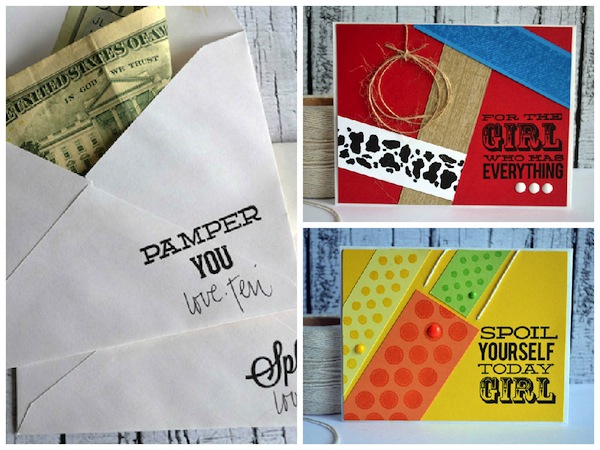 Hi everyone!
Teri here, and I'm always happy to stop by and see you guys!

Ever on short on time and needing a quick gift?! Could be the story of my life. I have lots of great ideas, but often times I just to get it done and put something together in minutes.
Enter my friend, the time-saving envelope! It's the perfect gift idea. Decorate it up. Stuff a little cash or a gift card inside, seal it up and you are good to go!

I have two quick pockets I made with envelopes to share with you today.
I made things even easier by using the Western Backgrounds and Darling Dots stamp sets, which are some fairly simple border/background stamps from My Favorite Things. With these stamps, you don't have to do anything fancy. No coloring. No techniques. Just ink them up and go!

Rather than stamping a traditional pattern for this card, I stamped each of the borders from Western Backgrounds on cardstock strips. And then I arranged them at an angle on a 5 1/2″ x 4 1/4″ piece of cardstock that I adhered to the envelope. Yes, it was that easy!
To stick with the western feel of this card, I fashioned an old school rope with jute. Kinda fun!
For this card, I took each of the three stamps from the Darling Dots stamp set and stamped them onto strips of cardstock. To give the dots a little extra visual interest, I randomly added enamel dots to them.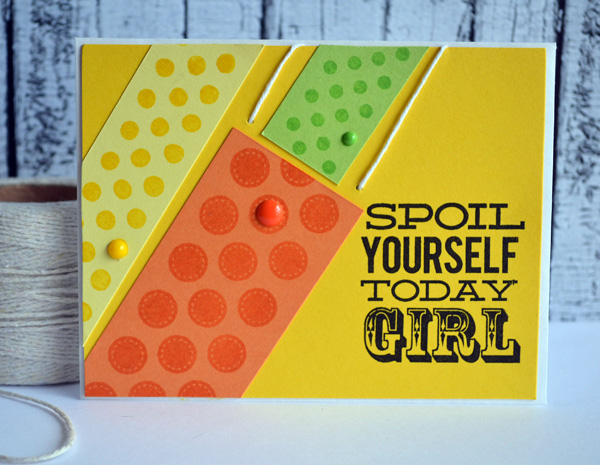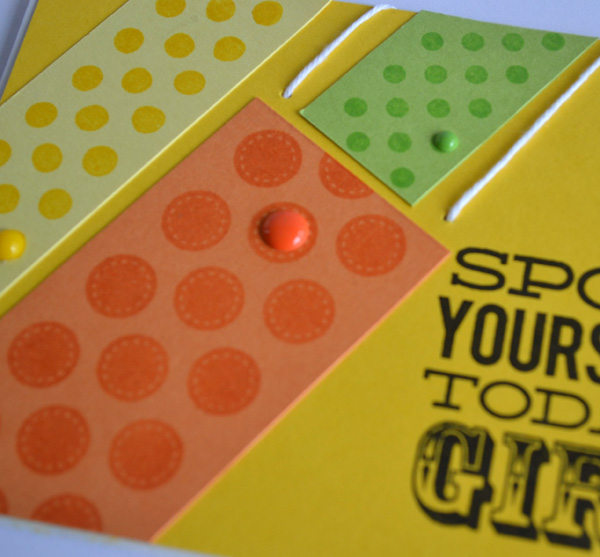 On the back of my envelope pockets, I stamped a really simple greeting with the Gift Card Greetings stamp set onto them and then signed my name.
So simple! By the way, I used that same stamp set to stamp the sayings on the fronts of each gift card envelope!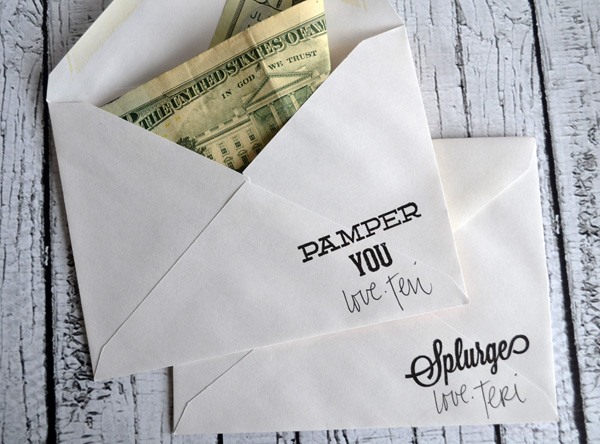 Thanks for having me again, friends! See you again soon!
Supplies:
Thanks for reading today, and thanks to Teri for being our awesome guest!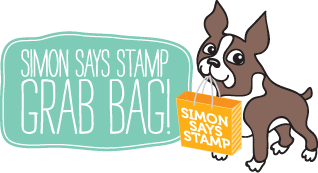 Blog Candy Alert!! Follow our blog via email and comment on this post for a chance to win a special blog candy!
Congrats! Blog Candy Winners!
From: Circle Sayings Birthday Card: Angie Linton!
From: Love You Wall Hanging!: Nina-Marie Trapani!
From: Happy National Scrapbooking Day!: Karen Rice!
From: May's Color of the Month Is…: Robin Craddock!
From: Shaker Cards with the Frugal Crafter!: Jeanie Gregory!
Please email Samantha ([email protected]) with your mailing address and the name of the blog you won from to claim your prize!