All Her Dreams Would Come True Etcetera Tag by Emma
Hi friends! Happy Sunday! We are always delighted to welcome back special guest Emma Williams! Be sure to read through her tutorial so you don't miss any of the fabulous details! Enjoy!
Hello everyone! I'm so happy to be back on the SSS blog today and really excited to share my latest make with you all.
As many of you will know, I simply adore all things vintage and I also love all things Tim Holtz! So when it comes to vintage makes, these are always my go-to products and I had so much fun creating this Etcetera Tag project, which I hope transports you to a bygone era, full of vintage beauty and elegance.
So, let's get started and for this project you will need a Stampers Anonymous Small Etcetera Tag by Tim Holtz. I covered the tag using the gorgeous book cover paper from the Backdrops Volume 2 paper stash. The paper is slightly larger in size than the tags, but because I wanted to keep the paper design complete, I used the entire sheet and allowed it to overhang each side.
After making small rips and tears around the edge of the paper, I machine stitched a border. Using Matte Collage Medium, I attached the torn sheet to the tag and also added a coat of the medium over the surface of the paper to seal it.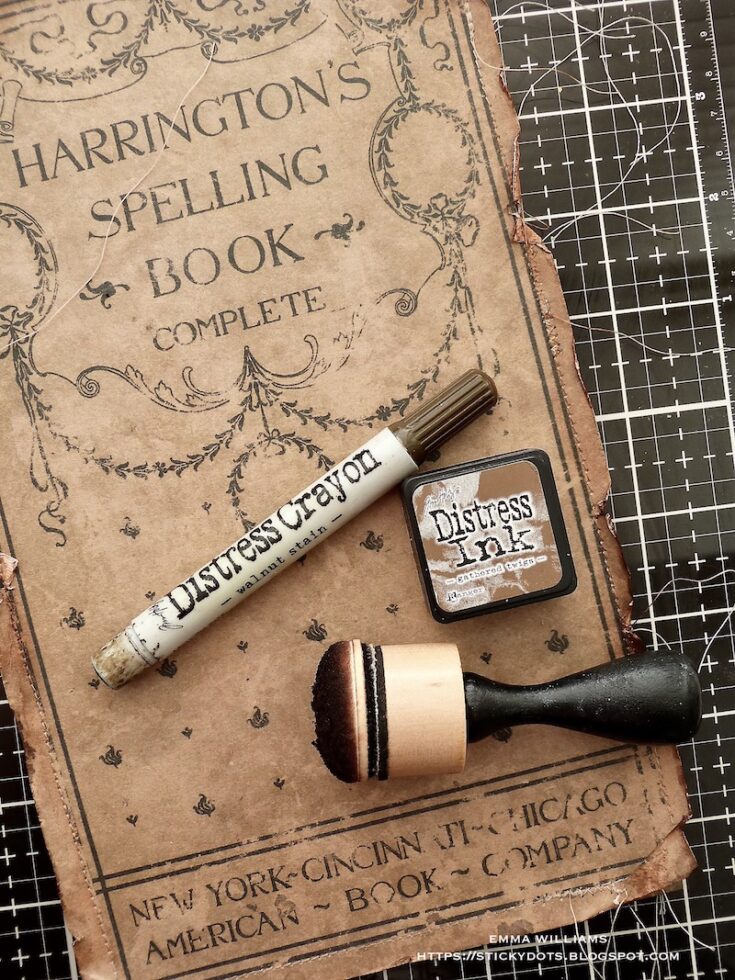 Once the medium was dry, I inked the torn edges with Gathered Twigs Distress Ink, and also ran Gathered Twigs Distress Crayon around the edges, blending out the color with my fingertip.
I then applied a small amount of Gilded Foundry Wax to the ripped edges of the paper. I only wanted just a hint of the wax, and applied it using a brush before heat setting with a heat gun.
Splatter a small amount of Speckled Egg Oxide Spray across the tag surface and either heat dry or allow to dry naturally.
I dyed a strip of Mummy Cloth with Dried Marigold, Frayed Burlap and Antique Linen Distress Spray Stains. Heat dry and then wrap the cloth around the bottom section of the tag, tying it in knot to secure it into place.
Now to create the flowers, and I used the Sizzix Brushstroke 4 Die Set by Tim Holtz.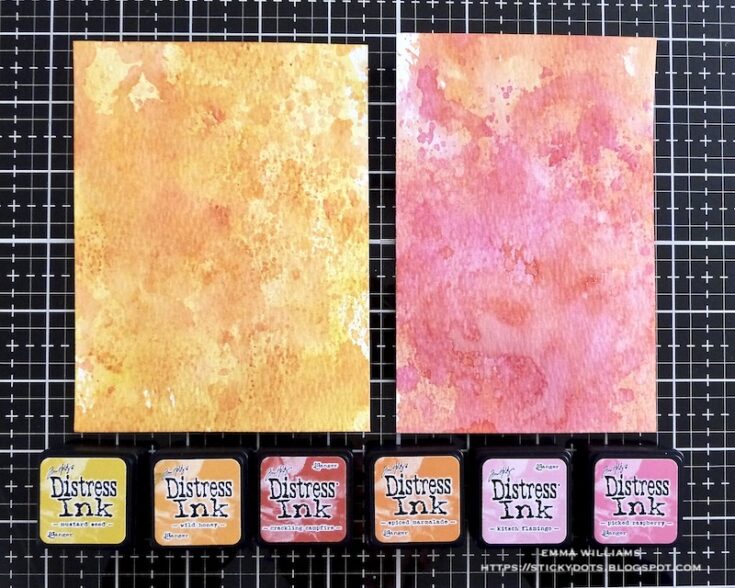 To color the card, I inked two separate panels of Distress Watercolor Card using the following Distress Inks ~ PANEL 1; Mustard Seed, Wild Honey, Crackling Campfire. PANEL 2; Crackling Campfire, Spiced Marmalade,  Kitsch Flamingo and Picked Raspberry. For each panel, I applied the ink to the non-stick portion of my glass media mat and then spritzed the inks with water until they bead. I also lightly misted the card panel with water. Dip the card into the inks to pick up the color and then heat dry. If there are areas that you want more color, dip the card again, but always remember to heat dry between layers.
Once I was happy with my colors, I placed Sizzix Adhesive Sheets to the back of each card panel before using the card to die cut my flowers.
I cut two of each size and assembled the four flowers, inking the edges of each die cut piece as I layered them before I then splattered each flower with a light coverage of Tarnished Brass Mica Spray. You can see the finished flowers and all those gorgeous layers in the photos below.
For the foliage and leaves, I used Peeled Paint, Antique Linen and Bundled Sage Distress Spray Stains and Speckled Egg Oxide Spray and after applying a light misting of water over the card surface, I then spritzed the stains directly onto the cardstock.
I heat dried the panel before I cut my foliage from the green card.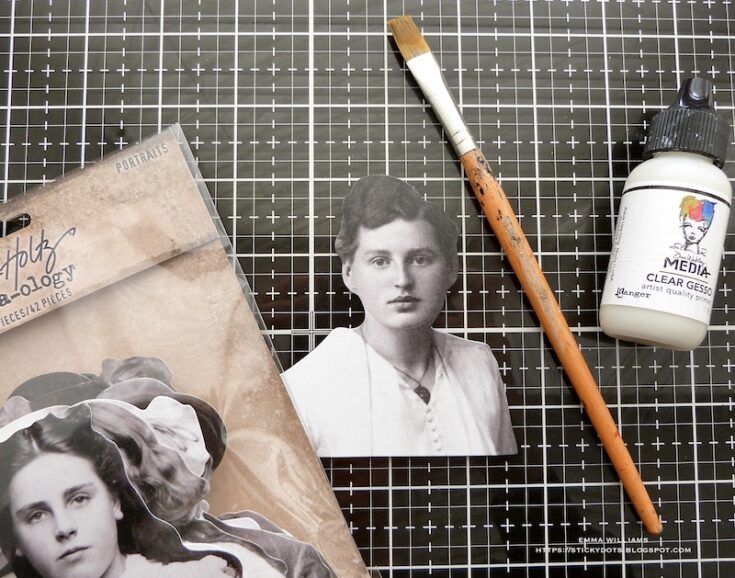 For the main focal point of my tag, I used one of the new Tim Holtz idea-ology Paper Doll Portraits and applied a color tint to this photo. To prime the surface of the photo, I applied a layer of clear gesso.
Color tint the photo using a water brush to add colors of Distress Crayon ~ Aged Mahogany, Peacock Feathers, Wild Honey and Gathered Twigs.
Mount the color tinted photo onto foam pads and then attach over the top of two layers of Mica Tiles. If you haven't got these, then you can also use acetate, inked with Mushroom Alcohol Ink which will create a similar effect to the mica.
Arrange and attach the photo, together with the flowers.
I used various depths of foam pads to attach each piece onto my tag before adding the foliage using either hot glue or matte collage medium.
I also used some of the remaining inked cardstock to die cut a "squiggle" from the Abstract Faces and placed this into the arrangement.
Thread three buttons with cotton thread and attach in a cluster to the right hand side of the Paper Doll portrait, placing them over the top of the die cut squiggle.
I added two pearl headed dress pins from my stash to complete the floral arrangement.
For the finishing touches, I added Clippings Stickers "all her dreams, would come true" and placed these beneath the flowers before rubbing the Walnut Stain Distress Crayon over the top to age the surface of the stickers.
At the top of the tag, I cut a piece of adhesive Linen Tape, approx 1.5" and folded the tape in half  before fraying the edges.
Using cotton thread, I threaded an Antiqued Gem onto the linen and then attached the completed piece to my tag, using Matte Collage Medium.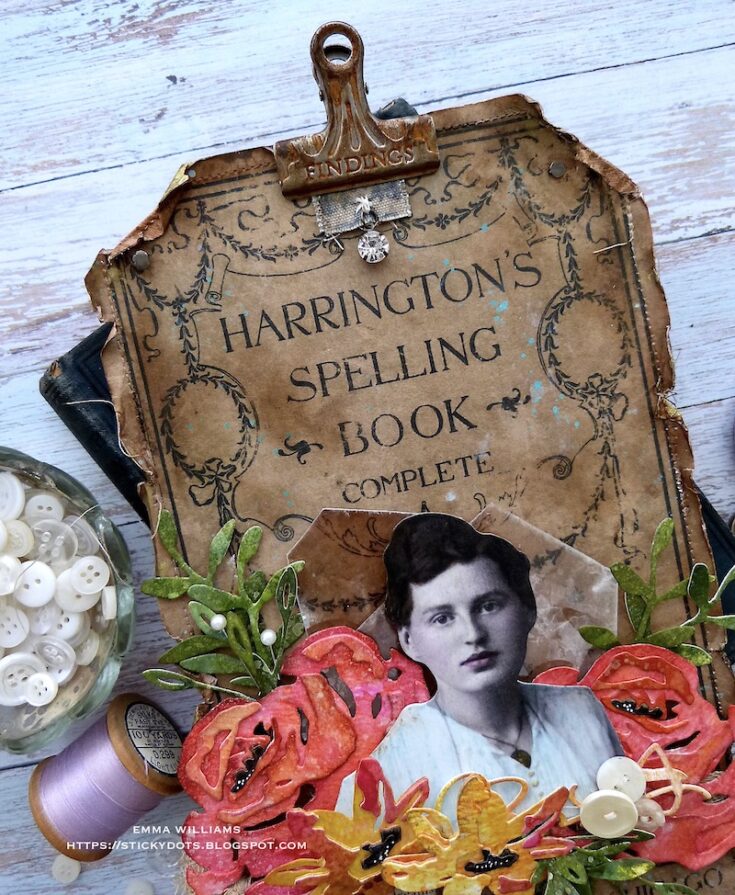 Finally, I clipped a Rusty Metal Clip to the top of the tag.
I hope you've been inspired by my project and loved the techniques I used, which I think could also be applied to scrapbook layouts or framed panels and if you have a special photo of a family member, then it would be wonderful to showcase those.
See you all again very soon and Happy Crafting everyone…Emma x
SUPPLIES:
Tim Holtz Sizzix BRUSHSTROKE FLOWERS…

Tim Holtz Etcetera SMALL TAG…

Ranger Tim Holtz Distress Crayons SET…

Ranger Tim Holtz Distress Crayon…

Tim Holtz Distress Mini Ink Pad…

Tim Holtz Distress Mini Ink Pad WILD…

Tim Holtz Distress Ink Pad CRACKLING…

Tim Holtz Distress Mini Ink Pad…

Tim Holtz Distress Ink Pad KITSCH…

Tim Holtz Distress Mini Ink Pad…

Tim Holtz Distress Spray Stain PEELED…

Tim Holtz Distress Spray Stain…

Tim Holtz Distress Spray Stain…

Tim Holtz Distress Spray Stain DRIED…

Tim Holtz Distress Spray Stain FRAYED…

Tim Holtz Distress Oxide Spray…

Tim Holtz Distress Foundry Wax KIT 1…

Ranger TIM HOLTZ DISTRESS Designer…

Tim Holtz Idea-ology PAPER DOLLS…

Tim Holtz Idea-ology VIGNETTE…

Tim Holtz Idea-ology MUMMY CLOTH…

Tim Holtz Idea-ology BACKDROPS VOLUME…

Tim Holtz Idea-ology LINEN TAPE…

Tim Holtz Idea-ology CLIPPINGS…

Prima Marketing RUSTY METAL CLIPS Art…

US Artquest MICA TILES pfx104

Prima Marketing MY SWEET Buttons 997106

Tim Holtz 8.5 X 11 DISTRESS…

Sizzix ADHESIVE 6×6 SHEET Pack 656802

Tim Holtz Distress Collage Medium…

Tim Holtz Sizzix BIG SHOT SWITCH PLUS…

Popular Wagner Precision Heat Tool HT400

Tim Holtz Tonic GLASS MEDIA MAT 1914e

Tim Holtz DETAILER WATER BRUSH Ranger…

Tim Holtz Distress COLLAGE BRUSH SET…

Tim Holtz Tonic GUILLOTINE COMFORT…

Ranger MINI ROUND INK BLENDING TOOLS…
Thanks so much for stopping by, and thanks to Emma for being our guest!