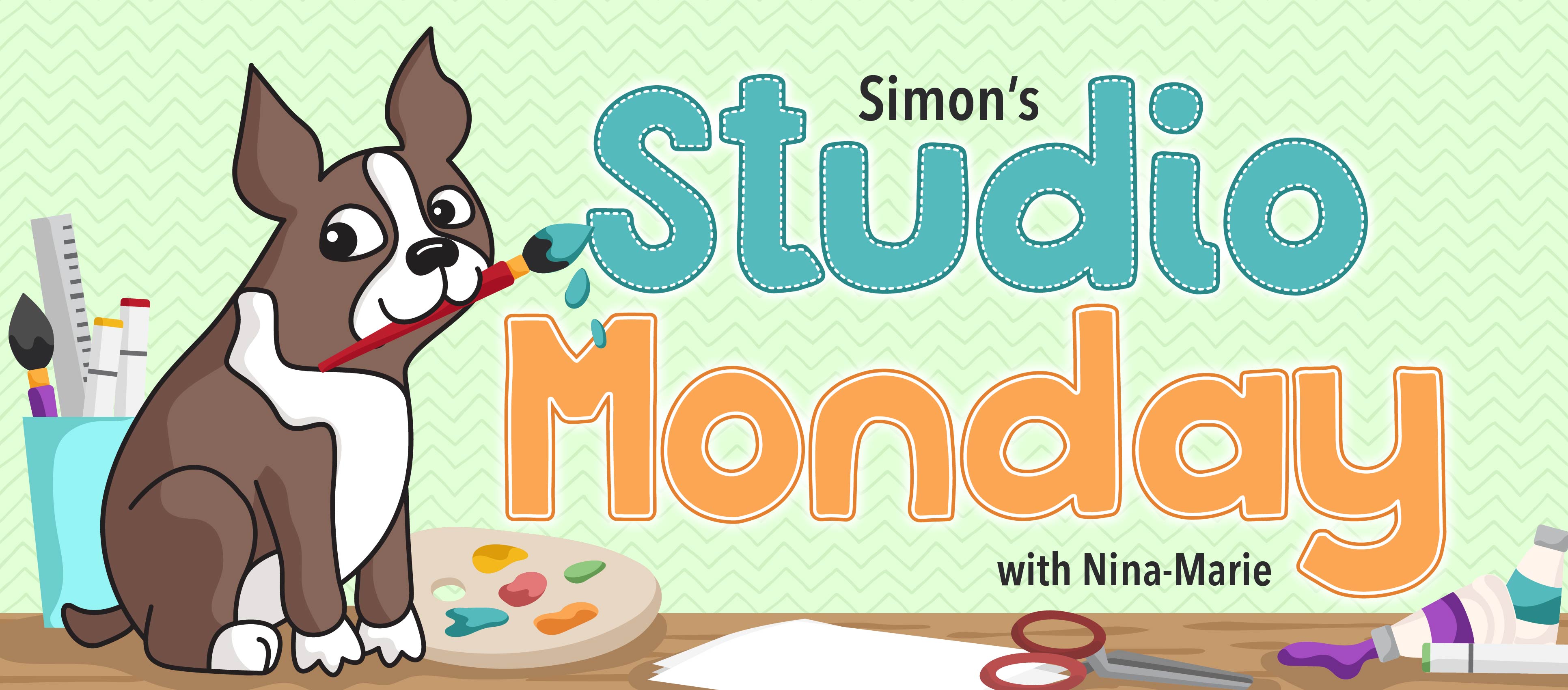 Hello crafters, its Nina-Marie here with you today and I have some inspiration for you on creating trifold gift card holders. Both of these projects feature the adorable Pebbles Hooray collection, which I really love working with.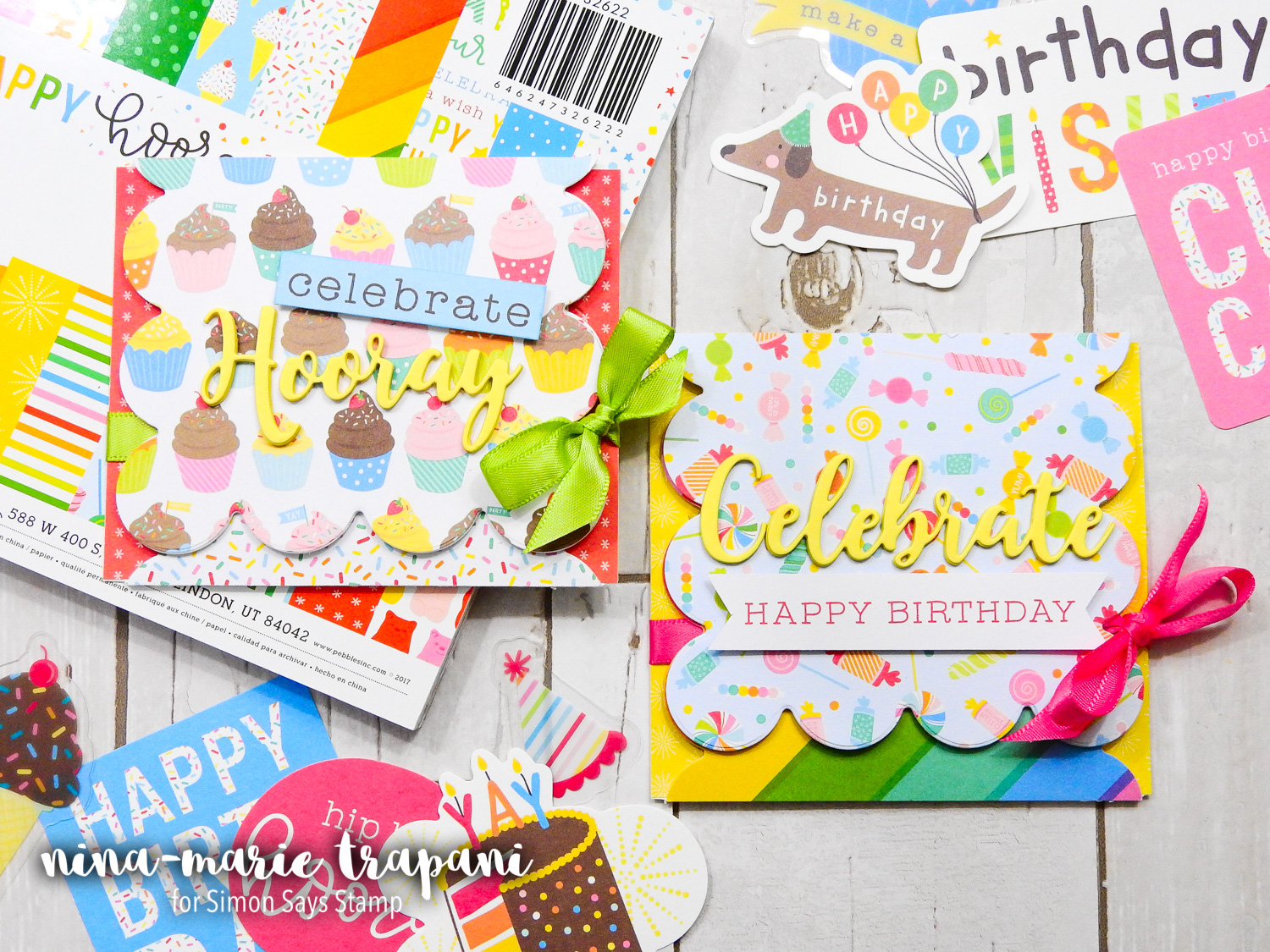 These trifold gift card holders are so easy to make with the help of the Simon exclusive 3 Sided Scallop die. With a bit of creative die cutting, you can turn your dies into very clever things! By simply scoring my 4 1/4″ x 11″ piece of white cardstock at 3 1/2″ from either end and then cutting those two outer ends with the scallop die, you get a super-quick and fun card design!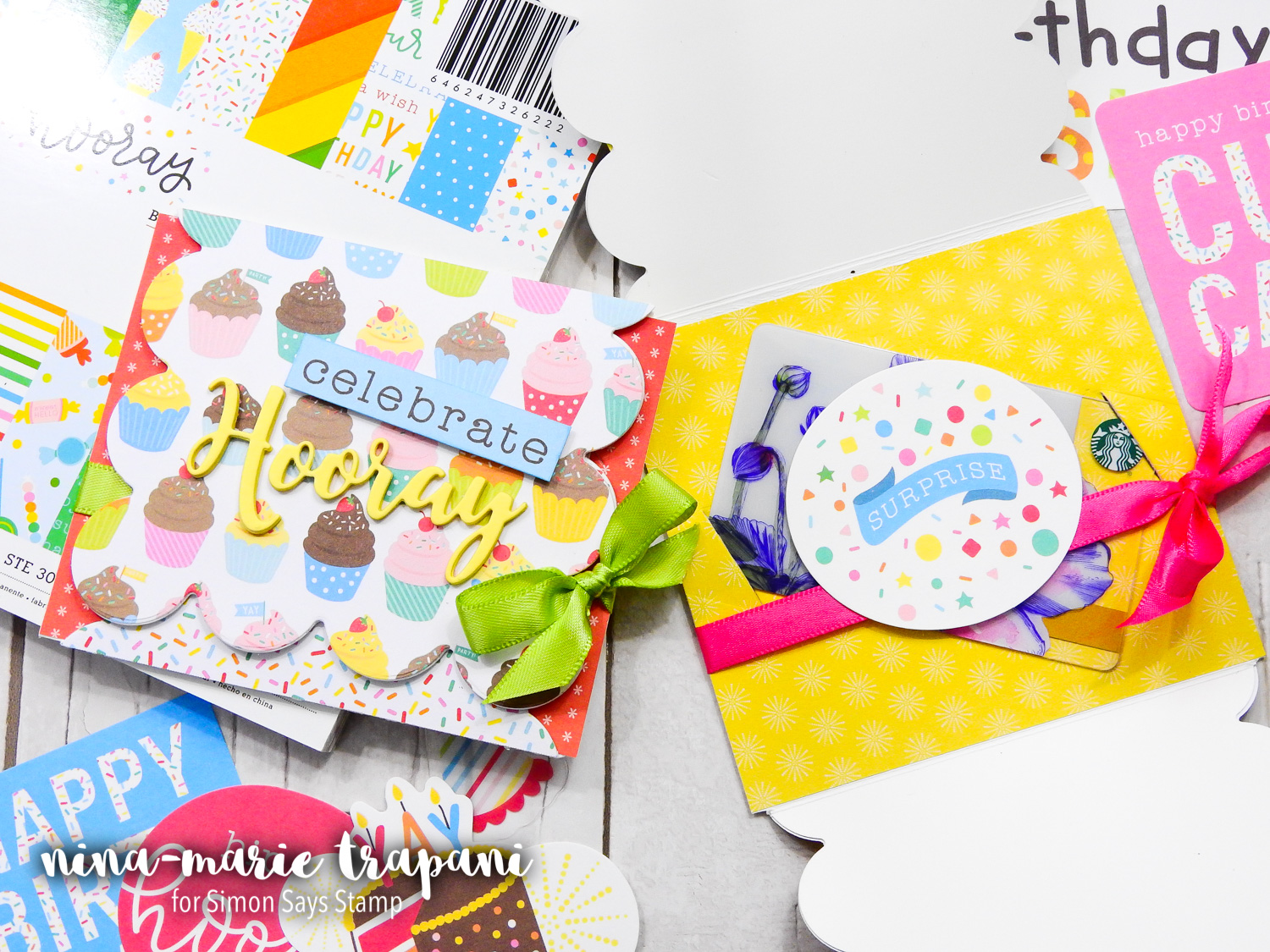 Another thing to remember when making cards is that none of us are perfect! I had a "duh" moment when creating one of these cards; I absentmindedly forgot that the catty-corner Lawn Fawn Simple Gift Card Slots die was not supposed to be aligned straight across the card, but rather the corners of the die lining up with the corners of the paper (I demonstrate both my mistake and the correct method in the video). However, I was determined to make my mistake work and in the end I actually kind of like how the gift card is a bit "cattywampus"!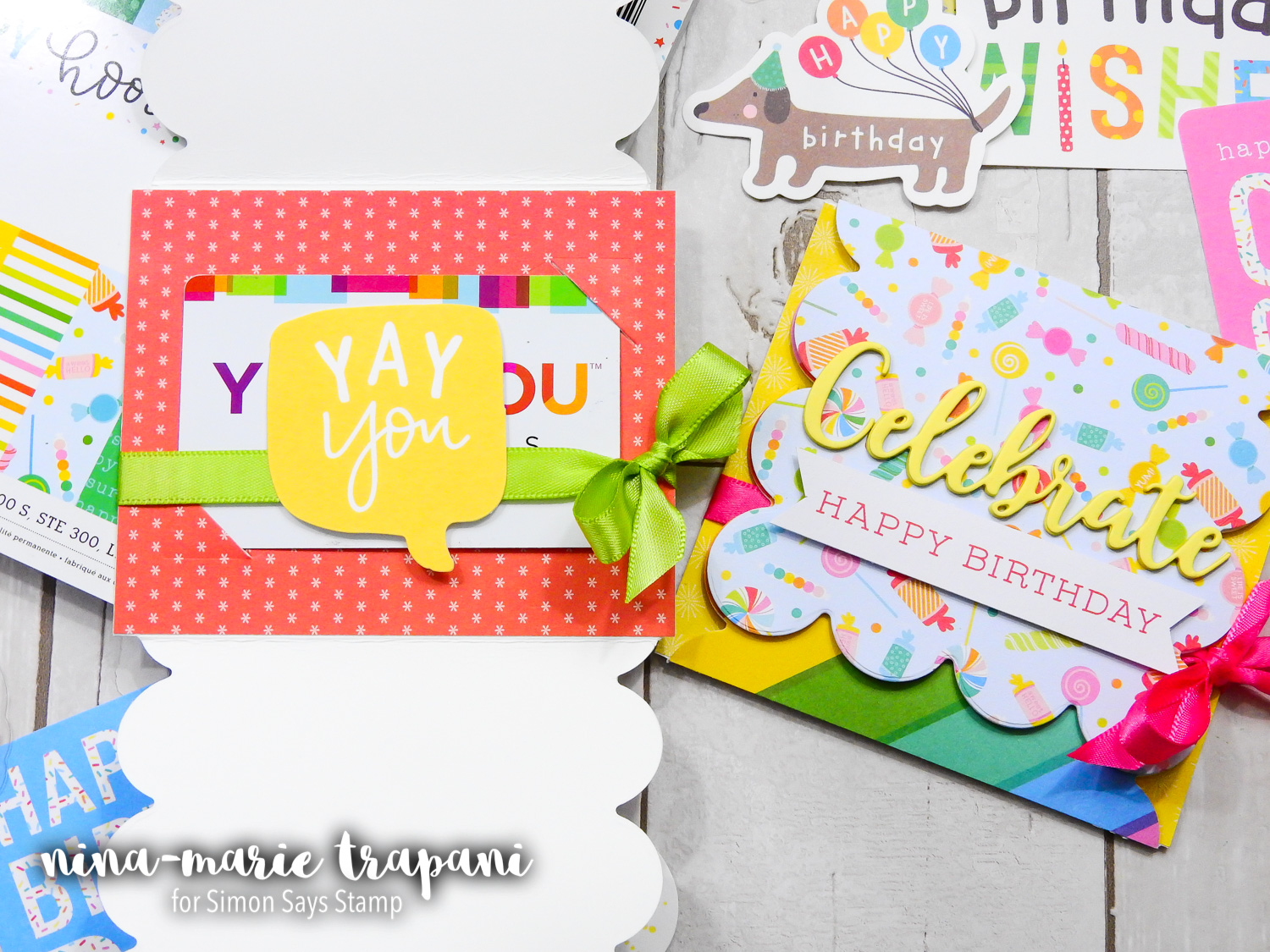 The cute script sentiments you see on the front of each card are from the Echo Park Birthday Party die set; the font is beautiful and really matched up nicely with the Pebbles Happy Hooray ephemera and 6×6 papers.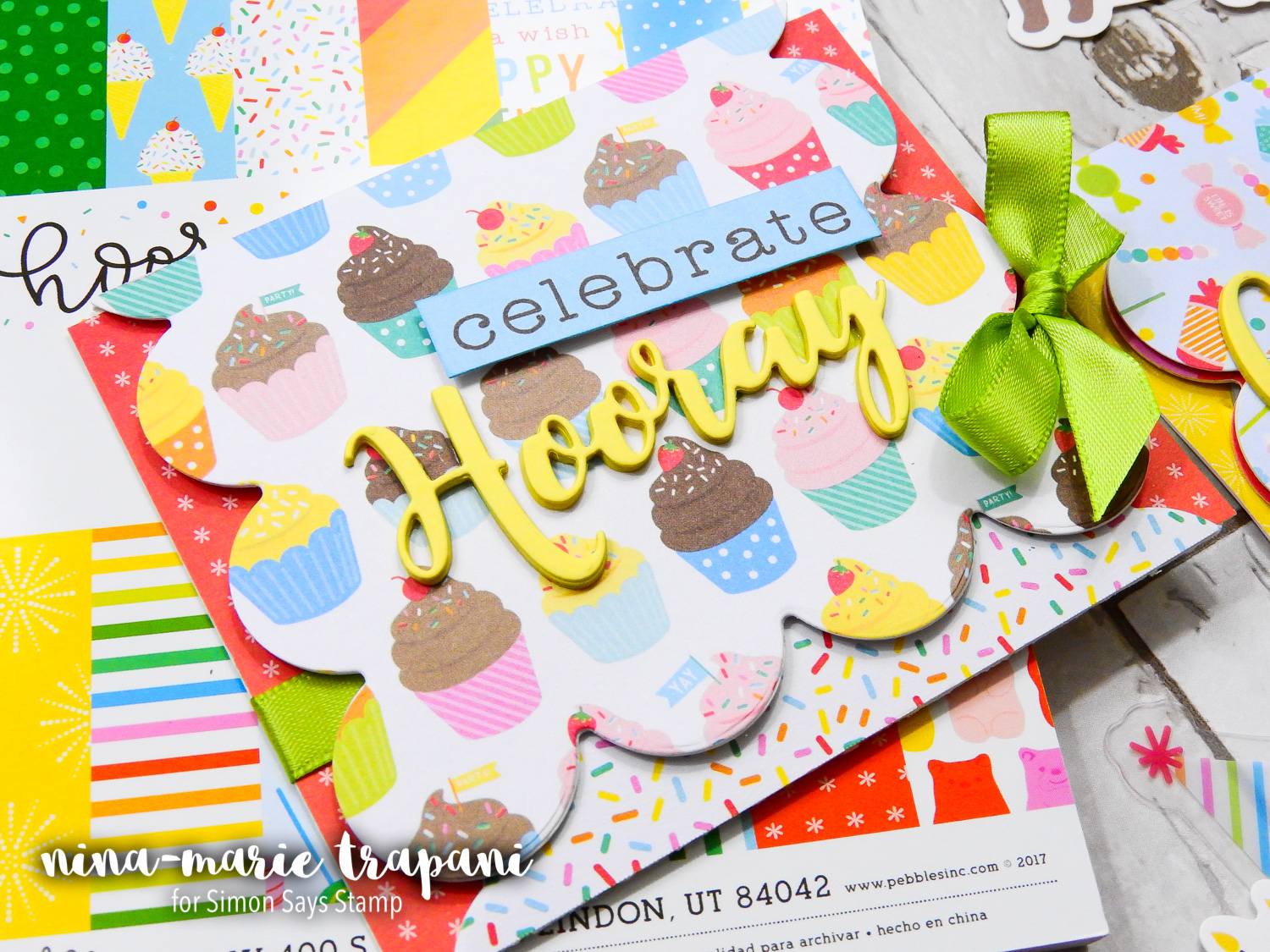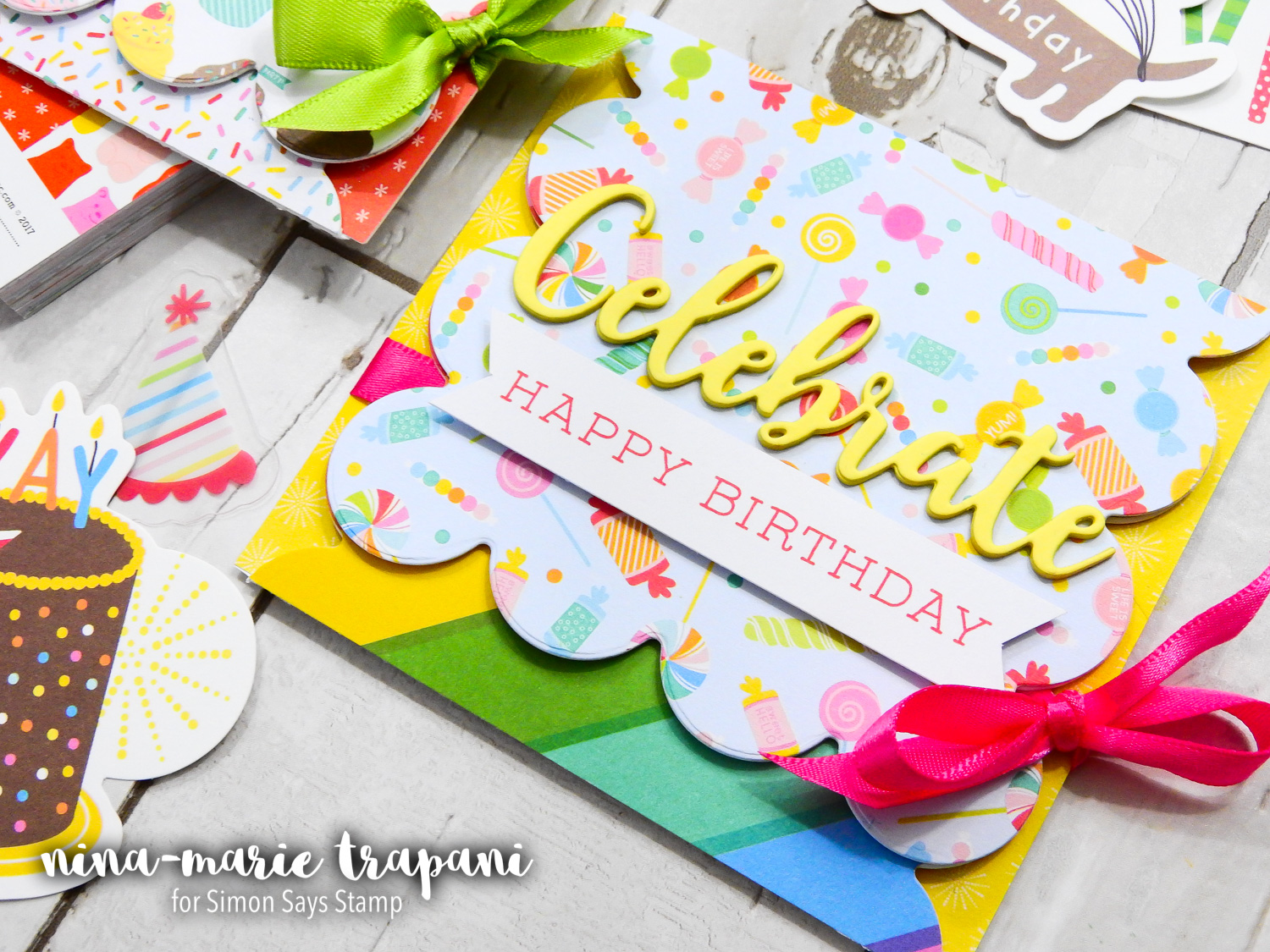 Be sure to check out the video below to see the trifold card design come together! I hope this inspires you with ideas for using the Happy Hooray collection from Pebbles, as well as create a few trifold cards of your own! Thanks so much for visiting with me today… I will not be posting next week as we have something else planned for next Monday, so instead you will see me back again the following week (10/30) with a new video for you! Until then, happy creating!
SUPPLIES
Pebbles Inc. HAPPY HOORAY 6×6 Inch…

Pebbles Inc. HAPPY HOORAY Ephemera…

Simon Says Stamp 3 SIDED SCALLOP…

Lawn Fawn SIMPLE GIFT CARD SLOTS Lawn…

Echo Park BIRTHDAY PARTY Die Set…

Lawn Fawn STICKY NOTE Cardstock LF1373

Simon Says Stamp WHITE CARDSTOCK 120…

Scor-Pal MINI SCOR-BUDDY Scoring…

Simon Says Stamp SMALL TEFLON BONE…

Tim Holtz Tonic Craft SHEARS 9.5…

Sizzix BIG SHOT MACHINE Gray And…

US Artquest MATTE Perfect Paper Adhesive

Darice ULTRAFINE TIP Applicator…

3M Scotch DOUBLE-SIDED FOAM TAPE…
Blog Candy Alert!! Follow our blog via email and comment on this post for a chance to win grab bags and blog candy! Remember to tag your awesome projects with #simonsaysstamp on social media so we can see what you are creating!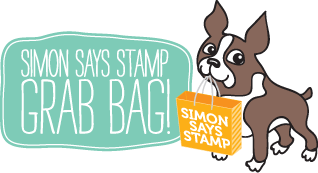 Hi friends! Happy Sunday! Thanks for stopping by today! I'm so excited to share this GORGEOUS decor piece special guest Emma Williams made for us to share on the blog! It's packed full of Tim Holtz goodness in Emma's own amazing and fantastic style! Be sure to keep on scrolling down for more information on the project and close up shots. Enjoy!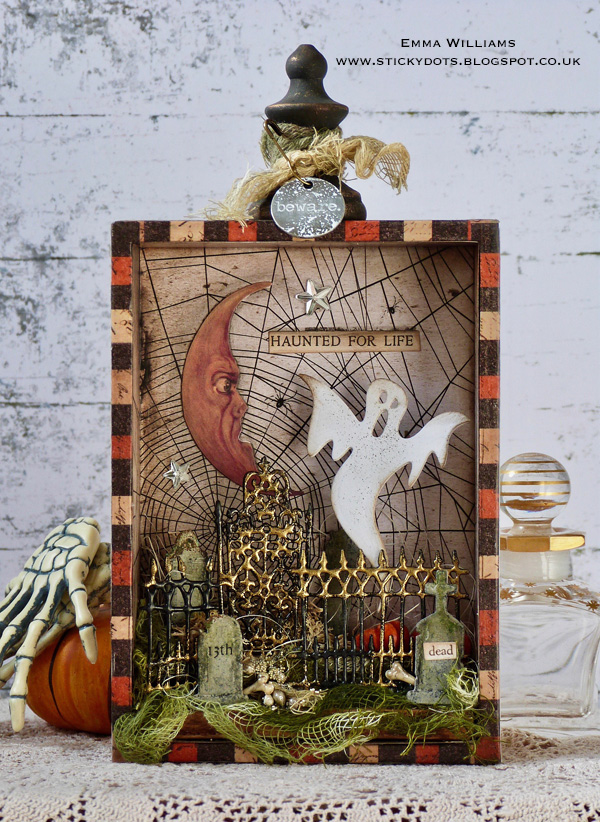 Hi everyone, it's Emma here and I'm really happy to be back here on the Simon Says Stamp blog! October is one of my favourite times of year, Autumn has now arrived, Pumpkin Spiced Lattes are ready and waiting and of course, Halloween is nearly here. So with this in mind, I thought it would be fun to create a piece that is perfect to display in your home on October 31st and I used some of the fabulous new Tim Holtz Halloween products including the Village Graveyard die from Sizzix to create this spooktacular scene full of dimension…
1. Using the largest size of Vignette Box, apply the striped tape from the Halloween Design Tape set around each of the raw edges on the front of the box.
2. Cut four pieces of patterned paper from the Halloween Paper Stash and line the outside of the box with these panels, attaching them with Collage Medium to secure them into place.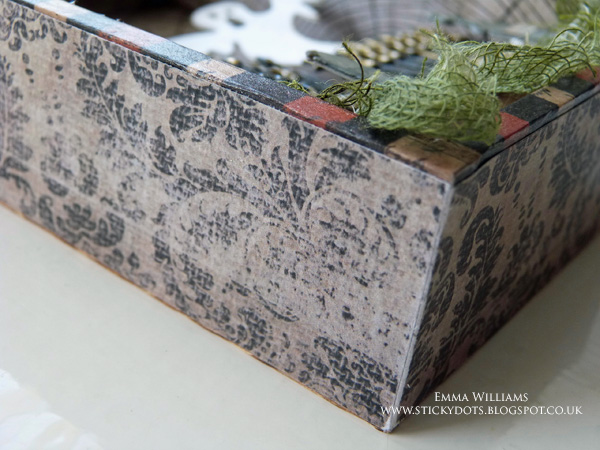 3. Line the inside of the box, using panels of the spider's web paper from the Halloween Paper Stash cut to the size of each of the four sides and the back of the box. Again, I attached each piece of paper to the inside of my box using a Collage Brush.
4. To create dimension inside my box, I created a small platform which I inserted along the base, allowing me to build up my die cut pieces. I started by cutting two pieces of card, first piece 7 x 9cm and the second, 5 x 9cm. Take the larger of the two pieces, place in front of you and score vertically at 1cm, 3cm, 4cm and 6cm. Fold along the score lines to create a cube shape. Take the second piece and score at 1cm intervals and again fold along the lines to create a cube.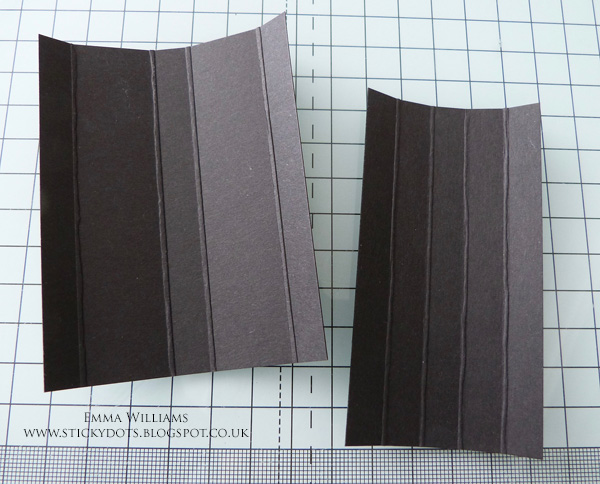 5. Attach the two cubes together to form a step.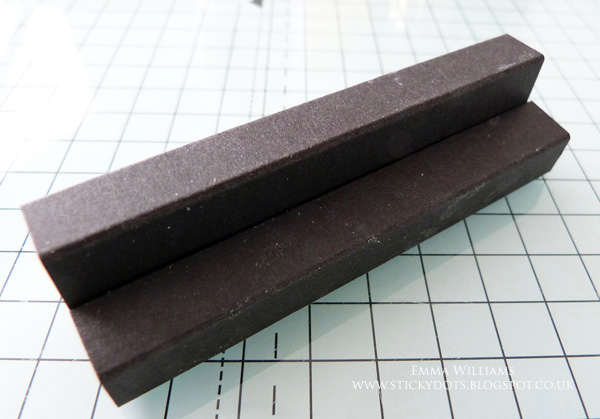 6. Adhere the 'step' in the base of your box using Collage Medium to secure it into place.
7. Cut a section of cheesecloth and spritz the cloth with Peeled Paint and Forest Moss Distress Spray Stain. Heat dry and then arrange and drape the cloth over the step you created in the bottom of the Vignette box. Attach the cloth with Collage Medium.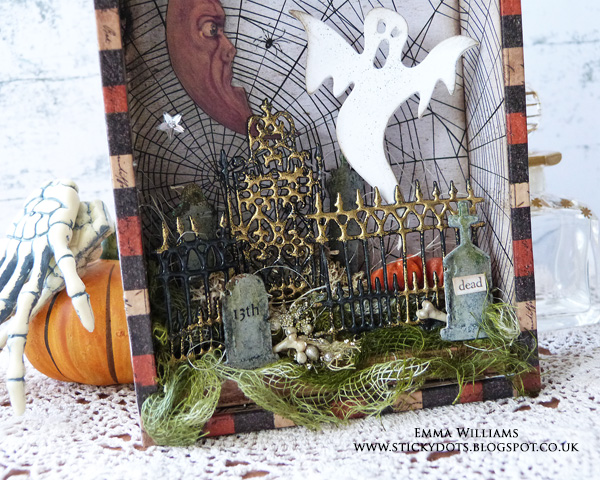 8. Attach the small moon from the Halloween Ephemera pack onto the left hand side of the inside of the box using Collage Medium to adhere it in place and then apply a coat of Collage Medium over the entire box to seal it.
9. Once the medium is dry, I added a couple of spider rub ons from the Halloween Remnant Rubs set and placed these directly onto the paper so they looked like they are crawling on the webs.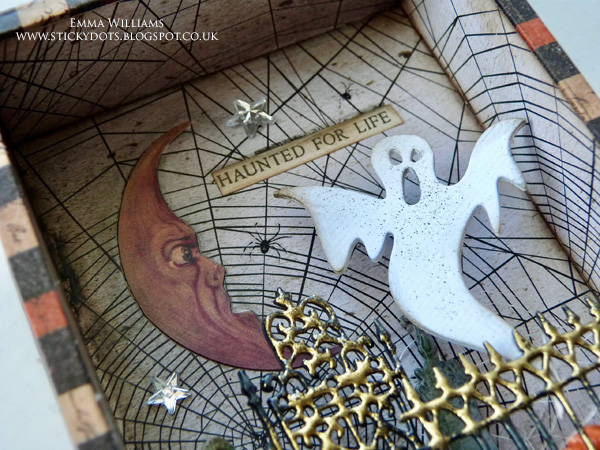 10. Using the largest of the Vignette Finials, apply a coat of gesso and then dry.
11. Then, cover the gessoed finial with two layers of Black Soot Distress Paint, allowing each layer to dry thoroughly.
12. Once touch dry, rub a small amount of Aged Brass Alchemy Wax over random areas of the finial to create a more antique looking piece. Attach the finished finial to the top of your box using Collage Medium.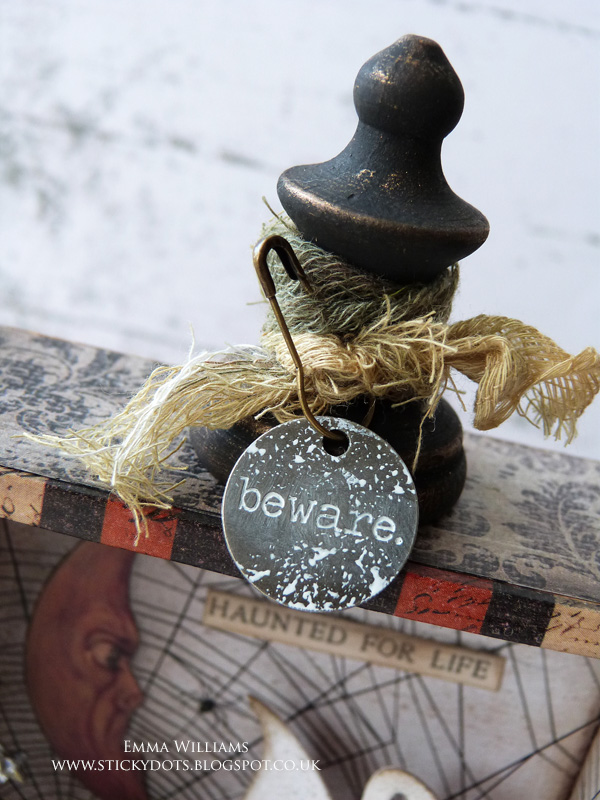 13. Now to start making those fun embellishment pieces to build and create that spooky village graveyard scene.
14. Using each of the dies from the set, die cut two separate pieces of each shape from Mixed Media Heavy stock card. Take one of the shapes as seen in the photo below and apply a layer of Collage Medium to the back of the die cut. Layer the first die cut piece over the second to create one image that will be substantial enough to stand freely without bending.
15. Repeat with every die cut shape from the die set to create all the separate elements.
16. To create the gorgeous look of iron on the fences, dab a Versamark Ink Pad over the top of die cut and then sprinkle with black embossing powder. Tap away the excess and gently heat the powder until molten.
17. Once the powder is cool enough to touch, dab the same ink pad over the top of the embossed die cut and sprinkle with a second layer of the black embossing powder.
18. Tap away the excess powder, heat and cool.
19. Apply the ink pad to the embossed fence, dabbing the ink onto random areas and then sprinkle gold embossing powder over the top. You don't need to add this to the whole die cut piece, so brush the powder away from any areas you don't need it to be.
20. Heat the gold powder until molten and shiny and repeat this process on the remaining fence die cuts.
21. Moving onto the tombstones ~ use your finger to apply a small amount of Grit Paste to the tops of each tombstone. Once dry, apply a layer of Pumice Stone Distress Paint over the top of each die cut section and give them a blast of heat to dry them thoroughly.
22. To add more depth of colour and a mossy effect to the stone, take the Peeled Paint Distress Crayon and run it over random areas of the die cut piece, blending out the colour with your fin-ger. Finally, add some Black Soot Distress crayon around the edges and blend. Add remnant rubs or Halloween Clippings Stickers to the stones ~ you can use as many or as few as you want.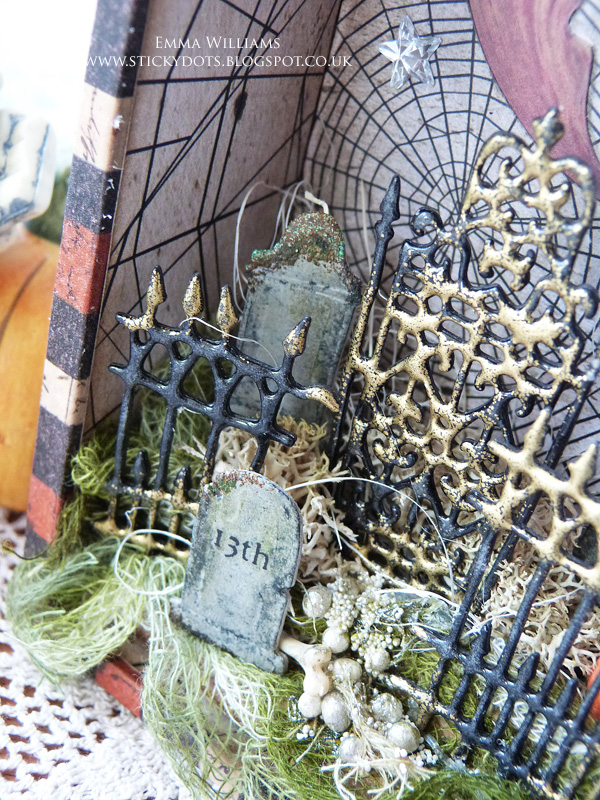 23. For the final die cut element, take the ghost and apply a layer of Picket Fence Distress Paint over the top of the die cut. Dry and if needed add a second layer. Ink the edges of the ghost with Ground Espresso Distress Ink and then flick some Black Soot Distress Paint over the die cut.
24. Now for the fun part, assembling your scene! You can do this anyway you choose and you have the step that was created in stage 6 to create the levels and dimension for all your embellishments that fit inside of the box.
25. I attached each of my die cut pieces using a hot glue gun, applying a thin line of glue along the bottom edge of each piece which will secure them into place.
26. To complete the scene, I added some Art Stones which I sprinkled over Collage Medium to create a path. Once the stones are completely dry, paint them with a small amount of Unicorn's hair Alchemy paint to create a shimmer. I also added some mini pumpkins to my scene, boneyard findings and dried moss.
27. Finally, I attached my ghost by applying a small amount of Collage Medium to the tail and placing it behind the fence, so that it appears to be floating and added mirrored stars and a Hallow-een Clippings Sticker to the background.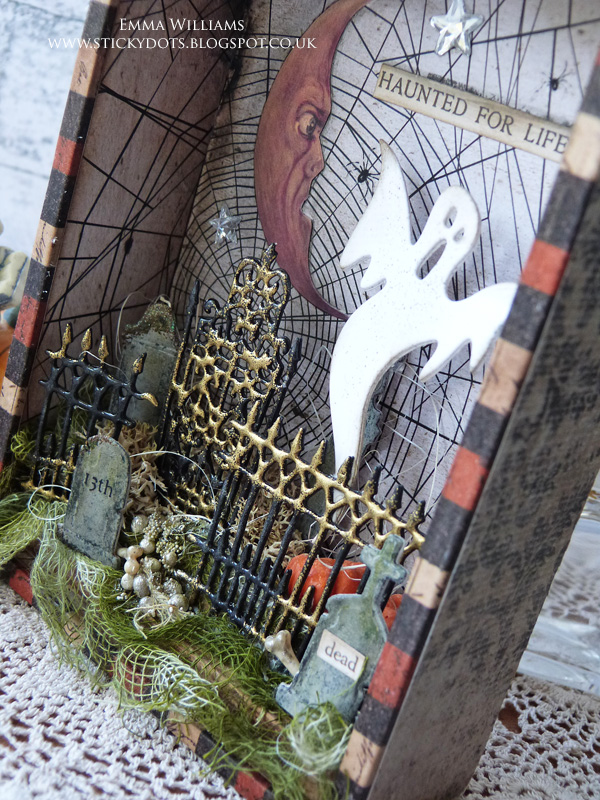 28. For the finishing touch, take some more of the cheesecloth, dye it with Antique Linen and Pum-ice Stone Distress Spray Stain and once dry, tie the cloth around the finial. Take a Looped Pin to attach a Halloween Typed Token altered with Picket Fence Distress Paint to the cheesecloth.
I really hope you've loved the creative process behind this fun Halloween project and that you'll be inspired by the piece I've created! Thanks so much for stopping by today and I'll see you again very soon!
Emma
SUPPLIES:
| | | |
| --- | --- | --- |
| Tim Holtz Sizzix VILLAGE GRAVEYARD… | Tim Holtz Idea-ology 8 x 8 Mini Paper… | Ranger Tim Holtz Distress 8.5 X 11… |
| Neenah Classic Crest 80 LB SMOOTH… | Tim Holtz Distress Collage Medium… | Ranger Embossing Powder GOLD EPJ37354 |
| Ranger Embossing Powder BLACK EPJ37347 | Tsukineko Versamark EMBOSS INK PAD… | Tim Holtz DISTRESS GRIT PASTE Ranger… |
| Tim Holtz Distress Mini Ink Pad… | Tim Holtz Distress Mini Spray Stain… | Tim Holtz Distress Spray Stain PEELED… |
| Tim Holtz Distress Spray Stain FOREST… | Ranger Tim Holtz Distress Crayon… | Ranger Tim Holtz Distress Crayon… |
| Tim Holtz Flip Top Distress Paint… | Tim Holtz Flip Top Distress Paint… | Tim Holtz Distress Paint PICKET FENCE… |
| Tim Holtz Idea-ology HALLOWEEN… | Tim Holtz Idea-ology LOOP PINS TH93200 | Tim Holtz Idea-ology HALLOWEEN Design… |
| Tim Holtz Idea-ology VIGNETTE BOXES… | Tim Holtz Idea-ology VIGNETTE FINIAL… | Tim Holtz Idea-ology HALLOWEEN… |
| Tim Holtz Idea-ology MINI PUMPKINS… | Tim Holtz Idea-ology HALLOWEEN Typed… | Tim Holtz Idea-ology HALLOWEEN… |
| RESERVE Tim Holtz Idea-ology BONEYARD… | Tim Holtz Idea-ology MIRRORED STARS… | Prima Marketing MINI ART STONES Art… |
| Prima Marketing ART STONES Art… | Prima Marketing AGED BRASS Art… | Prima Marketing SPARKS UNICORN'S HAIR… |
| Ranger Inkssentials Non Stick CRAFT… | Surebonder GLUE GUN High Temperature… | Tim Holtz Distress COLLAGE BRUSH SET… |
| Tim Holtz Idea-ology SANDING GRIP… | Precision Heat Embossing Tool Gun… | Pure Wipe CHEESE CLOTH Surface… |
Thanks for reading and thanks to Emma for this fabulous inspiration!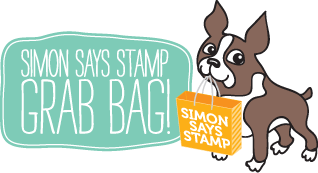 Blog Candy Alert!! Follow our blog via email and comment on this post for a chance to win a special blog candy!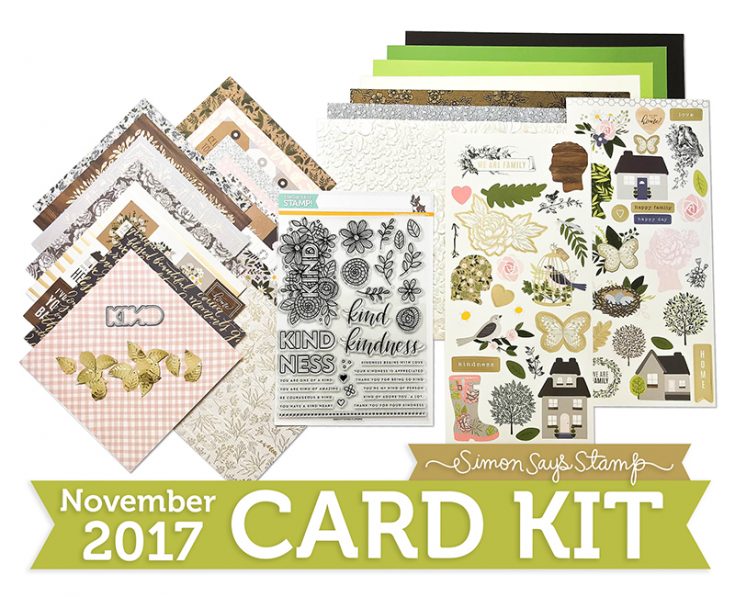 Introducing our beautiful and homey card kit for November 2017, Kind Flowers! This lovely kit features warm, Fall tones of green, brown, and cream, with subtle hints of soft pink. Everything is anchored by 18 gorgeous, single-sided sheets of 6×6 patterned papers and a beautiful accent sticker sheet from the Pebbles Heart of Home collection. We've also hand-picked, coordinating cardstock from Simon to complement these colors. You'll love creating heartfelt and charming cards for multiple occasions.
The jam-packed Simon exclusive Kind Flowers stamp set includes a stunning bouquet of flowers with the word kind in the center. There are also several whimsical flowers and leaves to build your own bouquet as well as a border stamp and little accents for even more options. The words kind and kindness, in both a gorgeous script and all-caps outline font, create big impact – giving you an array of ways to make something extra special. In addition, you'll find several lovely sentiments which will enable you to express gratitude, love, and encouragement.
The Bold Kind Outline die from Simon is designed to perfectly cut the outline word kind, as well as the word within the bouquet. This kit also includes three sheets of embossed paper in silver, bronze, and gold to add shimmer and texture to your designs. There is even a baggie of beautiful large gold leaves from Darice.

Don't forget! We have LOTS of gorgeous card kit inspiration to access and add to in our Card Kit Galleries!
You can purchase the kit at $29.99, or you can subscribe to our kit of the month program for just $24.95 (plus S&H) per month to have our kits delivered right to your door each month!
If you are a subscriber who used Paypal to purchase your subscription, please be sure to pay the invoice that we send you within 3 business days.  We have a limited number of this card kit in stock and don't want you to miss out.  For easier and quicker monthly processing, please contact us via email or telephone and we will put your credit card on file as a courtesy for you.  Card kits bill and ship between the 17th and 27th days of every month.