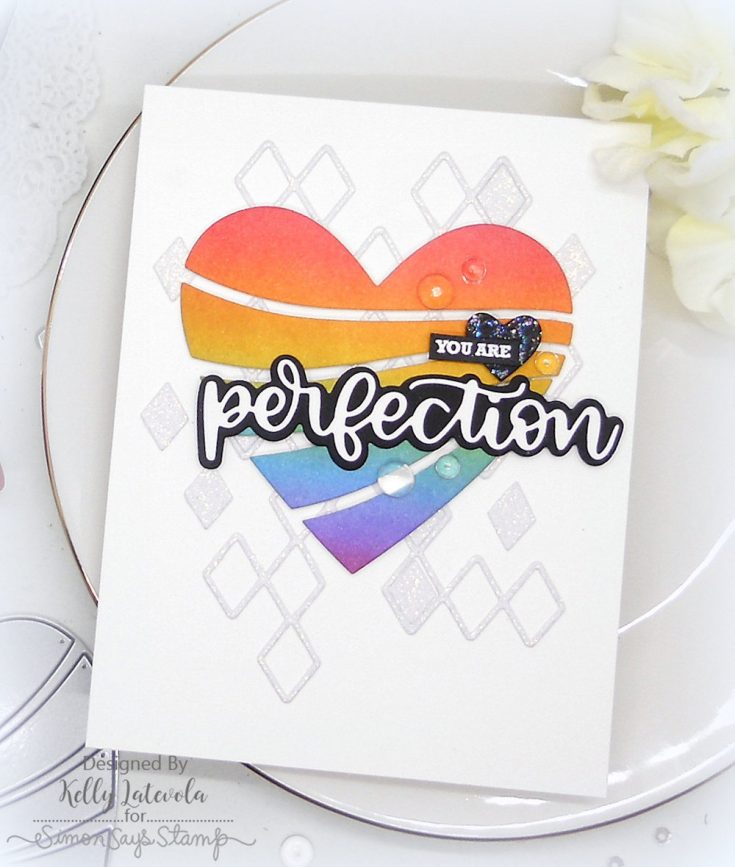 Hi friends! Happy Tuesday! I hope your week is starting off fabulously! Please welcome back the always inventive and delightful Kelly Latevola wither her latest feature on our blog! She's using our brand new Streaming Heart,  Shining Heart, and Perfection exclusive dies as well as the Stacked Diamonds die and Sketch Ranunculus stamp set! Be sure to watch the video for more information, and enjoy!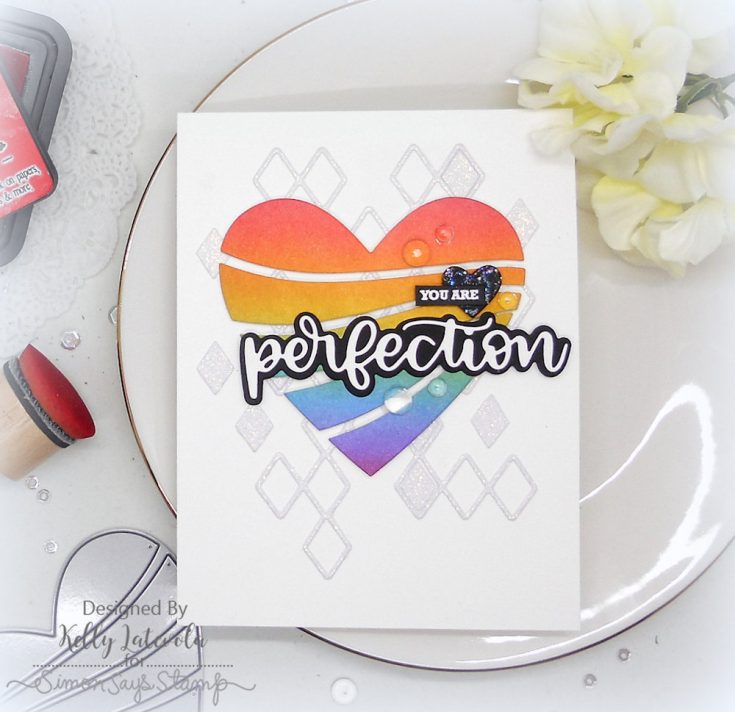 SUPPLIES:
Simon Says Stamp STREAMING HEART…

Simon Says Stamp SHINING HEART Wafer…

Simon Says Stamp STACKED DIAMONDS…

Simon Says Stamp PERFECTION Wafer…

Simon Says Clear Stamps SKETCH…

Simon Says Stamp Cardstock WHITE…

Simon Says Stamp Card Stock 100#…

Neenah Classic Crest 80 LB SMOOTH…

Sizzix BIG SHOT PLUS MACHINE Gray And…

Simon Says Stamp EMBOSSING POWDER…

Tsukineko Versamark EMBOSS INK PAD…

Inkadinkado EMBOSSING MAGIC Powder…

Precision Heat Embossing Tool Gun…

Ranger Inkssentials Non Stick CRAFT…

Ranger MINI ROUND INK BLENDING TOOLS…

Tim Holtz Distress Mini Ink Pad…

Tim Holtz Distress Mini Ink Pad…

Tim Holtz Distress Ink Pad SALTY…

Tim Holtz Distress Ink Pad WILTED…

Ranger Stickles STAR DUST Glitter…

Pretty Pink Posh 4MM CLEAR DROPLETS

Pretty Pink Posh 6MM CLEAR DROPLETS

3M Scotch DOUBLE-SIDED FOAM TAPE…

Tombow MONO MULTI Liquid Glue Two…

Ranger Inkssentials GLOSSY ACCENTS…
Thanks for reading today, and thanks to Kelly for being our guest!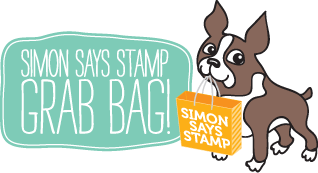 Blog Candy Alert!! Follow our blog via email and comment on this post for a chance to win special blog candy!
Congratulations! Blog Candy Winners!
From: Studio Monday with Nina-Marie: Dry Embossing 5 Ways: Dawn Skene!
From: Yippee for Yana: Repeat Background with Breakfast Buddies: Stacy Kowbel!
From: Simon's 10 Creativation Crafty Must-Haves: Karen Hale!
From: Altenew February 2018 Release Blog Hop + Giveaway: Barbara Martin!
From: Have you seen the LATEST from Avery Elle?!: Donna Rinckel!
Please email Reed@SimonSaysStamp.com with the name of the blog you won from, the prize you won, and your address (if applicable) to redeem your prize(s)!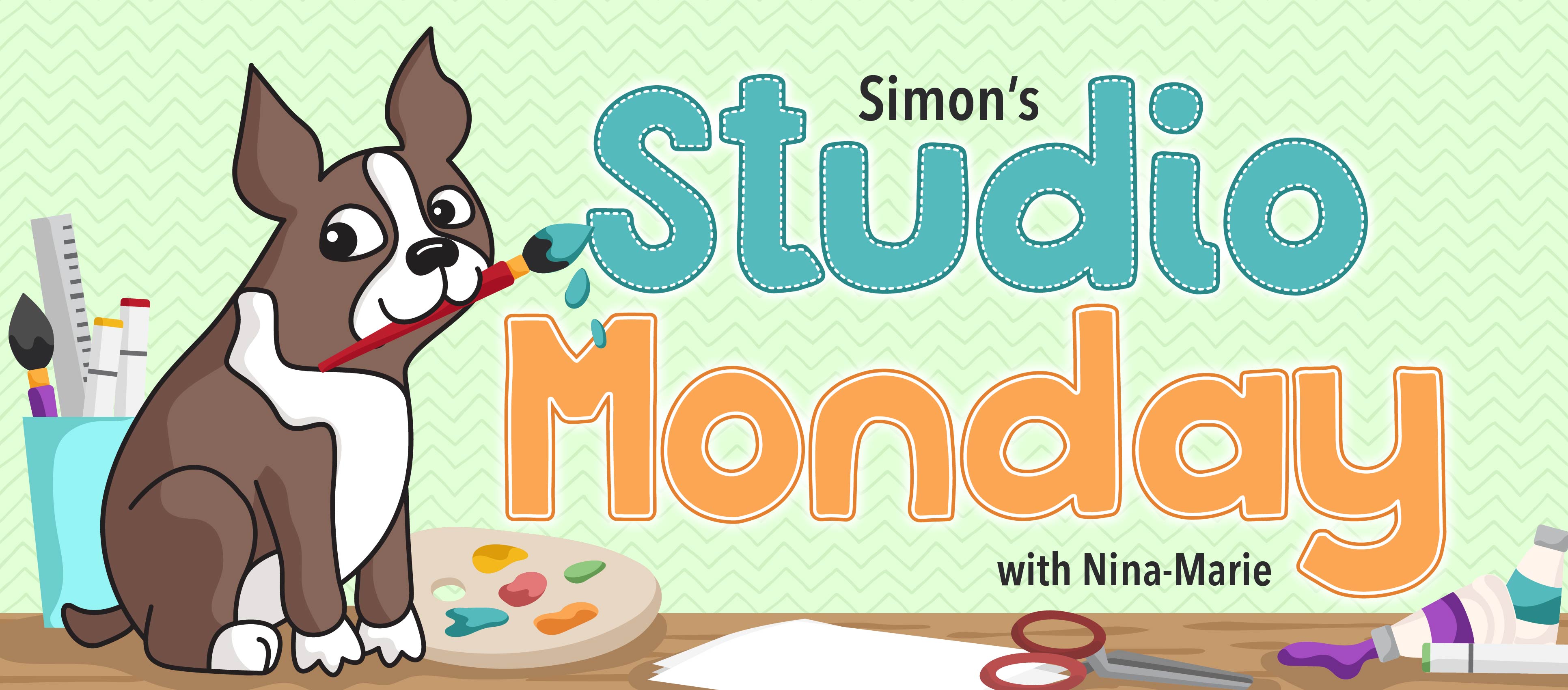 Hello and Happy Monday everyone! I am thrilled to be bringing you the latest Studio Monday video with five different ways to use the dry embossing technique! Note that today's video is only about the techniques themselves and not a step-by-step for making the finished cards. However, you can see how I turned all of these techniques into cards in the photos! I tried to keep the finished cards fairly simple so that you could look at the photos and easily tell what I did to embellish them.
So, let's get technique-y, shall we??
DRY EMBOSSING #1: Simple Embossing + the Faux Tin Ceiling Effect
Have you ever seen the Victorian-era tin ceilings in old homes? I live in a home that was built in the waning years of the 19th century, and in the dining room  there is a beautiful tin ceiling; with its seemingly "embossed" texture, this inspired me to want to recreate a similar effect on a card. I have the Jungle Background die from Couture Creations, which to me, was a reminiscence to Victorian print. With that background die, I embossed the design into Mirror cardstock from Tonic Studios. Mirror cardstock is going to give you that "tin ceiling" effect, as the very nature of tin itself is a bit on the shiny side.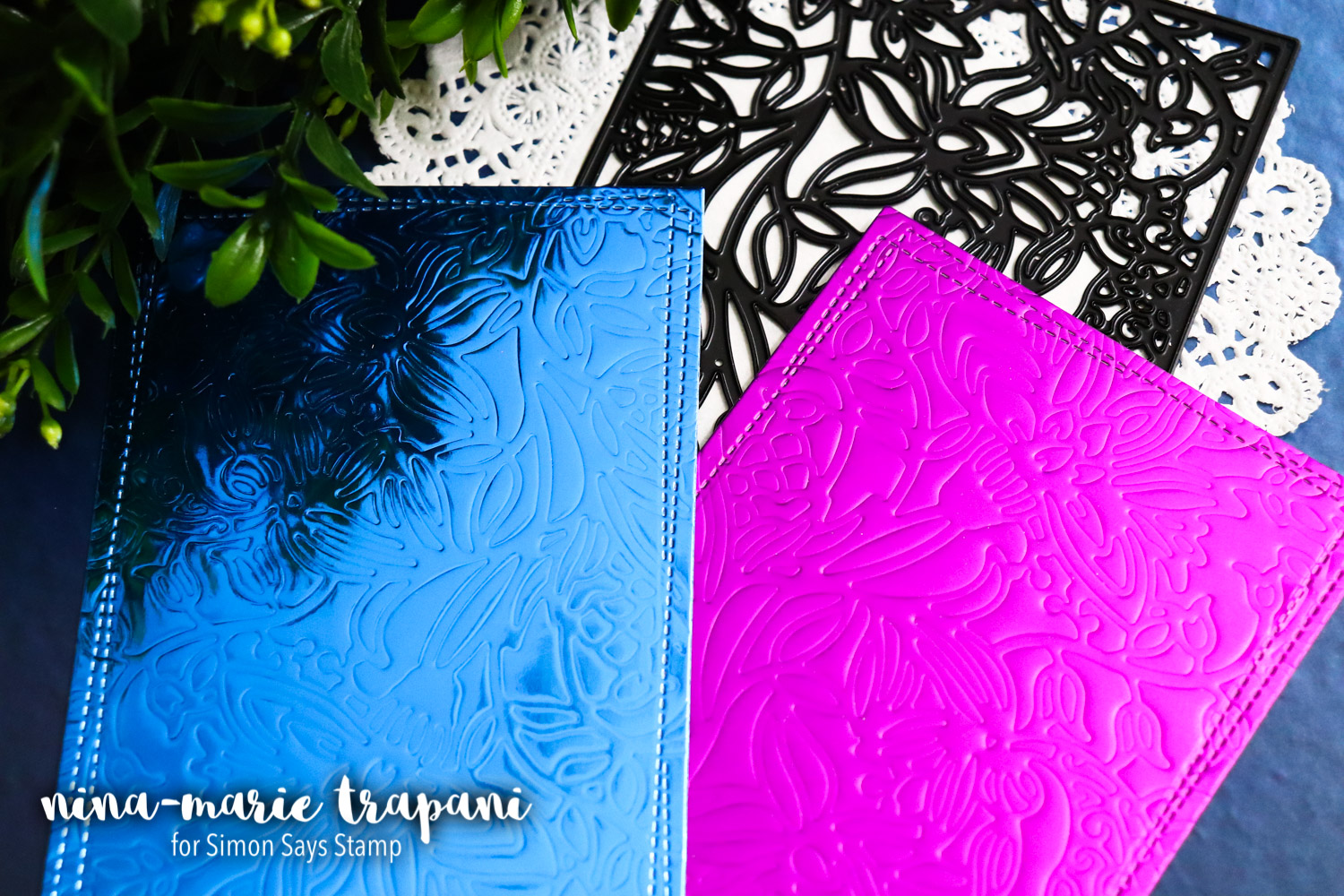 This technique is also the most-basic of all the embossing techniques, as we did nothing but embossed a design into paper. But just because the technique is basic, does not mean that it isn't beautiful. Sometimes the most beautiful things are the ones that are simplest. Just look at that embossing!
DRY EMBOSSING #2: Enhancing with Color
Dry embossing in of itself is a stunning technique. But have you ever tried enhancing that embossing with ink or even markers? I've got two examples for you today on this technique! The first uses the new Neat & Tangled Geometric die (I love the crisp, modern vibe of this die). After running it through my die cutting machine in an embossing sandwich (we don't want to cut this, just emboss), I broke out some inks and daubers! With an assortment of bright Distress Inks, I used the die as a stencil and inked through the openings to make the raised portions of the panel colored. The result is a stunner!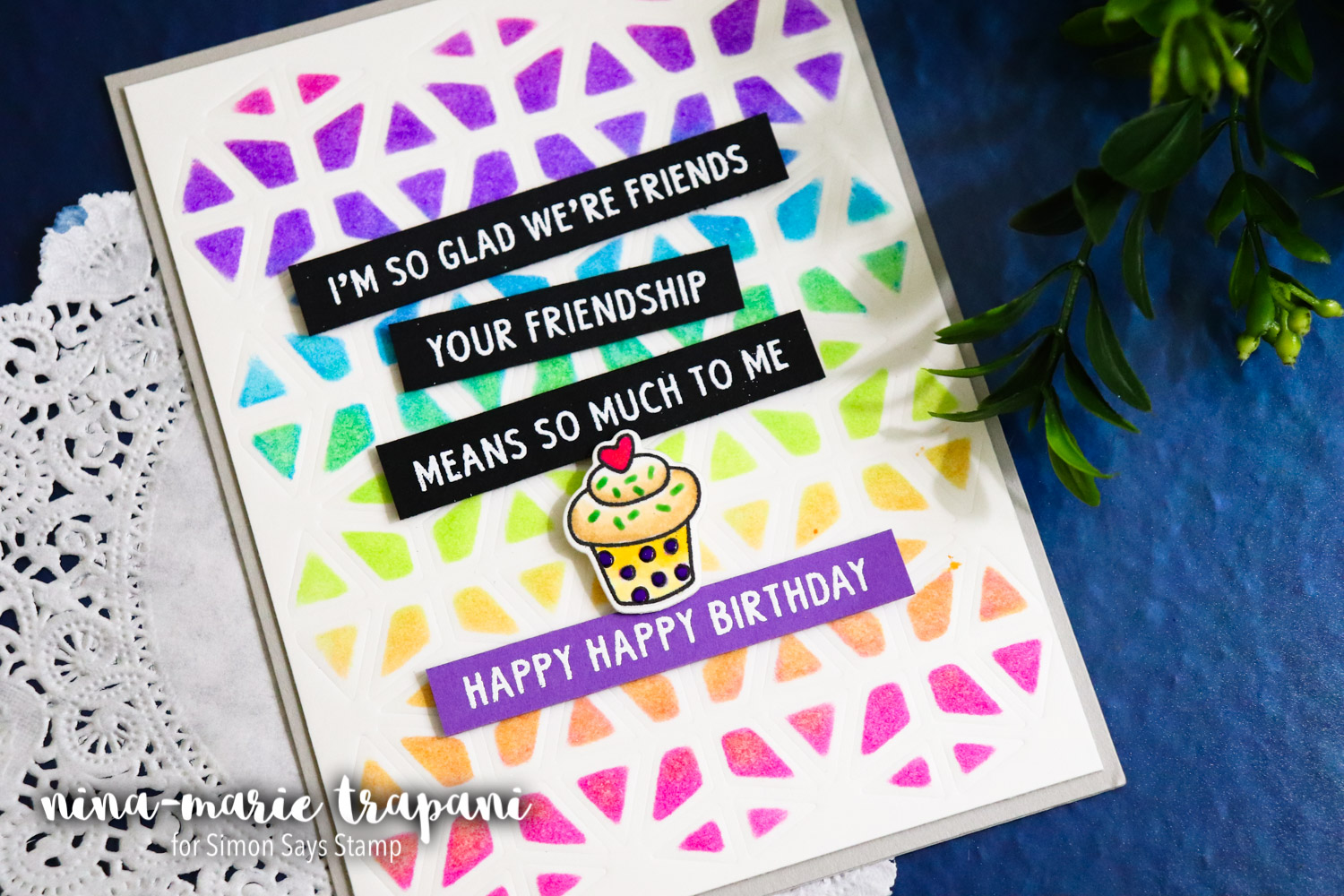 The second method is to use markers. And as a bonus embossing technique, this card was embossed using lots of dies from the Modern Flowers die set; another great way to make use of the small dies you have! I embossed these florals into blue cardstock and then using 2 Copic markers, I shaded all of the raised areas of the panel. You definitely do not have to add shading on this; you could use just a single marker and get amazing results! I just am addicted to coloring and don't know when to stop sometimes! ;)
The way the coloring looks on both of these cards with the embossed texture is mesmerizing. I love running my fingers over the paper to feel that embossed texture!
DRY EMBOSSING #3: Using Embossing Folders with and without Mediums
One of the most popular ways to dry emboss is with embossing folders! There are so many gorgeous ones to choose from, and really, they don't get enough love I think! I've used three different folders today with backgrounds I made, to show you some fun ways you can add texture to your inked panels. Side note, all the inking was done with Distress Oxide inks and there are gold and pink paint splatters on each. The folders used here were the Couture Creations Field of Daisies and the Carabella Envolée de Coeurs. On the finished card, you see some beautiful tulips that are from Memory Box's Floral Bloom Oval Frame die set.
But of course, embossing folder impressions do not have to be subtle! The stunning Floral Burst from Brutus Monroe (middle panel in photo above), looks amazing when embossed… but then, when you add ink overtop to enhancing the embossing? Just WOW. It brings the design front and center, creating a focal point instead of an accent. I did not make cards with all of these backgrounds, but have saved them for future use! Take a close up look at the texture…
DRY EMBOSSING #4: Faux Letterpress with a Stencil
I'm sure most of you are familiar with the gorgeous letterpress designs you see on stationary, business cards and more. Relief printing has become so popular, and for good reason! Have you ever tried getting that same effect using a stencil and inks? Its super easy and very addicting! ;)
On both of these cards I used the Folk Dance stencil and both Shaded Lilac and Wilted Violet Distress Inks. The only difference between these two designs are the choices of paper.  I wanted to demonstrate that depending on the paper, you may get slightly different results (which isn't a bad thing!). The first card used Bristol Smooth cardstock and you can see that the ink was transferred very smoothly, as there was not any texture to interfere…
The second version uses cold press watercolor paper from Strathmore and the results are much more textured. I think both look equally as beautiful! I embellished these cards with greetings from our Kind Flowers stamp set and on one of the cards I used a few Nuvo drops on the embossed dots.
DRY EMBOSSING #5: Creating a Ghosted Sentiment
This is a fun way to accent a greeting you have on a card! By taking letter dies, you can emboss them into a beautiful background and then place other elements on and around that embossing because it's an embellishment. My sentiment "hugs" complements the thank you greeting underneath and grounds the rest of the design. Those letter dies were from Altenew's Caps Bold Alpha set.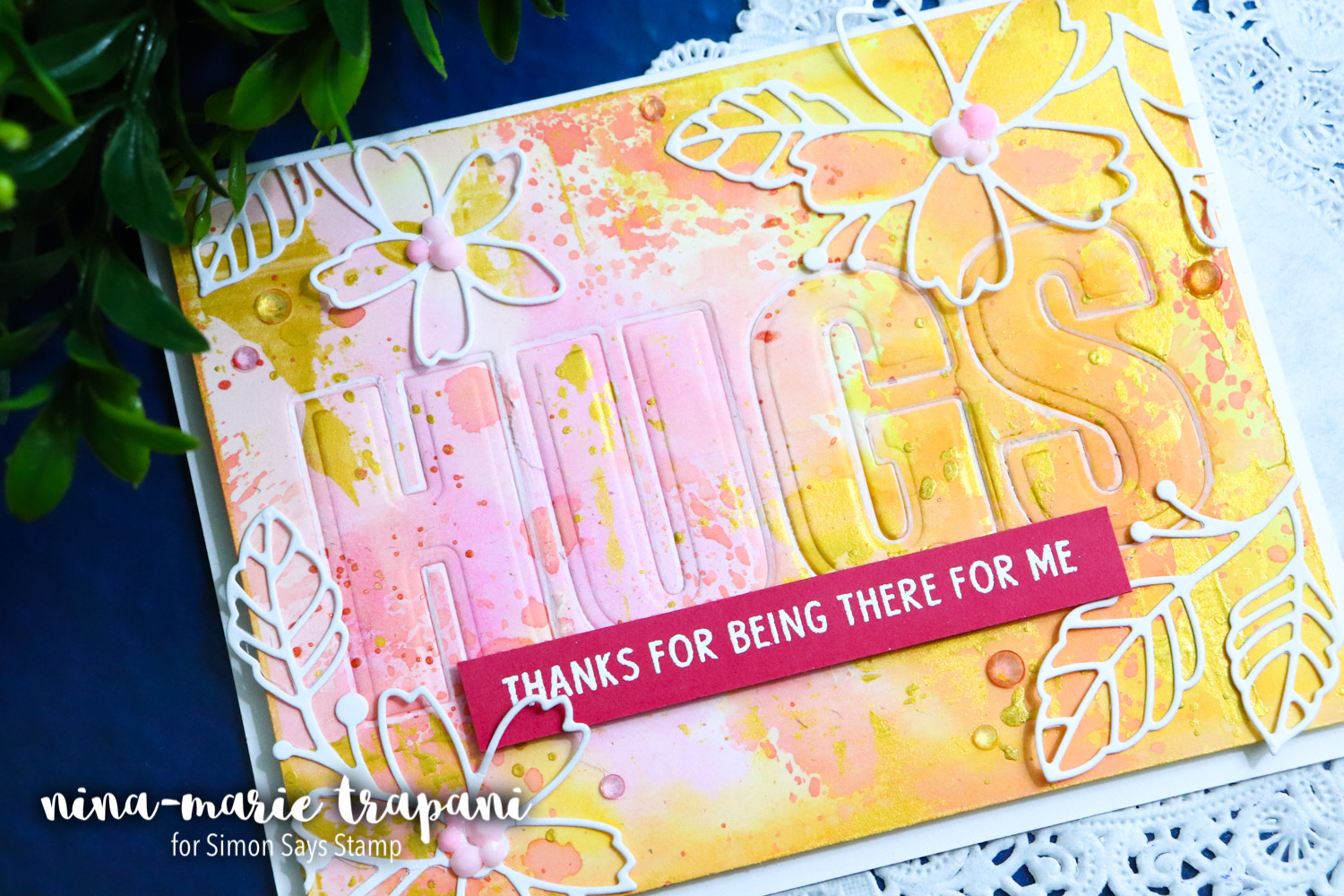 I framed this card with the stunning Fresh Picked Flowers die from Memory Box and added small crystal gems from Studio Katia's Cupid's Kiss mix. The texture and layers of this card were very much inspired by mixed media. Check out the close up of the relief of the letters!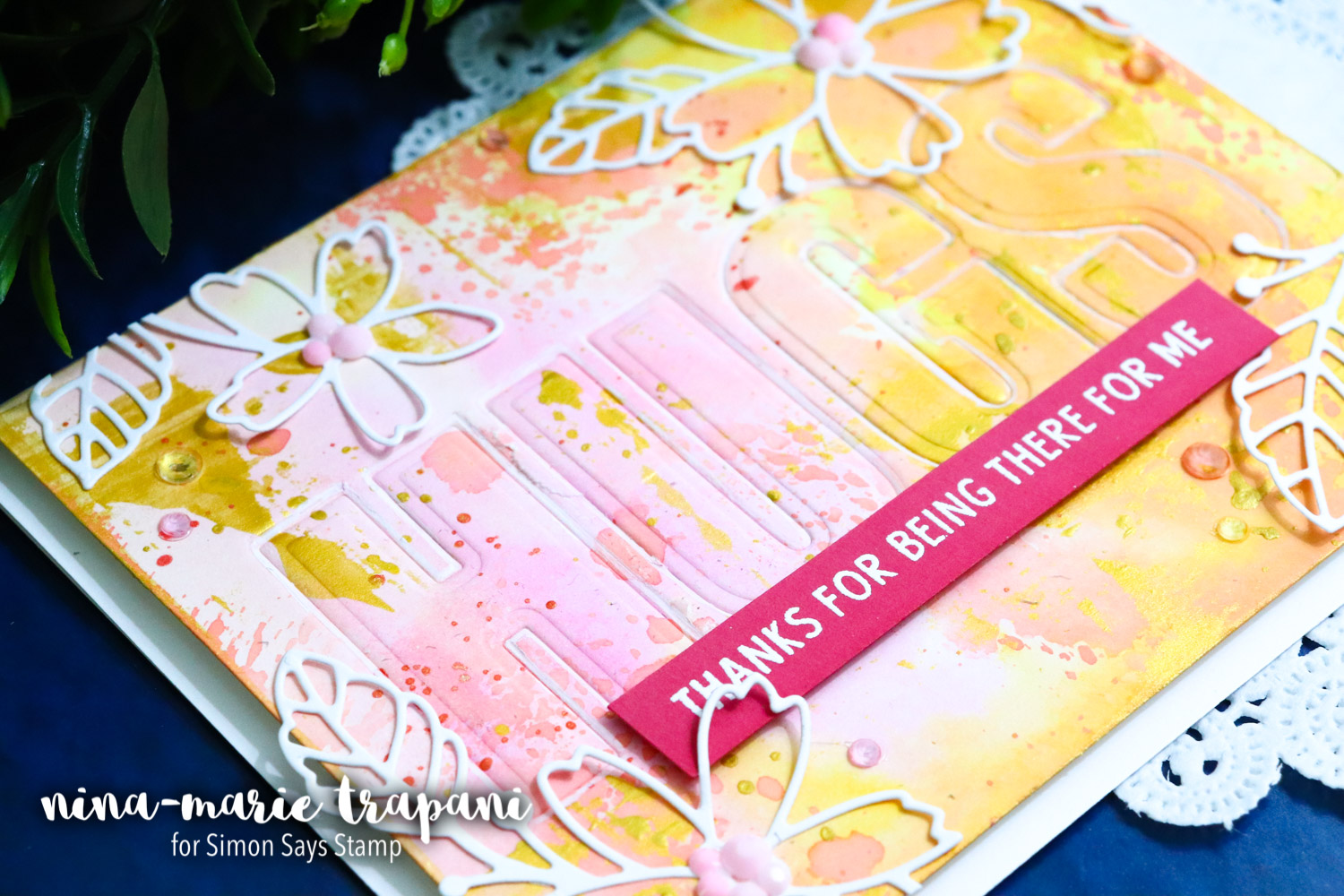 I hope you will watch the video below to see how I made each of these techniques work, as they are really fun to do. I find it so exciting to experiment and play with these techniques to see what other things can be done to enhance them and create even more techniques. I hope that it inspires you to do the same in YOUR crafty projects!
Thanks for joining me today; stop back again next week to see my next Studio Monday video!
SUPPLIES
Simon Says Stamp MODERN FLOWERS Wafer…

Neat and Tangled GEOMETRIC CIRCLES…

Couture Creations JUNGLE BACKGROUND…

Brutus Monroe FLORAL BURST Embossing…

Couture Creations FIELD OF DAISIES…

Carabelle Studio ENVOLEE DE COEURS…

Simon Says Stencils FOLK DANCE…

Altenew CAPS BOLD ALPHABET Die ALT2024

Memory Box WRAPPED STITCH RECTANGLES…

Simon Says Stamp LUCKY TO KNOW YOU…

Simon Says Stamps And Dies SWEET…

Neat and Tangled SO MANY SENTIMENTS…

Memory Box FRESH PICKED FLOWERS Craft…

Memory Box FLORAL BLOOM OVAL FRAME…

Memory Box DOUBLE STITCH RECTANGLE…

Simon Says Clear Stamps KIND FLOWERS…

Birch Press Design JUST BECAUSE Clear…

Birch Press Design JUST BECAUSE Craft…

Prima Marketing METALLIQUE GOLD RUSH…

Tonic PURPLE MIST Mirror Card Satin…

Tonic IMPERIAL BLUE Mirror Card Gloss…

Strathmore BRISTOL SMOOTH 9 x 12…

Strathmore WATERCOLOR 9×12 SHEETS 373091

DCWV 6 x 6 GLITZY Cardstock Stack…

Tonic SUGAR CRYSTAL A4 Glitter…

Studio Katia CUPID'S KISS Crystals…

Blog Candy Alert!! Follow our blog via email and comment on this post for a chance to win grab bags and blog candy! Remember to tag your awesome projects with #simonsaysstamp on social media so we can see what you are creating!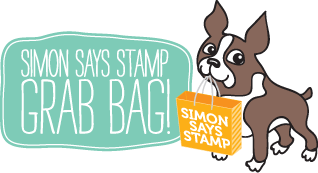 Hi friends! Welcome to the latest edition of Yippee for Yana! Read on for more details and enjoy!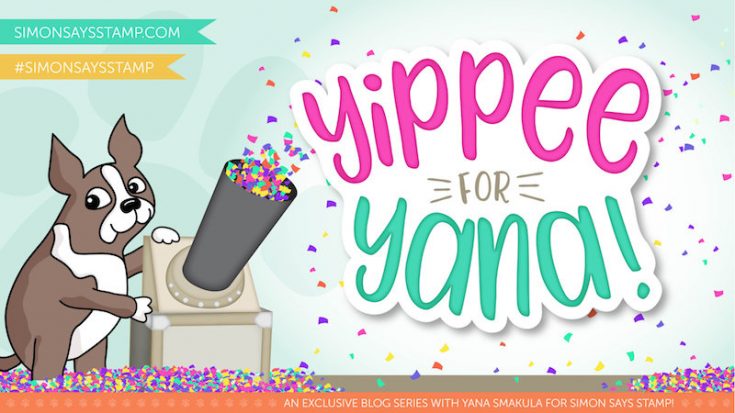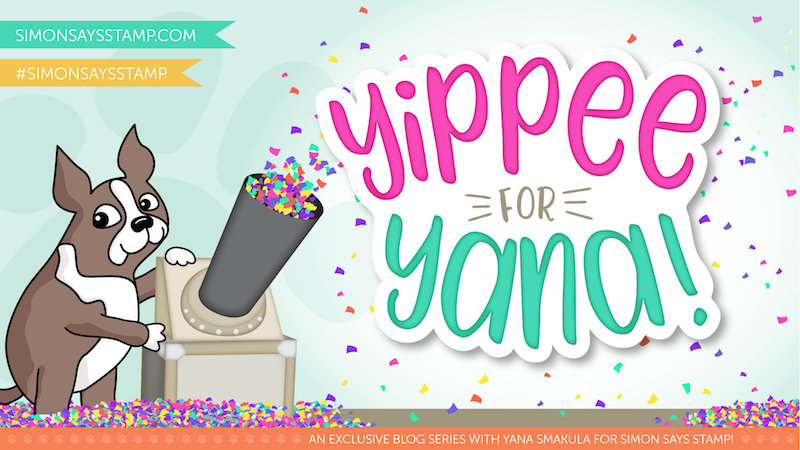 Hi everyone, this is Yana Smakula and I'm excited to bring you another episode from my bi-monthly "Yippee For Yana" video series! In today's episode, I'm creating a fun stamped, colored and die-cut background for a card using Breakfast Buddies stamps. You can easily apply this technique to other small images from your stash.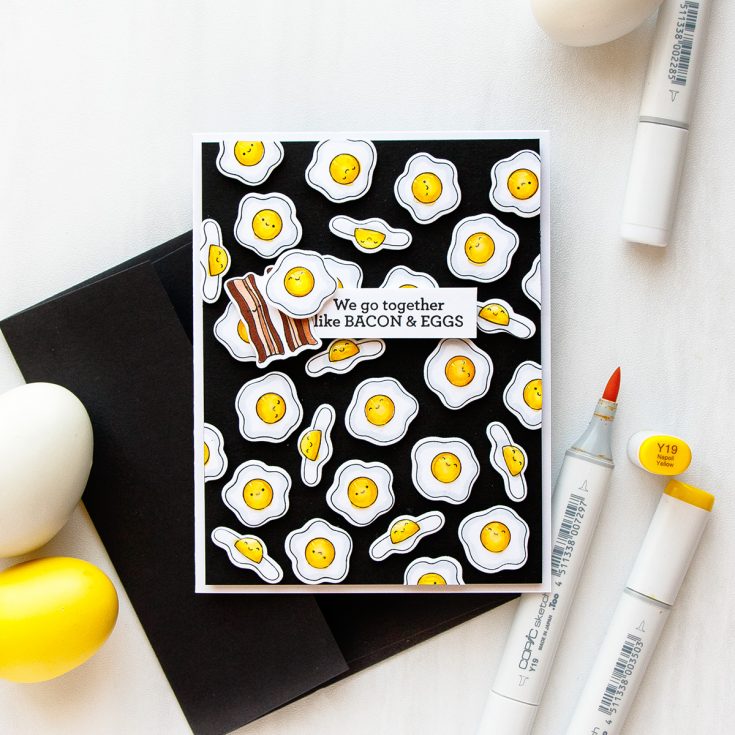 This stamp set features a bunch of images of food that one would usually have for breakfast plus there are fun sentiments that go along with each type of food.
I love to have eggs for breakfast and of course bacon so I decided to go with the egg image for my card. There are 3 different egg images and I used all 3 of them. If you've been following me for some time you also know that I am all about creating my own unique backgrounds with the help of small images so this is what I am doing in this video today.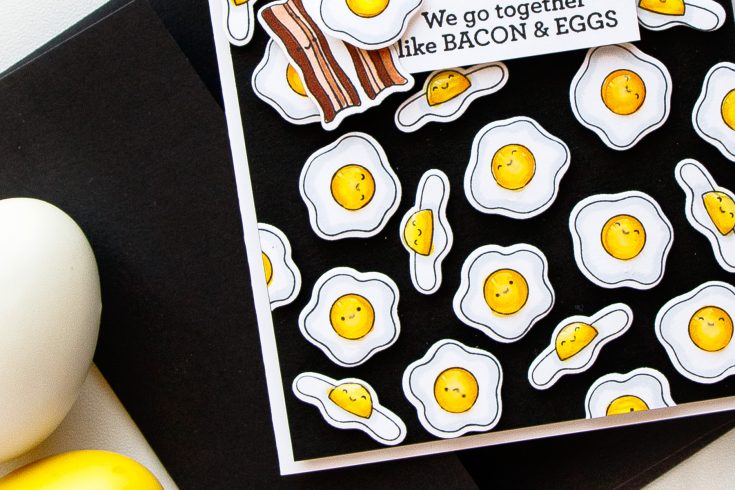 Finding inspiration for my projects is sometimes a tricky business. I like to keep a special board on Pinterest where I pin images that I find inspiring. As I was browsing my board for inspiration I came across a fun eggs pattern image and decided to use this as inspiration for my project.
I mounted all 3 egg images on my clear block (to save time as it didn't really matter in which order I stamped them) and stamped a bunch of eggs at once in Simon's Intense Black Ink onto white cardstock.
For my coloring, I picked Copic markers and the reason I went with Copics is because of the ease of use. I can quickly color a bunch of images, do some easy shading and be done in 5 to 10 minutes. If I were to color one or two images I could have picked colored pencils and or watercolor and really took my time to do some awesome and detailed coloring, but since I was doing a lot of coloring I didn't want to focus much on it, besides the coloring is not the start of the show on this project, its the pattern itself.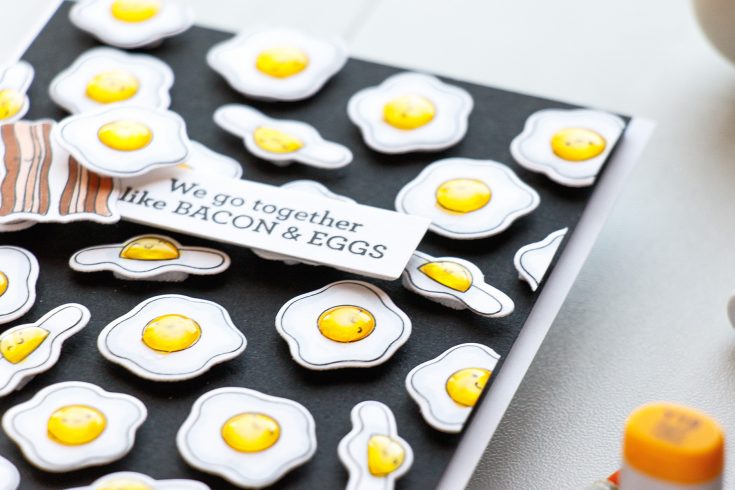 I used Y19, Y15, and Y11 to color the yolk and C1 market to add a bit of sharing to the egg whites. I don't think that was necessary, but I felt like I wanted to add just a bit of gray here.
Once my coloring was done I used coordinating dies to cut these images out. There is a die for every image in this stamp set, so if you have these coordinating dies it makes cutting these a much easier task.
Next, I cut a piece of black cardstock to 4 x 5 ¼" and started working on my pattern.
So let's rewind a little bit and talk about the different kinds of patterns or background I like to make. There's one kind of background where I do a lot of stamping and I stamp everything directly onto a card front or onto a panel that goes on the front of my card. There's no die cutting involved in that kind of background.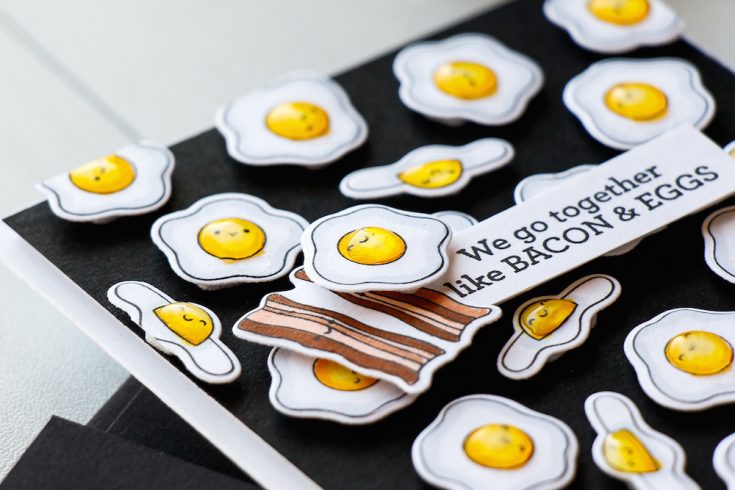 There's also a kind of background, and I like to call that dimensional pattern stamping, is where I stamp my images but I also cut them out with coordinating dies and form a pattern or a background on my card. In this case, I also like to use foam adhesive to pop things up. I like to do that when I form clusters of images, for example I have florals and leaves and I don't want to do masking, so I would cut the images out and foam mount onto the card, or like I am showing in this case I want to have a dark background, but I don't want to spend the time coloring that background. It would have been harder to stamp the eggs onto a white cardstock piece, color the eggs and also color the background black. It's much easier, if you have coordinating dies, to stamp and color the eggs, cut them out and just foam mount them onto a black background.
I used my Krystal Catana pick up tool to pick up the pieces from my desk and help me position them on the paper with the help of foam adhesive.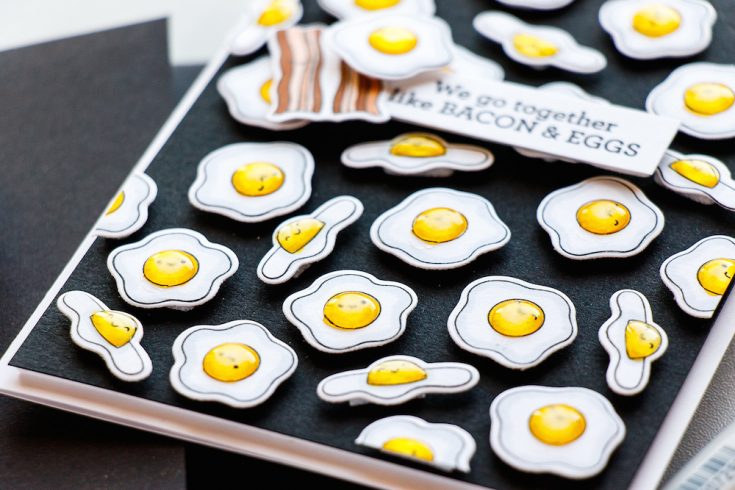 Because I want this background to look as if was cut out from a larger sheet I am trimming some of the die cuts and letting them go outside the edge or rather I'm making it look like as if they go outside the edge. To make this background appear random I'm using the usual tricks: rotating the images as I adhere them to the card, mixing my images – I have 3 different shaped eggs so I am making sure I don't have them all grouped, but rather spread out on the background and lastly I am not adhering things going in a straight line. This is not the kind of background where I want things to have a very clean and linear look.
To create a sentiment for my card I stamped We Go together like Bacon and Eggs in black ink onto a strip of white cardstock and I also stamped some bacon onto another piece of white paper.
Once my background was finished I used fun foam and foam mounted this panel onto a white A2 card base. Lastly, I used glossy accents and I coated each egg yolk with a generous layer of glossy to create that realistic looking glossy dome to the eggs.
Have fun stamping!
SUPPLIES:
Simon Says Clear Stamps BREAKFAST…

Simon Says Stamp BREAKFAST BUDDIES…

Spellbinders PLATINUM Die Cutting and…

T-004 Spellbinders Tool and…

Spellbinders TOOL 'N ONE T-001

Simon Says Stamp Premium Ink Pad…

Simon Says Stamp Card Stock 100#…

Neenah Classic Crest 110 LB SMOOTH…

Copic Sketch MARKER Y11 PALE YELLOW

Copic Sketch MARKER Y15 CADMIUM YELLOW

Copic Sketch Marker Y19 NAPOLI YELLOW…

Copic Sketch Marker C1 COOL GRAY Grey

Ranger Inkssentials GLOSSY ACCENTS…

Tonic SPRING-CUT FINE TIP DETAIL…

Tonic Studios 8.5 INCH PAPER TRIMMER…

Crystal Ninja CRYSTAL KATANA Mixed…

Scor-Tape 2 1/2 Inch Crafting Tape

9 x 12 WHITE FUN FOAM 12 Pack 118711

Scrapbook Adhesives 3D 217 WHITE FOAM…
Thanks for reading today and thanks to Yana for being our guest!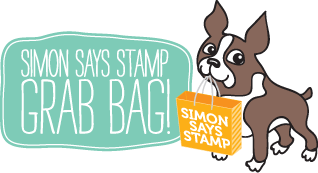 Blog Candy Alert!! Follow our blog via email and comment on this post for a chance to win special blog candy!