Hi, friends Happy Tuesday! I'm delighted to welcome you back to the latest edition of Doodling with Debby with the fabulous Debby Hughes! Today, Debby is spotlighting our super fun Wake Up and Makeup stamp set and some fun vibrant watercoloring! Read on, and be sure to watch the video! Enjoy!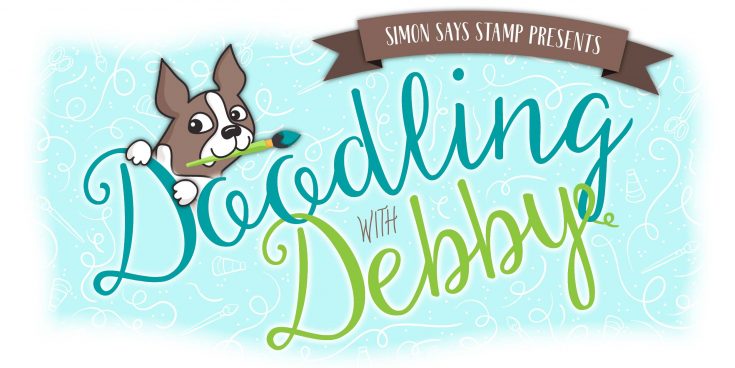 Hi, it's Debby here and for my Doodling With Debby video feature this month I'm creating a messy watercolor background using the Wake Up And Makeup set from Simon Says Stamp. The joy of a background such as this is it is simple to paint; you don't need to worry too much about being precise with a loose, messy style adding to the effect.
The idea for this card started when I was with a group of crafting friends and started to play around with the set (see the video for a peek at my first attempt). I sort of liked how this card went but it got to get a bit grungy, and I didn't think that suited makeup. Also, I didn't like the fact that there were only two pops of blue. So, for today's video, I redid this card but kept the mistakes I made last time in mind. This time around I used a more extensive selection of the images from the Wake Up And Makeup set and loosely watercolored around the makeup for a fun, fresh teal blue background and as for the makeup, I chose a warm color palette of reds, pinks, oranges and yellows to contrast with the teal background.
I placed a piece of cold pressed watercolor card in the full-size Misti. I'm using the full size rather than the mini so that I can have the images off the edge to create a dynamic pattern. I arranged a selection of the images, keeping them close together but not overlapping and varying the angles. I then stamped them twice in Versafine Onyx Black ink to get a good impression on the textured card.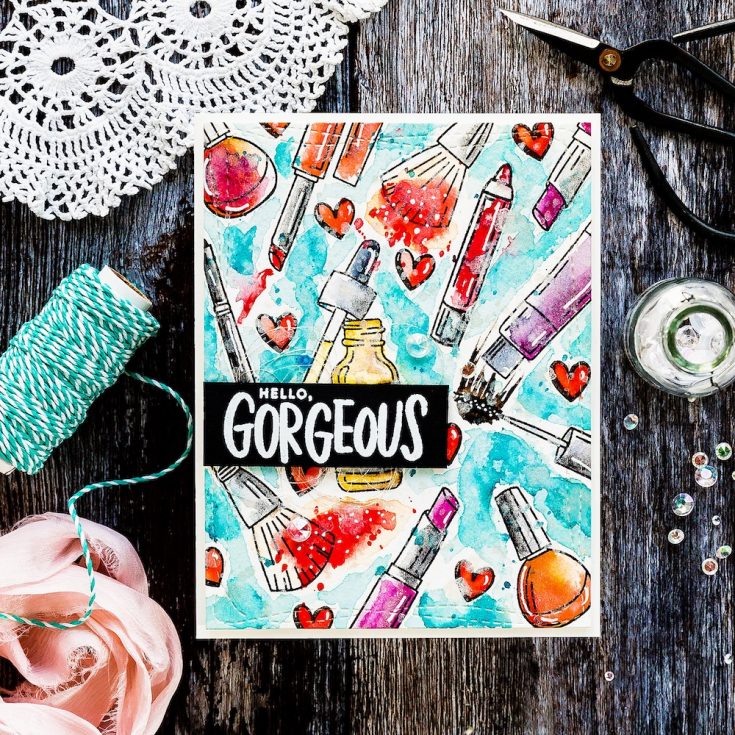 Now once the stamps were inky, I used a piece of acetate to protect my card while I arrange the stamps for a second time. This way you don't get any accidental inky smudges. Once the new position is determined, I then picked up the stamps with the door of the Misti and removed the acetate before stamping onto the card. I filled in any more significant gaps between the makeup with the heart image and then taped the card to a board in preparation for watercoloring.
Thinking back to my first attempt at this card, I liked how I'd added the effect of makeup sprinkled onto the background and the mascara streaks too, and so I added those in first before filling in the rest of the background with a loose teal blue wash. I didn't worry about covering every inch of the background but loosely moved the color around, leaving gaps around the makeup.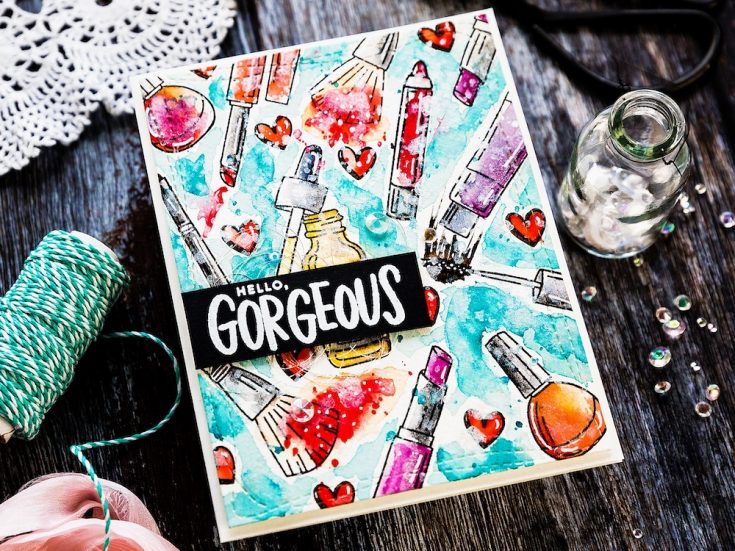 While I'm painting, I have a tissue in one hand so if there are areas where the color has gone down too intensely for my liking, I can sop up some of the colors for a softer look. I certainly did this for some of the hearts and that dropper bottle too. The color on the bottle wasn't quite what I was after, so I dampened the paint again with a wet brush and then picked up some of the colors.
I'm using a dilute black for the caps and areas which I think would be silver and then for the makeup I'm using some lovely warm colors of reds, oranges, and pinks. In the same way for the background, I'm really trying not to go for a precise look, I'm adding blocks of color and not painting right to the edges for that messy look. And the result is that this watercolored background was rapid and straightforward to create.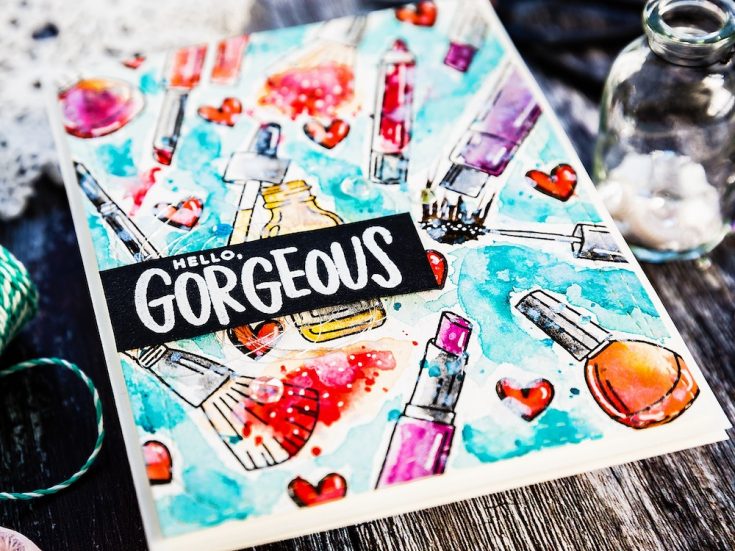 Moving on and I wanted to add some splatter in places. Firstly, for the makeup brushes and I chose a dilute red for this and generally over the whole panel in teal to match the background. Then I added more splatter in the form of my favorite perfect pearls solution. This added a lovely sparkly finish to the card. As the teal background had dried its color had lightened slightly and so to balance with the depth of color of the makeup pieces, I added a second layer of teal and then more perfect pearls splatter to finish. I dried the panel with a heat tool and then used a white gel pen to add a few highlight details.
With the background now complete I ran it through my die cutting machine with a Wonky Rectangle die for a fun stitched detail to the edges.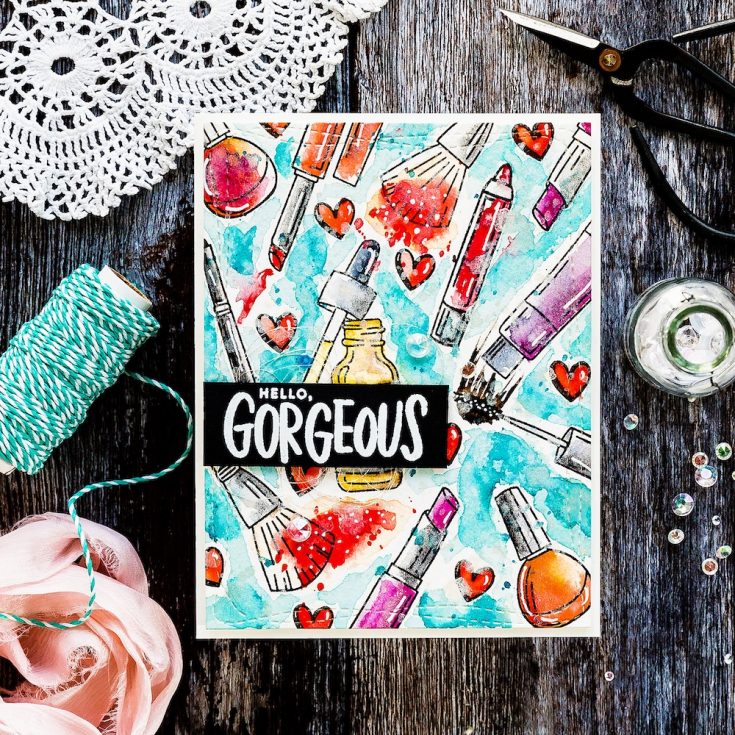 For the sentiment, I picked out the 'Hello Gorgeous' greeting and lined it up on a piece of black card in the Misti. I treated the card with an antistatic powder bag to prevent embossing powder randomly sticking everywhere and then stamped the sentiment in clear embossing ink before sprinkling with white embossing powder and heat setting. I trimmed the piece to a banner and added foam adhesive to the back. I then removed the adhesive backer and added some silver thread I'd looped around my fingers to the back. I then added the sentiment to the watercolored background offset to the lower left using a T square ruler to ensure I had it on straight. I then added more foam adhesive to the back of the panel and added it to a side folding A2 card base cut from Ivory card. I find this card a good match for the warm white of watercolor card.
As a final accent you can't beat a bit of bling, and so I added a trio of Opalescent Diamonds from Little Things By Lucy's Cards and kept them in place with Gina K connect glue.
Comparing the first attempt next to my finished card and I certainly prefer the brighter colors and teal background of the final version.
Thanks for joining me today, and I'll see you next time for Doodling With Debby.
SUPPLIES:
RESERVE Simon Says Clear Stamps WAKE…

My Favorite Things WONKY STITCHED…

Arches COLD PRESSED WATERCOLOR PAD…

Simon Says Stamp Card Stock 100#…

Simon Says Stamp Card Stock 100#…

Simon Says Stamp Embossing Ink Pad…

Simon Says Stamp EMBOSSING POWDER…

Tsukineko VersaFine ONYX BLACK Ink…

Ranger PERFECT PEARL Powder PPP17714

Ranger FLAT BRUSHES 2 Pack Perfect…

Little Things From Lucy's Cards…

Daniel Smith ULTIMATE MIXING Hand…

Ranger Inkssentials MINI MISTER Spray…

Uni-Ball Pen Signo Gel WHITE UM-153

Gina K Designs CONNECT GLUE Adhesive…

3M Scotch DOUBLE-SIDED FOAM TAPE…

MISTI MEMORY MISTI PRECISION STAMPER…

C-Thru T SQUARE RULER Westcott JR12

Precision Heat Embossing Tool Gun…

Tim Holtz Tonic GLASS MEDIA MAT 1914e

EK Success CRAFT TWEEZERS Precision…

Singer Clear Thread 135 Yards
Thanks so much for stopping by, and thanks to Debby for being our guest!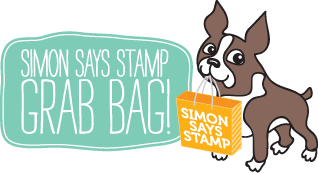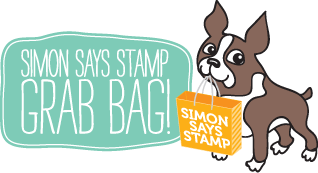 Blog Candy Alert!! Follow our blog via email and comment on this post for a chance to win special blog candy!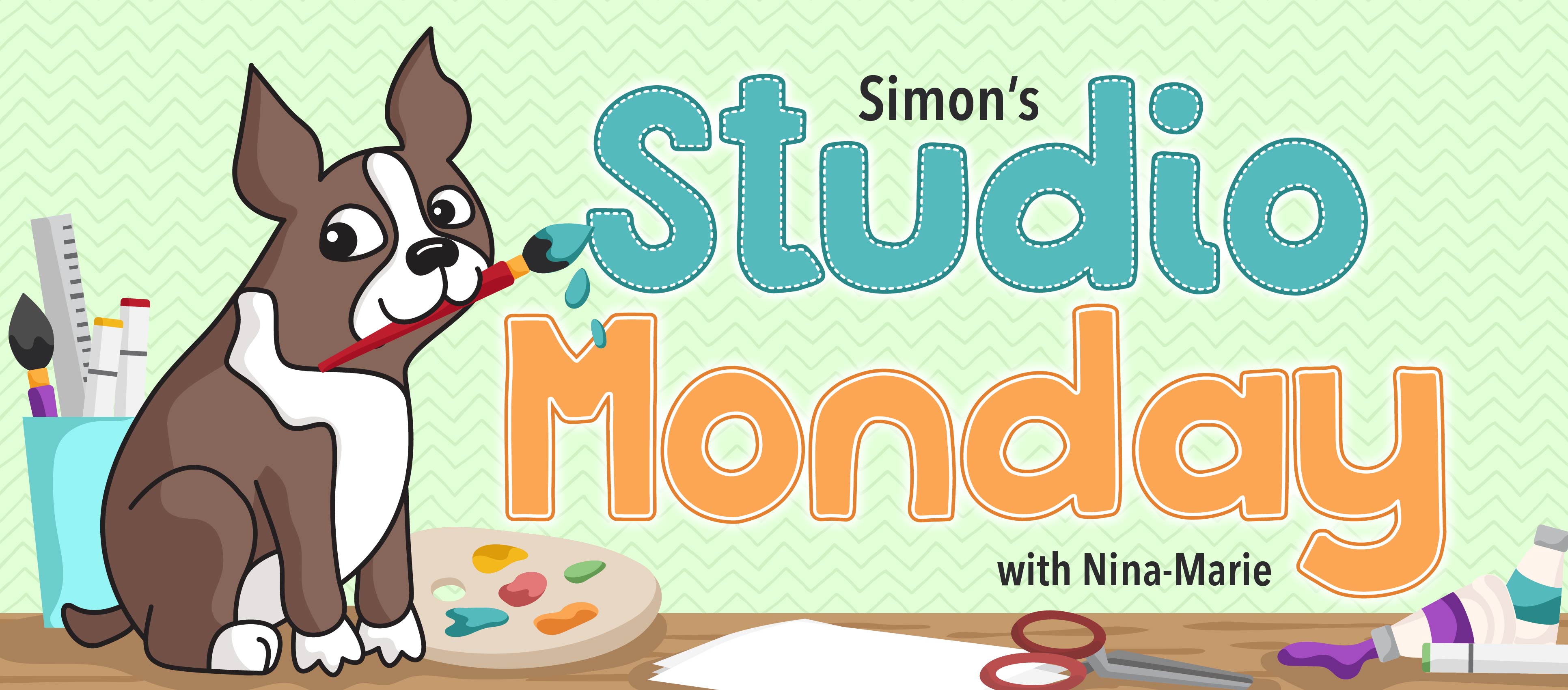 Hello crafters, it's Nina-Marie here with you today, sharing inspiration on how to use the new ThermoWeb Flocking sheets!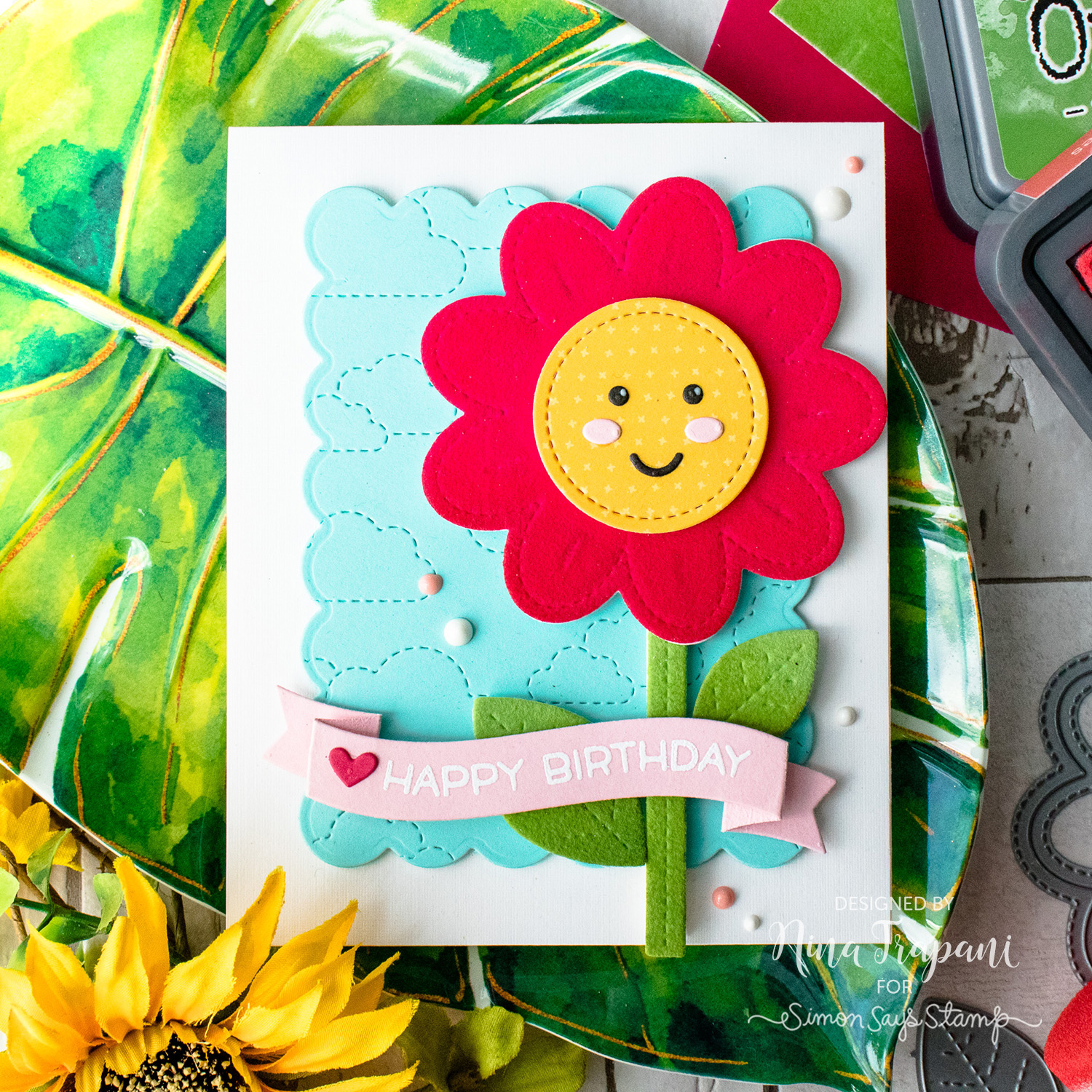 Many of you may remember flocking powders, which were very popular years back – and gave a fun, fuzzy effect! However, it was never easy to keep your workspace clean when working with those powders… it always seemed to go everywhere!
Well recently at Creativation ThermoWeb unveiled their not only easy-to-use, but also mess-free Flocking Sheets! All you need to do is adhere the flocking to adhesive sheets… you'll end up with a fuzzy effect on your projects. And let me tell you, it is SO much fun!
I die cut the flocking with the Outside In Stitched Flower and Stitched Flower Frame die sets from Lawn Fawn.
To decorate the card, I also incorporated more Lawn Fawn goodness, including Spring Fling patterned paper, a sky background with the Stitched Cloud Backdrop and a sentiment with the Wavy Sayings stamps, cut out with the coordinating Fancy Wavy Banners dies.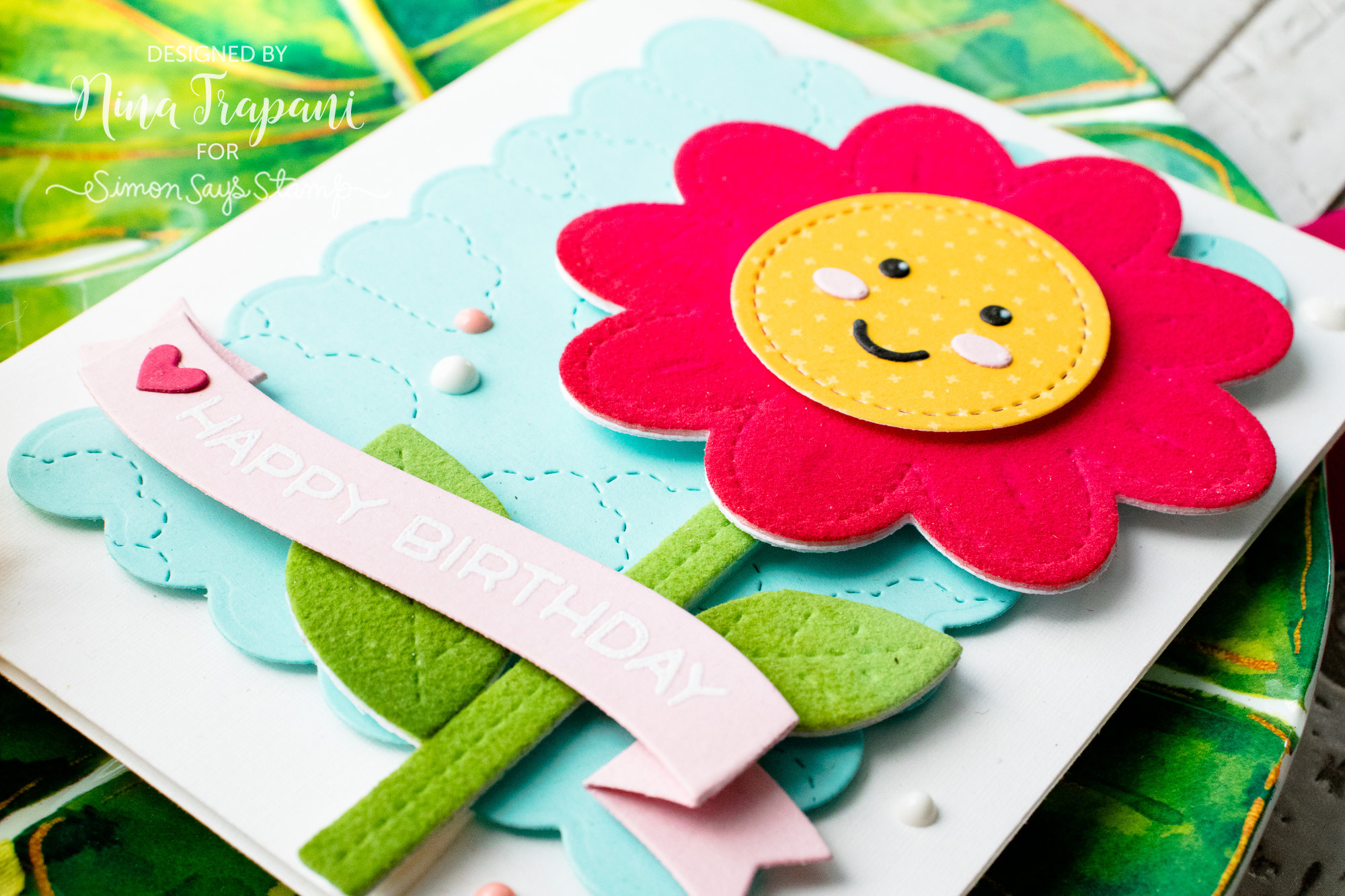 These flocking sheets give this sweet birthday card a soft and cozy appearance. I also love how easy they are to use; be sure to watch the video below and see for yourself!
WATCH THE VIDEO
SUPPLIES
Lawn Fawn OUTSIDE IN STITCHED FLOWER…

Lawn Fawn STITCHED FLOWER FRAME Die…

RESERVE Lawn Fawn FANCY WAVY BANNERS…

RESERVE Lawn Fawn WAVY SAYINGS Clear…

Lawn Fawn STITCHED CLOUD BACKDROP…

Simon Says Stamp ENVELOPE LINER Wafer…

Tonic BUBBLEGUM BLUSH GLOSS Nuvo…

Tonic GLOSS – SIMPLY WHITE Grande…

Tim Holtz Distress Oxide Ink Pad…

Tim Holtz Distress Oxide Ink Pad…

Simon Says Stamp Embossing Ink Pad…

Lawn Fawn SPRING FLING 6×6 Inch…

Lawn Fawn MERMAID Cardstock LF1121

Lawn Fawn RASPBERRY Cardstock LF1374

Simon Says Stamp Card Stock 100#…

Tonic BRIGHT WHITE Craft Perfect…

Therm O Web Gina K Designs ADHESIVE…

Simon Says Stamp CRAFT TACKY GLUE…

Crafter's Companion GEMINI JUNIOR…

Fiskars REINFORCED Paper Trimmer 12…

Inkadinkado EMBOSSING MAGIC Powder…

We R Memory Keepers PRECISION TWEEZER…

We R Memory Keepers EMBOSSING STYLUS…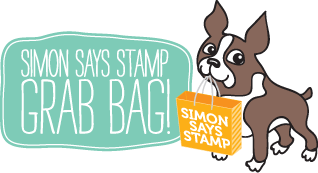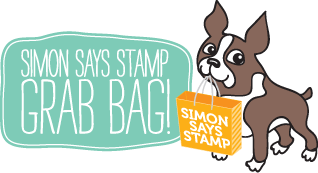 Blog Candy Alert!! Follow our blog via email and comment on this post for a chance to win special blog candy!
Blog Candy Winners! 
Watercolor Peonies: Karthikha Uday!
Mixed Medium with Shari Carroll: Homage to Paris: Cheryl Rigney!
Sparkle Backgrounds with Alcohol Pearl Inks: Annalisa!
Interactive Cards by Jess: Multiple Shakers Shaker Card: Jeanne Beam!
Studio Monday: Dahlia Flower 3 Ways: Heather Mills!
Please email Reed@SimonSaysStamp.com with the name of the blog you won from, your prize(s), and your address if applicable!
Hi friends! Happy Easter Sunday! Please join me in welcoming back special guest Anna-Karin Evaldsson! We are very honored that she inspires us weekly on our Monday Challenge blog as well, so be sure to check out her Layers of Ink blog too! For now, read on for this GORGEOUS Peonies panel tutorial! Enjoy!
Hi everyone! I am so happy to be here today with a fun and easy tutorial, perfect for spring and summer projects. When I saw the Pretty Peonies background stamp, I knew I wanted to turn it into the focal point of a project. It is such a pretty stamp. We will be doing a watercolor technique, with some simple masking.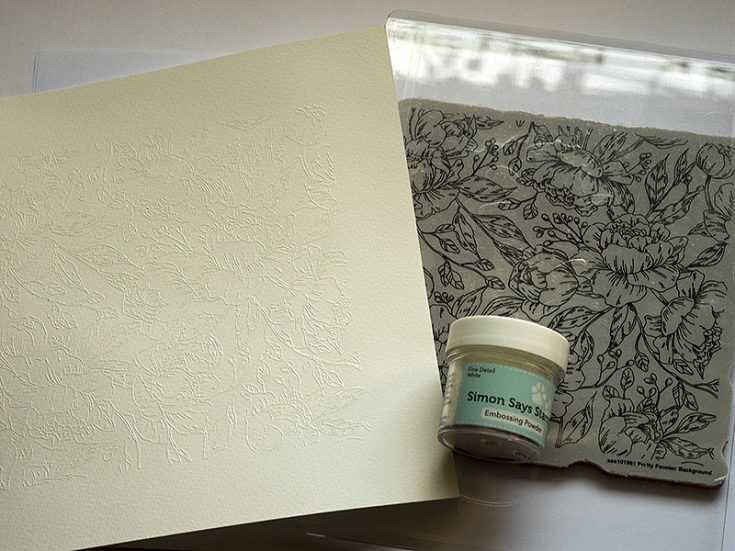 I started out planning to make an art journal page, but after having colored the flowers, I changed my mind and turned the panel into a wall-hanging instead. But, you can of course make a card or an art journal page instead, or use it as a background for a scrapbooking page. The wall-hanging would make a great Mother's Day gift, or you could do three of them in different colors and use as home décor.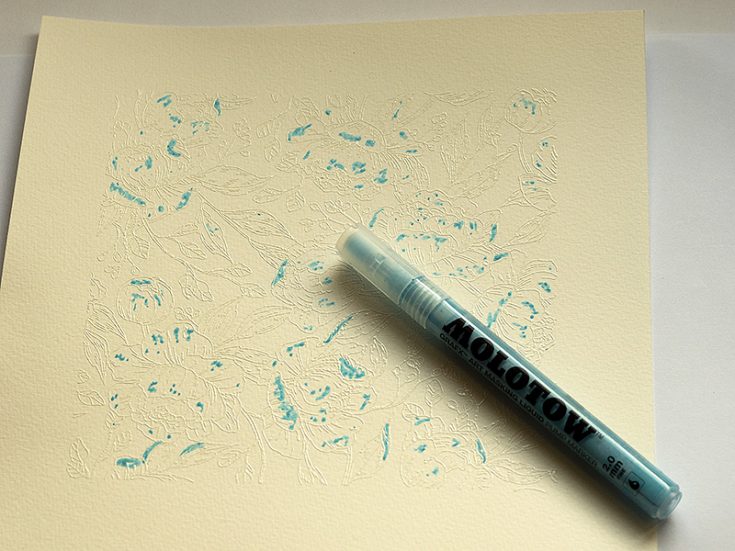 Start by white embossing the Pretty Peonies stamp on a square piece of watercolor paper (7.3 x 7.3 in). Always be careful when using a heat gun so that you don't burn yourself. For the masking, I used a Molotow masking pen. You can also use a white oil-based wax crayon or a white candle. Or you can skip the masking all together.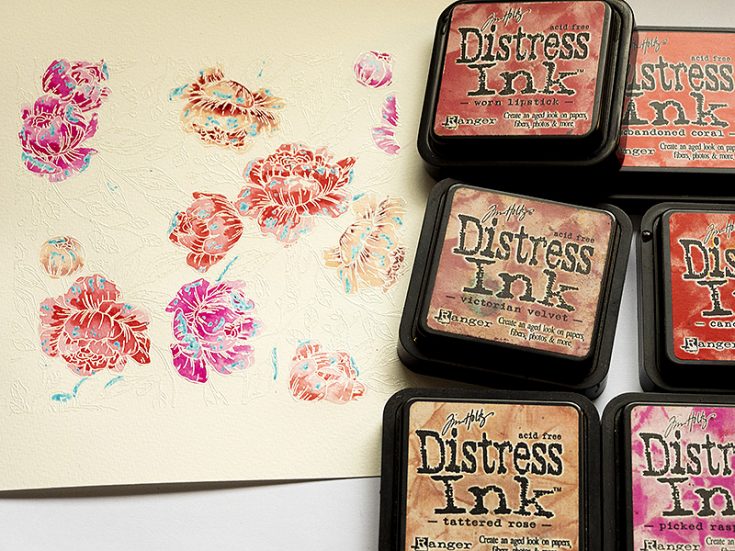 I used Distress Inks for the watercoloring, but you can also use watercolor paint. Smear the inks on a non-stick craft sheet. Mist with water and pick up with a paint brush. By varying the amount of water, you can get different shades of color from the same ink pad. Watercolor the flowers, using two or three shades on each flower, to create depth and dimension. I like having the stamp next to me so that I can see the printed design since some of the white lines might be hard to see.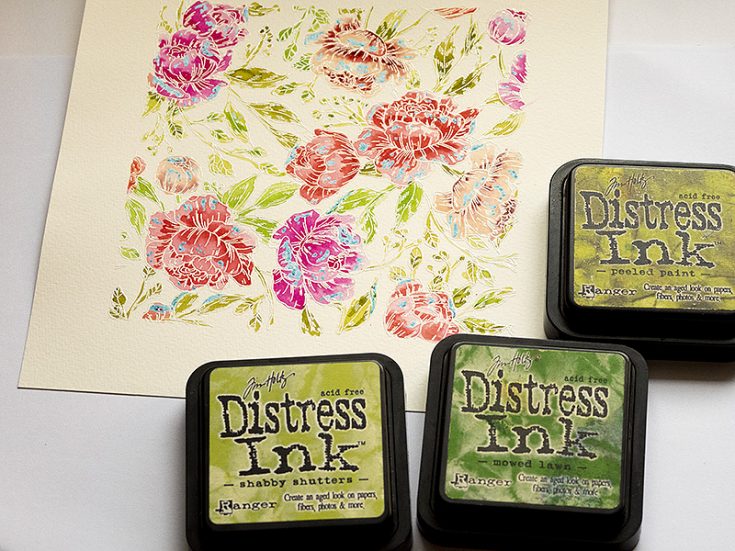 Continue with the leaves. Don't worry about perfection, going outside of the lines just looks good, since it makes the white embossing more visible.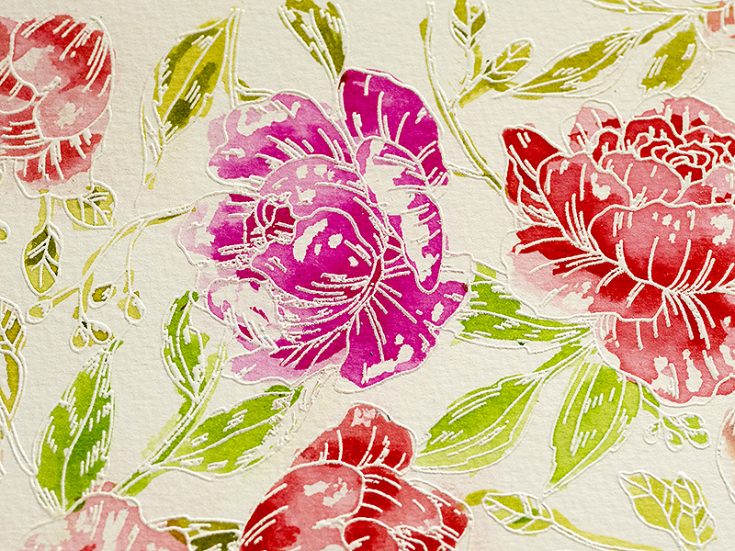 When the ink is dry, carefully rub off the masking liquid, giving your flowers great highlights. If you are not happy with one of the white areas, you can paint it over – but that doesn't work if you have used an oil crayon or a candle for the masking.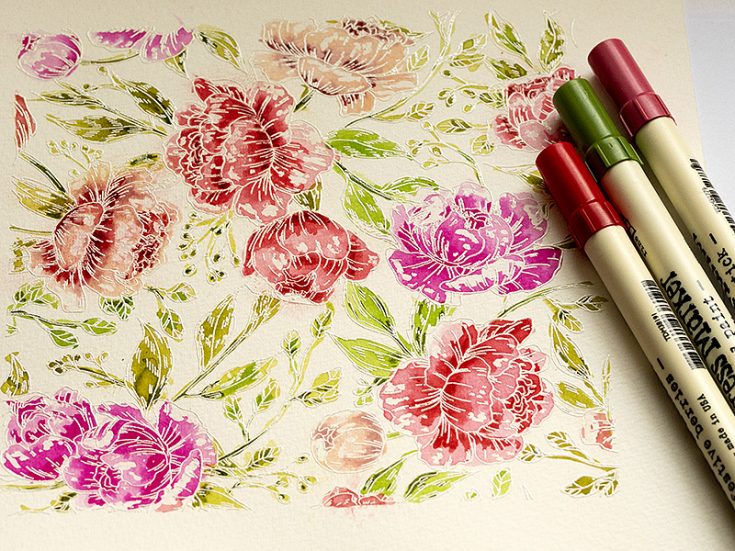 I used Distress Markers to darken the colors in some areas.
When I was done coloring, I didn't want to add too many other details to this piece. To add interest, I layered and distressed various types of white papers: vellum, bright white paper, and another piece of watercolor paper.
Apply tape in the center areas only and stitch around the main panel with a sewing machine. I mounted everything on chipboard to give it strength.
Die cut the sentiment using the SSS Big Happy die. I die cut it from White Diamond and Spring Green glimmery papers.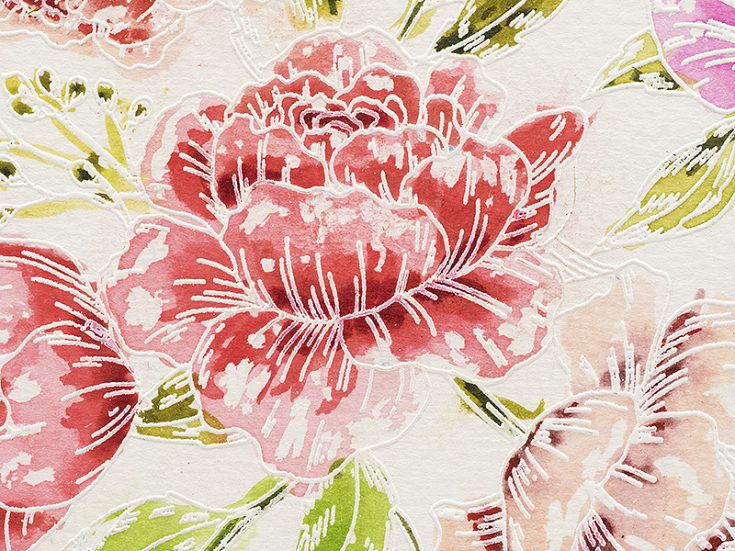 You can also cut out the peonies and use them on card.
The masking liquid technique is easy to do, and adds great highlights. You don't need to worry about leaving some of the white paper showing while coloring.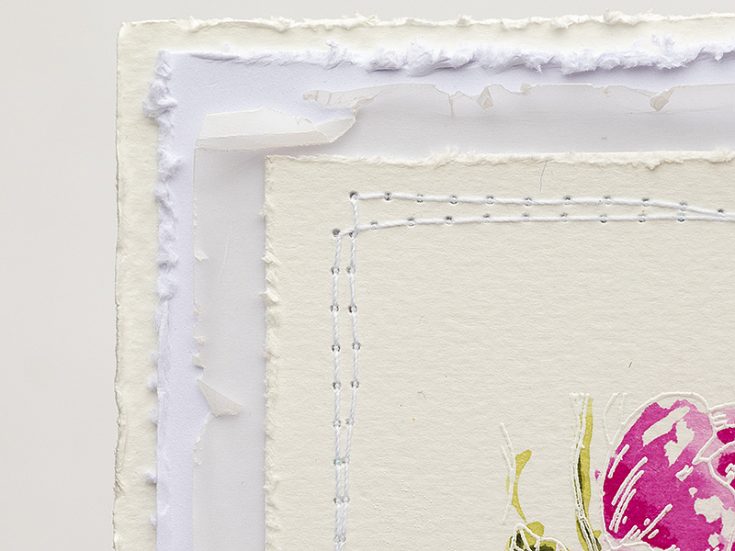 The Simon Says Stamp glimmery papers have such a nice shine, which you can see better here.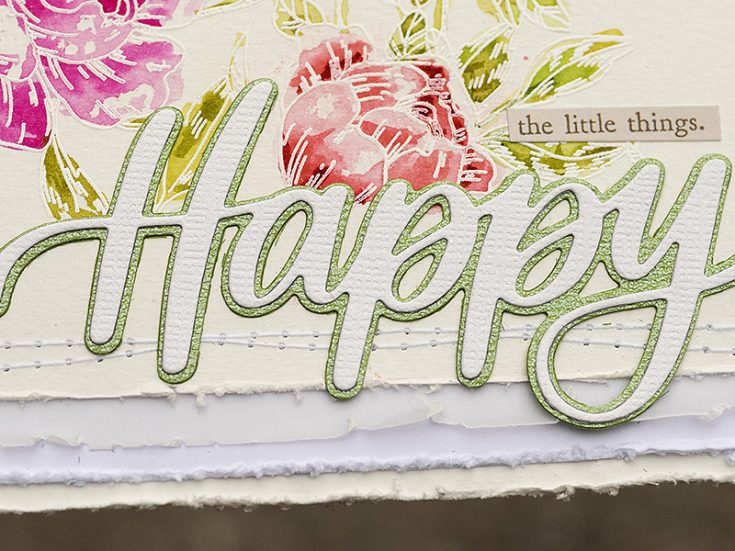 Layering different shades of white and cream papers, adds interest without stealing attention from the focal point.
I hope this tutorial inspired you to try out some loose watercoloring in combination with masking.
Thank you so much for looking! Happy crafting! -Anna-Karin
SUPPLIES:
Simon Says Cling Rubber Stamp PRETTY…

Simon Says Stamp BIG HAPPY Wafer Dies…

Canson MONTVAL WATERCOLOR 9×12 Pad…

Simon Says Stamp VELLUM SSSVEL12

Simon Says Stamp Cardstock GLIMMERY…

Simon Says Stamp Cardstock GLIMMERY…

Neenah Classic Crest 110 LB SMOOTH…

Molotow ART MASKING LIQUID 2mm FINE…

Tim Holtz Distress Ink Pad TATTERED…

Tim Holtz Distress Ink Pad WORN…

Tim Holtz Distress Ink Pad ABANDONED…

Tim Holtz Distress Ink Pad VICTORIAN…

Tim Holtz Distress Ink Pad CANDIED…

Tim Holtz Distress Ink Pad PICKED…

Tim Holtz Distress Ink Pad PEELED…

Tim Holtz Distress Ink Pad SHABBY…

Tim Holtz Distress Ink Pad MOWED LAWN…

Simon Says Stamp Embossing Ink Pad…

Simon Says Stamp EMBOSSING POWDER…

Tim Holtz Distress Marker FESTIVE…

Tim Holtz Distress Marker PEELED…

Tim Holtz Distress Marker WORN…

Tim Holtz Idea-ology CLIPPINGS…

Tim Holtz Distress Collage Medium…

Ranger Non Stick CRAFT SHEET 15 x 18…

Ranger US HEAT IT CRAFT TOOL United…

Tim Holtz DISTRESS SPRAYER Ranger 4…

Sizzix BIG SHOT MACHINE Gray And…

Tim Holtz Tonic PAPER DISTRESSER…
Thanks so much for stopping by and thanks to Anna-Karin for being our guest!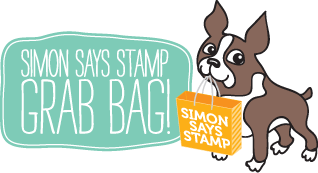 Blog Candy Alert!! Follow our blog via email and comment on this post for a chance to win special blog candy!