Winners of the Children's Holiday Challenge !!
We have had a fabulous time visiting all of the young designers who joined in with our annual Summer Holidays Challenge and would like to remind everyone that we have no age limit on our weekly challenges.
We would love it if we could keep up the good work and encourage our youngsters to KEEP ON CRAFTING !!
So without further ado we have 3 lucky winners to announce !! Woo Hoo !!
Each will receive a Simon's Grab Bag filled with oodles of Simon Goodness :-)
The 3 numbers, chosen by the random generator are ,,,,, oooh pressing the button now,, this is so exciting ! Good Luck to everyone who joined in !!
Here are your random numbers:
162
145
118
Timestamp: 2013-09-01 17:20:31 UTC
Number 162 is Nicholas age 5 with this beautiful card that he made for his Nanny :-)
Number 145 is Aimee, aged 10, with this beautiful card that she made for one of her best friends :-)
and last but not least
Number 118 is Charlotte aged 4, who made this lovely card for her brother :-)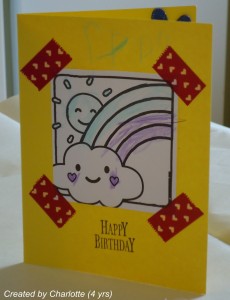 Congratulations to our winners !! Please email us with your addresses !! :-)
Hope you are all having fun now that you are back to school and good luck for the coming year :-)
luv
Lols and the DT x x x
edited : all the prizes have been claimed, I have now moved this post to below the current challenge.