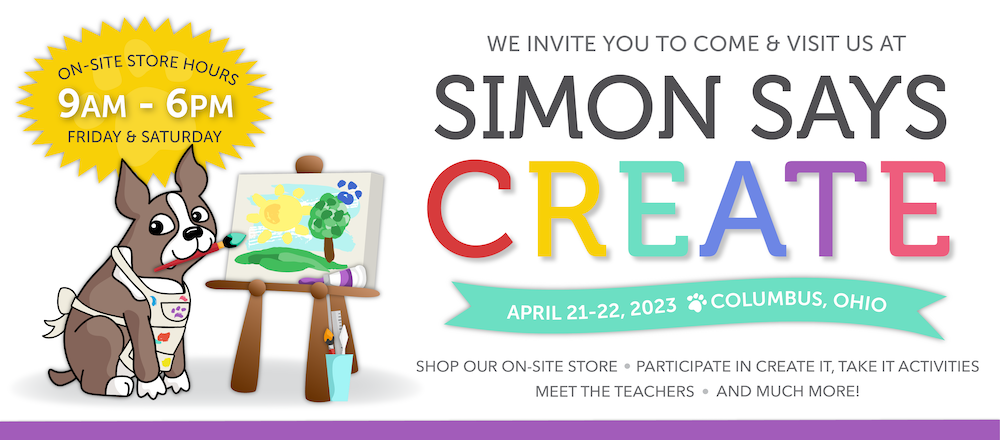 Simon Says CREATE 2023
Welcome to the Simon Says CREATE event page!
We are absolutely bursting at the seams excited to announce that for the fourth time, Simon Says Stamp will be holding a two-day CREATE Event on April 21st and April 22nd, 2023 in Columbus, Ohio. That's two FULL days of crafting and inspiration!
Simon Says CREATE alongside your peers in fun-filled and action-packed classes, taught by some of the top designers in our industry. Featuring card making, watercolor, mixed media and so much more, CREATE has something to tickle all of your crafty passions!
There are 3 ways to participate in CREATE:
Become a student by purchasing a ticket.
(Editor's note: Student tickets are SOLD OUT!! Thank you!!)
No ticket – no problem! Participate in our improved Create It, Take It and store experience for a very minimal admission at the door cost of $15 to you for one day, or $25 to join in on both April 21st and 22nd, from 9 am to 6 pm.  Inside this large space, you will be able to "create and take" projects featuring products from more than 25 of your favorite vendors (many of whom will be in-person at the event)! You'll also have the chance to meet some of our industry's top designers!
Here's a list of the amazing vendor's who will be providing a unique Create-It Take-It for you on Friday (April 21st) and Saturday (April 22nd)!!!
Shop at our store. We will have thousands of items on hand to purchase! And if we don't have it on hand, our team will assist you with placing an order and have it delivered to you, in person! Kind of like pizza, but better!
Come with a friend! A sister! A daughter! A neighbor! Invite a crafty friend from across the country! We want you to get refreshed while making art.
Dates
April 21st and 22nd, 2023
Location
Nationwide Hotel and Conference Center
100 Green Meadows Drive South
Lewis Center, Ohio 43035
Closest airport: CMH (Columbus)
Our classes will be taught by the following fabulous instructors:
Gina, of Gina K. Designs, has been in love with all things paper since 1995 when she went to her first home stamping party. In 2005, she started Gina K. Designs and soon after that she launched her YouTube channel. She has created innovative products for the paper crafting community like her Wreath Builder System, Amalgam Ink, Foil-mates foiling system and more. Gina resides in Wisconsin with her husband Tom.
Special Guest Jennifer McGuire:
Jennifer McGuire will be a special guest teacher with Gina! Jennifer is a stamping enthusiast and crafting instructor who has been sharing her love of crafting and handmade acts of kindness since 2002. Over the years, her blog, YouTube videos, publications, and classes have helped her reach thousands of paper crafters worldwide. As a natural extension of her popular blog and technique videos, Jennifer co-founded Online Card Classes with her dear friend Kristina Werner, where she has been working hard to inspire card makers for the past several years. Jennifer resides in Cincinnati with her husband Ken, son Colin, and daughter Lila. Her stepdaughters Kay and Audrey are grown and live on the west coast.
Paula Cheney began working in the craft industry when someone asked her to join a design team. She did that for 7 years, during which time she was able to teach and travel to many parts of the world. In June of 2012, she joined the Tim Holtz team and has been the Creative Coordinator for Tim Holtz Brands since that time. She loves working on the product design side of the industry, but her passion still remains in teaching, whether in person or on her blog, One Lucky Day. Paula is a native of California's central coast where she lives with her husband Jay. She loves to travel to new places in search of good junk, beautiful architecture and inspirational artwork.
On-site Simon Says Stamp Store
(Open to the public!)We know crafters love to shop, and we're making it even easier to purchase and test products with an on-site store. The store will feature popular brands, products, and even a clearance rack.
Ticket-holding students will have extended access to the store.
Store Hours:
Friday, April 21st
Students: 8am-6pm
Public: 9am-6pm
Saturday, April 22nd
Students: 8am-6pm
Public: 9am-6pm
Class Schedule:
Please NOTE: Schedule varies according to which Group (A or B) ticket you purchase.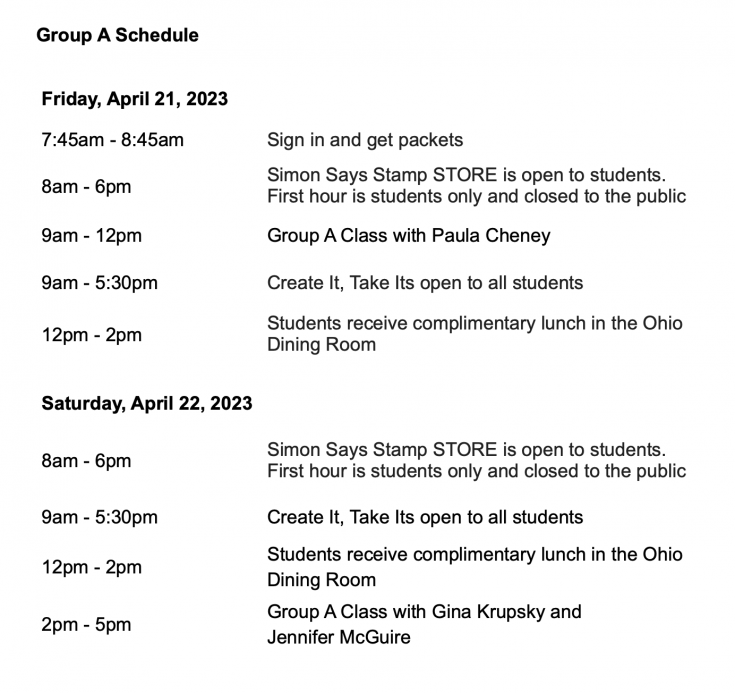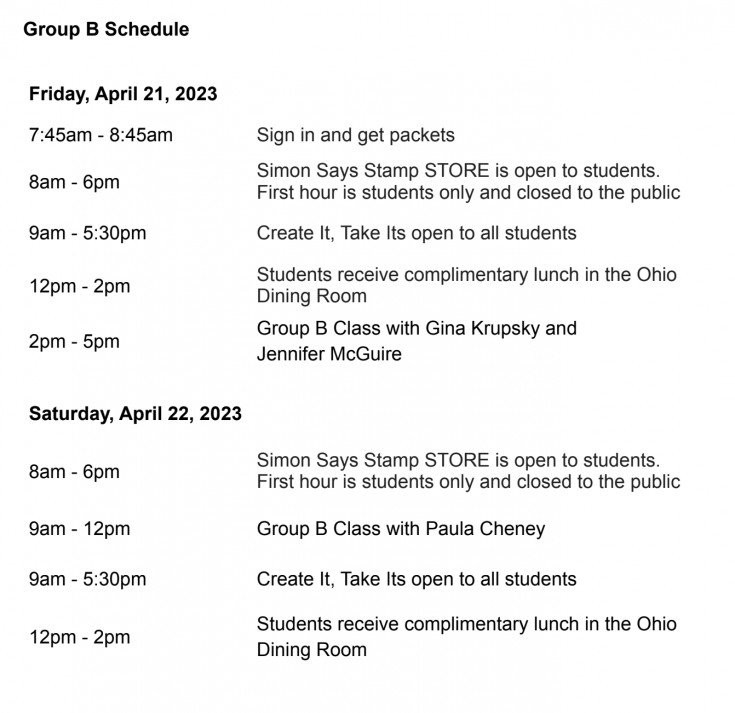 Tickets:
Students have fantastic benefits
As a student, you'll be inspired by over 6 hours of hands-on classroom hands-on learning, 10 hours of access to the Create It, Take Its, on-site shopping, and – if you know how much we love surprises- you know we'll have loads of unexpected joys along the way! Some of the things you can expect include:
Extended hours to shop the on-site store.
Classes with the best instructors and designers in our industry!
Live demos with brand owners.
Lots of special prizes and gifts! The swag bag at Create is over the top!
Extended access to over 25 Create It, Take Its each day from various vendors.
Loads of fabulous inspiration.
Class fees are nonrefundable. Students are responsible for their own lodging, transportation, and food.
Supplies for Classes:
We will supply basic essentials and kits for each project. If you have a favorite adhesive, scissors, or tool, you are welcome to bring them.
Accommodations:
We recommend staying where all the action is happening!
Note: Columbus (CMH) airport is the closest airport to the event!
Nationwide Hotel and Conference Center
100 Green Meadows Drive South
Lewis Center, Ohio 43035
Ask for the Nationwide Group Rate, which INCLUDES a breakfast buffet in the morning for two people per room!
Editor's Note: Group Rates are at capacity!
Contact: 614.880.4300
*Mention Simon Says Stamp Create Event when booking to receive the group rate.
Book online HERE!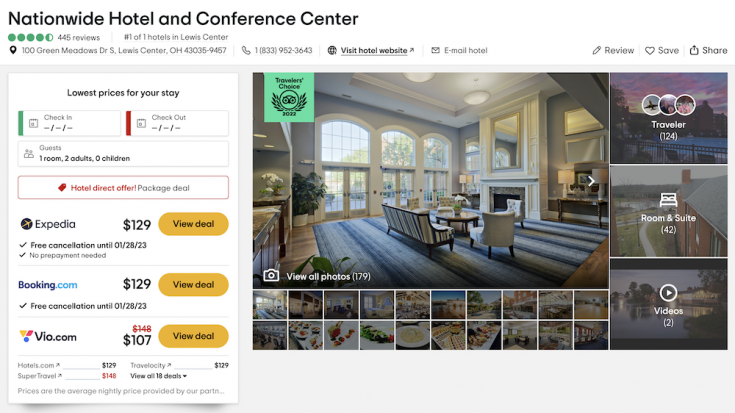 Alternate Hotels:
There are many hotel options in the area on Polaris Mall Parkway and Columbus CrossRoads: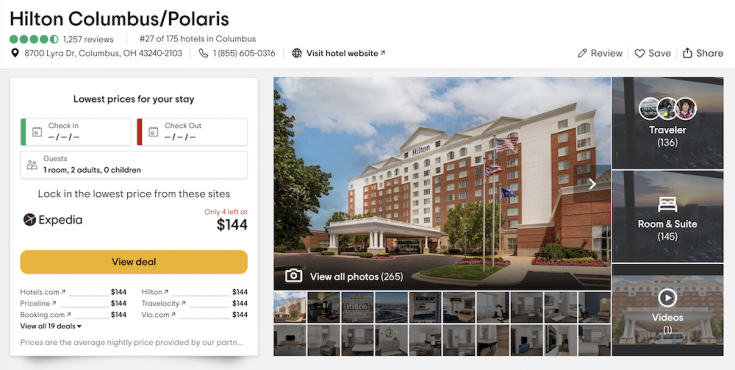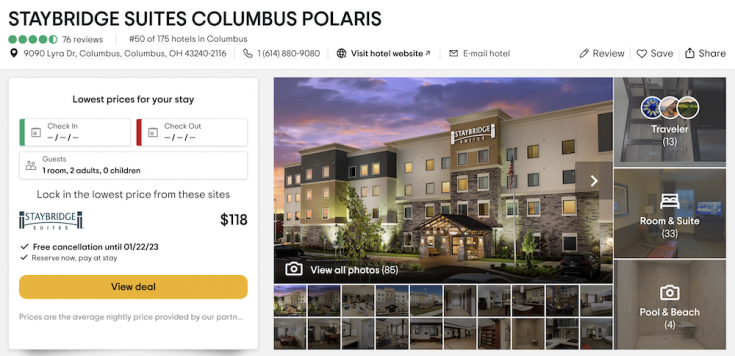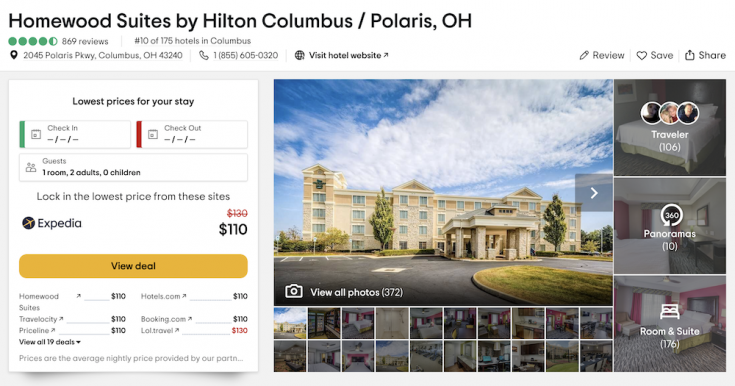 Our customer service team is here to help! Please email [email protected] with any questions you may have. We are also available at 614-596-2220 from 7 am until 3 pm ET on weekdays to take your calls.
Whether you have a ticket to class or would like to come and shop in the store, everyone is welcome!
We are so excited to get together to CREATE with you!