Challenge: This is where the cowboy rides away…
I can't get this phrase out of my head, and when that happens you know I have to make it into a challenge. Will you use Tim Holtz western stamps? Do something cowboy inspired? Maybe do something with a setting sun, or about saying goodbye? maybe you'll be inspired by old western movies, the desert, cactus, or just colors that remind you of the wild west This is a from a song that is currently stuck in my head – so feel free to run wild with lyrics from a catchy tune of your own!
Let's start things off with our newest design team member!
Emma was inspired by the rustic and rugged terrain of all the Wild West movies that she's watched.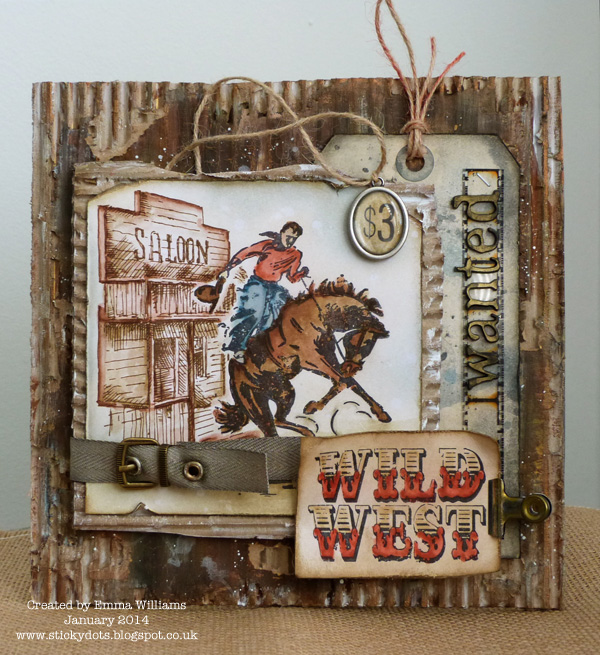 When I watch cowboy movies on TV, the one thing that sticks in my mind is the overall rugged and rustic look and I wanted to capture that with this piece and thought my current love and use of corrugated cardboard worked perfectly. I painted the cardboard with various colours of Distress Paints, then used Tim Holtz's Wild West stamp set as my focal point and coloured the image with Distress Markers. I added various pieces of Idea-Ology and then to complete the piece, I used Distress Stains to dye some twill ribbon, added eyelets and make it into a belt using one of Tim Holtz's Buckles.
Suzz was inspired by the challenge to scrap a visit to Deadwood where Wild West history can be seen.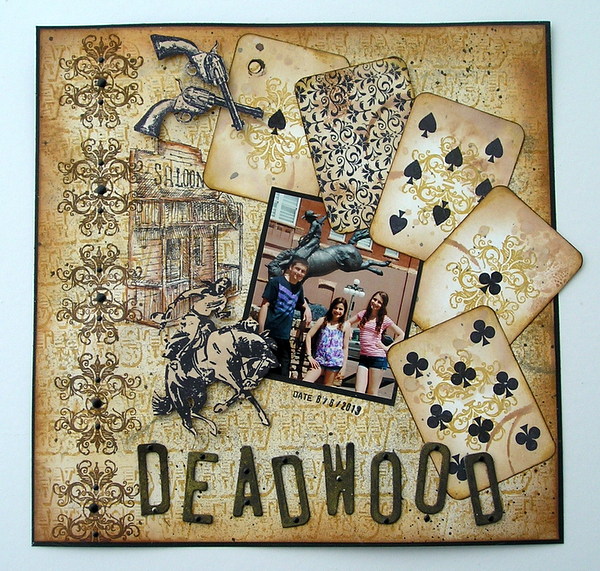 My family took a roadtrip last summer out west and included Deadwood. Deadwood is the historic site of where Wild Bill Hickock's was shot and killed while playing poker. The Stampers Anonymous Wild West images are perfect for the challenge and for scrapping about our trip. I also incorporated the DarkRoom Door Fun & Games to create my vintage poker hand which reflects the hand held by Wild Bill. The Title created with chipboard letters misted with Heidi Swapp Bronzer Color Mist will help us remember our trip to Deadwood.
Cowboys remind Michelle of her two sons.
After college, my oldest boy packed his bags and bravely crossed the country to accept a job offer in Texas. His birthday is approaching, so I used the Gift Bag Punch Board to create some fun gift bags. I embellished the bags by creating dimensional paper stars made with my 6×6 GelliArts Plate and the Stacked Stars die. The Western Sentiments included a fun way to say "thank you", which I'll use for my younger son, who is always doing sweet things for his Mother.
Tracy's thoughts of old western movies that her dad used to watch inspired her wild west tag.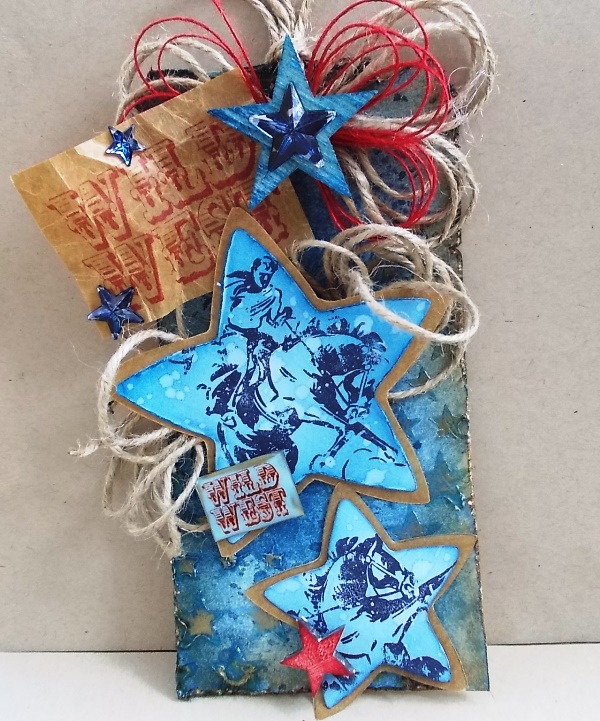 When I think of the wild west I am drawn towards Tim Holtz Wild West Stamp Set with the cowboy taking centre stage. Wild West conjures up stars, denims, leathery browns and rope for me, all represented in my tag, with the use of Faded Jeans Distress Ink, Faded Jeans Distress Stain, along with touches of red from Vermillion Archival Ink. This tag is extremely tactile and sums up the wild west perfectly for me.
Sandra Mouwen was inspired by the wild west style for making this tag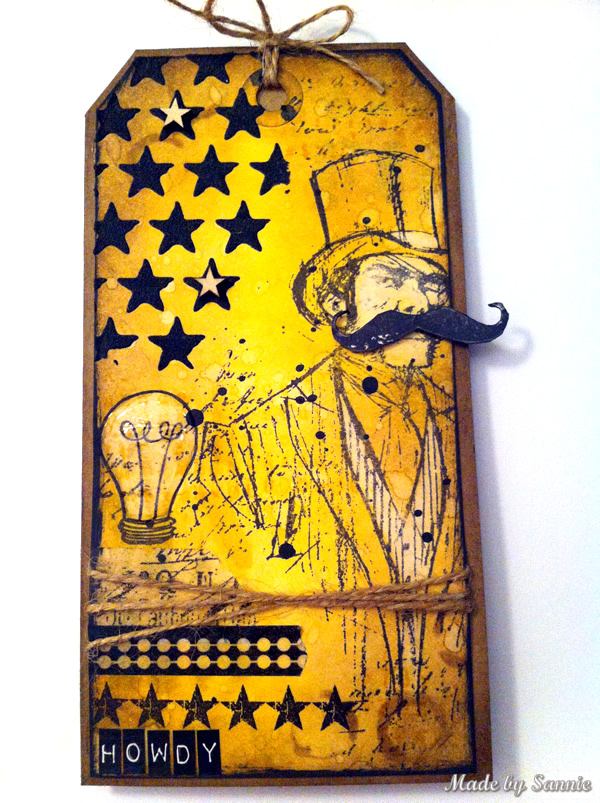 I have to admit that I found this one a real challenge. But once I got started and the ideas came, it was so much fun. I began with inking up the background with Mustard Seed and Wallnut Stain Distress Ink. Spirtz a little water on top of it. I wanted the Modeling Paste to have a sand like texture, so I used Black Soot Distress Embossing Powder along with some Charcoal Black Studio Paint. Love how those stars look. Well maybe the Time Traveler isn't a real cowboy, I had a great laugh giving him a big mustache from the Personal Stache stamp set to make him look more like one.
An old family photo, complete with a wonderful memory from her father, prompted Ashli's page this week.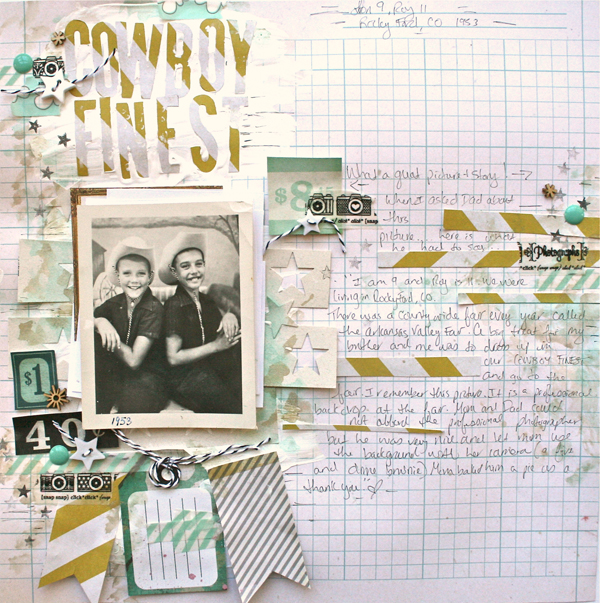 As soon as I saw this week's challenge, I went digging in my old family photo albums. Armed with several options, I consulted my dad for his memories. Well, the story for this photo was too good not to scrap! Using Crate's Flea Market Collection, Gelatos, and Blank Canvas Paint, I was able to document these brothers in their "Cowboy Finest."
Anna-Karin was inspired by stamp sentiments to create a wild places art journaling page.
I have enjoyed doing some scenic stamping in my Small Dylusions journal lately and when I saw these Darkroom Door sentiment stamps, I thought they would be perfect for a Wild West inspired page. I built a scene using stamps from Home Sweet Home, Trees, and Wilderness Vol. 1, stamped with Archival Inks. The birds were die cut from Simon Says Stamp Birch Wood Veneer Paper.
Meihsia was inspired to create a star shaped chipboard decoration for her craft room.


I live in Texas where you can see lots of western style or cowboy related decorations. This week I decided to combine the elements of star shape, metal, and red, white and blue colors to create a wall decor for my craft room. The Tim Holtz Faucet Knobs and Prima Flower Bottle Caps were attached on this star shaped chipboard. I love the beautiful colors and interest that Ranger Paint Dabbers added on this piece.
Dan dug deep into his limited knowledge of all things cowboy and surprised himself when he pulled a name out from the depths of his memory.
Growing up I always hated war movies and cowboy movies. Always. Having said that, as a family we used to watch "The High Chapparal" when I was a kid and from an old Star Trek episode I think I've managed to come up with the name Wyatt Earp. Don't ask me who he is or what he did, but I'm pretty sure he had a droopy moustache, so that's what I went with! I made use of several stamp sets here, among them Ringmaster Blueprint, Classics #5 and Worn Text.
Andrea couldn't think "cowboy" without thinking of belt buckles, so she made a Western belt.
I hope any cowboy folk who may be reading this won't be offended that "belt buckle" was the first word that came to mind when I saw this theme. I just remember being oddly fascinated by the dinner-plate-sized belt buckles the self-proclaimed cowboys at my high school would wear. Since then, I have come to truly appreciate belt buckle art, which is as varied and interesting as any other art form. For this challenge, I decided to make a Western belt of my own with an eye-catching central buckle. It was insanely easy to make with October Afternoon's Sasparilla ephemera and plenty of Glossy Accents glue.
Mona was inspired to create a Western themed canvas collage featuring a photo of her very own Cowgirl.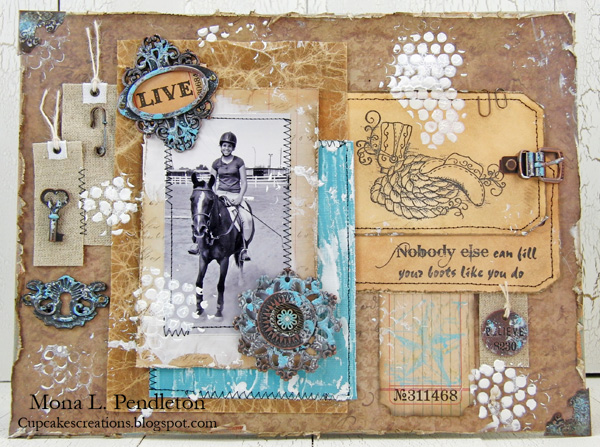 I couldn't help but to create a canvas Western collage using a variety of Western themed stamps, textures using a Woodgrain embossing folder and embellishing with a variety of metal trinkets. I combined a variety of colors that remind me of the Wild West including: Broken China Distress Paint, Frayed Burlap Distress Ink ad Tea Dye Distress Ink.
You'll want to tune in Wednesday for a video technique lesson with May!
For more inspiration click on our design team's blog links so you can see more photos (and full supply lists) for their projects. Leave them a little comment love while you're there so they know how they've inspired you too, if you're so inclined.

As always, Simon Says Stamp is giving away a $50 gift voucher that will go to a random entry chosen by random generator. To qualify all you need to do is create a new project that ties in (in any way!) with our theme and post it, along with a link back to this challenge, and add a link here. This challenge will end at 11:59pm on Sunday February 2 Eastern time.
We will also be choosing some of our entries to put in the spotlight – a special honor where we talk about why we loved that entry in particular and award a special badge too!
For the full rules, read the "challenge rules" posted in the side-bar here on our blog.
[raw]
[/raw]