Challenge: Anything Goes!
The Simon team is at CHA picking out all of the latest and greatest, so while they're away we think it is time to cut loose and play! That's right – this week anything goes!
First off, we need to bid a fond farewell to long-time team member and amazingly creative artist Candy Colwell. She has shared so much of her talent, done so many amazing projects, and commented on so many of the beautiful creations shared in our challenges – she really will be missed!!
Candy is beating the holiday rush by creating this Halloween roll top desk for her Anything Goes project.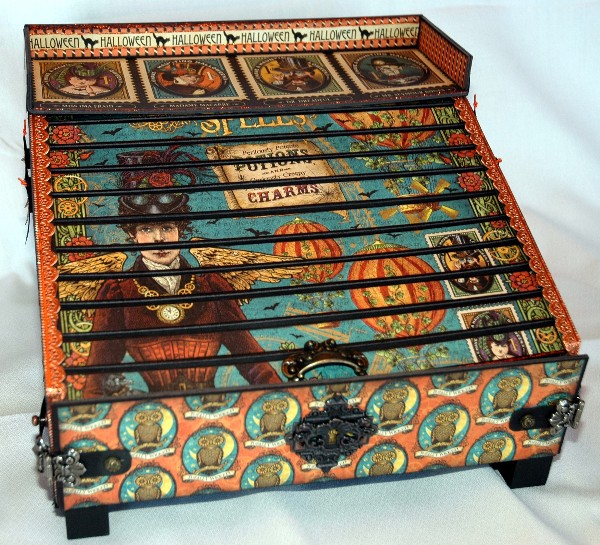 I know, Christmas is barely over and I'm already posting a Halloween piece! But I could not resist creating this roll top desk using Graphic 45's Steampunk Spells 12×12 and 8×8 Paper Pads. I love the added vintage feel that Tim Holtz' Ironworks Gate, Mini Cat and Mini Spider add to sides of the desk. And what is any vintage piece without Stickles: Paprika, Platinum and Black Diamond?
Past challenges and new favorites were the inspirations for Ashli's mini book this week.
We have had so many fun challenges on the blog here that have made me step outside of my creative box and try new things. I have found new materials and new techniques that I just can't get enough of. I decided to put many of those to use in creating the base for my Valentine mini. I stitched on tissue. I watercolored. I painted. I altered Project Life Cards. Well, let's just say I did a whole bunch of everything! My Valentine mini is ready to fill up with photos and journaling!
Recycled packaging and the freedom of an Anything Goes challenge were the inspiration for Tracy's hanging this week.
I love an Anything Goes challenge, I love the freedom of just allowing creativity to take its own path! I decided to use Wendy Vecchi's So Serious stamp, I love this gent and thought he worked perfectly combined with the Eye Chart Layering Stencil and the Writing Desk Die. I can just imagine this gent sitting at his desk writing letters by candlelight and thought I would add drips of Beeswax to also represent my thought process.
Suzz started playing with a series of Hero Arts Acetate tags to try out a few different techniques.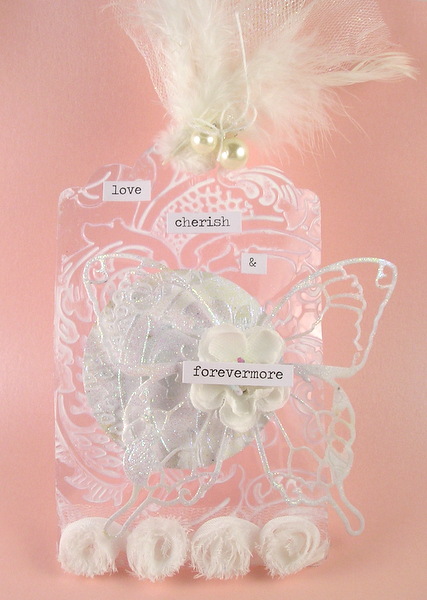 I wanted to use the Anything Goes challenge to give myself some time to play with acetate tags and trying out a few different effects. I sat and played for half a day trying different ideas. Some got pitched and some got reworked. This one was my favorite. I love the softness of the white paint on the embossed acetate. I added a sparkly butterfly just because it was delicate and added to the elegance of the tag.
Meihsia created this mixed media project to display on her family room bookshelf.
I was inspired by the sentiment to create this mixed media home decor. Since it's Anything Goes this week, I used many different fun and great medias on these two 3″ X 6″ chipboards. After cutting these chipboards using Tim Holtz dies, I applied the Gesso, acrylic paints, distress paints and Gelatos on the background. I love the beautiful textures and effect that modeling paste and crackle paint achieved on this project.
Anna-Karin wanted to make a burlap panel and got the idea of turning it into a real clock.
I wanted to use Tim Holtz Eclectic Elements fabric on a burlap panel and when I looked at the clock fabric I wondered if I couldn't make a real clock out of it. Since the panels are made of wood, it is easy to drill a hole for a clock mechanism. Tim Holtz Pocket Watch Frame was die cut from chipboard, using a Sized Circle for the center. It was covered with layers of clear and platinum UTEE, ending with some stamping.
Michelle created a journal as she played with inks and paints.
May said that "Anything Goes", so I spent a wonderful afternoon playing with inks and paints. I was inspired to create a mixed media journal by using the ship in the Artful Voyage stamp set. A journal is the best way to record my "voyage" into 2014. I used canvas as the base for this journal, and added many papers and inks, including Salty Ocean. Texture Tiles added fun and adventurous marks. Watch out, 2014! I am ready to record my artful journey!
Mona had fun creating a Vintage themed burlap panel wall hanging.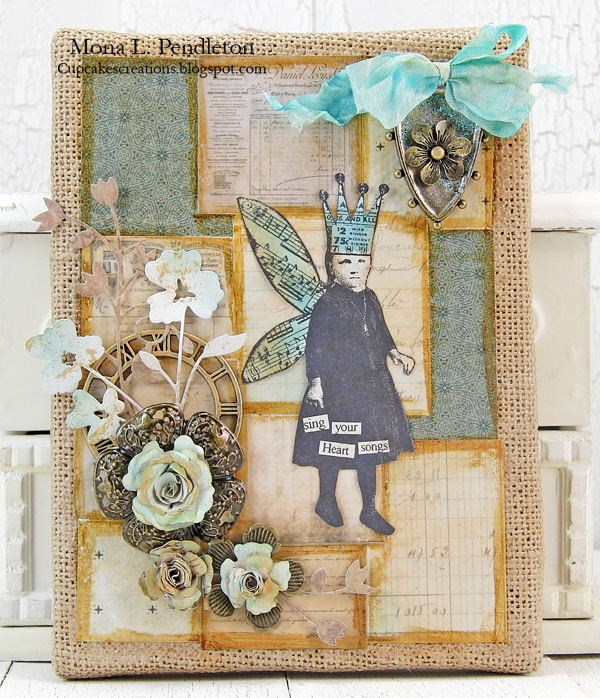 I covered the burlap panel with a collage of Ephemera and French Industrial papers. Then added one of the sweet images from Winged Things surrounded by a cluster of embellishments including: Viola Sprouts, Bitty Blossoms and Mini Flowers. For a hint of color, I applied Broken China Distress Ink and Gold Metallic paint to the flowers and sweet image.
It's Sandra Mouwen's birthday tomorrow, so she made a festive banner to let you know it.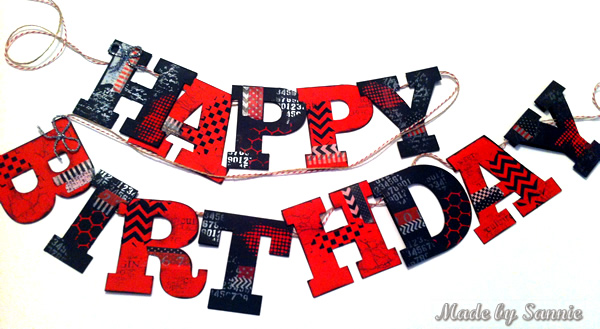 Yes, tomorrow it's my birthday and I really like celebrating it, although I don't like getting older, as you probably can relate to. Normally I don't decorate my house for birthdays, but after putting the holiday decorations away it felt a bit plain. So I cut the letters out with my Silhouette Cameo and started embellishing them with some washi tape, like Cakewalk Numbers and Red Polka Dots. And building texture with colored Modeling Paste and some stencils like Chevron and Dot Fade. Just love the way stamping looks on a black surface with Versamark and Perfect Pearls.
This week Dan has created a page for his art journal, inspired by a quote he read.
I was doing a little background reading about Dr Martin Luther King Jr this week and stumbled across this fantastic quote from him – "Human salvation lies in the hands of the creatively maladjusted". I immediately decided that it needed to go into my Dylusions art journal and this is the result. I used the Ringmaster Blueprint and Winter Sketchbook stamp sets and used my Sakura Koi water brush to pretend I am a watercolour artist.
Andrea sometimes wishes she could be wearing a fancy dress in Paris.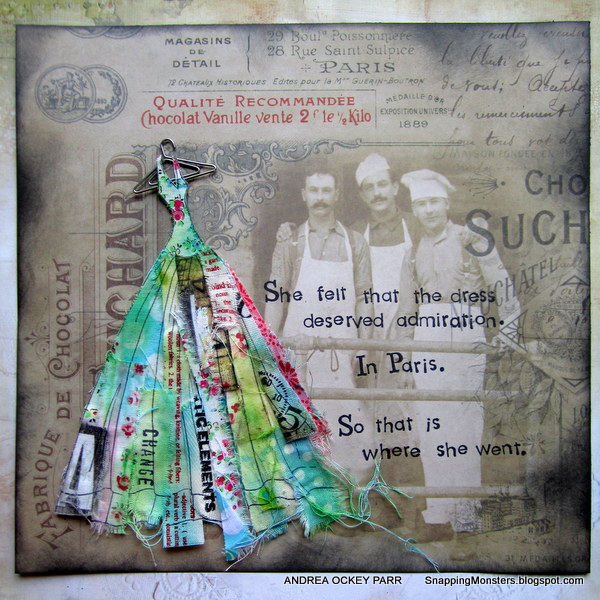 I have the most amazing mom in the universe who taught me how to make paper dolls when I was a kid. I spent hours designing all sorts of outfits from tame to crazy. I was thinking about those days when I made this Paris-bound dress using Prima's Lorrena mixed media girl stamp and Tim Holtz's French Industrial paper pack.
I (May) am having a blast at CHA, and I'm in love with Tim's new stencils!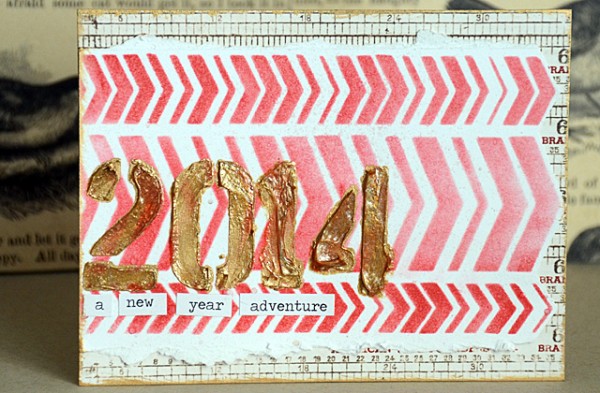 They are available for pre-order now in the Simon shop – and I expecially recommend the Chevron and Numbered stencils. Since it is anything goes this week – I decided to get stenciling and create a card honoring the adventures and fun I hope to have in 2014.

As always, Simon Says Stamp is giving away a $50 gift voucher that will go to a random entry chosen by random generator. To qualify all you need to do is create a new project that ties in (in any way!) with our theme and post it, along with a link back to this challenge, and add a link here. This challenge will end at 11:59pm on Sunday January 19th Eastern time.
We will also be choosing some of our entries to put in the spotlight – a special honor where we talk about why we loved that entry in particular and award a special badge too!
For the full rules, read the "challenge rules" posted in the side-bar here on our blog.
[raw]
[/raw]