Our team shares: glittered ideas
New Year's Eve and a brand new year are just around the corner – so what could be better than some glitter inspired projects? We asked five of our team members to share new projects that shimmer and sparkle – and they did not disappoint!
One of Ashli's favorite techniques is "painting with glitter."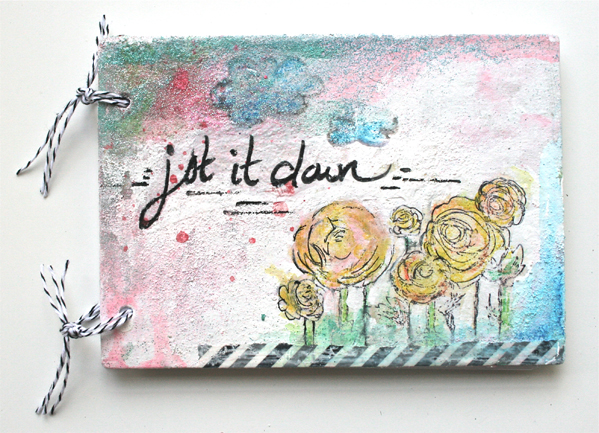 Wait, what? Painting with glitter? That's right! I love adding glitter to wet paint to add subtle sparkle and texture. A lovely blend of Wow Angel Wings Glitter, Zing Silver Glitter, and Zing Blue Glitter adds just the right amount of sparkle to this little journal.
Meihsia altered a chipboard frame with mixed media elements and various colors of glitter.
Glitter adds so much fun and special touch on many of my creations. I love different colors and shades of Wow Extra Fine Glitter. The shaker/pour removable lid is very easy to use and helps to control the amount of glitter you want to add on the project. After creating textures and adding mixed media elements on the background of this frame, I applied a thin layer of Glaze then sprinkled the glitter on it.
Mona created a wall hanging full of glittery ~ shimmery accents in celebration of ringing in the New Year.
I love adding a dusting of Distress Stickles dry glitter to my flower embellishments. The glitter seems to add that extra special touch, making the flowers appear as if they are coated with morning dew. I also adhered a coating of Distress Pumice Stone Glitter to the chipboard numbers which added a touch of glam.
Suzz was thinking about kicking off the New Years celebration with a glittery tag.
I was thinking about New Years Eve and the sparkly glittery decorations and resolutions. I mixed the two together and created a tag to represent New Year's Eve all rolled up into one. I die cut stars from Ranger Foil cardstock to represent the glittery stars found in the holiday decorations. I then added the words from the Stampers Anonymous – Way With Words. The phrases on the tag make a great set of resolutions for the new year. I am sending you and yours a happy and blessed New Year!
Michelle created some glittery Winter Blossoms.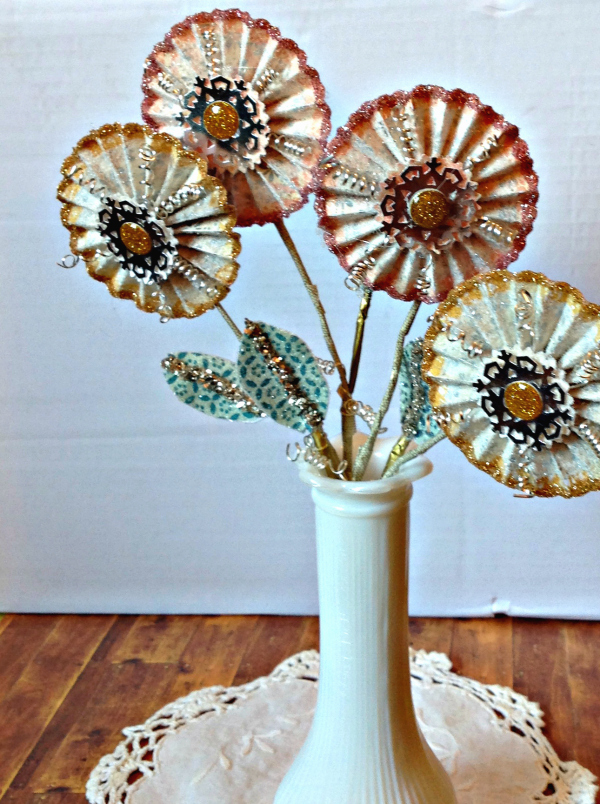 All of the sparkling, holiday decorations will soon be packed away. How sad! I love the glitter and shine! I created some glittery Winter Blossoms to keep a bit of sparkle throughout the bleak Winter months. Paper rosettes were made from Crate Paper's Close Knit line using the Tim Holtz Mini Paper Rosettes die. The blossoms are full of various glitters, which include Diamond Dust, that adds sparkle as well as a vintage flair. A touch of curled wire creates whimsical character to my cheery, glittery Winter Blossoms.

Here at the Simon Says Stamp Monday Challenge blog we hope that you're having a very happy holiday season, and that you're enjoying the inspiration from our design team. For more details and supply lists on these projects, simply click on the team member's name (above the project) to visit their blogs.
Our challenges will resume every Monday starting in January.