This week's challenge is a simple one – use ink! Whether it is ink spray or an ink pad, an ink refill or maybe some India Ink pens – we want to see how you use ink this week on your crafting project.
Ashli decided to create a little home décor item as a reward for her eldest daughter's hard work.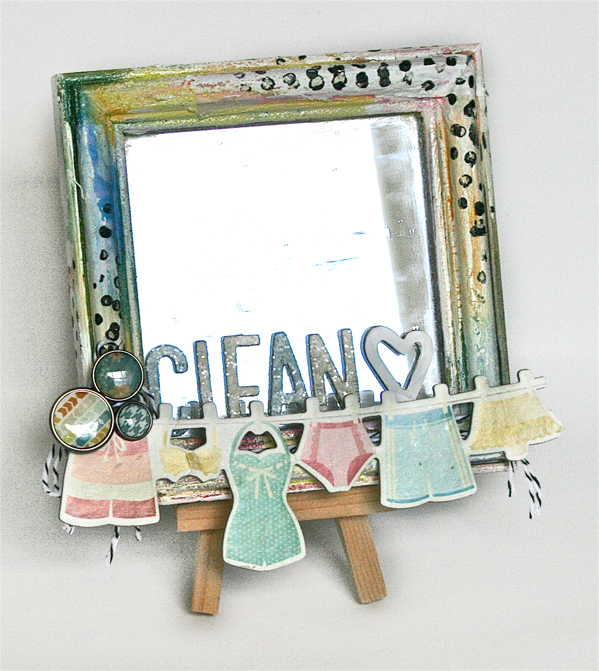 My oldest daughter has become a master at laundry. I am so proud of her hard work that I wanted to reward her with a little art piece to hang in our laundry room. I began with a salvaged mirror and after a quick coat of white paint on the frame, I grabbed all of my favorite Ranger Alcohol Inks. Why did I choose these? I love the unpredictability and the feeling of happenstance when they are applied by simply dropping the color out of the bottle. The drips and runs and the quick blends make for some fun results. The other great part? They are super permanent, so I know they will hold up nicely to the heat and water splashes that can happen in a laundry room.
Suzz loves to mist and spray ink on her projects.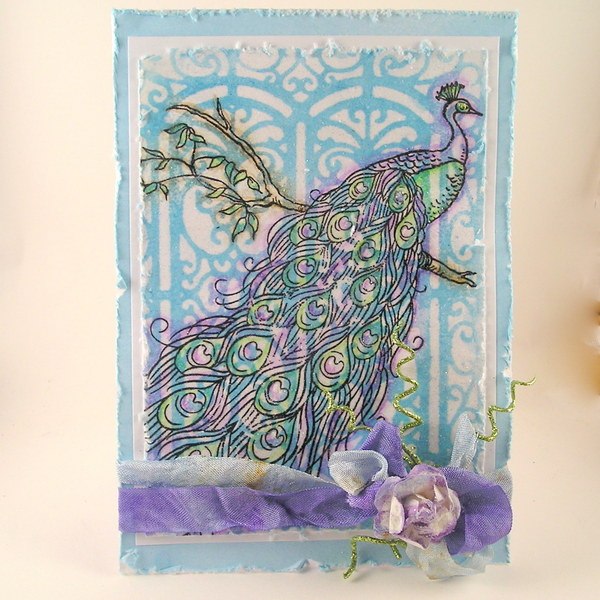 I have a great love of sprays and mists. I am always picking up new colors and different types with different sheens, opaqueness, and colors. The Tattered Angels Teal High Heel chalkboard spray glorious color inspired my project. I sprayed the ink onto the embossing folder and folded it over white cardstock. This gave me a beautiful background to add my main image over. The inks also work beautifully on white ribbon to coordinate. I sprayed my ribbon with Tattered Angels Glimmer Mist Purple to create a coordinating ribbon.
Meihsia was inspired by the change of the seasons and created this mixed media canvas.


I love the cool crisp air and the gorgeous colors of leaves because autumn is one of my favorite seasons. On this canvas, I used Smooch Gold Rush Glitz Sparkle Accent Ink and Smooch Spritz Pearlized Accent Ink Spray to create the autumn themed color scheme. The Smooch Accent Ink is great for details and layering on the embellishments with the easy to use applicator. And the Smooch Spritz Ink Spray is perfect for creating the shimmering background.
Distress inks are always Dan's "go to" choice for vibrant vintage colour.


I could wax lyrically about distress inks for way longer than anyone would want to listen. They are so easily blendable, they stay wet long enough to emboss with, they can be used with a brush to watercolour, they react so interestingly with water, the list goes on and on. At the end of the day though, the thing that attracts me to them most of all is simply their colours. I wanted this card to be a riot of distress colour, placing them right at the forefront of the compostion without too much distraction from stamped images, which is why after stamping and cutting out the winged man, I turned him over and worked on the reverse side. Stamp sets I used included Winged Things 2, Mixed Media and Royal Script. The moustache was courtesy of the Memory Box die set. Oh, and distress inks, lots of distress inks.
Candy absolutely loves Distress Inks and has used them once again to create this sweet vintage card.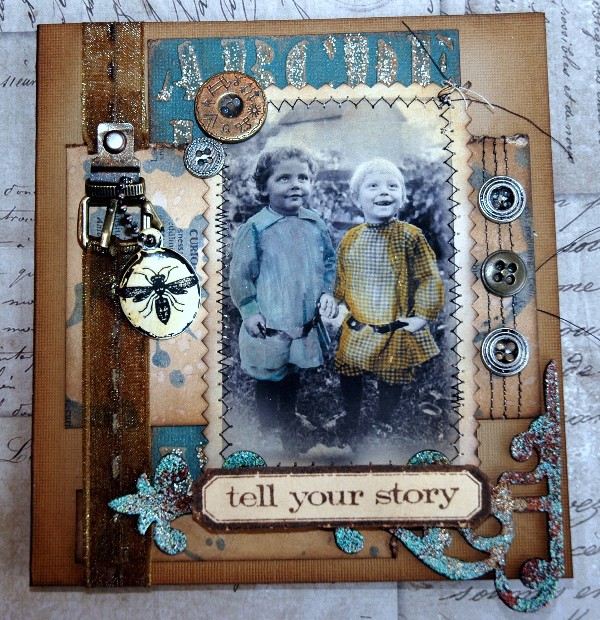 Distress Inks are such a gorgeous line of rich colors that have been expanded into Distress Markers, Paints and Crackle Paints, Stains, Embossing Powders, Stickles and even Glitters!
But I adore the inks not only because of their variety of color, the richness and depth of them but because of their ability to move and change with water. On this vintage card, I have employed several different techniques to create interesting backgrounds and add those special little finishing touches simply with ink. Tim Holtz' Cargo and Splatters Stencils create some very textural and different yet complimentary backgrounds. From color tinting an old photograph with Distress Markers and instantly aging it with Antique Linen Distress Ink to simply applying Gathered Twigs to add a warm aging glow to the edges, I think you will see how important inks are go any project.
I (May) am thankful for my Hero Arts shadow inks and stamps.
It's true – I do so adore my Hero Arts shadow ink pads. Now they might not blend and react like distress ink, but when I want rich beautiful color and simple stamping they sure come through. For my special card I utilized both distress and shadow ink pads, as well as my new fall stamp set and two favorite background stamps to make a card that took nothing more than paper, ink, and a bit of thread.
It was all about creating something a little different for Tracy's husband this week to create an alternative Christmas Card.
Alcohol Inks Ginger and Pitch Black were perfect inks for me this week to create an industrial/masculine feel to my alternative Christmas card for my husband. Alcohol Inks were the obvious choice especially when colouring Metal Foil Tape which I have used in abundance in this piece. Whenever I am colouring metal I always turn to Alcohol Inks to add either that touch of colour to my metal pieces or a full on wow factor or in this case to add a definite masculine feel. Fingers crossed my husband likes my take on an alternative for Christmas!
This week, Mona was inspired to create a tag.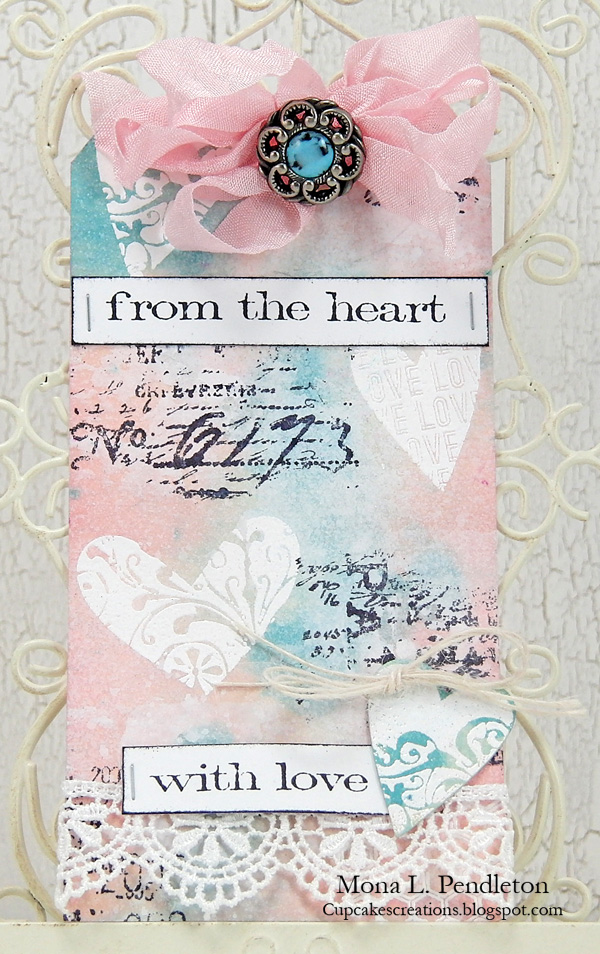 Versamark Ink was essential for creating the emboss resist background on my tag. I wanted the hearts to be the focal point on the tag and really "pop" so I stamped them using Versamark Ink then heat embossed. This created a fabulous background which I could then build and layer upon.
Michelle used her Distress Inks to paint a fun band for her gift card bags.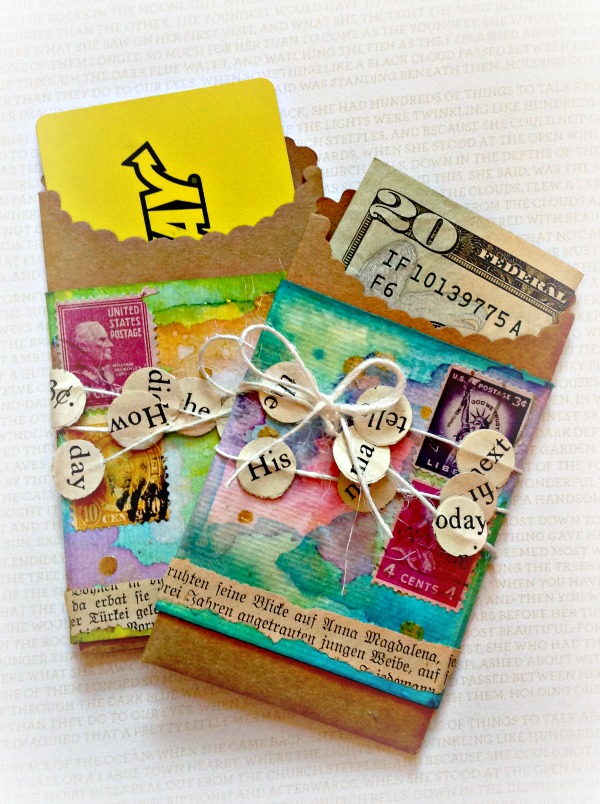 These gift card bags will be handy to have around when I want to say, "Thank You!" The sweetly scalloped Melissa Frances Paper Bags and Tags are a real time saver since they are pre-made and ready to embellish. Did you know that you can paint with Distress Inks? I painted a few mini watercolor papers and dotted them with Gold Lame to create fun and funky bands for the bags.
Sandra Mouwen had so much fun getting inky while making this colorful tag.
Usually I don't use that many different colors of Distress Ink for my background, but for an inky challenge like this one, I just had to! I love Distress Inks for their color palet and for their unique properties, like blending and reacting to water. Both techniques I did in my background with 7 colors of Distress Ink. I also like Archival Ink Jet Black. Love that it gives sharp crips prints and is waterproof. I stamped with it and clear embossed over it to make it pop.
Anna-Karin played around with inks, stamps and stencils on a journal page this week.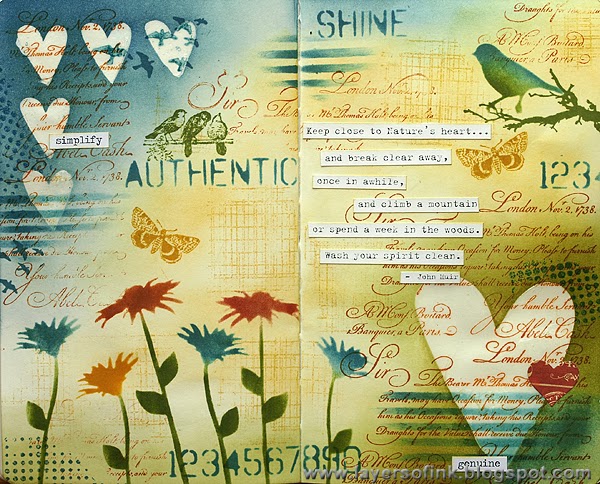 I love Ranger's Archival Inks since they are so versatile and stamp beautifully on many different surfaces. On this page, I used Wendy Vecchi's new Archival Inks, which are such gorgeous colours. I stamped with them and used them to ink through stencils. Since they are waterproof, you can ink or mist on top without losing any detail. Here I applied translucent embossing paste through a stencil over stamped text for a fun resist effect, combined with Distress Ink.
Andrea has a fantastic tutorial on tap this week about how to add ink to your fabric and fabric to your art. And don't worry if you're a sewing-phobe. There will be no needles or thread involved!


Be sure to check back on Wednesday for her tips on fabric-stamping.
For more inspiration click on our design team's blog links so you can see more photos (and full supply lists) for their projects. Leave them a little comment love while you're there so they know how they've inspired you too, if you're so inclined.

As always, Simon Says Stamp is giving away a $50 gift voucher that will go to a random entry chosen by random generator. To qualify all you need to do is create a new project that ties in (in any way!) with our theme and post it, along with a link back to this challenge, and add a link here. This challenge will end at 11:59pm on Sunday November 17th Eastern time.
We will also be choosing some of our entries to put in the spotlight – a special honor where we talk about why we loved that entry in particular and award a special badge too!
For the full rules, read the "challenge rules" posted in the side-bar here on our blog.
[raw]
[/raw]