One of my favorite things to do is to take paper bits and craft them into quilt-like patterns. This week we challenge you to somehow be inspired by some patchwork.
Where to start? You could patch together a project with scraps, create a quilt-block type project, work with squares of the new Tim Holtz fabric, perhaps be inspired to get into some mosaic work too!
Tracy decided to try something a little different this week and work outside her comfort zone to create a rag quilt pillow.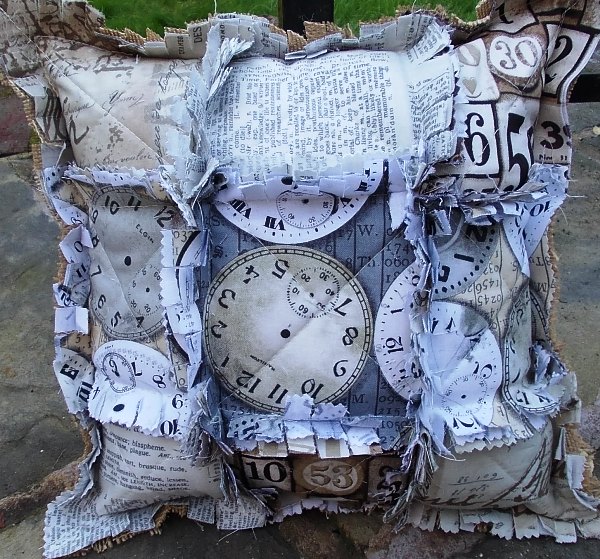 I had recently purchased some of Tim Holtz Fabric Eclectic Elements Charm Pack and also a new sewing machine, however, I never really sew anything I use a sewing machine to add stitching to my cards, which I love. But for this challenge I wanted to try something a little different and the 10″ x 10″ fabric pieces were absolutely perfect for this pillow, it has a real charm about it and now sits perfectly in my spare bedroom where I have a neutral colour palette. I have also created 2 cards using the Simon Says Stamp Full Card Hexagons Craft Die to create a patchwork backdrop.
Sandra Mouwen went to for her unknown territory with doodling
I'm not any good at drawing, and I so wish I was. I'm really scared to even doodle, but when I saw Dyan Reavely's video about patchwork doodling, I knew I wanted to give this a try. When started I just couldn't stop! It was really fun! I wanted it more in the background, so I covered it with some Gesso. I'm so in love with the exclusive Ring Cluster stencil. With black colored Modeling Paste it's so very dramatic.
Candy has tried her hand at quilting with fabric before and has decided that paper piecing to create quilt squares is much faster and more fun!
This is my first attempt at creating a patchwork block out of paper. I am an instant gratification kind of girl. I was amazed at how quickly this vintage patchwork Christmas card pieced together. The star pattern was created by combining one inch squares cut from a Graphic 45's 12″ x 12″ Christmas Paper Pad. The center is fashioned from Tim Holtz' Mini Rosette with Mercury Glass Stickles added for an extra vintage feeling.
Anna-Karin's sewing machine was happy to see fabric for the first time in quite a while.


I mainly stitch on paper nowadays, but this week I wanted to make a fabric journal with Tim Holtz new wonderful Eclectic Elements fabric. I used canvas and felt to build the covers of the journal, so that they would remain soft. Squares and rectangles of different fabrics were cut out and arranged in a patchwork pattern. The journal was embellished with a fabric butterfly and Idea-ology Word Bands, Gears and Game Spinners.
Ashli loves the look of quilting, but is not much of a seamstress.
That's right – I LOVE the look of quilts. I have several really special ones around my home. However, I am not much of a seamstress. The measuring, the precision…. I find it super overwhelming! But, when it comes to paper, little hand cut squares look lovely all collaged and glued together. For this week's theme, I simply grabbed an oversized photo and embellished it with loads of lovely bits from the Recorded, Persimmon, and Polka Dot Party collections. I love how the idea from the photo, of following your heart and dreams, is surrounded by a patchwork – a patchwork of possibilities, if you will.
Michelle pieced together a Log Cabin Quilt.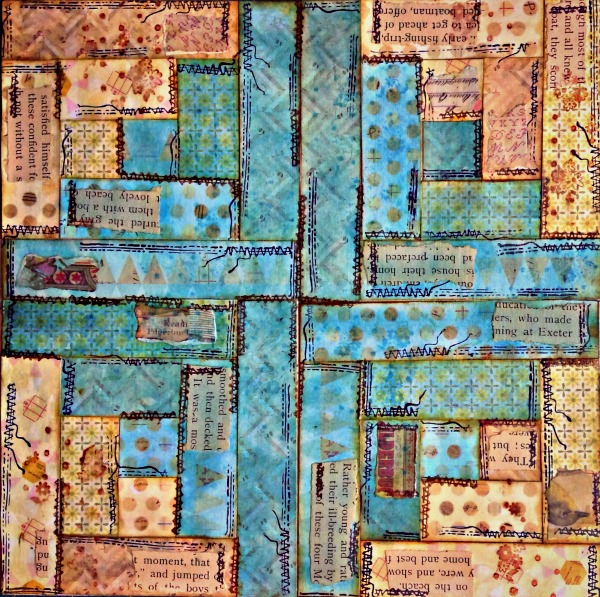 I've always loved quilts, and have made several of them myself. By giving the Sweet Disposition papers a good dose of Broken China and Antique Linen, I was able to create my version of the Log Cabin Quilt in a fraction of the time it would've taken had I used fabric.
Andrea's handmade glasses are a way to honor her grandmothers, who were creative visionaries that left a beautiful legacy of patchwork quilts behind.
I can't hear the word "patchwork" without thinking of quilts and I can't think of quilts without thinking of my two sweet grandmothers. They lived through the Great Depression, the war, the death of spouses and children, and yet they never let the darkness consume them. One tattered scrap at a time, they saved and they treasured and they rejoiced in making the world more beautiful through the work of their hands, even when they had silver hair, unsteady fingers and glasses to help them see. I love them for this legacy. To celebrate them, I made glasses out of wire and Ice Resin and used stamps from Wendy Vecchi and Tim Holtz to decorate the eyeglass case.
Dan decided to decorate his simple wooden frame with a patchwork of inchies.
You can't have a patchwork without stitching, so I decided to get my sewing machine out. It's not made by one of the big companies like Brother or Singer, it's from a little-known firm called Faux. You should all try faux stitching, you never run out of thread and all you need is a pen! I gave my plain wooden frame a coat of Black Soot distress paint before I started, it covers so quickly and dries fast too. I made my inchies from a selection of stamp sets including Time Travelers, Oddities, Steampunk, Remnants and World Traveler.
Mona was inspired to create a wall hanging featuring a patchwork fabric heart.
Prior to giving my hand at stamping, I stitched together quilts. I always enjoy combining both crafts when creating. I cut and pieced together strips of Eclectic Elements fabric then trimmed the fabric into a heart shape using a hand drawn pattern. I stamped a sentiment from Stuff To Say using Jet Black ink on a piece of muslin from my stash then stitched that on the heart and embellished with a variety of embellishments including a Metal Flower and Buttons.
Meihsia was inspired to create this 12″ X 12″ holiday layout with sewing many pieces of image on the page.
I always love sewing and you can find the stitches on most of my creations. The patchwork inspired me to create this layout with many pieces of image sewed together. The background paper and images on this layout are from Tim Holtz Seasonal Paper Pad. There are many holiday decorations on this page made using Tim Holtz dies and embellishments. I also added some beautiful gold acrylic paint here and there as a final touch.
Suzz loves vintage quilts and has never learned how to sew. This was the perfect challenge to create a faux quilt pattern that required no sewing.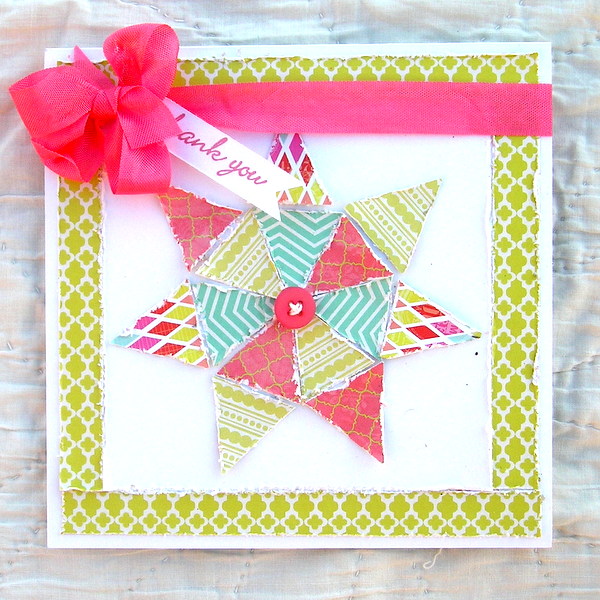 I was looking at a retro quilt book that used beautiful mix of pretty colors and realized the My Minds Eye Up & Away papers had the same fun colors and patterns as the quilt. I used the triangle dies to cut my shapes and then had fun trying different shapes and patterns. I framed it out and added a ribbon and a quick sentiment stamped in a coordinating color using Ranger Archival Rose Madder. I distressed the edges using the distressing tool to give a frayed effect of fabric. I was really pleased with the effect and created a few other cards using different patterns.
I (May) will be back later this week with patchwork tips to share.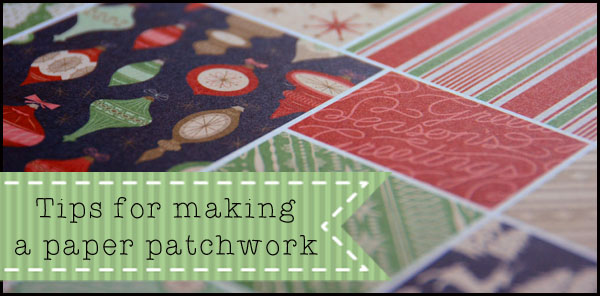 Putting together patches of paper can be quick and easy, but it can also be overwhelming and take way too much time! I'll be sharing my tips for making your own patchwork, as well as giving you some project ideas on what to do with it. Check in on Wednesday for my post!
For more inspiration click on our design team's blog links so you can see more photos (and full supply lists) for their projects. Leave them a little comment love while you're there so they know how they've inspired you too, if you're so inclined.

As always, Simon Says Stamp is giving away a $50 gift voucher that will go to a random entry chosen by random generator. To qualify all you need to do is create a new project that ties in (in any way!) with our theme and post it, along with a link back to this challenge, and add a link here. This challenge will end at 11:59pm on Sunday November 10th Eastern time.
We will also be choosing some of our entries to put in the spotlight – a special honor where we talk about why we loved that entry in particular and award a special badge too!
For the full rules, read the "challenge rules" posted in the side-bar here on our blog.
[raw]

[/raw]