Nearly three years ago Simon Says Stamp and Show put out the call for a design team for an all new challenge blog, and now here we are, still issuing weekly challenges and enjoying sharing creativity with our wonderful community! Today we officially begin a new chapter moving from the name Simon Says Stamp & Show to the Simon Says Stamp Monday challenge blog as well. Such an exciting time – thank you so much for being a part of it!
To celebrate, let's have a birthday inspired challenge! From balloons to cake, parties in general to birthdays in particular – the theme is one of celebration. Of course celebrations of all kinds are welcome – to join this challenge you do not have to be birthday specific. Please do join us!
We have three new members on our design team starting this week, so it really is quite the party! I think you're going to love what the team has dreamed up for you this week.
Michelle is ready to get the party started!
I am thrilled to have joined the Celebration at Simon Says Stamp and Show! I created a vintage inspired mixed media hat to kick off the festivities. I started my hat with a collaged background including a Lattice stamp and Martha Stewarts Camelia Pink acrylic. When rubbed with Wild Honey distress ink, the background took on a pretty, warm patina which coordinated beautifully with the Glitz Crepe Trim. A die-cut paper Crest took center stage when I added a Sexy Little Numbers stamp and a jaunty Bella Blvd white feather. And to top it all off, I created a fringe ball using the Martha Stewart Fringe Scissors.
Ashli decided to carry on and update a fun family tradition by crafting a celebratory banner this week.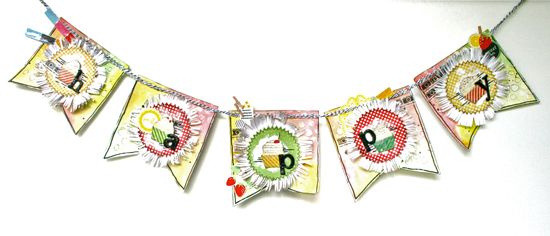 My family has a fun tradition of hanging a "Happy Birthday" banner whenever we are celebrating someone's birthday. For the longest time, my mother used a basic banner that she paid $3 for at the local party store. It was then passed on to me. Seeing as we have been hanging that same banner for more than 20 years, I decided it was time to upgrade! To begin, I simply handcut some pennant shapes out of white card stock. To dress them up a bit, I stamped on some Blank Canvas Paint and followed up with some Hero Arts Watercolors. While allowing that to dry, I grabbed my American' Craft's 6×6 Mayberry pad and used my Sizzix to cut out my Pinked Circle Shapes. A simple Fringed edge dresses them up nicely! After altering some letters cut from Tim Holtz's Word Play die, I adhered some glittered cupcakes that I cut out from some Crate Paper Party Day paper. A few Mayberry Die Cuts here and there and my Happy little banner is all set to go!
Rather than birthday, Dan decided to create a card to celebrate Simon Says Stamp and Show's 3rd anniversary.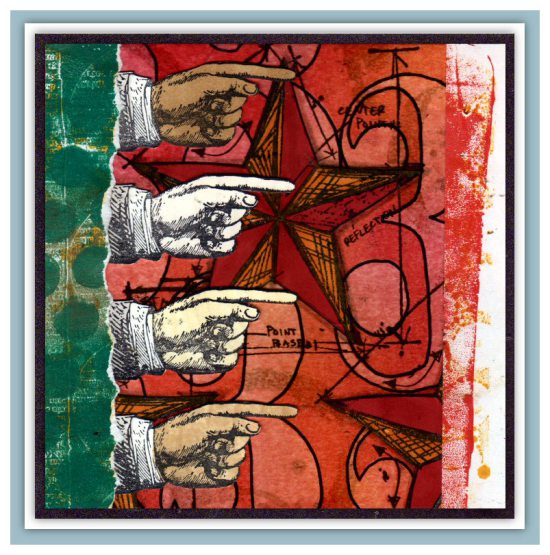 You know how you buy something and then kind of forget that you have it? I've been like that with Tim Holtz's Numeric stamp set – I was so please to finally take it out of it's packaging and actually use it here. I decided right from the get-go that I wanted the number 3 to feature prominently, so after inking my background with Distress Inks in vivid reds and oranges I stamped several 3s with water. The stars came from the Americana Blueprint set and the pointing fingers from the Steampunk set. I'm still in love with my GelliArts printing plate and incorporated part of prints I'd made to border each side of the card.
Tracy combined two celebrations in her celebratory dimensional canvas.
I decided that the celebrate challenge was not only the perfect time to celebrate Simon Says Stamp and Show birthday but the ideal opportunity to create a piece for my teenage nephew's birthday. The sentiment "Time To Celebrate" kept running through my mind and my idea was born, combining the time element with the Weathered Clock die and the celebration element with the Tim Holtz Birthday Sketch stamp. I love to add texture to my pieces and Wendy Vecchi's White Embossing Paste came to my aid. This piece was a joy to create and I hope it brings some joy to my Nephew.
We are excited to have Andrea making her design team challenge debut this week! Andrea achieved confection perfection with a trio of fabric-mache'd cupcakes.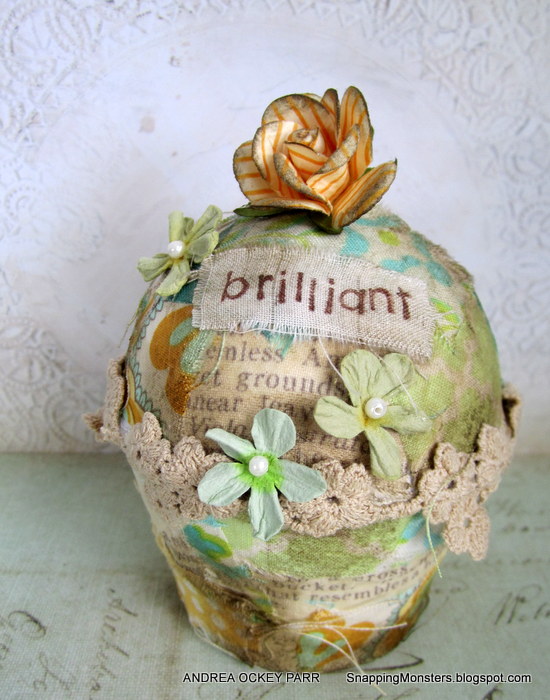 I recently found myself in a staff meeting gone awry; tempers had flared, egos had clashed and things had gotten awkward! I wondered how my boss would bring us back to a somewhat happy place. She did it simply and beautifully: she whipped out a box of cupcakes. Within seconds of ingesting sprinkles and frosting, the vibe turned from snarky to party. My boss looked at me and said perhaps one of the wisest statements I've ever heard: "There is never an awkward time for cake." Her quote, along with Hero Arts lowercase letter stamps, Colorbox Rain Forest ink and Tim Holtz Walnut Stain ink, inspired my tribute to cake.
Meihsia made a layout on the canvas for her son's birthday.


It's our family tradition to celebrate kids' birthdays on birthday trips. This photo was taken on Christopher's 7th birthday. I cut and pasted a piece of designer paper from Bo Bunny Country Garden collection onto this 8″ X 10″ canvas and sprayed the background with Heidi Swapp Color Shine. I also added some beautiful Prima Flowers, Tim Holtz die cut Gadget gears, lace, ribbon, buttons and sequins. It is always so great to see kids smiling faces and keep those beautiful moments. And Happy Birthday to Simon Says Stamp and Show.
Suzz decided to celebrate the anniversary of the challenge with a vintage party hat.
When I decided what I wanted to bring to our celebration this week I decided an old party hat was just the right thing to bring to the party. I started with old newspaper print to create a background to the beautiful harlequin pattern from The Crafters Workshop Stencil – Harlequin. I embossed the harlequin pattern using the shimmery gold embossing paste from Wendy Vecchi. To add more vintage flair I used crepe paper to create a fringe. I knew it needed to have a few pom poms and created them using tulle, Stampendous Crushed Glass Glitter – Silver and Basic Grey Brass Stars. They are mounted on stars cut from Sizzix Stars. Now that I have my party hat on, where's the cake?
I (May) have a lot of family birthdays coming this fall, so I wanted to get a jump on some card making!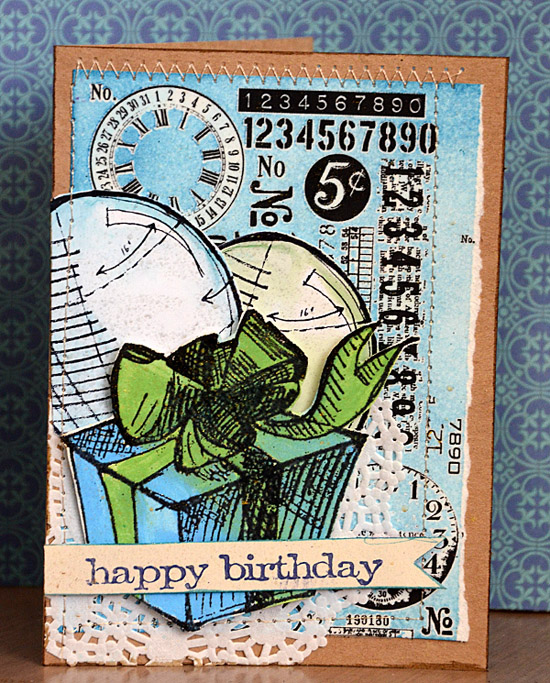 There's so much to celebrate – what to pick? Since I believe in crafting happy and doing what I please everyday, I decided to focus on birthdays in particular. I really don't use my Tim Holtz blueprint birthday stamps much – but I should! I love how these images can be cut out so easily and layered, creating a lot of fun in very little time. With some distress paint and the new seasonal distress markers I was able to color in greens and blues so that this card will be perfect for one of the birthday boys or girls in my life.
We are very happy to have Mona joining the team, and what a party it is! For her debut she created a cake for the celebration.
I'm thrilled to take part in the Simon Says Stamp and Show celebration. A party isn't complete without treats to share so I opted to create an industrial inspired cake. I covered two various size paper mache boxes using Metal Foil tape sheets that were embossed using the Riveted Metal Texture Fade embossing folder. I adhered the boxes together then randomly sponged on black soot Distress Ink. Now the cake was ready to be embellished so I made a variety of die cut flowers from the Tattered Florals Bigz Flower Alterations die and Tattered Flower Garland Decorative Strip . I completed the cake with a stamped sentiment from the Tim Holtz Cling Rubber Stamps Stuff To Say that was framed using a Ornate Plate.
Candy has created a shimmering festive birthday card/mini book in honor of Simon Says Stamp and Show's 3rd birthday.
Birthdays are those special occasions we love to celebrate with balloons, cupcakes, singing and lots of fun. So, I decided to take all of those things and create a really bright and colorful birthday card/mini book. Each page has a different colored balloon tab from Tim Holtz' Birthday Blueprints stamp set. Colored with Derwent Inktense Watercolor Pencils. Picked Raspberry icing, a Salty Ocean cupcake paper, a Squeezed Lemonade flame and Ripe Persimmon striped candle, the cupcake on the cover shimmers with added Perfect Pearls Powders. Happy Birthday Simon Says Stamp and Show!
Anna-Karin made a pop-up birthday card, with lots of glitter and stars.
I wanted to use some awesome Simon Says Stamp Exclusive products for this celebration challenge. For the background, and on the front, I used the fabulous Falling Stars die, as well as the Star Border. Fun sentiment stamps from both Shoot for the Stars and For the Record were stamped on the star pop-up and background. The pop-up was made with the Sizzix 3-D Star die. The background is glossy cardstock inked with Distress Inks using a brayer and it was placed on top of a cardbase which had been completely covered in silver glitter, so each tiny star glimmers.
Sandra Mouwen has a tutorial all about creating something which represents celebrating.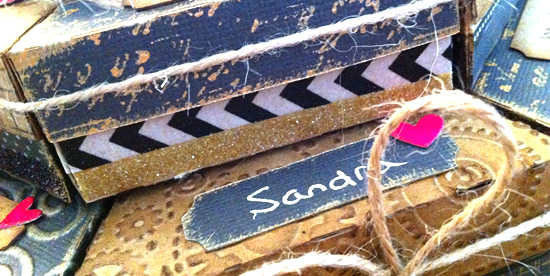 Be sure to check in Wednesday for her tutorial and see what she has come up with for this special celebration we having at Simon Says Stamp and Show!
For more inspiration click on our design team's blog links so you can see more photos (and full supply lists) for their projects. Leave them a little comment love while you're there so they know how they've inspired you too, if you're so inclined.

As always, Simon Says Stamp is giving away a $50 gift voucher that will go to a random entry chosen by random generator. To qualify all you need to do is create a new project that ties in (in any way!) with our theme and post it, along with a link back to this challenge, and add a link here. This challenge will end at 11:59pm on Sunday July 28 Eastern time.
We will also be choosing some of our entries to put in the spotlight – a special honor where we talk about why we loved that entry in particular and award a special badge too!
For the full rules, read the "challenge rules" posted in the side-bar here on our blog.
[raw]
[/raw]