Challenge: Inspired by Tammy Tutterow
If you've ever visited Tammy Tutterow's blog, then you know she creates amazing projects and intensely wonderful tutorials. She has so many great tutorials and inspiring creations that we decided to make a whole challenge based off of her work. The challenge is simple – be inspired by one of Tammy's projects or tutorials. You can of course run your own creative direction, you could try to more closely copy a project, or anything you so desire. There is a lot to be inspired by, and if you're like me you might find yourself spending hours just admiring the beautiful photos of amazingly detailed projects that Tammy has created.
We here at the Monday Challenge Blog are feeling lucky because not only is she inspiring our challenge this week – Tammy is going to join us as well! We encourage you to be inspired by one of her tutorials or projects and join in the fun this week.
Mona was inspired to create a fall tag featuring an altered plate inspired by Tammy's Tutorial: Distress Stain On Metal.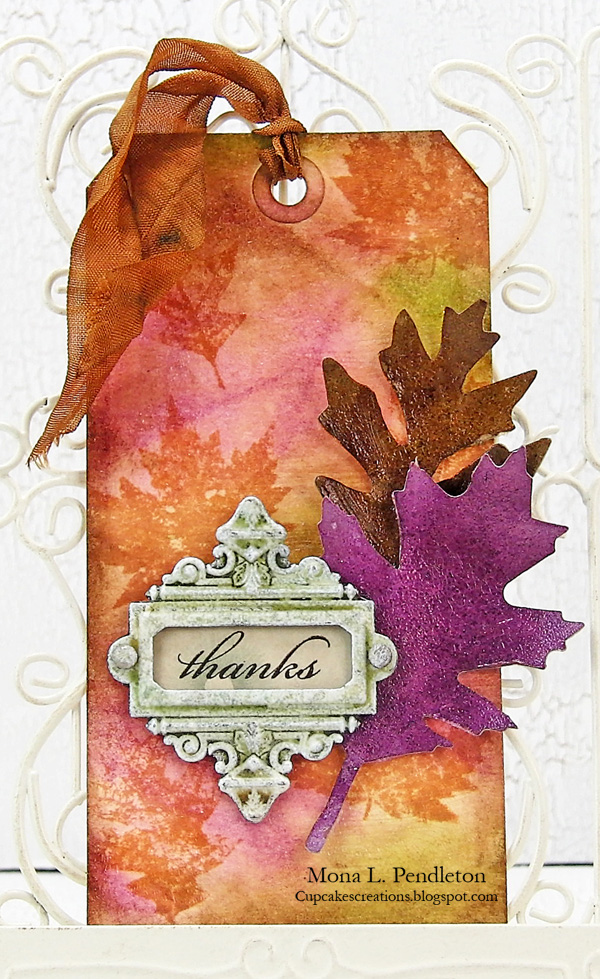 I love the way the altered plate looks with just a few simple steps. After creating a fall inspired tag with lots of fall leaves, I completed it with an altered frame using a combination of bundled sage and brushed corduroy Distress Stains. Imagine the possibilities that you can achieve using this fab tutorial!
Andrea couldn't stop at just one of Tammy's tutorials and took inspiration from a stencil transfer tutorial and a flower-coloring tutorial to create her beautiful card.
Sometimes creative rebellion pays off and sometimes it just makes your project look ridiculous. I'll be honest: as I was following one of Tammy's tutorials, I went off on my own "here's a great idea" tangent that did not turn out so great. Suffice it to say that I learned some memorable what-not-to-do's on this week's creative journey. But luckily, with Tammy's excellent guidance and tips, I was able to correct my "whoop's" moments and salvage my card by using these forgiving Prima flowers and an inspiring Tim Holtz stamp set.
Anna-Karin loves the techniques Tammy shares in her great tutorials and was inspired by two different tutorials when she created this autumn luminary.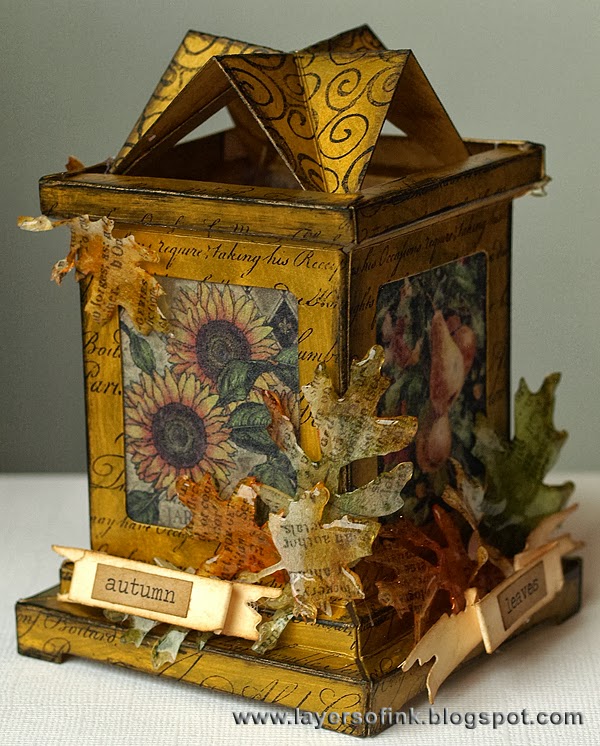 I always enjoy transfer techniques and wanted to try Tammy's Frosted Film Transfer technique. I thought the technique would work great together with Tim Holtz brand new 3-D Luminary die and made a luminary with four different frosted film transfer windows, using Graphic 45 papers. To embellish the luminary, I used Tammy's Melt Art Tissue Wrap Jeweled Leaves tutorial and ended up with beautiful translucent UTEE tissue wrap leaves.
Tracy was inspired by Tammy's blog post showcasing a seasonal decorated Assemblage Clock.
I am keeping up with my personal challenge to create one seasonal piece each week so when I saw Tammy's blog post showcasing a decorated Assemblage Clock inspiration struck instantly and I was keen to decorate one of my own. Tarnished Brass Distress Paint and Ginger and Mushroom Alcohol Inks helped to give the clock an aged rustic feel and the Seasonal Paper Stash was perfect for a backdrop in my clock. This was one of those pieces that I fiddled with for ages and I struggled to stop, so much fun.
Candy loves Tammy's work and her tutorials. She was inspired by Tammy's tutorial showcasing stamping on vellum to create dimensional pieces and also using a Silver Paint Dabber to create a resisted background.
I have always admired Tammy Tutterow's vintage style and her wonderful tutorials. She inspired me to create this sweet vintage door hanger. Darkroom Door's Window stamp reminds me of old farmhouse windows, brittle with age and lack of paint. The dimensional potted summer flowers on the window sill are stamped onto Specialty Stamping Paper and also onto vellum, using Tammy's tutorial idea to create dimensional objects.
Sandra Mouwen had a blast looking around on Tammy's blog for inspiration for this challenge


Tammy Tutterow is so talented and it was really inspiring to look around on her blog for a fun technique. I love her technique Tuesdays, and there I found the Distress Paint Linen Texture technique. I put my own spin on it, such as I used the Flourish Prima Marketing Template with the Emboss it Dabber, instead of using a more solid background stamp. It's absolutely magic when you lift off the Clear Embossing Powder with the iron and some plain paper.
Michelle loves kraft paper and was eager to try Tammy's Pastel on Kraft Tutorial.
I love creating tags. Neenah Desert Storm Cardstock is my favorite kraft paper and I was curious to know if it would support wet mediums. It did! Through trial and error, I made a set of tags with gold enamel dots and gold paper feathers.
Rather than being inspired by a specific tutorial, I (May) was inspired by Tammy's layered cards.
I am always so drawn to Tammy's way of making detailed and layered cards and I always wish I would take the time and really put more detail work into a card now and then. So I took this week's challenge as an opportunity to do just that as I used paints and water to color this pumpkin stamp on fabric, and add lots of touches from layered cardstock to gold stitching.
There are so many awesome tutorials on Tammy's blog, Ashli had a hard time choosing…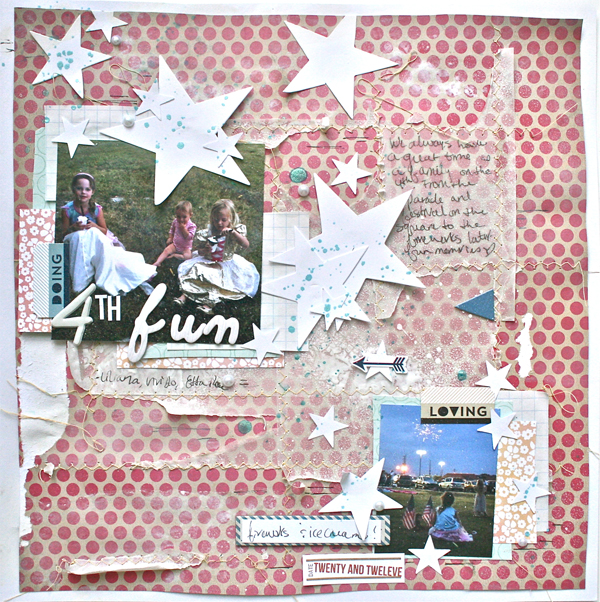 Yep! Tammy's blog is FULL of inspiration, after a good look-see, I finally settled on her use of vellum and stars from her Merry and Bright card. I couldn't wait to put the stitched and then torn vellum to use on the background of my layout. Then, after layering up my photos and paper scraps, I embellished with loads of die cut stars. It was so fun to put these techniques to use for a Fourth of July page!
Meihsia loves to use melting pot and UTEE. After reading Tammy's Tuesday Tutorial: Melt Art Tissue Wrap Jeweled Leaves, she decided to make a home décor featuring the melting technique.


I found a piece of chip décor at local craft store and it's just the right size to hang on the wall in front to my craft desk. I've always loved the beautiful effect of melted UTEE so on this chip décor, I applied various medias such as GESSO, Modeling Paste, Sprays, Gelatos, and Acrylic Paints on the background, then covered the surface with UTEE. Being inspired by Tammy's tutorial, I randomly dabbed the Ranger Adirondack Acrylic Paint on melted UTEE and I love the beautiful texture and shiny result.
Dan was inspired by the multi-layered background created by Tammy in her Let Me Count the Ways tutorial.


There is so much cool stuff on Tammy's blog that it took me quite some time to focus in on just one inspiring tutorial. One thing that cropped up for me repeatedly during my perusal of Tammy's blog was an admiration for her multi-layered, multi-media style and her love of manila tags (something we have in common). I took her tutorial as my starting point and set off down my own path creating this multi-layered tag with paints, inks, gesso and stains. Among the products I used were the French Industrial paper stash, Paris Memoir stamp set, Claudine Hellmuth Gesso and a range of Distress Stains.
Suzz had fun searching through all of the inspiration on Tammy's blog. She found a watercolor foil technique that inspired her to try something new.
The foil technique was something I hadn't tried before and I love my watercolor pencils so this seemed a perfect technique to try. With a few basic ingredients Metal Foil Tape Sheets, Pink Paislee Hope Chest Paper, and PaperArtsy Hot Pick 1009 I was able to learn something new. Of course I made a few mistakes along the way which gave me a different result which I was pleased with.
Tune back in Wednesday to see what Tammy is up to this week.
That's right – Tammy Tutterow will be our guest here this Wednesday so be sure to check back in and see what she's done with this feather die and so much more.
For more inspiration click on our design team's blog links so you can see more photos (and full supply lists) for their projects.
Now it's your turn! Whether you're inspired in general or by a specific project of Tammy's be sure to share how your piece ties into this week's challenge and get creating! We can't wait to see what you make and how you're inspired.

As always, Simon Says Stamp is giving away a $50 gift voucher that will go to a random entry chosen by random generator. To qualify all you need to do is create a new project that ties in (in any way!) with our theme and post it, along with a link back to this challenge, and add a link here. This challenge will end at 11:59pm on Sunday October 13th Eastern time.
We will also be choosing some of our entries to put in the spotlight – a special honor where we talk about why we loved that entry in particular and award a special badge too!
For the full rules, read the "challenge rules" posted in the side-bar here on our blog.
[raw]
[/raw]