Make a (paper) cake with Sandra Mouwen
The Simon Says Stamp and Show challenge has been posting challenges now for 3 years, and that needs to be celebrated. This weeks challenge is therefore devoted to celebrating!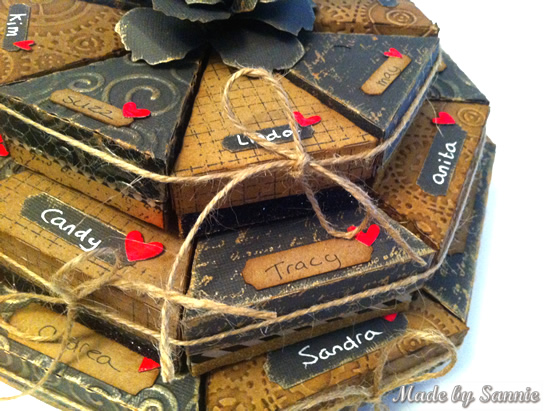 Hi, Sandra Mouwen here and I will show you how I made and decorated this 3D cake which can be used as a décor piece, but also can store treats.
I designed the cake pieces in Adobe Illustrator and made it in two kinds of files. PDF file to print out and cut the parts out by hand and SVG file for if you have a digital cutting machine that can handle the SVG files. Click here to download the zip file containing all the files.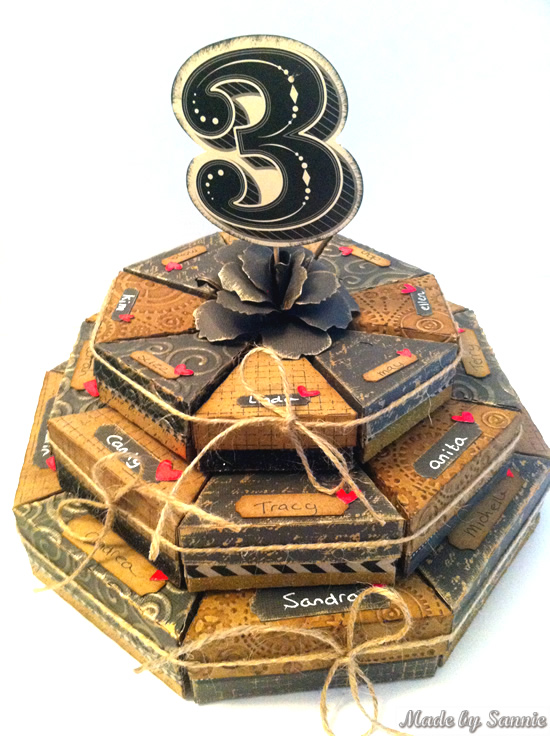 As you can see it's a 3 tier cake and each layer consists of eight cake parts. I decided to go for a grungy but slightly elegant look and chose for my favorite colors black and Kraft. The whole cake is made out of 10 sheets of 12 x 12 inch cardstock. 5 sheets of Bazzill Kraft and 5 sheets of Bazzil Black cardstock. With the Silhoutte Cameo Digital Cutting Machine I've cut out all the pieces. It's a bit of a puzzle to get the most pieces out of a 12 x 12 inch sheet.
When everything is cut, it's time to decorate the pieces. I have 4 different designs but only two are really different. This is for three layers.
First I made this lid. I embossed it with the Tim Holtz Swirl Embossing Folder. I so love those swirls, that design so versatile!
To see the texture better, I gently went over the raised areas with the Gold Paint Dabber and also over the fold lines.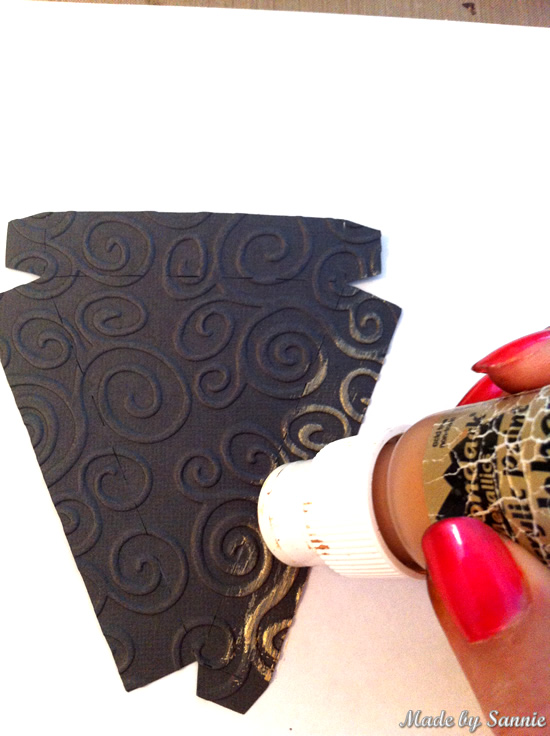 When the paint is dry, I folded all the lines used some Glossy Accent on the tabs. Glossy Accents is my favorite glue for this type of project, as it's strong and dries quickly.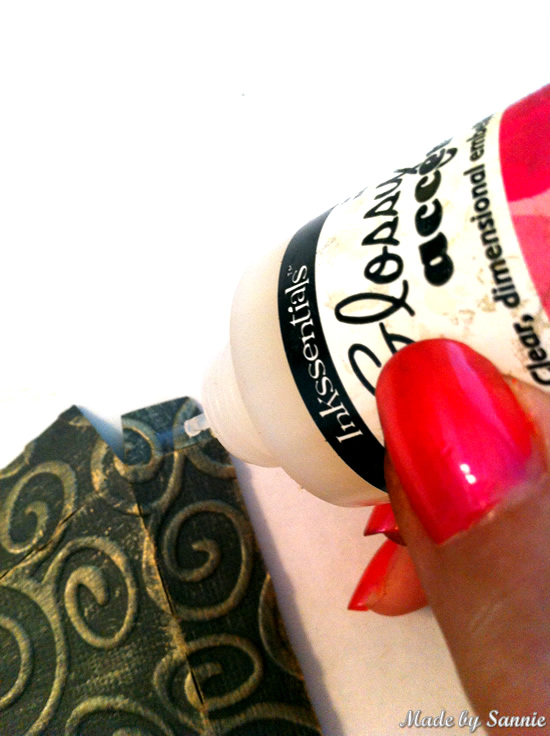 Hold it in place so it can dry for a bit. Repeat this for each tab and the lid is finished.
Time to make a bottom part. On the front side I used glitters which look a bit like cookie crumble. This bottom part is Kraft, which is hard to see now. It's covered with Post-its to cover the areas that don't need glue. I also covered up the tabs, I don't need glitter on those either. I placed another piece of washi tape over the one that I want to show. So it protects it from the glue and the glitter.
The glitter I used is the Rock Candy Distress Stickles Dry Glitter. I colored it withwith Mushroom and Sunshine Yellow Alcohol Ink to make a cookie crumble color. I sprinkle it on the glue. I placed a piece of scrap paper on top and carefully pressed into it so the glitter will stay better in place. The excess glitter will go back into the container and then I removed all Post-its and the excess piece of washi tape carefully before the glue can dry.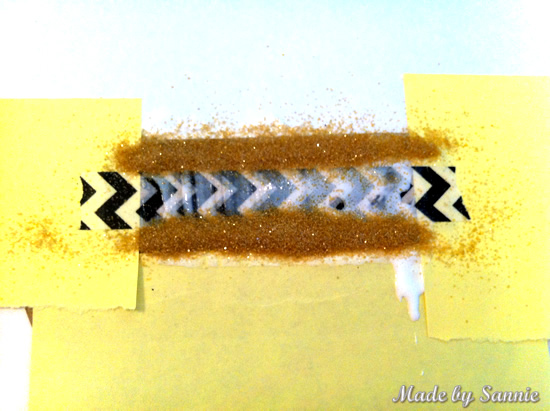 The edges are distressed with Distress Ink Gathered Twiggs Distress Ink to give it some dimension. The last step is to fold it and put some Glossy Accents on the tabs and hold it in place while it dries. The same steps as with the lid.
This is the last cake part that I'll show, since the rest is similar. To align the stamps it's necessary to stamp in line with the edges of the bottom. I masked all the parts that need to be covered before I stamped.
To make it seem as if there is filling in the cake, I used washi tape on all the edges. These edges are also distressed with Distress Ink Gathered Twiggs Distress Ink to give it some dimension.
The other bottoms and lids are made with the same principle. The black parts I stamped and did the fold lines and edges with Gold Paint Dabber.
Here are some more detail photos of my finished cake-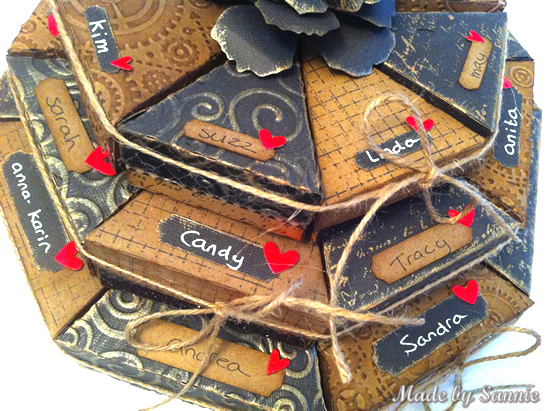 This cake has just enough pieces to have everybody's name on a slice that has ever been a part of the Simon Says Stamp and Show DT. I tied the cake parts together with a rope so that it fits nicely and it's also a it more stable.
Hope you've enjoyed this tutorial and would like make your own one some day.
Supplies Used:

Thanks to Sandra for this amazing and delicious looking tutorial! I love how she made the most aged and vintage cake I've ever seen – and I'm thinking this would be super fun for a party!
Want to join in the party? Then join us in this week's challenge! For the full rules, read the "challenge rules" posted in the side-bar here on our blog, and be sure to enter your challenge in the post below this one.