Challenge: Ticket, Please!
Before we get to this week's challenge, I (May) would like to say how much fun I've had the past three years here on this team, creating and being inspired along side so many talented designers. It has been my pleasure and honor leading this team and this will be my final challenge leading the team. Don't worry – the challenges are still going to be coming and a new leader will be stepping in. But for this week, I just take this moment to say farewell and thank you all for making this special challenge blog so much fun!
Now onto this week's challenge! Design team member Sandra challenges us this week to show our tickets. Trains to movies, concerts to planes, stamps to paper – let's see your tickets!
Sandra made an invite tag for a movie night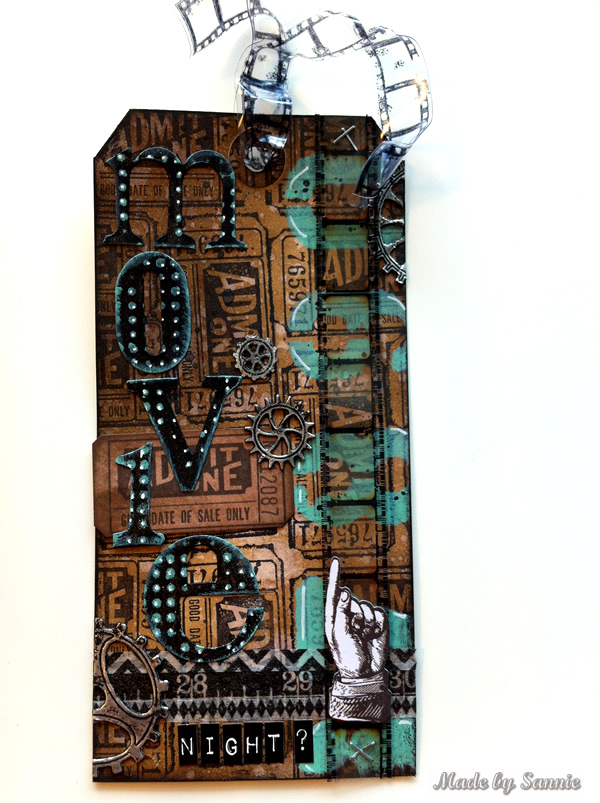 I love going to the movies, I even have a membership of the local cinema. So this tag is inspired by movie tickets. I started with inking the background with Walnut Stain. I needed some light color and choose Cracked Pistachio Distress Paint and the Numbered stencil to apply it. To give the letters a marquee feel, I used the Dot Fade stencil with Cracked Pistachio, some Wink of Stella Glitter and a Sharpie Pen.
I (May) have two tickets…
For my entry this week I was inspired both by a song and my favorite Tim Holtz tickets. I had a lot of fun bringing Blueprint Sketch into the fold and playing with all kinds of bits and pieces. Now that I've got my tickets out – where shall we go?
Maura is fascinated with trains, especially the old steam engines.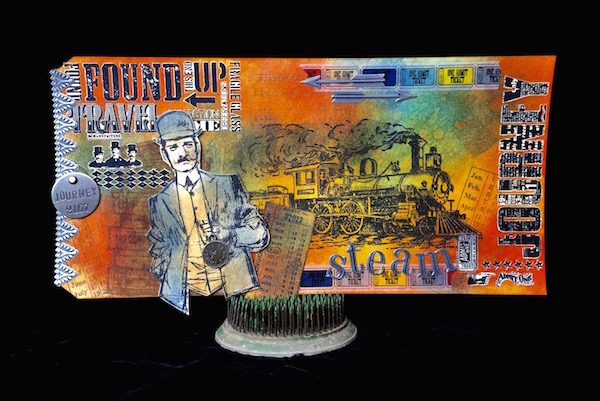 I love trains, I love to watch them, I love to ride on them. I think it all goes back to when I was a little girl and my family went in to Boston to pick up my grandparents who came to visit us by train. I knew a vintage/steampunk style would be just right for this, so started with a giant tag just to have enough room for this great Tim Holtz train stamp . I pulled out my remnant rubs which worked beautifully with the distress inks like the ripe persimmon. Anyone ready for a train adventure with me?
Emma is giving you a ticket to the world!
I love using vintage photos in my projects as they instantly capture a moment in time and create a story and for my project this week I created a canvas, taking you on a world journey using lots of Tim Holtz products including a photobooth image as the main focal point. I surrounded the photo with a die cut globe, clouds cut from sparkly paper and added various idea-ology pieces including an arrow from the Alpha Part Framed set and the fabulous Correspondence Design tape.
Nicole is ready for the picture shows.
I just love all my ticket stamps and Sizzix dies especially the Movers and Shapers Big Ticket. This bright 8×8 Seasonal Paper Stash is a great starting point full of color and eye popping images. I wanted my Bird Crazy Bird to pop so I went for stark black and white. This fun wall hanging is a perfect addition to my vintage media room.
Ashli was inspired by a recent museum outing this week!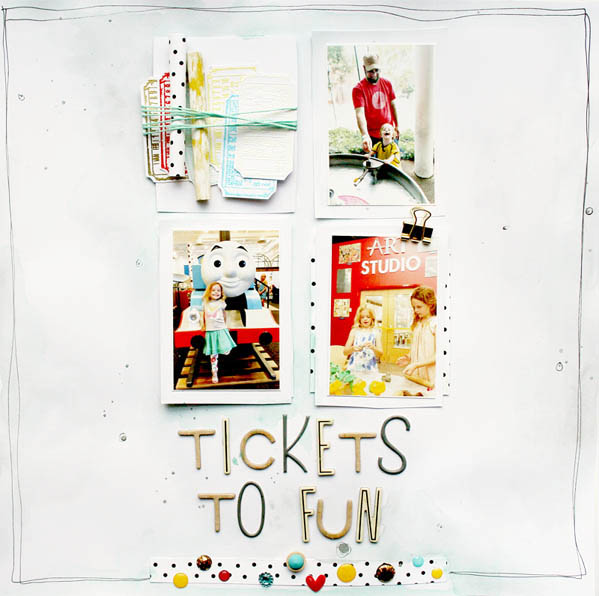 We recently went on a little family day trip to a local children's museum. It was so much fun! Using Tim Holtz's ticket stamp, I heat embossed my colorful little embellishments. Adding in some paper rolls from the Basic Grey Barista Pad, as well as some Floss, completed my little cluster. With an interactive flap under a photo for journaling and my title in place, this day is scrapped!
Meihsia was inspired to create a mixed media tag with some tickets.
This week I decided to use my favorite pattern paper from Tim Holtz Paper Stash Lost and Found collection to create a ticket tag. After embossing the ticket background using Tim Holtz Embossing Folder, I added a layer of Faber-Catsll Glaze, and decorated the tag with Tim Holtz Metal Word Band and Idea-Ology Numbers Rubs.
Suzz used the tickets theme to take a trip to her imagination.
I decided to create a set of tickets in a match box using my tickets as entry to my imagination. I love designing on a smaller scale and this gave me the opportunity to create a series of tickets using leftover backgrounds created with the Heidi Swapp Color Shine Sprays. I then pulled out the Idea-Ology Photobooth images drive the destination of my imagination. I loved finding the right sentiment to go with each ticket and image. My favorite might be the Wendy Vecchi Domestic sentiment about having a bad hair day. I remember plenty of my grade school teachers sporting the do on the image on that ticket.
Cheiron was inspired by lottery tickets and came up with this lucky ticket shaped card.
I love giving scratch off lottery tickets as a gift and decided to created a lucky ticket card using my Tim Holtz Big Ticket die to hold my gift. I used my Tim Holtz clover punch as a stencil and inked through it using a foam blending tool using Twisted Citron and Mowed Lawn Distress inks. I finished it off with a little Black Soot marker sprayed with the Distress Marker Spritzer.
After playing with an enormous amount of tickets, Michelle pushed them aside and created her own.
I discovered an overwhelming amount of tickets in my stash! So many, in fact, that it freaked me out. I put them all away and cut a new one with my Lawn Fawn Stitched Die. The clean surface was perfect for a "Hello" stamp!
Andrea loves the excitement of tickets, but is not a fan of ticket lines.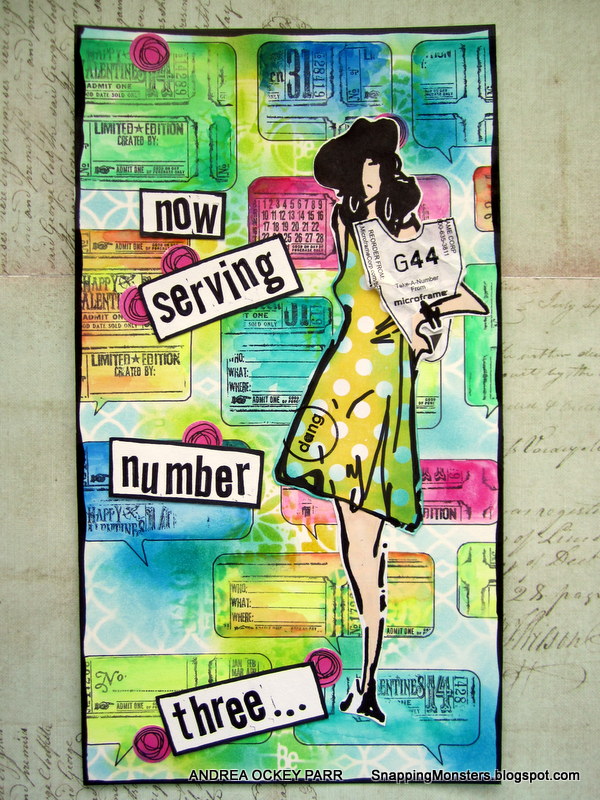 Ah, tickets! So many happy memories come to mind! And yet like a dark smudge on my memory bank, I saw myself waiting in line with my number ticket for what seemed like hours at a certain fabric store which shall remain unnamed. I waited and waited and waited and…well, you get the idea. So I paid homage to this event by making a background out of Tim Holtz's Odds and Ends stamps which were stamped over a speech bubble mask.
Anna-Karin loves tickets and has quite a collection.
The shape of a ticket lends itself to a mini book, and I made a notebook using the Sizzix Photo Love die set. The Timeless Memories papers by Prima have just the right amount of texture for notebook pages, without too much detail overwhelming the text. I embellished the cover and the papers with stamps by Finnabair, and a butterfly stamped on Clearly For Art Modeling Film.
For more inspiration click on our design team's blog links so you can see more photos (and full supply lists) for their projects. Leave them a little comment love while you're there so they know how they've inspired you too, if you're so inclined.

As always, Simon Says Stamp is giving away a $50 gift voucher that will go to a random entry chosen by random generator. To qualify all you need to do is create a new project that ties in (in any way!) with our theme and post it, along with a link back to this challenge, and add a link here. This challenge will end at 11:59pm on Sunday August 30th Eastern time. We will also be choosing some of our entries to put in the spotlight – a special honor where we talk about why we loved that entry in particular and award a special badge too! For the full rules, read the "challenge rules" posted in the side-bar here on our blog.
[raw]
[/raw]