Challenge: Citrus with a Twist
Twisted Citron has me thinking about all things citrus, neon, and fresh! This week from oranges to bright fresh color we want to see how you'll use citrus… with your own twist.
Anna-Karin's art journal page turned into something different than planned.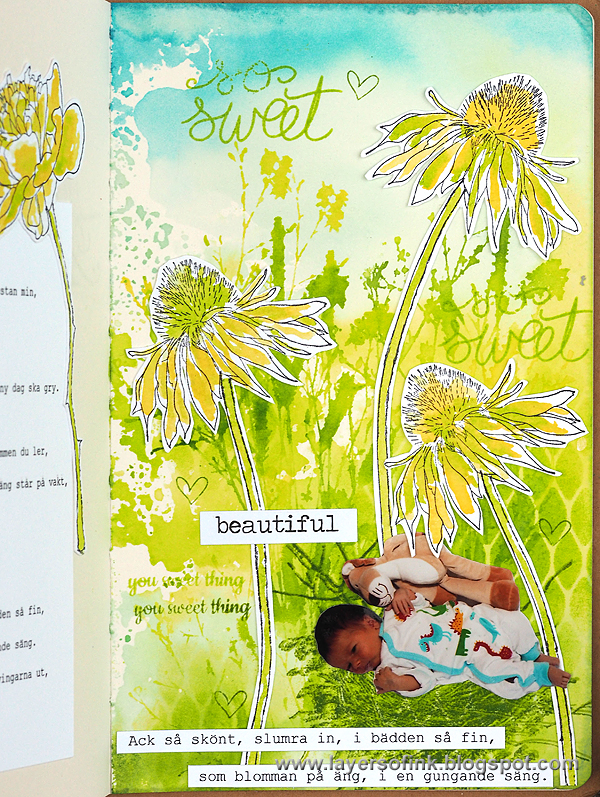 I started out thinking about lemons and ended up doing a page about finding shelter underneath pretty flowers, on a soft bird's nest. Twisted Citron Distress colour is a new favourite colour of mine and I used it generously here. The flowers come from Tim Holtz Flower Garden set and the sentiments are from a Simon Says Stamp set, which also includes a lemon.
Nicole went floral with her project this week.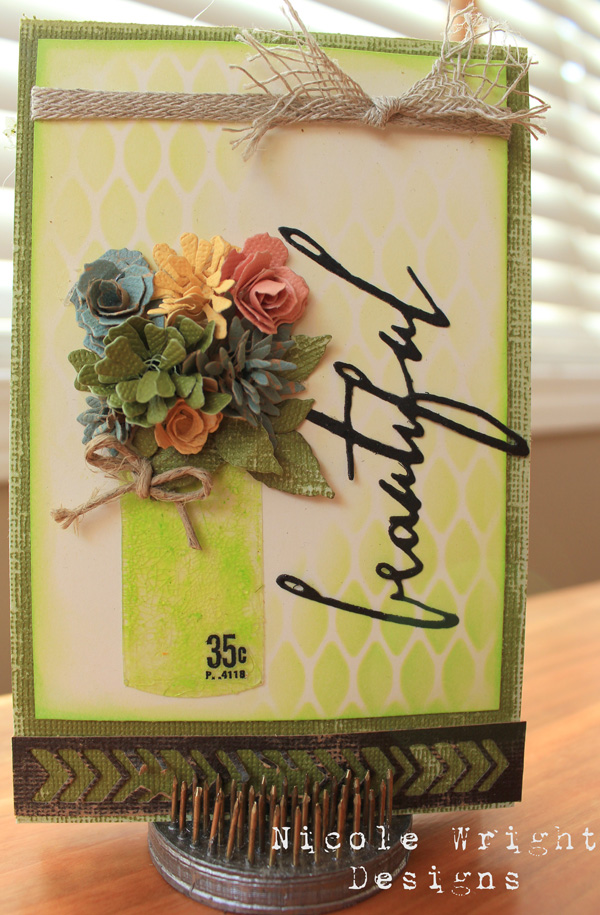 Who doesn't love the new Twisted Citron with it's vibrant green? I love using it as a background with the mesh stencil. Why not crackle the Mini Apothecary Bottle and add some stain? This inspired a lovely card with a bouquet of flowers.
Cheiron loves Twisted Citrus with Picked Raspberry.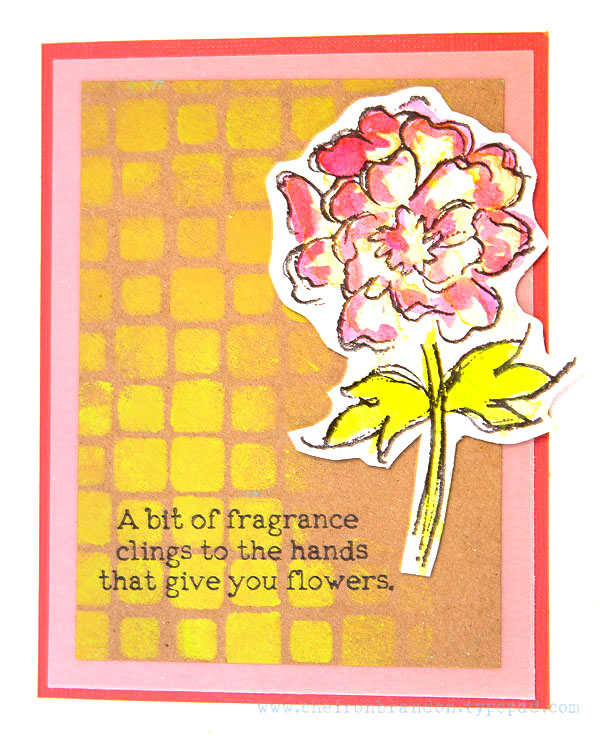 I love the color combo of green and pink so Twisted Citrus and Picked Raspberry were the perfect summer color match for me. I added some Twisted Citrus Distress Paint to kraft paper thru the Tim Holtz Tiles layering stencil to create a background. I "watercolored" the flowers using Distress Stains and a small brush.
Michelle is loves seeing her citrus.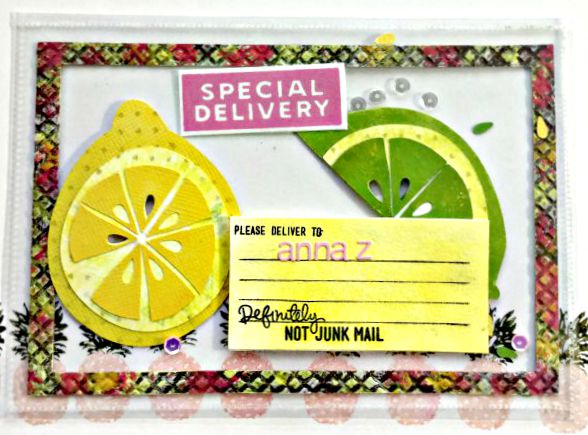 Slices of Lemon and Lime were fun to make with my Silhouette Cameo. The new Fuse tool is a blast to play with and sealed in the fresh fun to make a transparent postcard.
Floating beach umbrellas reminded Suzz of citrus slices this week.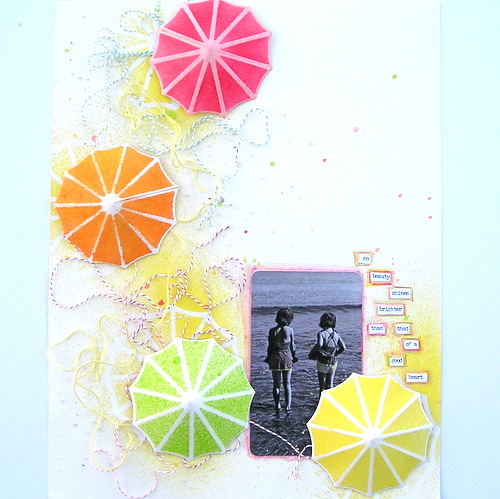 I kept seeing fabulous pictures of sliced citrus on line in the most beautiful colors. It reminded me of the very cool Hero Arts Umbrella Fancy Die. I had the best time looking through my sprays and mists for colors to use for my citrus and ended up with the Heidi Swapp Color Shine – Salmon, Ranger Distress Stain Spray – Twisted Citron, Dylusions Lemon Zest Spray and Dylusions Pure Sunshine Spray After that it was refreshing fun creating floating beach umbrellas in citrus color for my journal page.
Maybe Andrea has a twisted mind, but the thing she thought of first with citrus was a grater.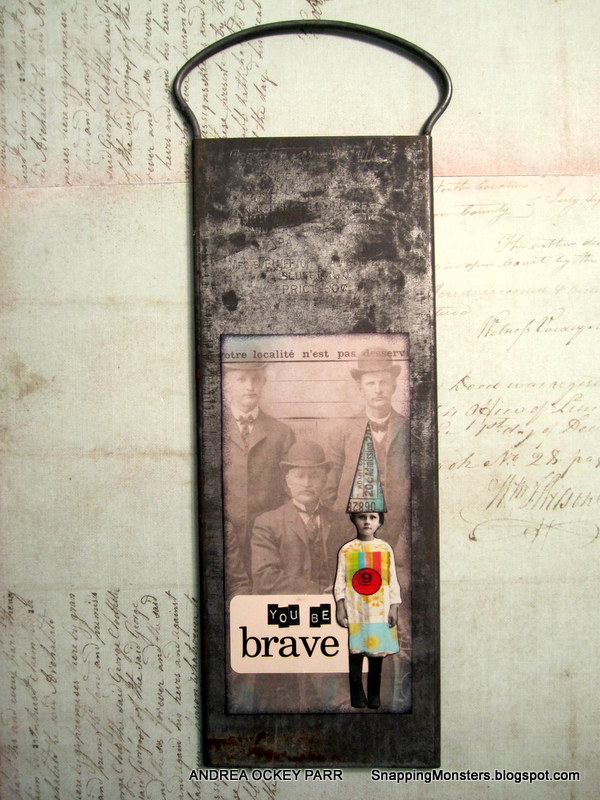 My mom is a brilliant cook and even does fancy things like add lemon zest to things. I can see her in my mind's eye using all sorts of graters as the scent of citrus filled the air. I decided to pay homage to her by turning a vintage grater into a magnetic memo holder using Tim Holtz's Found Relatives cards, French Industrial paper, and Elementary Flash Cards.
Barbara really likes the bright colors and this is definitely the best season to take advantage of their potential.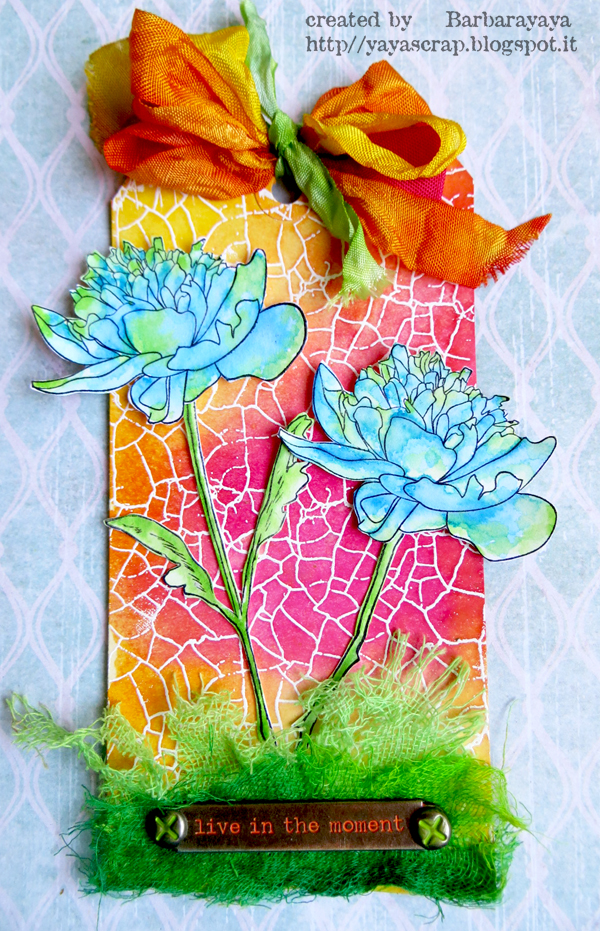 For my tag I have chosen to use the most yummy distress sprays, combined with the background crackle effect, with white embossing powder to contrast. Also my flowers are totally vibrant and in my little lawn the new amazing Twisted Citron has the lead role. Enjoy the summer!
Citrus colors remind Meihsia of drinking a glass of cold lemonade or a cup of grapefruit smoothie in the hot summer.
My favorite summer drinks are a reflection of summer itself: bright, fun and refreshing. To create the bright citrus color scheme on this art journal page, I applied different shades of Izink ink on the background. The cup image was stamped with Tim Holtz Stamp and Memento Black Ink. Instead of iced coffee, it's grapefruit smoothie in the cup.
Sandra made a tag with a twist of citron.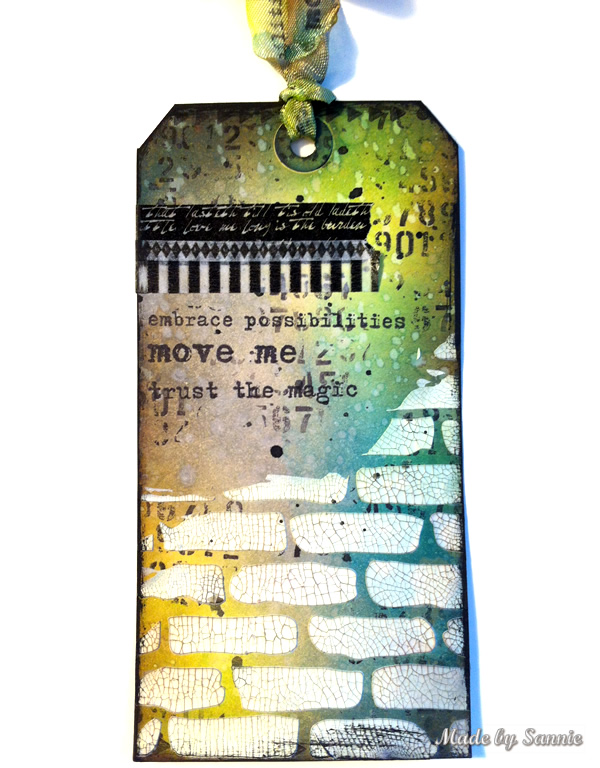 How great are the new 2015 Distress colors? I'm not only played with the Twisted Citron, I also had to go with Hickery Smoke and Mermaid Lagoon! It's amazing how these colors mix so well together. I'm loving this bright addition. It brings some freshness to the palette. To add some interest to my tag, I mixed a little Twisted Citron in with the Crackle Paint and applied a medium layer with the Bricks stencil.
Ashli was inspired to create a sweet little card this week…
I love having cards at the ready and this week I decided to craft up a card that could be sent for a thank you, or perhaps when someone just needs a little sweetness sent their way. With my trusty Pitt Pen, I created a striped paper to back my Watercolored orange with. Some little Doodlebug Sprinkles finish things off perfectly.
Emma had some inky fun making this card with a pop of citrus!
When I first saw Tim Holtz's Twisted Citron, it was love at first sight and made me think of summer and mojitos and this challenge gave me the perfect opportunity to create a card showcasing this gorgeous colour! I added zesty coloured handmade paper blooms to a background of Hickory Smoke Distress Spray Stain and completed the card with mini sprocket gears and a Small Talk sticker as a finishing touch.
Summer days in the garden are on Maura's mind.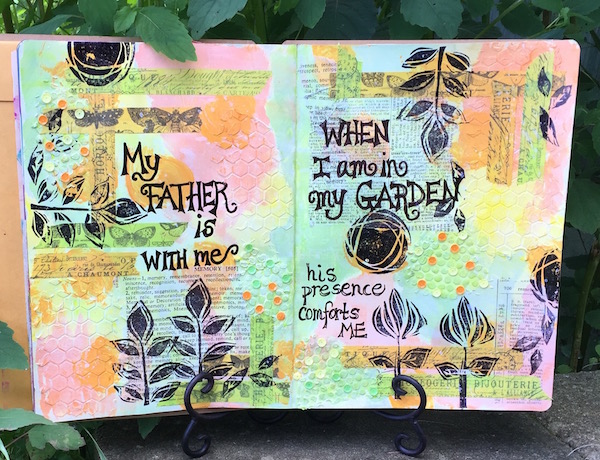 I can see that gardening is still in my thoughts this week. I spent many a day in the gardens helping my dad when I was a little girl. I wanted to play with citrus colors in my art journal, and I love the Dylusions paints, fresh lime, lemon zest , and squeezed orange, they are such lush and lovely colors. They played very nicely with the Distress twisted citron products .
I (May) went for the classic trio of citrus hues.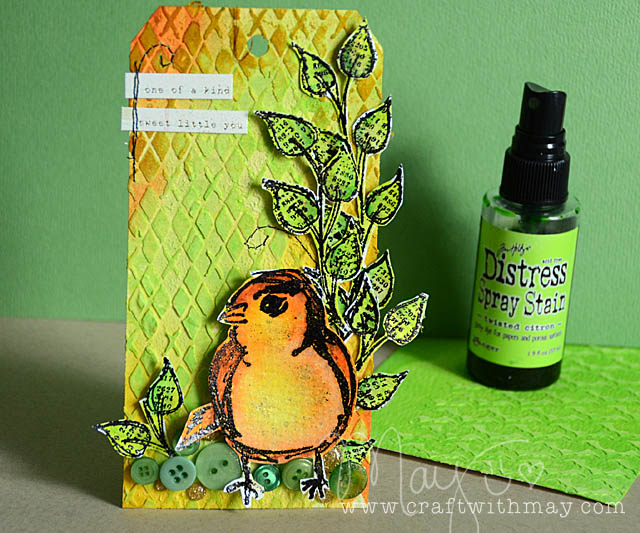 Twisted Citron leads the way into my bright tag. Why with the new Tim Holtz stencil and a few goodies I found myself surprised to see that orange, yellow, and green could be a combo I enjoy quite a bit! I'm thinking about darkening things up a bit for some autumn projects but in the meantime I'm really enjoying the bold summer citrus hues.
For more inspiration click on our design team's blog links so you can see more photos (and full supply lists) for their projects. Leave them a little comment love while you're there so they know how they've inspired you too, if you're so inclined.

As always, Simon Says Stamp is giving away a $50 gift voucher that will go to a random entry chosen by random generator. To qualify all you need to do is create a new project that ties in (in any way!) with our theme and post it, along with a link back to this challenge, and add a link here. This challenge will end at 11:59pm on Sunday August 23rd Eastern time. We will also be choosing some of our entries to put in the spotlight – a special honor where we talk about why we loved that entry in particular and award a special badge too! For the full rules, read the "challenge rules" posted in the side-bar here on our blog.
[raw]
[/raw]