challenge: coffee or tea?
With the popularity of coffee and tea themed stamps, die cuts, and more it was only a matter of time before we took this on as a challenge! You're welcome to tea stain your paper, leave a coffee mark on your page, use Tim Holtz new coffee or tea stamps or dies, or be inspired by your own favorite beverage!
Hoping her writing utensils share her love of warm beverages, Andrea made a teacup-shaped pen holder.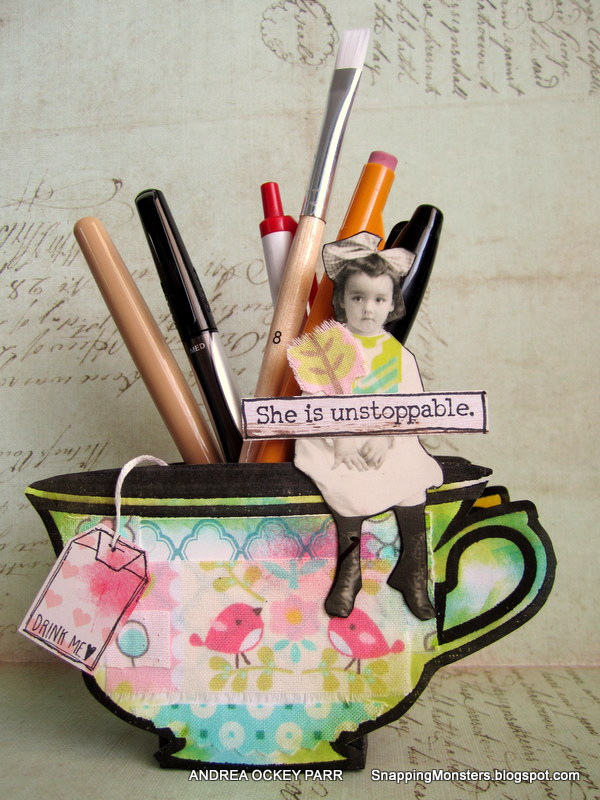 I don't drink coffee or tea, but I do ingest hot chocolate by the bucketful. LOVE it and think a teacup is the perfect iconic shape for many things, including a 3D pen holder. I made this by using a teacup stamp from Mama Elephant's Warm Wishes set, which I enlarged on a copy machine. I added a girl from Tim Holtz's Found Relatives set and added a cute little tea bag from Prima's Coffee Break stamp set.For more inspiration click on our design team's blog links so you can see more photos (and full supply lists) for their projects. Leave them a little comment love while you're there so they know how they've inspired you too, if you're so inclined.
Coffee or tea? Hard question for Barbara!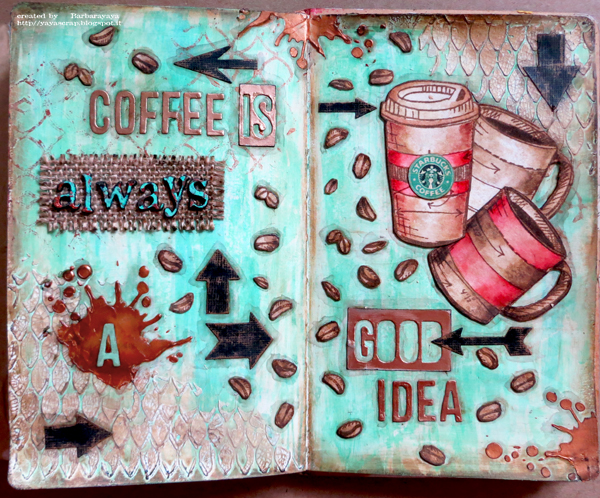 Tim's themed stamps are absolutely perfect! I enjoyed it to create "spots" of coffee with embossing paste and coloring the cups with Distress markers and I tested my patience with stamping and cutting the little coffee beans. ! I chose a quote that seems to me absolutely true:  coffee is always a good idea!
I (May) find that a card with a coffee place gift card is always a welcome present!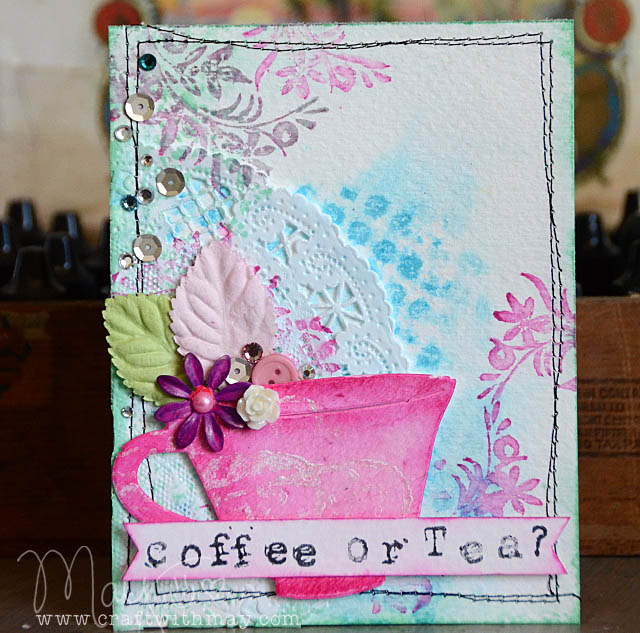 This Tim Holtz tea cup die has become an absolute favorite in my crafting. I love inking it up, stamping on it, stacking them, and using them on everything from cards to custom place settings! Today I'm keeping it simple – a nice card to mail off to a friend in need of a cup of coffee or tea! I'll let her decide- just as you can decide how to be inspired by this week's challenge.
Having recently gone for a week without coffee, Ashli was inspired to scrap about that!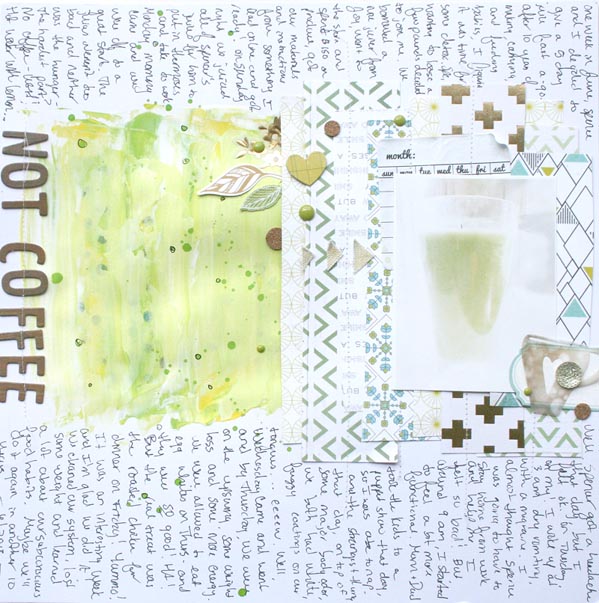 Using some of the gorgeous Dylusions Paints and a Polka Dot Stencil, I created a foundation reminiscant of my photo. A little die cut Coffee Mug added the perfect embellishment. I chose to journal with my Pitt Pen, in a sideways fashion to create more of a visual texture, along with my title. A week of no coffee… documented!
Maura brewed up a bit of coffee humor.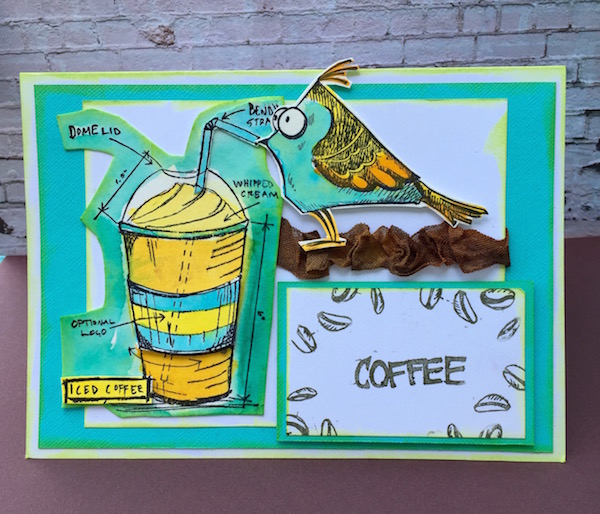 I love my coffee, so this was the perfect time to pull out my Tim Holtz Fresh brewed stamps. One of my favorite mediums to work with are my Peerless Watercolors. They have such brilliant colors and are so easy to take with me wherever I go, just like a cup of coffee!
Anna-Karin loves the first cup of coffee in the morning.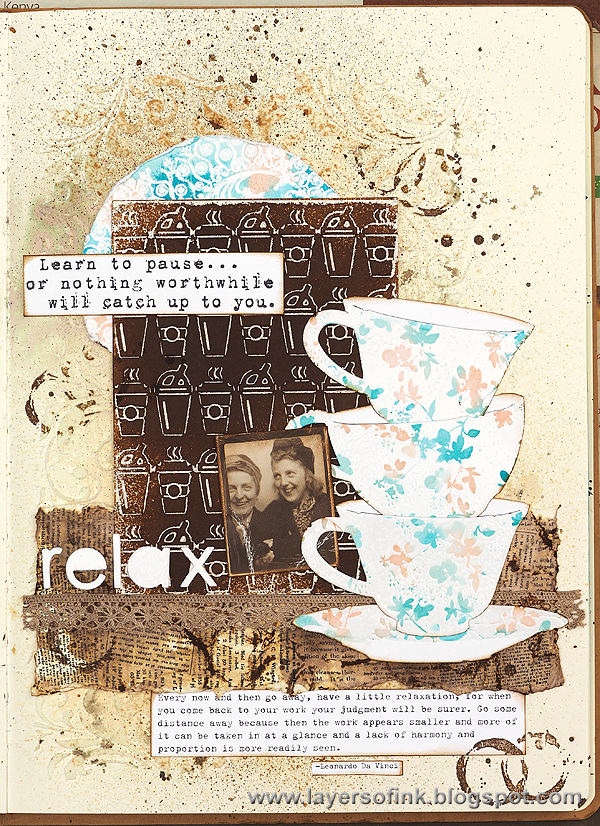 I did an art journal page in my large Dylusions journal, about the need to relax. It was fun making pretty porcelain cups using Tim Holtz Sizzix Tea Time die. The dry embossed panel was done with Inksheets and mist. I also found the perfect sentiment stamp to use here.
Emma turned back the clock and was inspired by vintage tea dances!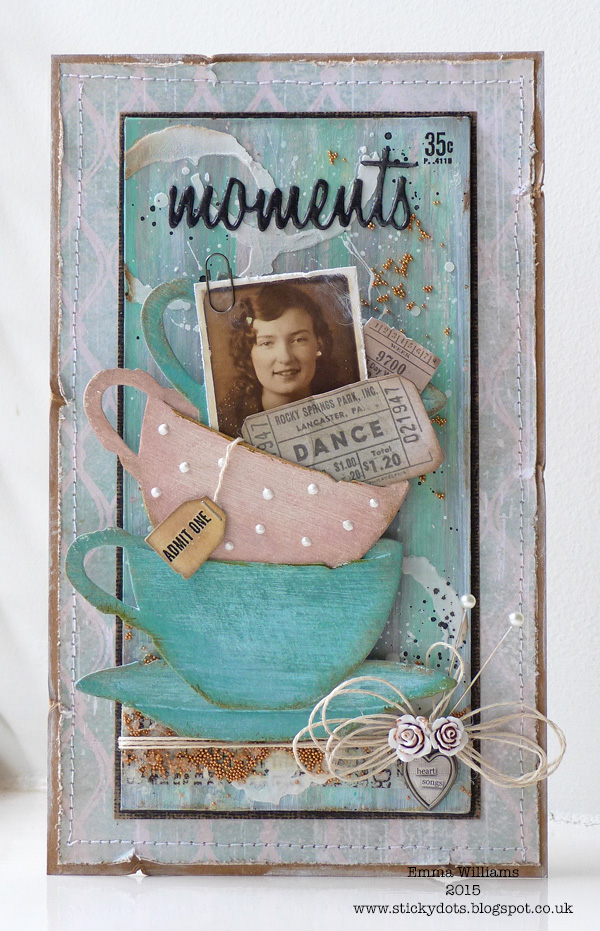 Inspired by the 1940's tea dances, I created a panel using the Tea Time die as the main focal point. I added pretty pastel tea cups, complete with ephemera pieces and a beautiful Photobooth photo to a background of Distress Paints and Texture Paste and completed the project with a die cut word and some idea-ology pieces.
Coffee and tea stains were Sandra's inspiration for this tag.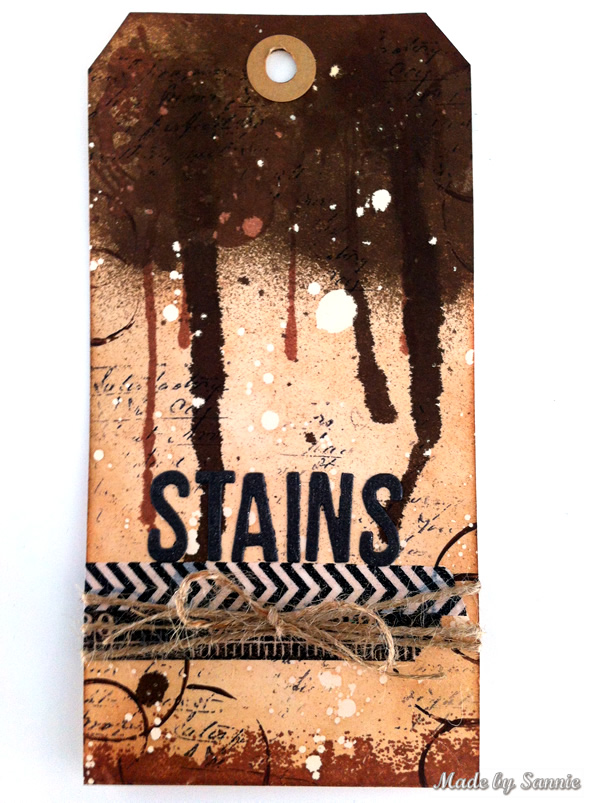 I'm only a fan of coffee and tea stains on my art projects. Well, only if they're intended of course…I used mostly brown inks for this tag. All with a name that is inspired by the theme stains: Tea Dye, Walnut Stain Distress Ink and Coffee Archival Ink. I stamped some stains from the Chase Rainbows stamp set and made some with Walnut Stain Distress Stains in a spray bottle.
Meihsia enjoyed creating this coffee themed mixed media canvas with a shabby chic style.
This canvas wall hanging was created to display in the kitchen for the coffee lover in my family. After applying the Modeling Paste on the background, I colored the canvas with Tim Holtz Distress Spray Stain. The Tim Holtz Mini Burlap Panel was glued on the canvas and decorated with Prima Flowers Decaf Coffee Break embellishments.
Suzz was tea inspired in her colors this week.
I was inspired to pull out the Ranger Distress Ink – Tea-Dye and Heidi Swapp Tea Color Shine and add a tea-inspired color scheme. The Memory Box distressed grid stencil gave me an opportunity to create a pretty golden backdrop to my golden flower.
Cheiron was inspired to make a card for her sister who loves tea.
My sister and I always love to relax with a good cup of tea at night whenever she visits. I used the Tim Holtz Tea Time dies and Tim Holtz Distress Damask stamps to create colorful mugs on my card for her.
Michelle Upcycled the Grocery Store Coffee Bag.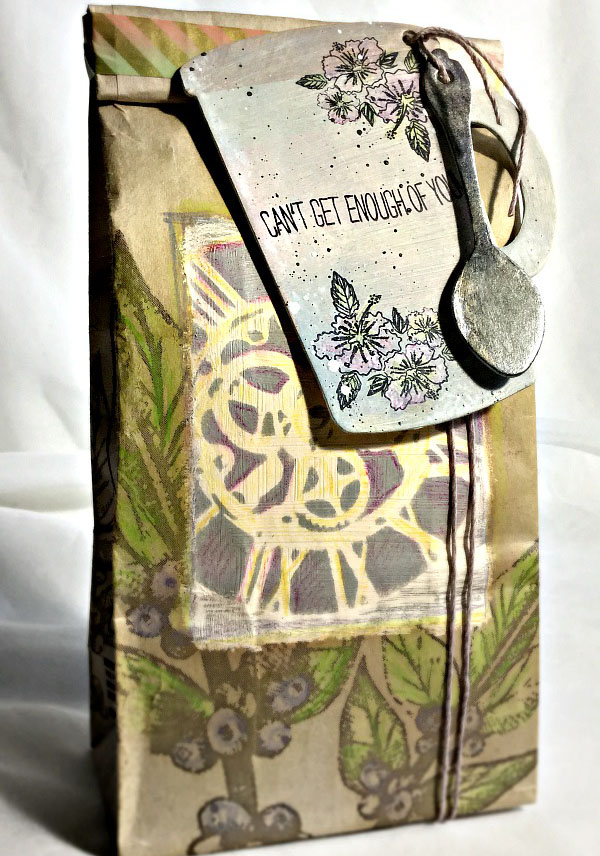 I love those little bags at the grocery store that you put the coffee beans in. This week, when my husband got his beans, I snitched his bag once we got home. The sweet little bag got a mixed media makeover with the help of a well placed Tim Holtz Layering Stencil. The shaped tag is a Sizzix Mug and Spoon. Perfect for declaring some caffeinated love.

As always, Simon Says Stamp is giving away a $50 gift voucher that will go to a random entry chosen by random generator. To qualify all you need to do is create a new project that ties in (in any way!) with our theme and post it, along with a link back to this challenge, and add a link here. This challenge will end at 11:59pm on Sunday July 12th Eastern time. We will also be choosing some of our entries to put in the spotlight – a special honor where we talk about why we loved that entry in particular and award a special badge too! For the full rules, read the "challenge rules" posted in the side-bar here on our blog.
[raw]
[/raw]