School is back in session here at my house and summer is winding down, things are definitely busy and wild. So what better time to get a bit dotty? From polka dots to spotted papers, stamps to dots made with a pen, or even embossed dot cardstock, we invite you to get dotty with us this week.
Suzz started thinking polka dots on clowns and decided to create a circus themed card.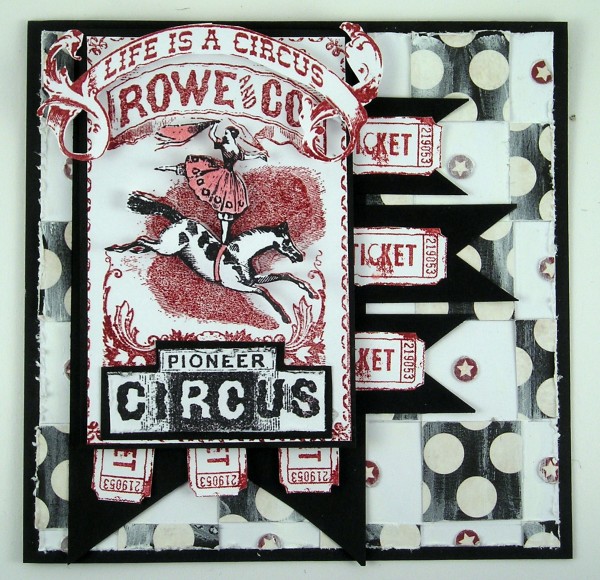 The circus always have bold colors to catch your eye and draw you in. I decided to used the red, black and white color palette to make a statement. I used the pattern paper from the Carta Bella – Well Traveled to create a checkerboard pattern in the background. That was such a strong effect I softened it with a touch of white paint. I remember the brightly colored posters with the amazing performers and the Stampendous Circus Poster captures the feel of the circus. I used the coordinating Stampendous Carousel Circus stamps added the finishing touches to my card. This has me looking forward to our local summer carnival.
Anna-Karin just got a gelli plate and really enjoyed making an ATC-book full of dots.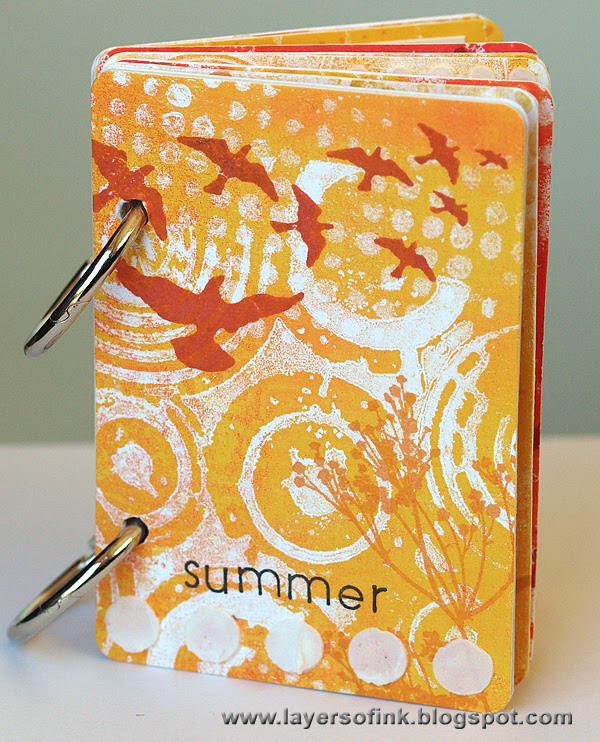 The gelli plate is so much fun to use and I made a lot of prints using Distress Paints, dotty stencils, stamps and embossing folders. I planned to make three ATCs, but when I was done with the printing, I had so many papers and decided to make an ATC mini-book instead, full of quotes about summer. I used Tim Holtz ATC die to die cut the pages and stamped them with various stamps using red, orange and yellow Archival Inks. Finally, I added more dots with a stencil and Wendy Vecchi's White Embossing Paste.
Sandra Mouwen likes to travel and she needed a handy travel map holder


I really like to travel, especially city trips, and for navigating through a city like London, it's so helpful to have a map you can access easily at anytime. So I made a map holder with a transparent sheet for storing the maps. I used the stunning Fly Away Paper line from Teresa Collins with the matching washi tape. I totally love dotty patterns, so I stamped with the dots of the Bitty Grunge stamp set from Tim Holtz, used dotty washi tape from We R Memory Keepers and Pebbles and colored some Modeling Paste with Fired Brick Distress Paint and made some dotty texture with the Tiny Circles template.
Meihsia was inspired to alter a photo frame to a tray for her bead collection and accessories.
I've been enjoying playing with beads and wires, so this week I decided to alter a photo frame that I don't use anymore to a tray for my bead collection and accessories. The frame was covered with Gesso and Tim Holtz Distress Crackle Paint in white and then dabbed with Ranger Paint Dabber in green and sequin waste to make the dotty pattern. I also made some dotty pattern using Tim Holtz Embossing Folder on the background. The Prima Flowers were covered with Ranger UTEE using Ranger Melting Pot berfore they were glued on the frame.
Tracy just wanted fun this week, just playing to see where inspiration took her, and this mixed media canvas was the result.
I love the freedom of just playing and seeing where inspiration takes me. I knew I wanted to use the face from Tim Holtz Classics 5 Stamp set combined with dots in some way. My first thought was Wendy Vecchi's Stencils For Art Dots and Stripes Borders stencil and so my ideas began to develop. Tim's Words Remnant Rubs helped to add motivational words to my piece; I love the freedom of creating this piece and was pleased with the mix of elements.
Candy went cuckoo cuckoo for Polka Dots on her funky envelope.
Playtime with my new GelliArts Plate, 6×6 Mini Layered Beads and Wendy Vecchi's Polka Dotty Stencils let me create some really fun polka dot backgrounds that I collaged onto the front of my custom sized envelope created with my new Envelope Punch Board. What would a polka dot piece be without Dyan Reaveley's Dependable Dotty? Well, mostly Dependable Dotty. Her head is Pondering Petunia's topped off with polka dot hair. Tim Holtz' Vintage Fan mixes vintage with funky as the blades spin and fling paint into the dot patterns.
Ashli's family has had some fun adventures this summer… most notably a new cat! This was a perfect topic for her to scrap about this week.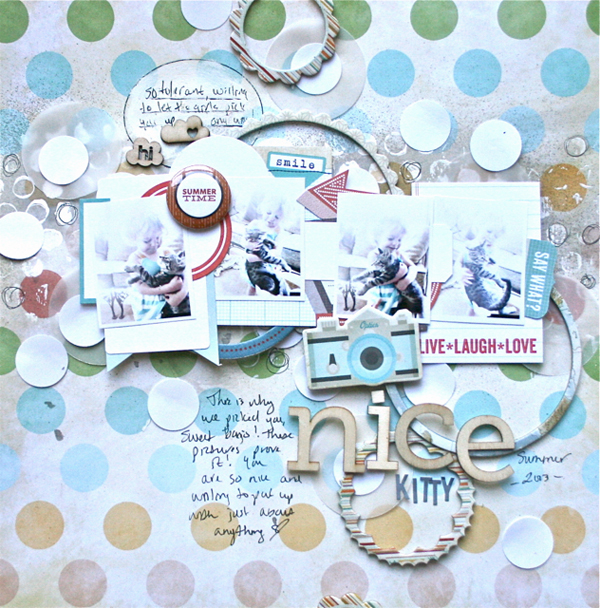 We got a new kitten this summer! We chose him because he is so laid back and tolerant. These photos are the proof and I just have to scrap them! With a fun dotty background from Fancy Pants Memories Captured, I put one of my favorite techniques to use and stamped on some White Paint, using Hero Arts Life of the Party Dots, of course! Some layering with punched circle shapes, and journaling, along with a healthy dose of misting and I have documented this little addition to our family.
Do you ever feel like you have too many balls in the air? A family photo inspired Michelle to be more grounded.
I am fortunate to have a trove of old photos. This week I've created an interchangeable tabletop display frame to display my favorite vintage photographs. This display, featuring Crate Papers The Pier collection, also serves as an everyday reminder to focus on the people who are important to me. The Pier is loaded with beautiful polka-dot prints to create the honeycomb dimensional spheres. The Flower Market girl from Artistic Outpost appears to enjoy hanging out with the ancestors. And Kelly Purkey sequins add just the right amount of shine.
This week Dan got fed up with never having a pen by the phone and decided to make a dotty pen pot.
Somewhere in my house there is an invisible mountain of pens that I have lost over the years and consequently, whenever I need a pen while on the phone I can never find one! I'm rectifying this situation for once and for all with this pen pot which will live next to my phone and will be kept fully stocked. Among the stamps that I used here were the School Desk and Mixed Media sets from Tim Holtz, Simon Says Stamp's exclusive Apothecary Labels set and the Index Card and Blank Ticket stamps from Memory Box.
Andrea decided to go dimensional with her dots and used them as a garland for this dot-i-rific altered journal.
Ah, dots. Truly they are right up there in life with red phone booths and chocolate. I find that I use them constantly in my projects without even knowing it. I daresay dots have taken a strong hold of my subconscious and I have no complaints. For this project, I started out with Tim Holtz's District Market journal then added subtle dots to the background using a Stampabilities polka dot stamp. But since one can never have too many dots, I also added this fantastic Glitz paper garland.
From stencils to stamps- I (May) love all things dotty.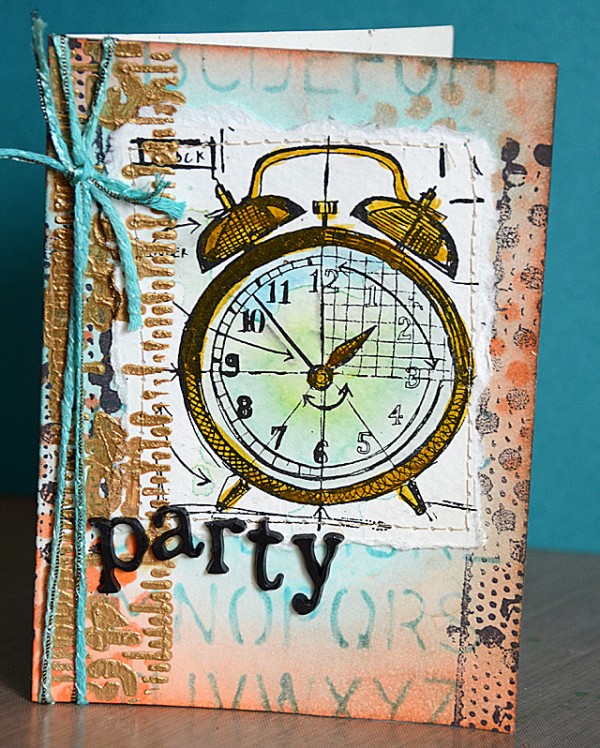 This challenge was such fun -I decided to use two of my current favorite dotty products – a Tim Holtz stencil and stamp. I love how dots can add a layer of color, texture, and interest to any project and how they can add the perfect touch to any style or subject. One of my favorite subjects to add dots to is parties – and this party time card was a lot of fun to make for this challenge.
Mona was inspired to create using some fun products and you won't want to miss her tutorial.
Be sure to check back on Wednesday for a step by step how-to using foil tape, an embossing folder and alcohol inks.
For more inspiration click on our design team's blog links so you can see more photos (and full supply lists) for their projects. Leave them a little comment love while you're there so they know how they've inspired you too, if you're so inclined.


As always, Simon Says Stamp is giving away a $50 gift voucher that will go to a random entry chosen by random generator. To qualify all you need to do is create a new project that ties in (in any way!) with our theme and post it, along with a link back to this challenge, and add a link here. This challenge will end at 11:59pm on Sunday September 1 Eastern time.
We will also be choosing some of our entries to put in the spotlight – a special honor where we talk about why we loved that entry in particular and award a special badge too!
For the full rules, read the "challenge rules" posted in the side-bar here on our blog.
[raw]
[/raw]