Challenge: A Piece of Paradise
I'm dreaming of sandy beaches and the sound of ocean waves, of sitting down to read a whole book and of quiet relaxation. Whether you're inspired by a tropical shore, exotic travels, or simply want to play around with a new technique and be in a crafter's paradise this week we invite you to share your creations and be inspired from a blissful place. Your personal happy place and paradise awaits…
Michelle is dreaming of a warm and sunny paradise vacation.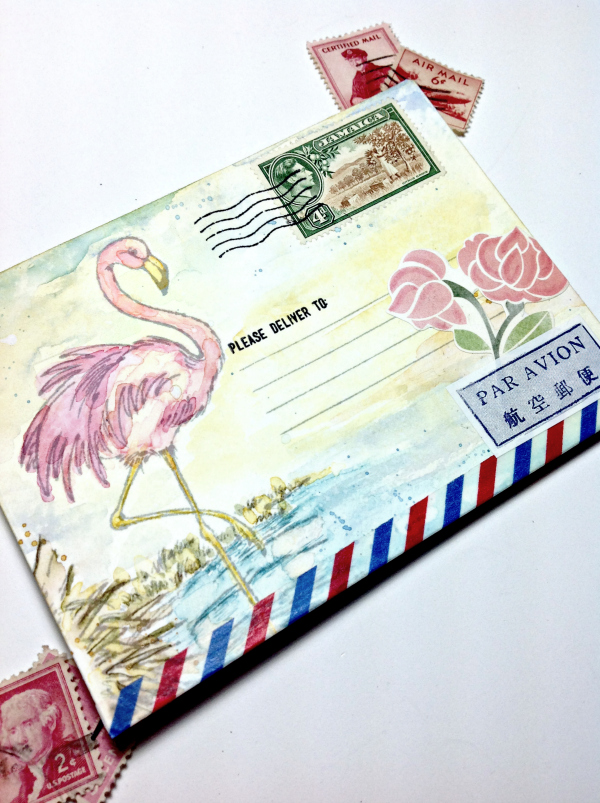 Frosty February days have me dreaming of warm, exotic vacations. Of course there would be letters sent home, like this this mail art envelope with a stamped flamingo with Zig Kuretake watercolor. Exotic postage and Airmail Labels lend a touch of realism to this mail from my paradise fantasy.

Andrea turned a bread tin beachy to bring paradise closer to home.
There is nothing that rejuvenates my soul as much as a trip to the coast. I decided to pay homage to the beach, and to starfish in particular, with this bread tin. The tin was rusty and sad when I found it in a thrift store, but I gave it a new beachy life with paper from Webster's Pages Hall Pass collection, a Tim Holtz sand dollar die, and Technique Tuesday's DIY flair die set.
Meihsia was dreaming of the sunny beach and inspired to create an ocean themed art journal page.
The beach on a sunny day is always my paradise since I grew up in Tawian, a beautiful island surrounded by the Pacific Ocean. I watercolored the background of this art journal page with Clearsnap Izink inks, and stenciled the patterns with Heidi Swapp Color Shine and ColorBox Art Screens. The images were stamped with Tim Holtz Mini Blueprints Nautical Stamps. I really enjoy the beautiful sunshine and the blue ocean on this journal page.
Sandra was inspired by the botanic part of paradise for her tag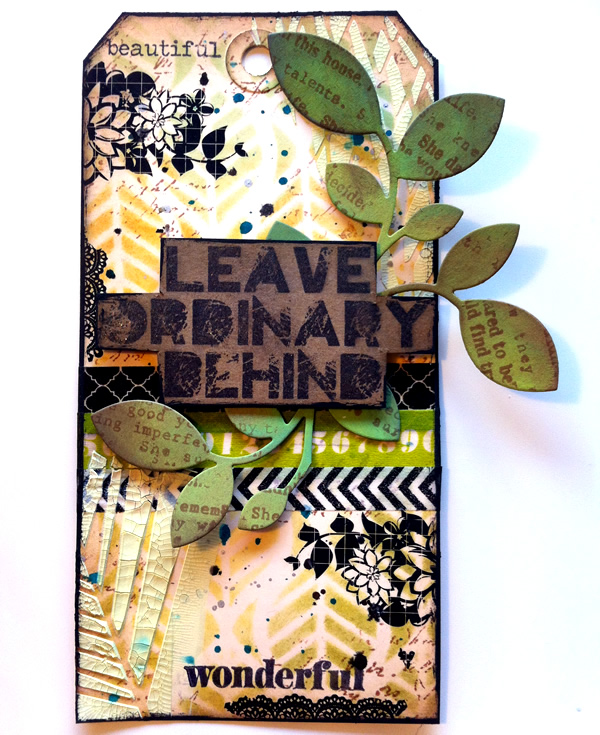 Maybe someday in the future I will go to a piece of paradise on holiday, but for now let's talk about the tag. When I think of paradise I don't only think of sandy beaches, I actually think about the palm trees and other botanical beauty. So I used Crackle Paste that I colored green with a Lettuce Dabber and the Palm Fronts stencil. For more dimension I added Simon Says Stamp Clustered Leaves I've cut out.
Anna-Karin used a favourite quote on a mixed media canvas.

I was thinking of finding your own piece of paradise and it made me think of this quote about butterflies by Hans Christian Andersen. On the canvas, I also used tropical colours. The butterflies were stamped on watercolour cardstock and Clearly For Art Modeling Film and I made layered flowers with Tim Holtz Sizzix Tattered Flower Garland die. The Found Relative girls got some extra colour with Distress Inks.
Barbara's piece of paradise is definitely the time she spends at her desk making art!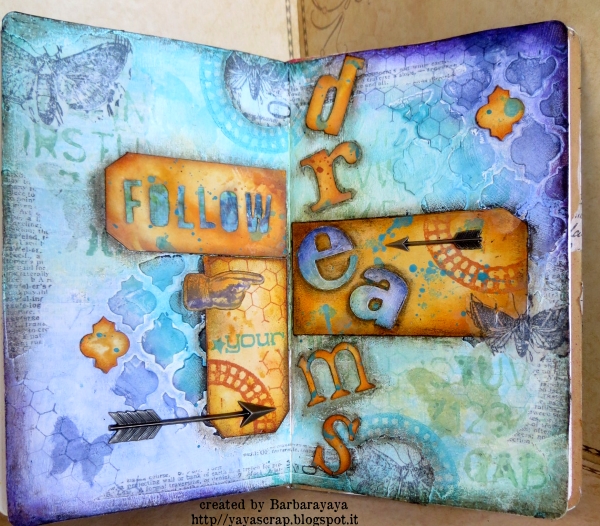 Especially when I work on my Art journal, I feel really free and relaxed as on a beautiful beach! The colors I used on this page remember sunsets: yellow, orange and purple are perfect to represent the theme of this challenge. For even more fun, I used different types of colors: Distress paints, Gelatos, Archival Ink, Distress ink pad and I mixed together to create my background! I hope you understand from my page, the happiness I feel when I can spend my time in my piece of paradise.
Suzz decided to create a layout in remembrance of their family pet who has moved on to his own paradise.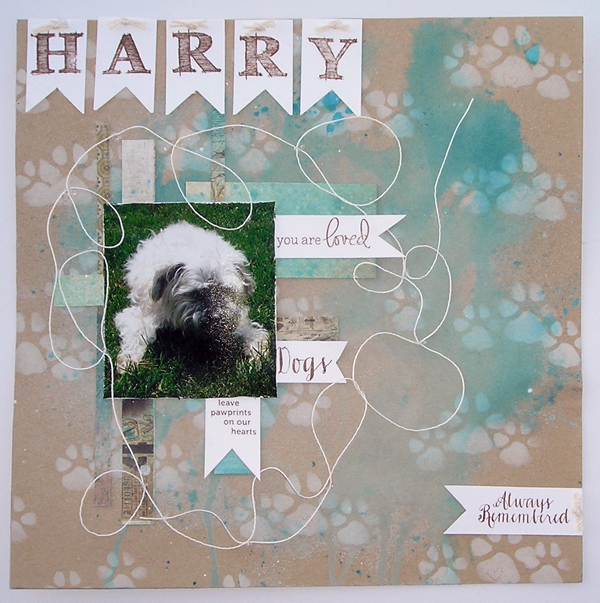 I have been wanting to create a layout celebrating our older dog Harry who left us this summer and when I saw the word Paradise I thought of him. When I saw the Simon Says Stamp Furever in our Hearts and the Pawprints stencils I knew they would be perfect in capturing my thoughts for the layout. I used the Hero Arts Snow white chalk ink with the stencils to create paw print clouds in the background. My family was pleased to have a memento that we can frame and set out.
Ashli was inspired by beach houses this week…
I must confess, I am still trying to find my mixed media footing and this piece took me on quite the adventure! Drawing inspiration from little beach houses and colors of the sea, I used lots of my favorite supplies… Watercolors, Gelatos, Watercolor Crayons, and Pitt Pens, to doodle, paint, collage, cut, and glue. After lots of playing and reworking, I ended up with a little 8×8 mixed media piece that I really like!
Emma was in her own little paradise when creating this home decor panel.
I had so much fun making this box canvas playing with Peacock Feathers, Tumbled Glass and Picket Fence Distress Paints to create the perfect coloured backdrop for my die cut seahorse and starfish, collaged ephemera and trinkets, which surround the beautiful vintage Found Relative photo.
I (May) got to thinking about tropical flowers, beaches and sunsets.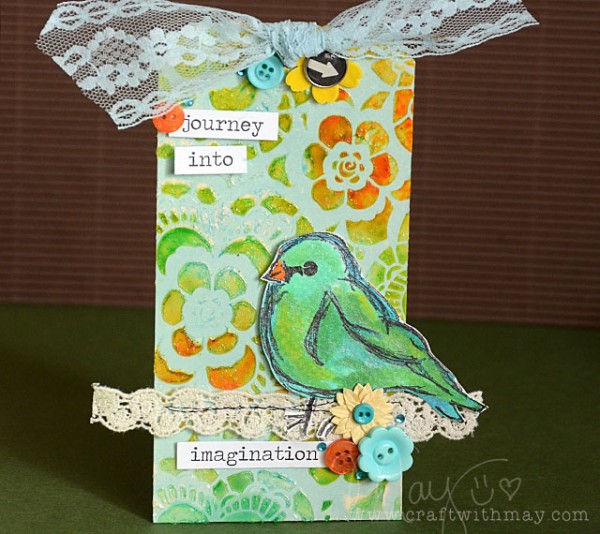 I ended up being inspired by the colors of these things and went exploring with my newest stencil, a favorite stamp, and plenty of gel medium too. On a cold and rainy day it is easy to be transported to paradise by sipping some hot tea and playing with such vibrant colors! I love how this tag turned out and it was such fun to make. Paradise for me often is thinking of a tropical place – but more often I find it right here playing with patterns and colors in my studio!
Mona's piece of paradise may be found under the sea.
I'm longing to go for a deep sea diving trip to explore the beautiful under water world. With the pretty colors of the ocean in my thoughts, I created a tag mimicking that color palette by combining the following Distress Spray Stains: salty ocean, peacock feathers, tumbled glass and broken china. The background is full of Bubble texture and embellished with a resin seahorse and a couple of starfish.
For more inspiration click on our design team's blog links so you can see more photos (and full supply lists) for their projects. Leave them a little comment love while you're there so they know how they've inspired you too, if you're so inclined.

As always, Simon Says Stamp is giving away a $50 gift voucher that will go to a random entry chosen by random generator. To qualify all you need to do is create a new project that ties in (in any way!) with our theme and post it, along with a link back to this challenge, and add a link here. This challenge will end at 11:59pm on Sunday February 22nd Eastern time. We will also be choosing some of our entries to put in the spotlight – a special honor where we talk about why we loved that entry in particular and award a special badge too! For the full rules, read the "challenge rules" posted in the side-bar here on our blog.
[raw]
[/raw]