DT member Dan wants to put some magic into our challenge this week – will you accept? Whether you have a magician's trick, want to show us a card trick, have a magical product you can't work without, or perhaps are inspired by a story or movie that has magical elements – we can't wait to see! The magic of this challenge is that you can be inspired any way you like…
Andrea decided to follow in the footsteps of magicians by seeing what she could do with face cards.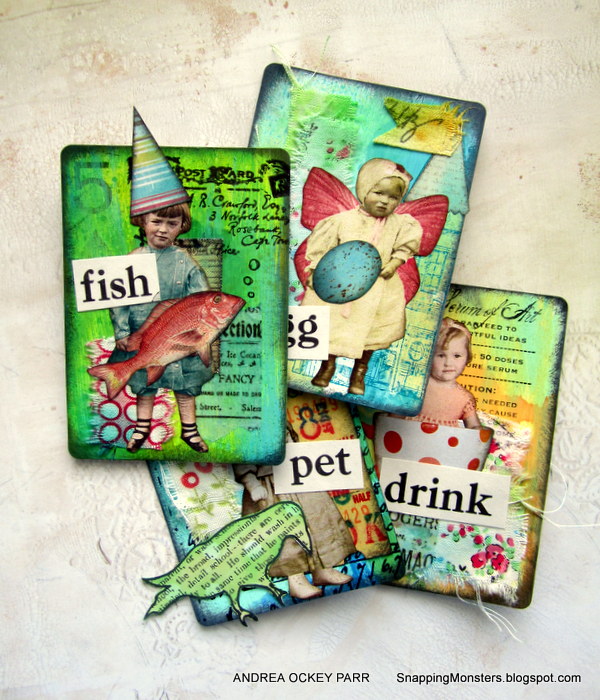 Magic tricks always leave me smiling and shaking my head, especially card tricks. Maybe it's because there's math and science involved in how they work, but they are beyond my ability to figure out. Even though I haven't performed many card tricks in my day, I can work some magic of my own by altering them! Cards make great backgrounds for collages, especially if you include Tim Holtz Journeyman tissue tape and stamped images from Wendy Vecchi's Label it Art and A Form of Art sets.
Do you have a fairy that comes in and magically cleans your kitchen? Neither does Michelle, but she's trying to conjure one up with a magic wand.
Wouldn't it be wonderful to have a magic wand? My wand may not summon the kitchen fairies, but it does provide me with year-round glittery fun. The Tim Holtz Stacked Stars Die created numerous stars that nest within each other for lots of shiny options. The Idea-ology Mirrored Stars fit in the center beautifully. Cosmo Cricket Gold Shimmer Trim ties it all together.
Dan's inspiration this week was one of the classic stage illusions.
Apart from the obvious card-trick reference, can you guess the other popular illusion I've referenced on my tag? It's "sawing a woman in half"! Among the stamp sets I used were Classics #5, Mixed Media and Creative Muse.
Anna-Karin had a song on her brain and let it inspire an art journal page.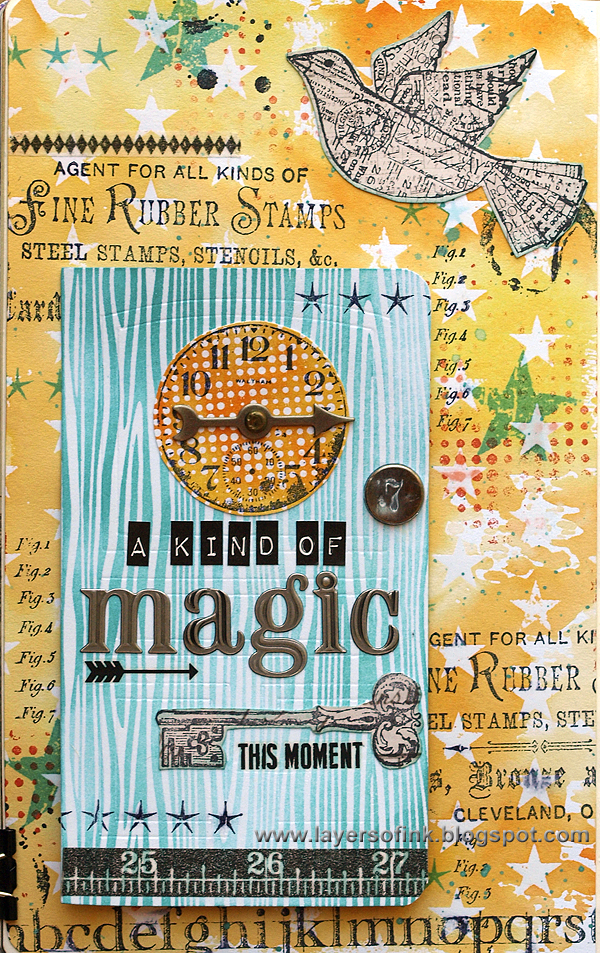 A Kind of Magic by Queen kept playing over and over in my head and I thought it was a good theme for this challenge. A second element of magic is brought in by the resist technique that I did with Tim Holtz wonderful Motif cardstock, add some Distress Ink and you have an instant resist background. The background was stamped and splattered. Interactive elements fit with a magical theme and the door opens to reveal more journaling.
Tracy created a magical Artist Trading Block this week with a touch of magic inside.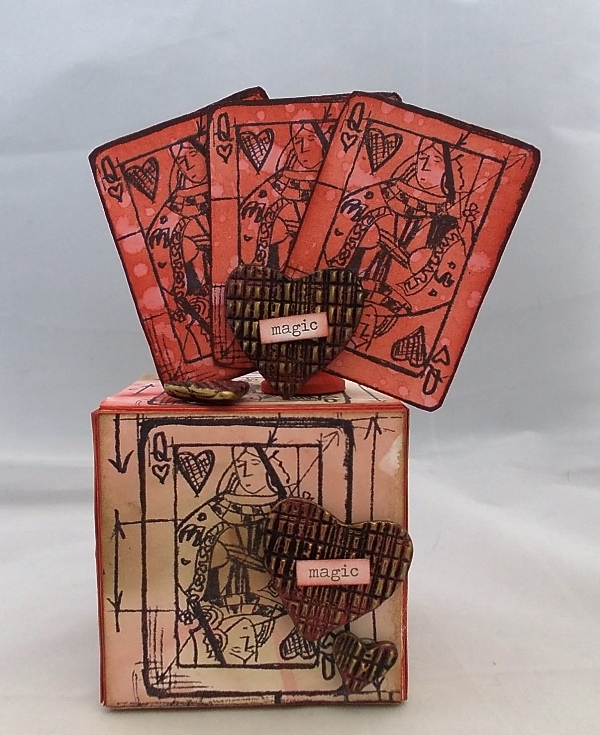 When I think of magic, I always think of card tricks and I also think of the boxes they use in their magic ticks where the doves fly out or the rabbit appears! This lead to me to create a box which I feel in itself holds a little magic as you never know what's inside, all part of the surprise. Tim Holtz Valentine Blueprint stamp came to my rescue for the playing card image and the Queen of Hearts takes centre stage on my Artist Trading Block. I love the hidden surprises a box can give!
Ashli was inspired to put some of Heidi Swapp's Color Magic to use for this week's challenge.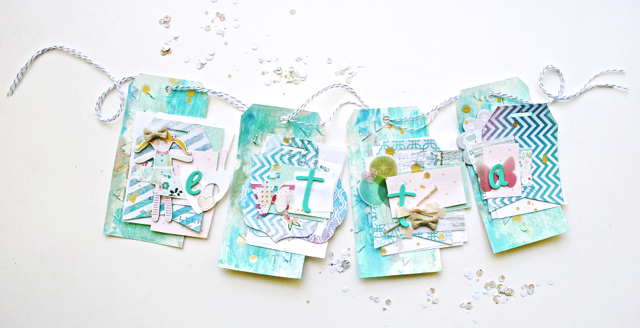 Not too long ago, I created a name banner for my oldest daughter. Now, it's the second oldest's turn! Using the Heidi Swapp Color Magic Tags, along with Color Shine Mist, I created some lovely custom pieces to layer up with my tag. Some Crate Paper Chipboard Shapes complete this cute little name banner for my girl.
Sandra Mouwen played around with crackle paste on her card to create some magic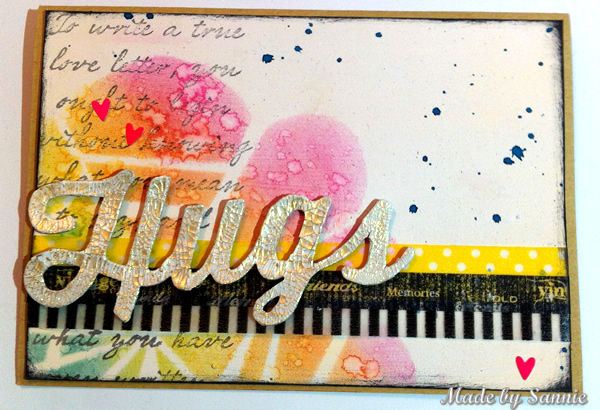 Don't you agree that Crackle Paste is like magic? I love how the crackles appear when the paste dries. It was a bit of a struggle to get the paste on the die cut Hugs, but with a Palette Knife and some determination I got the job done. To give it a little sparkle I used Heidi Swapp Gold Lamé Color Shine.
Mona created some magic using Distress embossing powder.
I think there is something magical about Vintage Photo Distress embossing powder. I'm always in awe with the rusty aged metal appearance that may be easily achieved in just a few steps by layering Rusty Hinge Distress Paint, Distress embossing ink and Vintage Photo Distress embossing powder. Quite magical don't you think?
Emma created a burlap canvas full of fairy magic.
For my magical burlap panel, I created an ethereal backdrop by using Shabby Shutters and Tumbled Glass Distress Paints over Tissue Wrap. As the focal point, I used the mannequin from the Sewing Room die, added some wings covered in Clear Rock Candy Distress Glitter and surrounded her with crackled corked vials full of fairy dust.
Suzz heard the word magic and it reminded her of a class she was teaching where the student said "It's Magic!" when they were creating their card.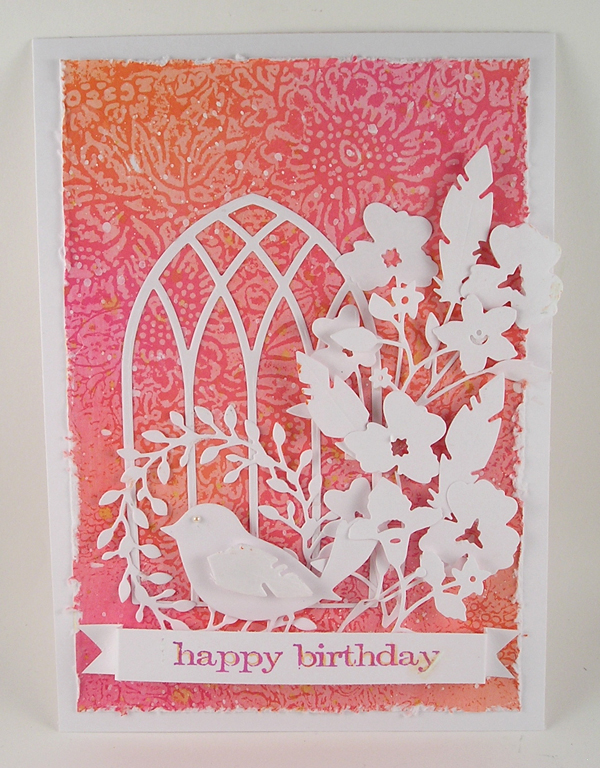 During one of my classes a student described the technique we were using as magic which inspired me to spend a day playing with the technique. I enjoy making backgrounds and this technique is great for embossing folders and dye inks. I used my favorite Anna Griffin Rose folder along with Ripe Persimmons and Picked Raspberry. Sounds like a picnic to me.
Meihsia decided to use glitter to create her magical art journal page.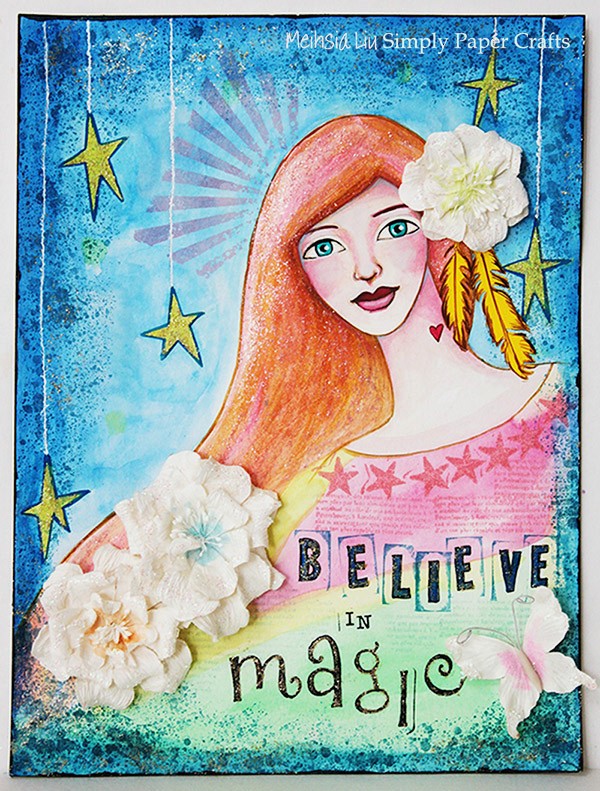 Glitter makes everything magical and it also adds sparkle and imagination on my art journal page this week. After drawing my dreamy girl on the page and coloring it with Gelatos, I applied Tim Holtz Distress Stickles on the girl's long hair. The edges of this art journal page were stamped with Tim Holtz Cling Stamps 2014 Cracks and Speck. I also love the glitter on the edges of the page since it really makes this girl magical.
For more inspiration click on our design team's blog links so you can see more photos (and full supply lists) for their projects. Leave them a little comment love while you're there so they know how they've inspired you too, if you're so inclined.

As always, Simon Says Stamp is giving away a $50 gift voucher that will go to a random entry chosen by random generator. To qualify all you need to do is create a new project that ties in (in any way!) with our theme and post it, along with a link back to this challenge, and add a link here. This challenge will end at 11:59pm on Sunday June 8th Eastern time. We will also be choosing some of our entries to put in the spotlight – a special honor where we talk about why we loved that entry in particular and award a special badge too! For the full rules, read the "challenge rules" posted in the side-bar here on our blog.
[raw]
[/raw]