Whether we are talking about your own creative journey, process, life in general, or your next vacation we know one thing: it's going to be a journey. This word is so inspiring, and conjures up so many images and thoughts we can't wait to see how you interpret the challenge.
Sometimes the best journeys are those close to home and that was Ashli's inspiration for this week's challenge…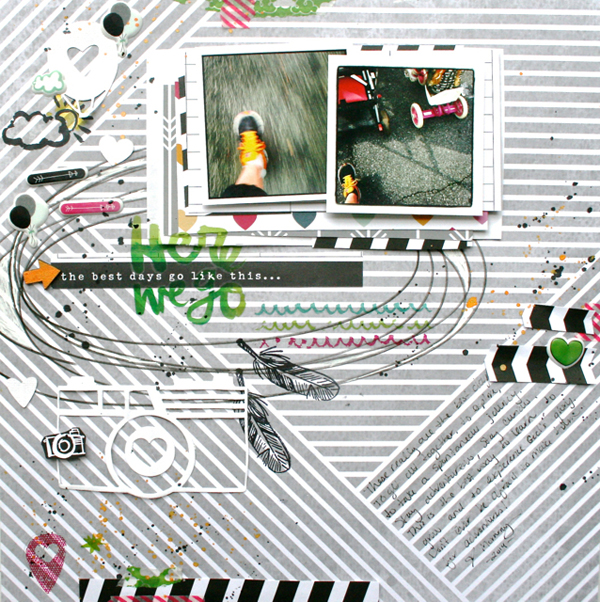 One of my favorite ways to start the day is to take a neighborhood walk with my girls. We have the best adventures during these times, discovering nature treasures and such. For this week's challenge, I used lots of Amy Tangerine Plus One Papers, Rub-Ons, and Stickers, as well as the Maggie Holmes die cut camera to layer up this page. I just love how the fun bright colors of the Plus One collection, along with the angular stripes of the Patterned Paper help to covey the energy and movement of our early morning journeys.
Barbara heads on an artful journey this week.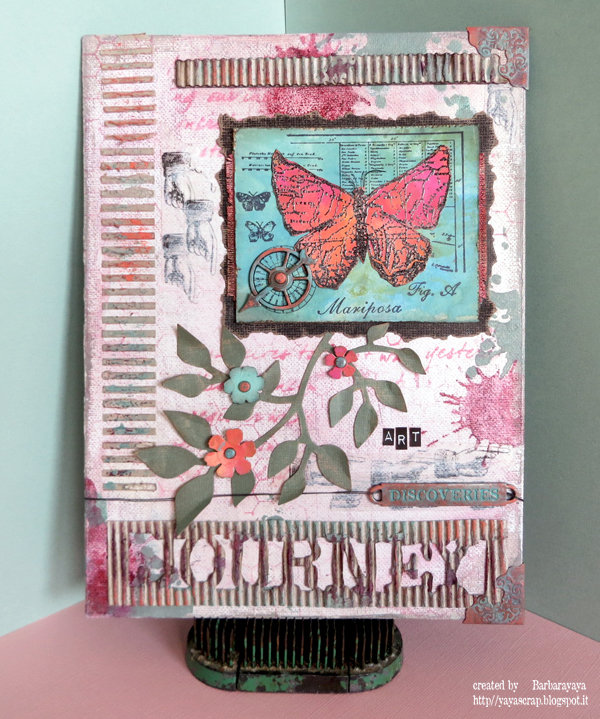 What a wonderful word, it can be interpreted in many ways! Among all I chose the "creative journey". I used the butterfly as a symbol of freedom to create, beautiful and graphically very versatile! I put it at the center of my canvas and I worked with distress paints very bright! I don't know if this will happen but this canvas might be the cover of my Art Journal! Next to the word "journey" I've added "discoveries" because the curiosity is the most important part of my creativity.
Tracy is thinking of those long summer days in the fresh air with her artistic piece this week.
I am thinking about warm sunny days with my piece today, thinking about bike rides and long walks that we take during the summer months when we visit a local forest. There is nothing more invigorating than a bike journey, long or short (in my case short!), represented here with the Prima Flowers Bicycle Stencil, applying Wendy Vecchi's White Embossing Paste through the stencil to give me added dimension. The fresh green colour palette achieved using Peeled Paint Distress Ink gives an uplifting feel to my piece.
Sandra Mouwen loves to travel, but just not too far from home.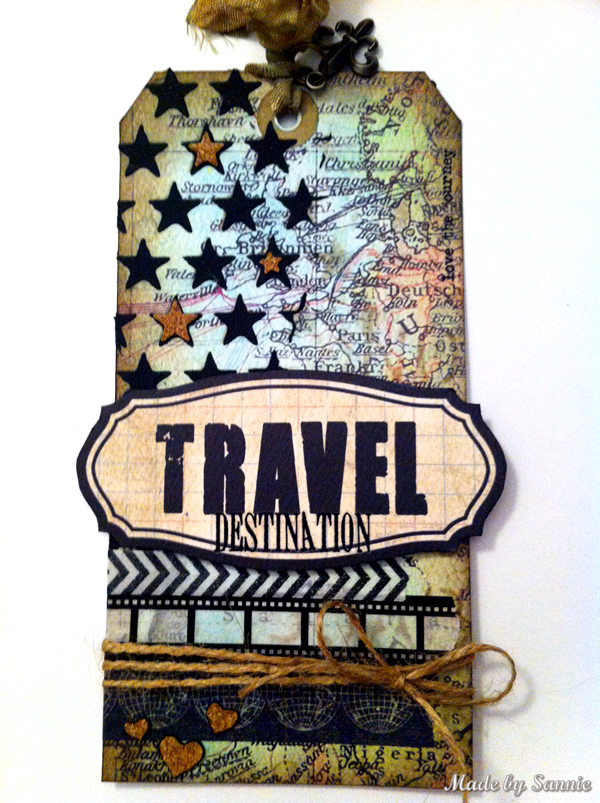 When I think of a journey, I think of traveling. I'm more of a city trip kind of gal. This year I'm planning to go Barcelona. For the tag I used the Far Away Paper Collection from Teresa Collins. The colors are very neutral, so I worked with Peacock Feathers and Crushed Olive Distress Ink to brighten it up, and made the edges darker with Walnut Stain. The little Adhesive Cork stars and hearts are cut out with the exclusive SSS Holiday Shapes die.
Emma's creative journey took her around the world when she created this tag .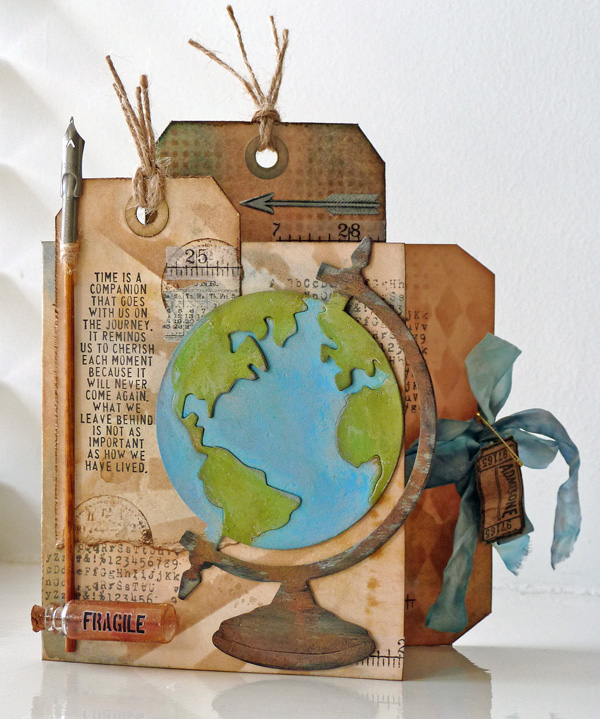 I just adore Tim's Vintage Globe die and as soon as I saw this challenge, I just knew that I wanted to incorporate it within my piece, and that's exactly what I did when I made this card using a Size 12 Manila tag, inked with various colours of Distress Stains. I added plenty of layers to this piece, using stamps and also the Rays and Dot Fade Layering Stencils. Then, when that was done, I added even more layers by using various sized tags which I stamped. To complete the tag card, I added an Idea-Ology Pen Nib and a Corked Vial, crackled and inked with alcohol inks.
Meihsia created the mixed media cover of this mini canvas album for her vacation.
I love traveling and documenting my journey in a trip journal. This week, I decide to alter the cover of this Maya Road 4″ X 4″ Canvas Album Book with some mixed media elements to record my vacation. After applying the Mod Podge on the cover of this canvas book, I sprayed Ranger Perfect Pearls Mist and dropped Izink ink on the background. The Prima Flowers and vintage trinkets were attached to add more interest on this canvas book.
Anna-Karin loves to travel, both in real life and through books, and this journal page is about the latter.
I have made projects about books before, but not in my art journal. I built a layered background with old book paper, gesso, Distress Paint and stamping. The castle and tree stamps are from Darkroom Door, and so is the one sentiment stamp. The page needed some red and gold stenciling, even more stamping and Tim Holtz Industrious stickers coloured with Red Geranium Archival ink.
A recent trip of Dan's inspired his art journal page this week.
I recently travelled to Florence, Italy to visit a friend who had moved there a few years ago. There are no direct flights there from my local airport so I flew via Amsterdam on the way out and Paris on the way home. I only had enough time in Amsterdam to dash from one flight to the next but in Paris I had 9 hours to kill so I went into town, had a nice lunch and a good mooch around. It only served to remind me how much I love Paris and it inspired this page for my art journal. Among the materials I used were the Paris Memoir and I See Paris stamp sets and the French Industrial 12×12 pad.
I (May) will be sending my card on a journey to someone special soon.
Air mail, journeys, travel – these thoughts were going through my head as I went on a stamping journey this week. I love how I was able to blend this classic Stampers Anonymous set with Distress Inks, metal accents, and layers to create this card. Stitching and washi tape add texture to my card. When you're looking to take a creative journey but don't have a ton of time – I highly recommend working on a card or tag!
Andrea reflected on her creative journey and how fabric plays a huge role in her aesthetic.
I think one of the reasons I appreciate fabric so much now is because it started out as my enemy. I totally bombed my junior high sewing class and thought that fabric was evil for over a decade. Now I adore fabric, even though I've never embraced it "traditionally." Be that as it may, it's always been therapeutic for me to look back at how my feelings for fabric have changed for the better. Here I've combined my fabric collage with gorgeous patterned paper from Memory Box's Brioche paper pack and 7 Gypsies' Maritime paper pack.
Mona loves to travel with her husband and created a layout preserving a memorable photo that was taken while on a journey to Greece.
I can't get enough of the gorgeous architecture that can be seen amongst the ancient ruins in Greece. I wanted to capture a vintage vibe when creating my layout so I added beautiful gold detail using Viva Decor's Gold Beeswax Polish along with Ranger's Espresso Color Wash. For a little contrast, I applied several Tim Holtz Remnant Rubs Words around the layout.
Suzz loves exploring new locations and that was the inspiration to her project this week.

I love exploring new locations and my tags this week reflect my love of different countries. I used the Eiffel Tower Die as my inspiration and added some texture with the Harlequin stencil to continue my Parisian journey.
Regardless of where your journey takes you, you're going to want to record it. Michelle will be here on Wednesday to share a washi tape book binding tutorial for artisans as well as scrapbookers.
For more inspiration click on our design team's blog links so you can see more photos (and full supply lists) for their projects. Leave them a little comment love while you're there so they know how they've inspired you too, if you're so inclined.

As always, Simon Says Stamp is giving away a $50 gift voucher that will go to a random entry chosen by random generator. To qualify all you need to do is create a new project that ties in (in any way!) with our theme and post it, along with a link back to this challenge, and add a link here. This challenge will end at 11:59pm on Sunday April 13th Eastern time.
We will also be choosing some of our entries to put in the spotlight – a special honor where we talk about why we loved that entry in particular and award a special badge too!
For the full rules, read the "challenge rules" posted in the side-bar here on our blog.
[raw]
[/raw]