Yippee for Yana: Quick Stamp Wreath Cards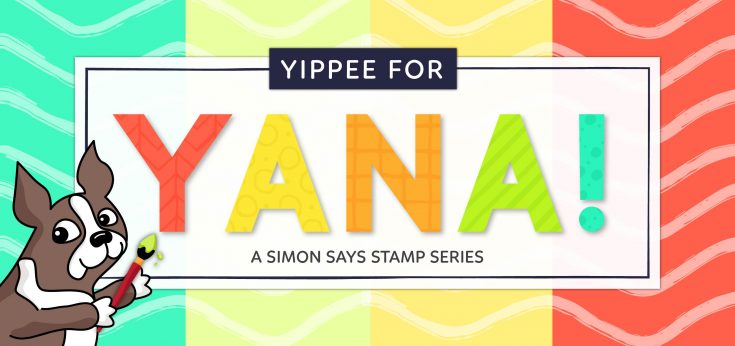 Hi friends! Happy Tuesday! Thanks for stopping by today! We're proud to be posting our latest installment of "Yippee for Yana". This feature Yana Smakula is making some really pretty quick stamp wreath cards. Be sure to read on and watch the video for more information, and enjoy!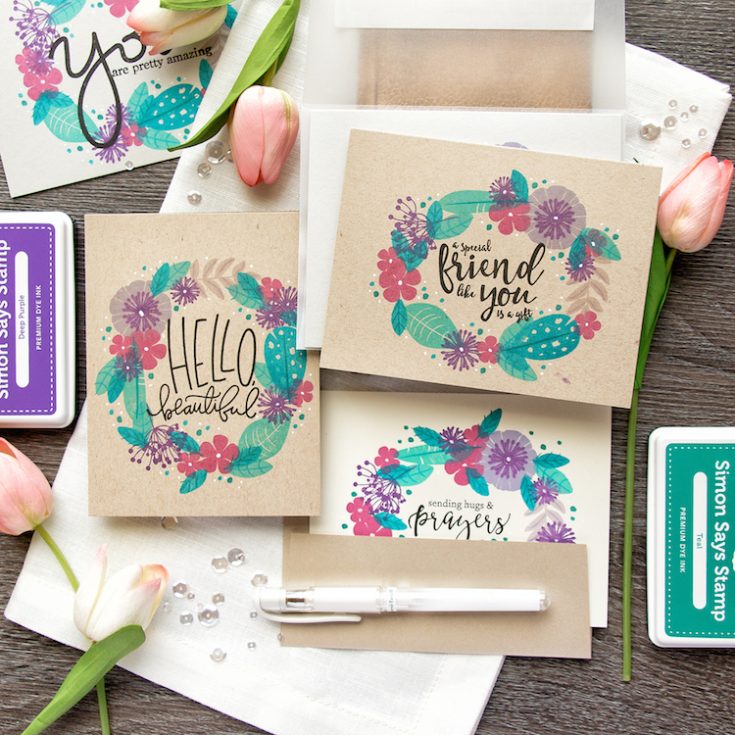 Hi everyone, this is Yana Smakula and thank you for joining me today! 
Today's video is all about creating quick stamp floral wreath cards for any occasion! I'm combining beautiful floral stamps from WPlus9 with vibrant yummy ink colors from Simon along with some gorgeous sentiments from various Simon sentiment sets.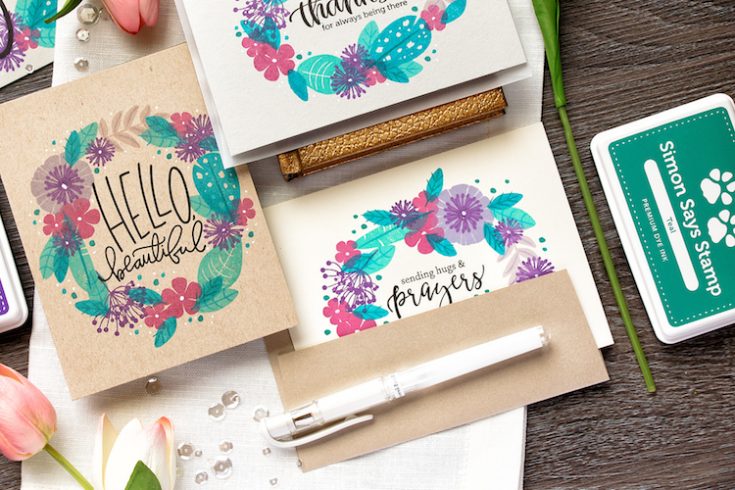 The cards we are be making today are one layer flat projects with no dimension at all. These are great to pop in the mail and send to a friend or anybody who could use some encouraging or kind words.
You want to start working on these cards by stamping a sentiment first and wreath around it later. This way you can slightly adjust the size of the wreath and the placement of the images to make sure they do not block any part of your sentiment. I first planned my wreath out by placing a few large images from the Feather & Florals stamp set from WPlus9 on a piece of paper to form an oval. These images formed a base for my wreath and once I stamped them onto my card bases I was able to come in and add additional imagery.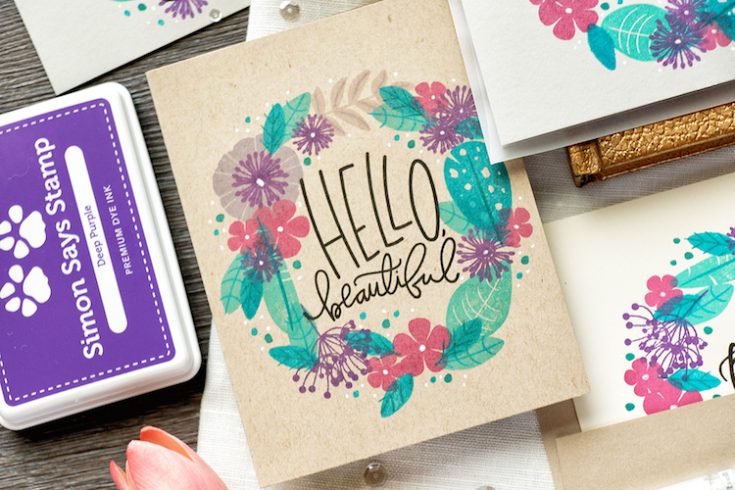 My color choice today is rather bold – I don't think I've used this combination before, but I wanted to try something new. I went with purples and teals. I used Deep Purple, Wisteria, Magnolia, Thistle, Scuba, High Dive and Teal. All of these are truly gorgeous colors and they all work oh so well together.
I also stamped little dots using Teal and High Dive ink colors around my wreath. These dots were designed to be flower centers, but they surely can be used in other ways. 
I stamped a few cards all using different messages and I also tried using different papers. Some of my cards were stamped on kraft, others on Fog and one was stamped on a cream card base. Have fun stamping!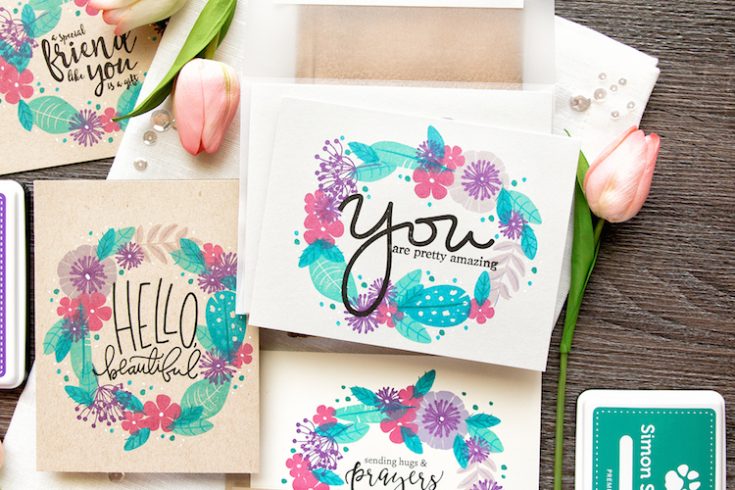 SUPPLIES:
Thanks for reading today, and thanks to Yana for being our special guest!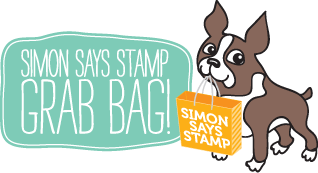 Blog Candy Alert!! Follow our blog via email and comment on this post for a chance to win a special blog candy!
Congrats! Blog Candy Winners!
From: Sunny Studio Stamps: New Spring Collection!: Lynne Jardine!
From: Watercolor Easter Cards – March 2017 Some Bunny Card Kit Inspiration: Maureen Chandler!
From: Prima Watercolor Confections + Rainbow Cards + Kindness Day!: Janine Mendez!
From: Mixed Medium with Shari Carroll: Love: Loly Borda!
From: Studio Monday with Nina-Marie: Love Your Pet Day!: Nicki McStay!
Please email [email protected] with your mailing address (if applicable), the name of the blog you won from, and the prize you won to claim your prize!