Yippee for Yana: Slimline Florals on A2 Cards 4 Ways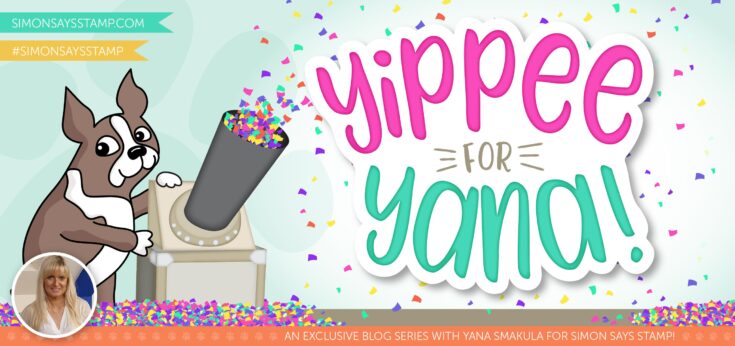 Hi friends! Happy Sunday! Please join me in welcoming back special guest Yana Smakula in the latest edition of our bi-monthly Yippee for Yana blog series! Read on and be sure to watch the video for more info! Enjoy!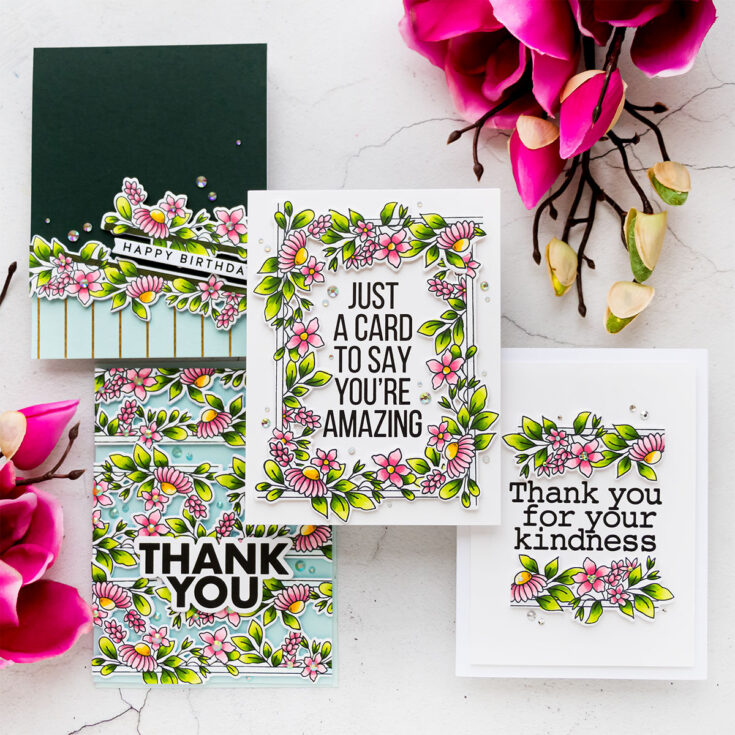 Hi everyone, this is Yana Smakula, welcome back for another Yippee For Yana video! Today we are using a Slimline stamp set to make A2 cards. I have 4 different ideas all made using one single stamp. Very easy to make, it is all about the composition on your card. I am hoping my tips and ideas will be helpful and you'll try them out for your cardmaking whether it is using this stamp set or another, maybe a similar stash you have in your stash.
The stamp set I am using is Slimline Florals. It is designed to work for Slimline cards, but with a little bit of out-of-the-box thinking, you can adapt these stamps to other size cards.
Card idea #1
For my first card, I wanted to use the stamp as is, as a border, but placed diagonally. I adhered a panel of Simon's Midnight Green cardstock to an A2 white card base. Next, I figured out the border placement, I used the die and taped it over the card base with low tack tape.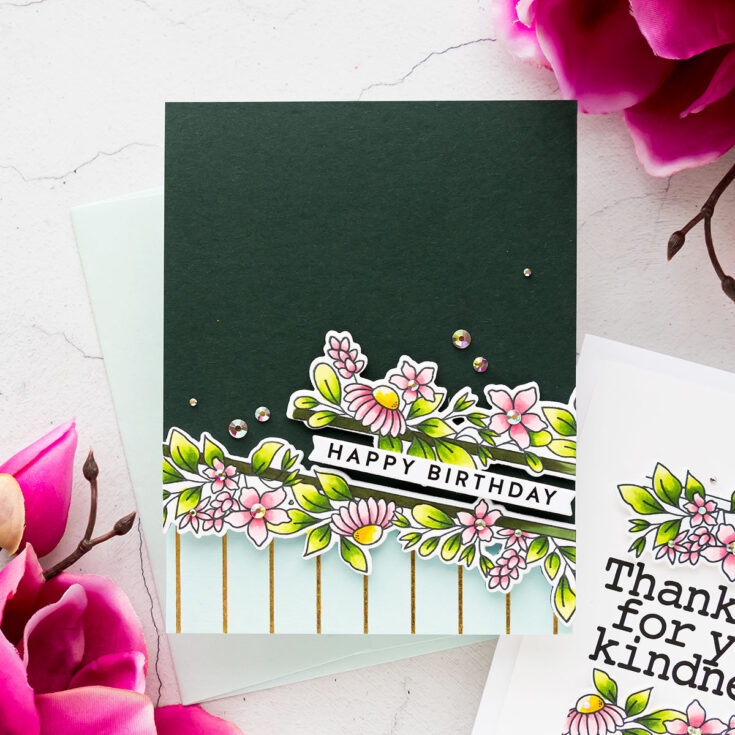 Next, you need to open your card base. I used a top folding card base to make it easier to make a partial cut. Bright it to your die-cutting machine and make the cut. You want to only cut the bottom part off.
Next, I die-cut 3 or 4 of these floral borders from white cardstock, just blank die cuts, I adhered the pieces together using glue and adhered to the back of the colored piece to create something that looks almost like a chipboard. Next, adhere the die cut over that partial cut.
I trimmed the excess off and used the leftover piece to continue the design. I added a sentiment using one of Simon's pre-printed sentiment strips, these are fantastic to make a quick sentiment for a card. And I also added a foiled panel on the inside of the card – I had this panel sitting around on my desk for a long time and it felt like it worked well for this card. The background here was foiled using a Skinny Strip background plate from Spellbinders. I also added a couple of jewels and that finished my card idea #1.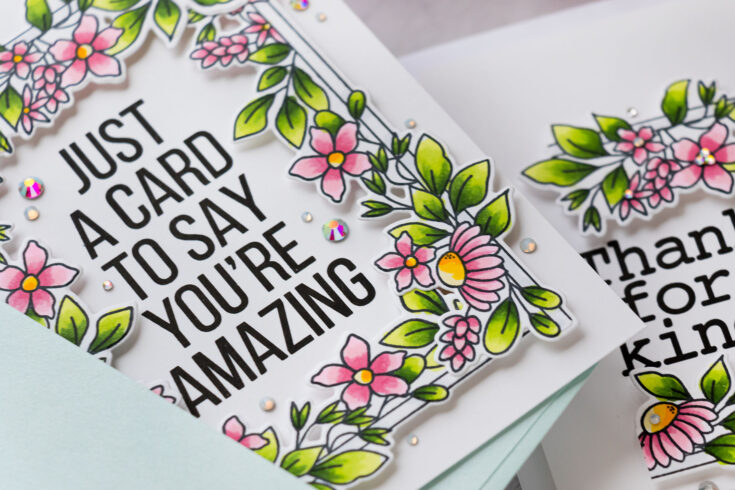 Card idea #2
For my 2nd card I wanted to make a frame, but a frame for a smaller, A2 card. I used 3 borders to make a frame.
You do have a frame stamp included in the stamp set, but it is designed to work on a Slimline card. Because there's that individual border stamp included, we can use it to make a frame for any card size needed. Here I am making for an A2, but you can just as easily make one for a mini slimline, for a 5×7 card, or a square, for example, a 5×5 card. So you can make the border work for you.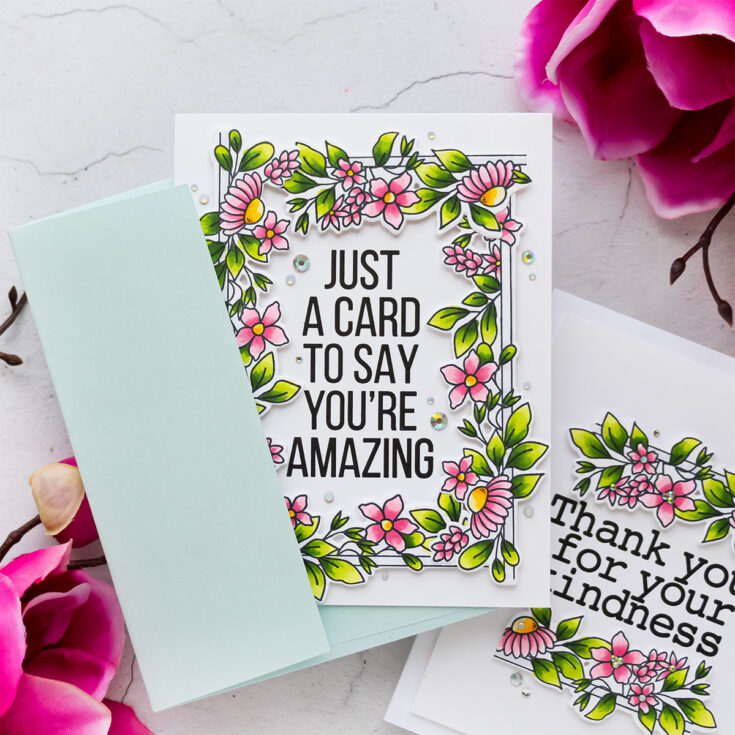 I first stamped a sentiment for this card and I used one from the XL Greetings 2 stamp set and with the sentiment in place, it allowed me to plan the frame placement. I carefully measured each border piece, trimmed it, and foam mounted it onto the panel using foam adhesive squares. Very easily done and I just overlapped the border pieces to make my frame.
Now I only used 3 pieces, so my frame wasn't entirely perfect, but it worked for me. If you are making a larger size card, or if you aim for perfection – use 4 border pieces.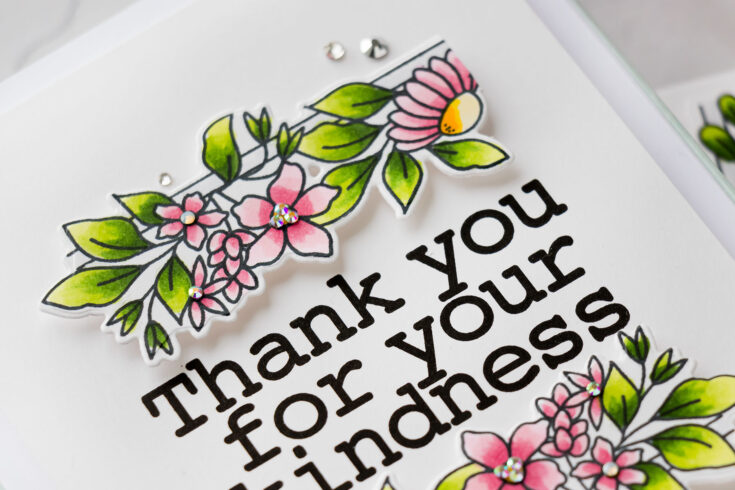 Card idea #3
I had some leftover pieces from cutting the borders when making my 2nd card, so I used them to create a different sort of frame for another card. I first stamped a sentiment in the center of the 3 3/4 x 5" panel and I foam mounted that panel onto an A2 white card base.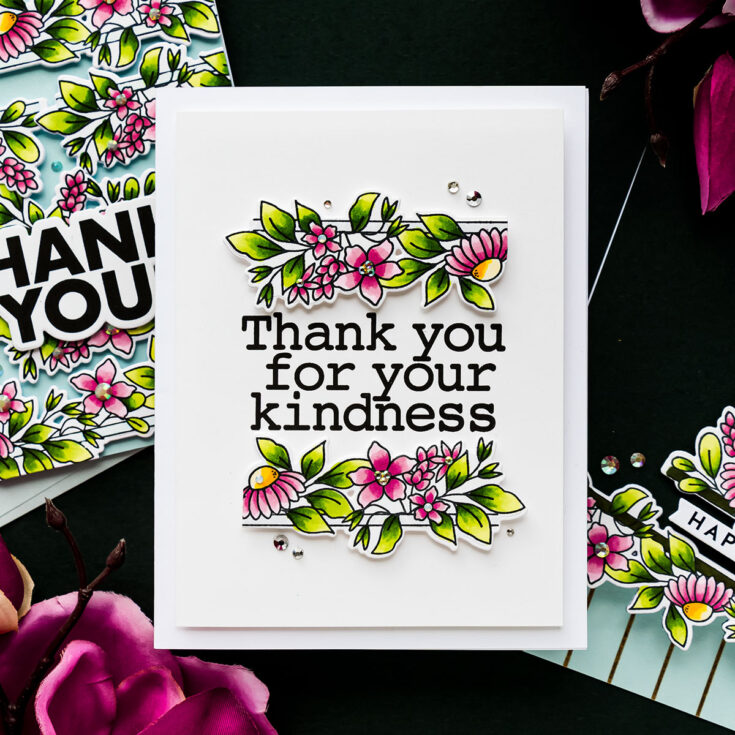 Next, I used the leftover pieces and framed the sentiment from the top and bottom. These aren't perfect borders, just some leftovers, but you can see how well they frame the sentiment and finish this card off. It is a super simple design, but a very pretty and easy one to make.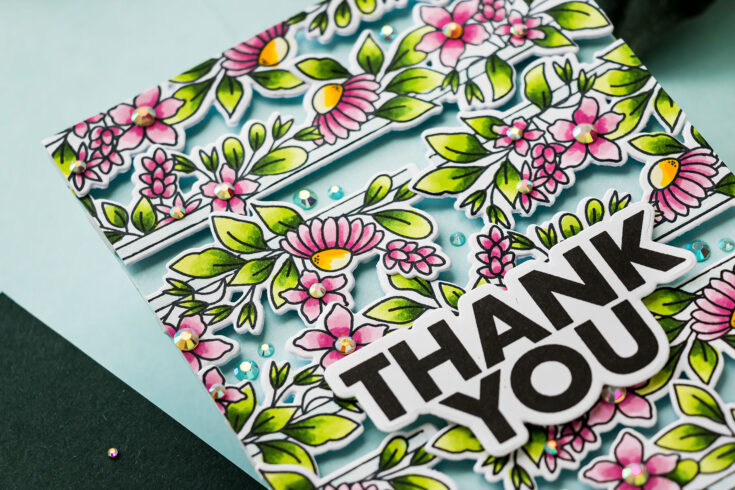 Card idea #4
My last card idea for today features a custom background using these borders. I colored several, I think I had 4 and 4 ended up being quite enough to cover the entire card front. I foam-mounted them one by one, starting from the bottom and of course, I used the leftover pieces – I overlapped the die cuts quite a bit, I think that made it look a bit more continuous as if I used a solid background stamp.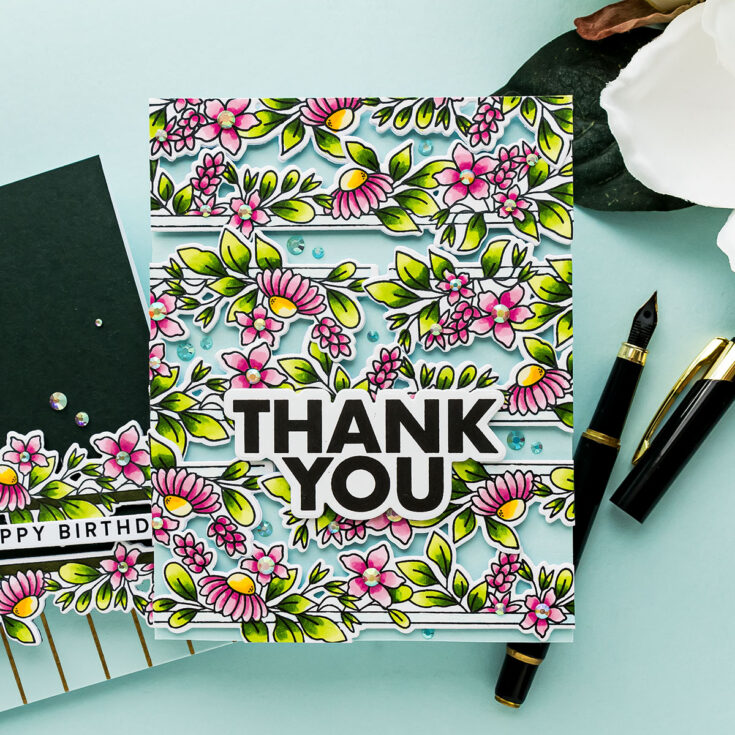 Because I used individual die cuts, I was able to pop them up and add dimension to the background, and to me dimension is everything.
I finished this card with another XL greeting and I added lots of jewels to the flower centers and also to the background behind the images.
So there you have it – 4 ideas, 4 card compositions for using slimline border stamp on A2 cards. All of these are quite easy to make and I hope you'll give these ideas a go yourself. Have fun stamping!
SUPPLIES:
Simon Says Stamps and Dies XL…

Simon Says Clear Stamps XL GREETINGS…

Simon Says Stamp XL GREETINGS 2 Wafer…

Simon Says Stamps and Dies SLIMLINE…

Simon Says Clear Stamps SLIMLINE…

Simon Says Stamp SLIMLINE FLORALS…

Simon Says Stamp Card Stock 100#…

Simon Says Stamp Card Stock 100# SEA…

GLP 249 Spellbinders SKINNY STRIPE…

Memento TUXEDO BLACK INK PAD Full…

MISTI PRECISION STAMPER VERSION 2.0…

Spellbinders PLATINUM 6 Die Cutting…

SCS 130 Spellbinders SILVER MIX Color…

SCS 128 Spellbinders CRYSTAL MIX…

SCS 129 Spellbinders GOLD MIX Color…

Crystal Ninja CRYSTAL KATANA Bamboo…

Bearly Art THE BUNDLE Precision Craft…

Copic Sketch Marker YG03 YELLOW GREEN

Copic Sketch Marker YG17 GRASS GREEN…

Copic Sketch Marker YG67 MOSS Dark Green

Copic Sketch Marker RV10 PALE PINK…

Copic Sketch MARKER RV11 PINK

Copic Sketch Marker RV34 DARK PINK

Copic Sketch MARKER Y11 PALE YELLOW

Copic Sketch Marker Y08 ACID YELLOW…

Copic Sketch Marker Y35 MAIZE Bright…
Thanks so much for stopping by, and thanks to Yana for being our guest!