Yippee for Yana: Colored Cardstock Scene Setting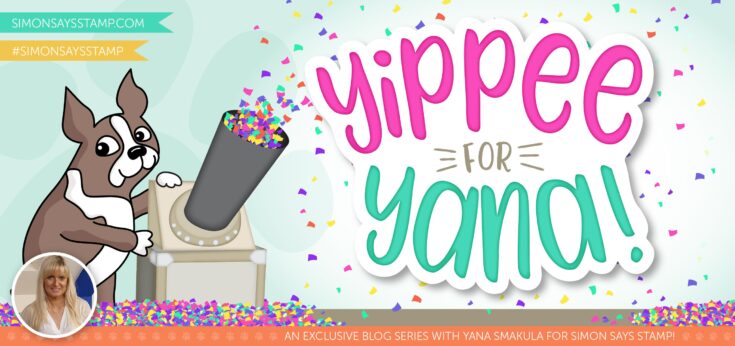 Hi friends! Happy Sunday! As we settle into the Summer season, these cards and colors are a total MOOD right now… loving this set so much! What is your favorite season? Be sure to watch the video for all the details! (Please note; our dear friend Yana is Ukrainian, to show support to our brothers and sisters in Ukraine, please see Yana's post HERE.)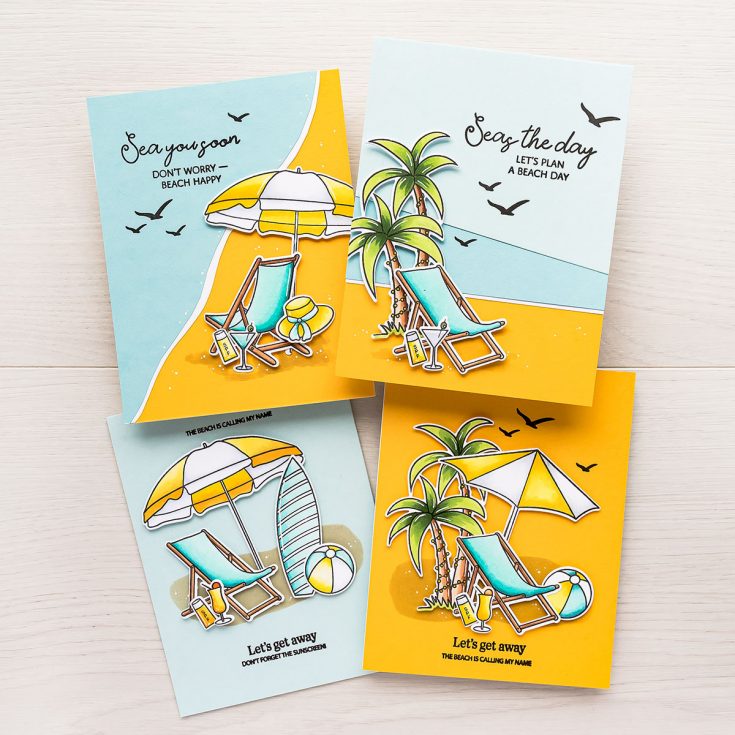 Hello, crafters, this is Yana Smakula for Simon Says Stamp! Welcome back for another Yippee For Yana video!
In this video, I have simple tips for you to set the scene / create that scenic background for your cards with no specialty tools. I am a fan of using colored cardstock for my cards, I love how colored cardstock instantly adds that pop of color, and I love how bright and vivid it is. Of course, you can always use specialty tools to create the backgrounds, like background stamps, dies or even stencils, but I wanted to go back to basics today and show you how you can use just plain paper, and a little bit of tweaking to create fabulous scenic backgrounds for your cards.
I'm making summer beach cards as an example in this video, but this technique can be adapted to other occasion cards, all you need to do, is switch up the colors of cardstock.
I'm using 3 stamp sets from Simon for my cards to do all of my stamping: Let's Get Away, Seas and Greetings set, and Warm Christmas Wishes.
The color scheme I picked is yellow and teal. I used the same color of markers to color all of the images: E31, E33, E37, BG11, BG13, BG18, C3, C1, Y19, Y08, Y13, Y11, YG03, YG17, YG67.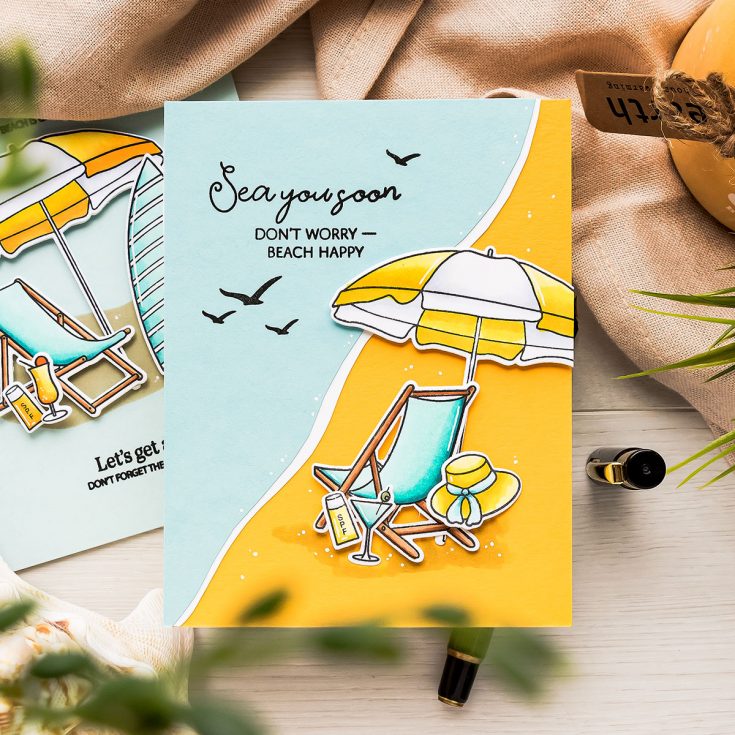 I used a solid color cardstock for the first 2 samples and to ground my scenes, I created a DIY stencil to ink blend a blob shape to mimic ground/shadow. I looked through my stencils and I didn't have a shape that worked for me, so I made one instead. I used a piece of scrap paper and drew a blob using a pencil. Anyone can do this, you don't need any skills for this, just draw a simple blob shape. It doesn't have to be perfect, it doesn't have to be symmetrical, it just has to fit on an A2 card.
Next, use scissors or a craft knife and cut the inner part out. Better to use a craft knife as you can start in the center and simply free-hand it, Again doesn't have to be perfect, doesn't even have to follow the pencil line exactly, you can go outside the line, you are just making a simple imperfect blob. And there we have it.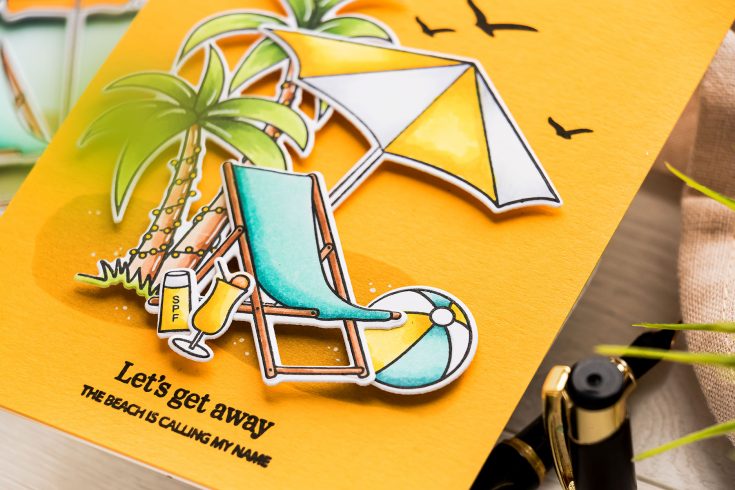 Next, treat this as a stencil, and position it on your background, you can take it to the light to see if the placement works for you and just tape it in place with low-tack tape. Grab your ink blending tool and ink and blend the ground or the shadow on your paper. I used the color Latte from Simon and a large ink blending brush to add the ground to my piece.
I foam mounted my scene over the ink blending and it fit right in! I also used a white pen and I used it a lot when making these cards – I added white dots onto the ground to help mimic the look of sand. You can also spot some dots on the drink – the dots look a bit like little air bubbles in there.
We can also combine several colors of cardstock to create backgrounds. Here, I used colored cardstock to create a color-blocked landscape. I have yellow sand in the foreground, next, there's a narrow area that signifies the ocean with a skinny white stripe in front of it, that looks like sea foam, and finally, a large light blue panel at the top that looks like the sky.
No specialty dies were used to make this background, all I did was cut my paper and an angle using a paper trimmer. I then glued everything onto the background, the yellow panel, and build my scene on top. I didn't do any ink blending here as I didn't need it, I already had my ground to hold my scene. But I did use a C1 Copic marker, which is a cool gray color, and added some shadow under the beach chair.
So we used a paper trimmer to make straight or diagonal paper cuts for this card, for my next example I free-hand cut the paper to create an organic-looking shoreline. I used scissors and just free-hand the diagonal cut. I wanted it wavy. Next, I use a sheet of white paper, and I tried and mimic the same shape so that I have a bit of that sea foam on my card.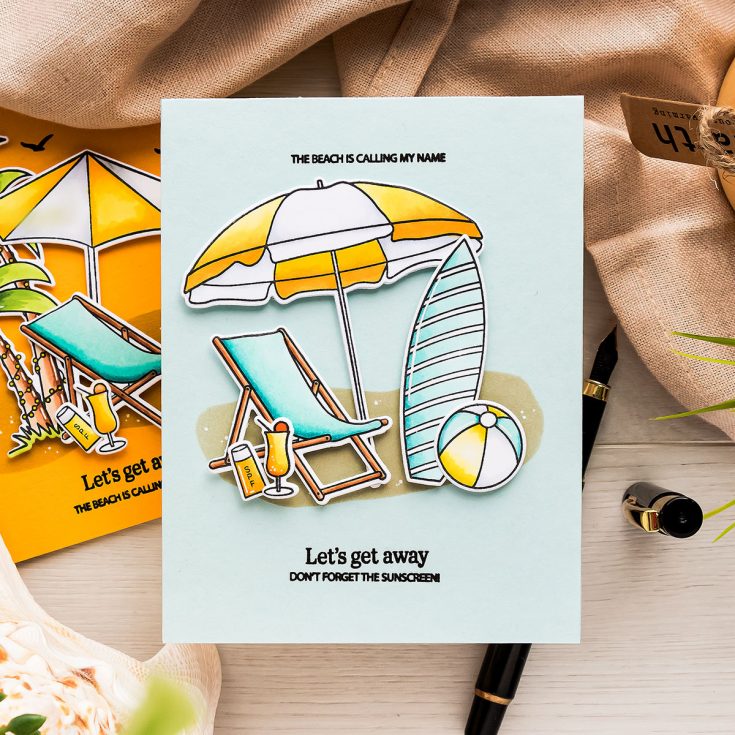 So you can use your colored cardstock to create fabulous and unique backgrounds for your cards without any other specialty tools. I hope you've found this video useful and I hope you are going to dive into your colored cardstock stash! Have fun crafting!
SUPPLIES:
| | | |
| --- | --- | --- |
| RESERVE Simon Says Stamps and Dies… | RESERVE Simon Says Clear Stamps LET'S… | Simon Says Stamp LET'S GET AWAY Wafer… |
| Simon Says Stamps and Dies SEAS AND… | Simon Says Clear Stamps SEAS AND… | Simon Says Stamp SEAS AND GREETINGS… |
| Simon Says Clear Stamps WARM… | Simon Says Stamp Cardstock 100# SURF… | Simon Says Stamp Cardstock 100#… |
| Simon Says Stamp Cardstock 100# SEA… | MINI MISTI PRECISION STAMPER 6×7… | Hero Arts Ink Pad INTENS-IFIED BLACK… |
| Spellbinders PLATINUM 6 Die Cutting… | Tsukineko VersaFine ONYX BLACK Ink… | Sakura CLASSIC WHITE Gelly Roll Pens… |
| Copic Sketch Marker E31 BRICK BEIGE… | Copic Sketch MARKER E33 SAND Beige | Copic Sketch Marker E37 SEPIA Brown |
| Copic Sketch Marker BG11 MOON WHITE | Copic Sketch Marker BG13 MINT GREEN | Copic Sketch MARKER BG18 TEAL BLUE |
| Copic Sketch Marker C1 COOL GRAY Grey | Copic Sketch MARKER C3 COOL GRAY Grey | Copic Sketch Marker Y19 NAPOLI YELLOW… |
| Copic Sketch Marker Y08 ACID YELLOW… | Copic Sketch Marker Y13 LEMON YELLOW | Copic Sketch MARKER Y11 PALE YELLOW |
| Copic Sketch Marker YG03 YELLOW GREEN | Copic Sketch Marker YG17 GRASS GREEN… | Copic Sketch Marker YG67 MOSS Dark Green |
Ways to support Ukraine:
If you are looking for ways to support Ukraine, we encourage you to visit this page on Yana's blog: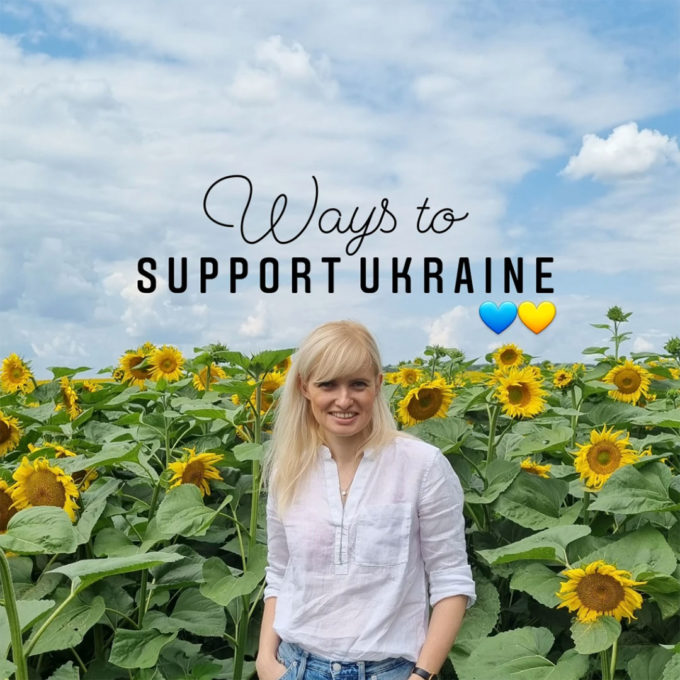 Thanks so much for stopping by, and thanks to Yana for being our guest!